President Donald Trump addressed the country Saturday night for the first time since he was admitted to Walter Reed National Military Medical Center, posting a four-minute video to his Twitter account reassuring the public that he was feeling "much better."
"I came here, wasn't feeling so well. I feel much better now," Trump said in the video. "I'll be back, I think I'll be back soon. And I look forward to finishing up the campaign the way it was started."
Trump credited the therapeutics he was taking for helping him feel better, calling the treatments "miracles."
"We have things happening that look like they're miracles, coming down from God," he said.
The White House physician, Dr. Sean Conley, released a statement Saturday night saying the president remained fever-free and continued to conduct official business from his medical suite. Trump will remain in the hospital Sunday and receive additional doses of remdesivir, he said.
Remdesivir is an experimental antiviral therapy that has been shown to help those with severe cases of Covid-19.
Trump and his allies have projected an image of a president largely unaffected by the virus, at times contradicting what White House officials have said about his health.
In an interview with Fox News on Saturday, White House chief of staff Mark Meadows described a more alarming scene than was previously disclosed by Trump or his team. Meadows said that Trump's condition took a turn for the worse Friday when his blood oxygen level suddenly dropped.
"Yesterday, we were real concerned," Meadows said. "He had a fever and his blood oxygen level dropped rapidly."
A White House aide, who refused to be identified, told a similar story to members of the White House press pool earlier Saturday. According to the aide, the president's condition may been more serious than was publicly suggested. The pool is a small group of reporters who travel with the president on behalf of all the news outlets that cover the White House.
"The president's vitals over the last 24 hours were very concerning and the next 48 hours will be critical in terms of his care," the aide said in a statement to the press pool, not directly to NBC News. "We are still not on a clear path to a full recovery."
A source familiar with the president's condition said some of the same to NBC News on Saturday: "Some the president's vitals signs Friday morning were early indicators of the potential for progression beyond mild illness."
The assessment was in stark contrast to Conley's comments during a news conference earlier Saturday at Walter Reed, where Conley joined a team of doctors to brief reporters at 11 a.m.
The president has been fever-free for 24 hours, is not currently receiving supplemental oxygen and has normal organ function, Conley said, adding that he is "cautiously optimistic."
It was unclear whether the aide or the president's physician had more updated information.
Trump added in his video Saturday night that first lady Melania Trump, who also has the coronavirus, was "handling it very nicely."
Conley declined to predict when Trump might be discharged. He will be on a five-day course of the experimental drug treatment, the doctors said.
The doctors said Trump had a cough, nasal congestion and fatigue Thursday, symptoms that have since begun improving and resolving. They also suggested that he received an antibody treatment Thursday morning.
The doctors said Trump told them, "I feel like I could walk out of here today."
It is a message Trump's allies and family members have started to amplify: Ally Rudy Giuliani told the New York Post that the president told him to say "you go tell people I'm watching this coverage" and "I feel I could get out of here right now."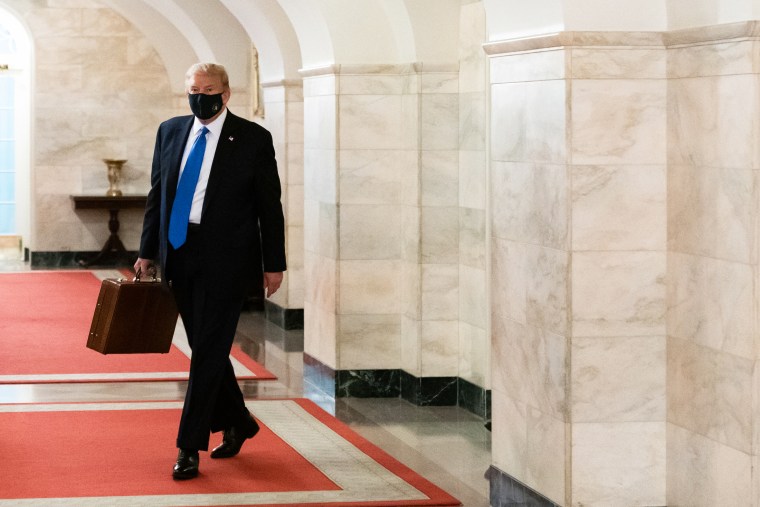 Daughter-in-law Lara Trump said, "He's going to beat Covid to a pulp and then beat Joe Biden to a pulp on Nov. 3."
Senate Majority Leader Mitch McConnell, R-Ky., tweeted that he had spoken with Trump and that he "sounded well," while Trump campaign manager Bill Stepien, who himself has tested positive for the virus, said that he had also spoken with Trump, saying: "He sounds great. He's energized."
The White House also tried to clear up confusion about when Trump became ill, which was set off during the briefing.
Standing outside Walter Reed, the president's doctors said he was "72 hours into the diagnosis," even though Trump had announced his positive coronavirus test only late Thursday, after having attended a fundraiser in New Jersey. Another doctor treating the president, Dr. Brian Garibaldi, said had been treated with antibodies "48 hours" ago — Thursday morning.
Download the NBC News app for breaking news about the president's health
A White House official disputed the timeline, saying that Trump was diagnosed Thursday night and that the doctors meant he was on "Day 3," not a full 72 hours into his diagnosis.
The official also said the antibody treatment was given later Thursday night, not a full 48 hours previously.
Conley issued a statement through the White House on Saturday afternoon saying Trump was diagnosed Thursday night and given the antibody treatment Friday.
"I incorrectly used the term 'seventy-two hours' instead of 'day three' and 'forty eight hours' instead of 'day two' with regards to his diagnosis and the administration of the polyclonal antibody therapy," Conley said in a statement. The drug's manufacturer said Conley inaccurately described the therapy — it is monoclonal, not polyclonal — and misspelled its name. It is Regeneron, not Regeron.
Conley was not the doctor who said Trump had been given antibodies 48 hours previously, however; that was Garibaldi.
The White House again reiterated Saturday afternoon that the first positive test came after the president returned from the fundraiser Thursday in Bedminster, New Jersey.
Reporters pressed Conley about whether the president has ever received supplemental oxygen. Conley persistently said the president had not received oxygen Thursday or while at Walter Reed on Friday and Saturday.
Conley said the president asked about the antimalarial drug hydroxychloroquine as a potential treatment. Trump has championed the drug, despite little evidence that it can treat the coronavirus. Conley said they discussed it but have not prescribed it.
Trump was transported by helicopter to Walter Reed, in Bethesda in the Maryland suburbs of Washington, on Friday.
Asked about the hospitalization, Conley said the decision was made "because he's the president of the United States."
The White House had previously said the president was experiencing mild symptoms, saying that the move to the military hospital was a "precautionary measure" and that the president would continue working from offices in the facility.
Trump is one of the more than 410,000 people in the U.S. who have been hospitalized because of the deadly virus, according to data from the Covid Tracking Project. The U.S. has had more than 7 million confirmed cases and over 210,000 deaths, according to NBC News' tally.
The White House released several statements from Conley on Friday. In one statement, Conley said Trump was "doing very well" and had decided to begin treatment with remdesivir.
Vice President Mike Pence and his wife, Karen Pence, tested negative Saturday after negative tests Friday; Pence remained at his residence in the Naval Observatory in Washington.
Melania Trump remains in the White House residence.
"Mrs. Trump is doing well. Her symptoms have not worsened and she continues to rest. She remains in touch with her husband. She is thinking of all who are ill and wishes them a speedy recovery," Stephanie Grisham, the first lady's chief of staff, said in a statement.
One of Trump's allies, former New Jersey Gov. Chris Christie, tweeted Saturday that he had tested positive for the coronavirus.
Trump, who has tweeted just a handful of times since his diagnosis, also called for an economic stimulus bill from the hospital.
"OUR GREAT USA WANTS & NEEDS STIMULUS. WORK TOGETHER AND GET IT DONE. Thank you!" he wrote Saturday on Twitter.