WASHINGTON — President Donald Trump on Friday vowed to lower drug prices for American consumers, outlining a strategy that focuses on private-sector incentives but would not allow Medicare to use its leverage as the biggest player in the market to directly negotiate better bargains for its subscribers.
"We will have tougher negotiation, more competition and much lower prices at the pharmacy counter," Trump said in the White House Rose Garden, "and it will start to take effect very soon."
The plan, presented as a thinly described set of executive actions, is called "American Patients First" and focuses on four elements, according to the Health and Human Services Department: "increasing competition," "better negotiation," "creating incentives to lower list prices," and "reducing patient out-of-pocket spending."
While Trump said his proposal would give Medicare "new tools to negotiate lower prices" — such as allowing Medicare to change its formularies or benefit designs to respond to spikes in generic-drug prices — senior administration officials acknowledged in a briefing prior to his remarks that there is no plan to allow the program to directly barter with drug companies.
There are roughly 60 million people signed up for the Medicare prescription drug benefit, which was created by President George W. Bush and Congress in 2003, and it accounted for nearly 30 percent of all spending on prescription drugs in the U.S. in 2015, according to the Kaiser Family Foundation.
But the Health and Human Services Department, which administers Medicare, is prohibited by law from negotiating prices with drug companies.
Democrats were quick to criticize Trump Friday for his about-face on Medicare negotiating drug prices, calling it a gift to the very pharmaceutical industry he said would be reined in by his new proposal.
"Instead of putting forth a bold initiative, the president pulled his punch," House Minority Leader Nancy Pelosi, D-Calif., said in a statement. "The president should work with Democrats to offer real solutions for struggling families, not waste their time bragging about meager, window-dressing policies."
Some in the insurance industry cheered an announcement that laid the blame for the rising costs of medication completely at the feet of drugmakers.
"We support the administration's efforts to tackle out-of-control drug costs, which include addressing the root cause: skyrocketing list prices set by pharmaceutical companies," said Aetna Chairman and CEO Mark Bertolini. "While the pharmaceutical industry spends hundreds of millions of dollars on advertising and lobbying campaigns blaming others, consumers continue to bear the burden of rising drug costs. Something has to change."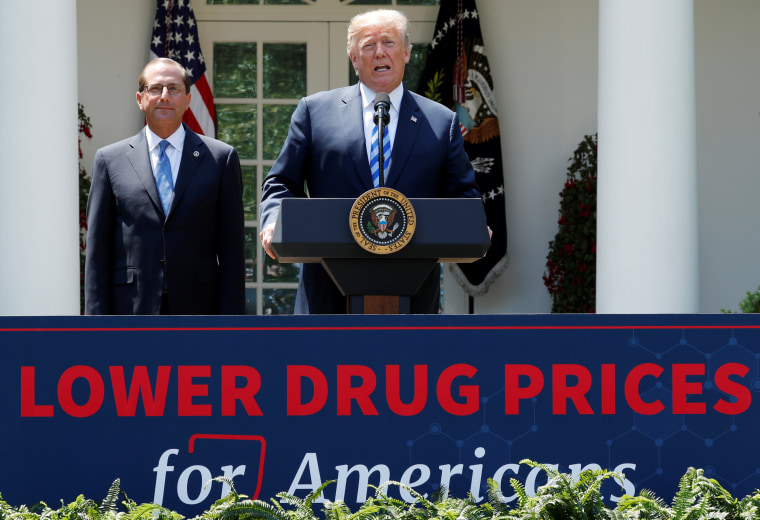 Trump pledged that he would go to Congress to try to implement some of his plans through the legislative process but offered little in the way of detail on what that would entail.
Similarly, an HHS fact sheet outlined what the agency "may" do to try to force the private sector to lower list prices, but stopped short of committing to various actions, including requiring drug companies to name their prices in advertisements.
Former Rep. Jim Greenwood, a Pennsylvania Republican who is now president and CEO of the biopharmaceutical trade association BIO, cautioned that the president's plans could have unintended consequences.
"We have concerns that some of the ideas proposed today could, if adopted, hurt patient access to the medicines they need today and the future cures and treatments they're desperately waiting for America's biopharmaceutical innovators to discover," he said Friday in a statement.
But Trump said he was making good on a campaign promise to fight Washington's resistance to policies that would lower drug prices for consumers. He said he would speed the process for FDA approval of generic drugs, make it harder for foreign countries to acquire U.S.-developed drugs at lower prices than American consumers and cut out the middle men in the prescription-drug industry.
The Pharmaceutical Care Management Association — a trade group for the middle men criticized by the president — defended their approach. "We share the administration's goal of reducing drug prices," the group said in a statement released Friday. "The key is to increase competition among drug companies so pharmacy benefit managers can negotiate even more aggressively to reduce drug costs for patients."
For a president who has boasted often about his prowess as a deregulator — and a conservative movement that has resisted federal intervention into the free market — this new mandate would represent a significant ideological break with the past.
"We will work every day to ensure all Americans have access to the quality affordable medication they need and they deserve," Trump said Friday, "and we will not rest until this job of unfair pricing is a total victory for the U.S.A."