President Donald Trump and Japanese Prime Minister Shinzō Abe on Friday praised the U.S.-Japan relationship and each other, but avoided publicly commenting on potential points of policy dissension.
In his second joint press conference as president, Trump thanked Japan for "hosting" the U.S. military, though he did not mention making them pay more for U.S. defense as he suggested while campaigning for the presidency. Trump called Japan an "important and steadfast ally."
He also promised that both countries will "invest heavily" to build up their defensive capabilities, which Trump says will ultimately "be impenetrable."
Trump did not initially appear to be wearing a translator earpiece during Abe's remarks, but he did nod along every so often. A White House official later told NBC that the president previewed the text of the speech and that he and Prime Minister Abe spoke extensively about the remarks prior to the press conference.
In welcoming Abe to the "very famous White House," Trump exalted "the bond between our two nations and the friendship between our two peoples runs very, very deep."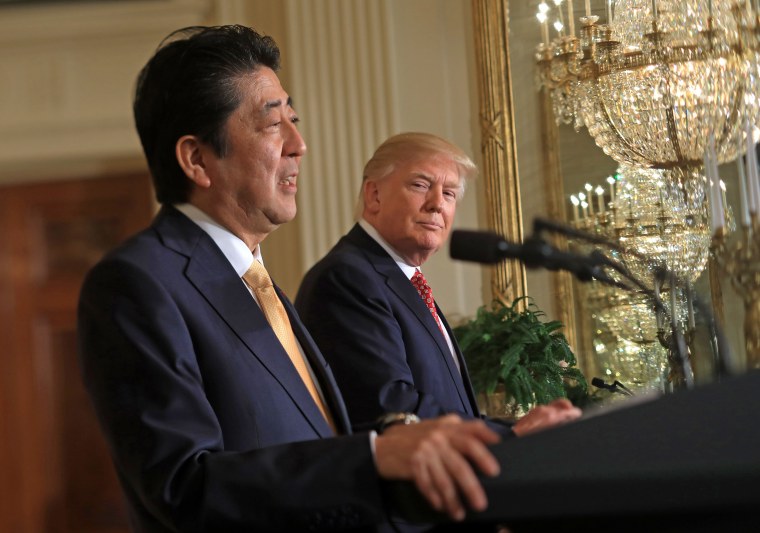 Trump formally withdrew the United States from Trans-Pacific Partnership mere days after assuming office.
But when asked his reaction to the United States pulling out of the sweeping, multinational trade deal, Abe said simply that he was "aware" of the Trump administration's decision on the matter and said they will be discussing economic issues at a working lunch following the joint press conference.
The White House in a statement after the press conference said the two leaders "pledged to explore how best to accomplish these shared objectives. This will include discussions between the United States and Japan on a bilateral framework as well as Japan continuing to advance regional progress on the basis of existing initiatives."
Hanging over the presser was the recent legal blow dealt to President's Trump's immigration ban by the Ninth Circuit Court of Appeals Thursday night.
"We will be doing something very rapidly having to do with additional security for our country," Trump said. "You will be seeing that sometime next week."
Trump did note that he has learned "tremendous things" in his short period of time as president. Things that, he says, "you could only learn, frankly, if you were in a certain position, namely: president." He did not describe what specific things he had learned, but did say that he feels "totally confident that we will have tremendous security for the people of the United states."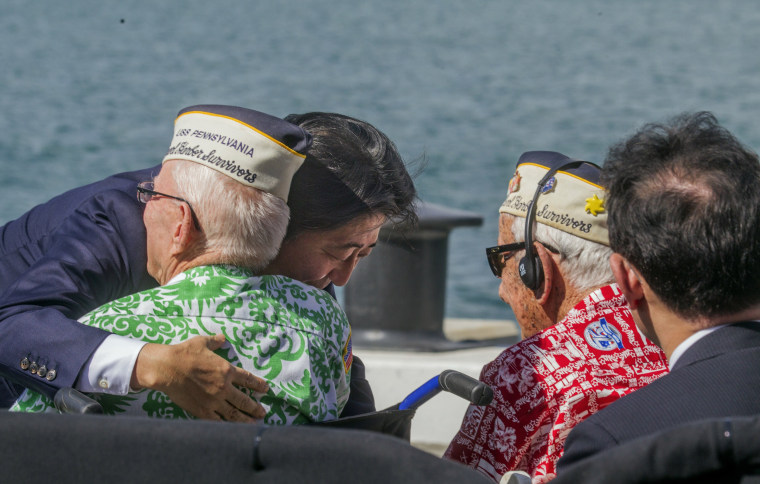 Absent from the press conference, questions about Trump's past prescriptions for Japan to assume more of its own defense responsibilities. During his campaign for office, Trump suggested in an interview with FOX News that Japan and South Korea should pursue nuclear weapons to better protect themselves without the help of the United States.
In a March interview with the New York Times, Trump said noted that "unfortunately, we have a nuclear world now."
"Would I rather have North Korea have them with Japan sitting there having them also? You may very well be better off if that's the case. In other words, where Japan is defending itself against North Korea, which is a real problem."
He later denied making those claims, despite having repeated them on several other occasions and interviews.
Instead on Friday, both leaders stressed that they will work together defending, in Trump's words, against the North Korean missile and nuclear threats, "both of which I consider a very, very high priority." Abe echoed the sentiment, saying that they strongly urge North Korea to abandon its nuclear program.
Prior to the Japanese Prime Minister's arrival, a senior administration official advised that the two would discuss a "very wide range of subjects" focused on the country's bilateral relationship — including the security and economic pieces of that.
Related: Japanese PM's Golf Trip To Trump Resort Hits Ethical Sand Trap
After the press conference, Abe and his wife were scheduled to fly with President Trump to Palm Beach, Florida, where they will stay as guests of the president. White House press secretary Sean Spicer told reporters Thursday that the trip was "offered as a gift to the Prime Minister" and that "he will be [the president's] guest at Mar A Lago."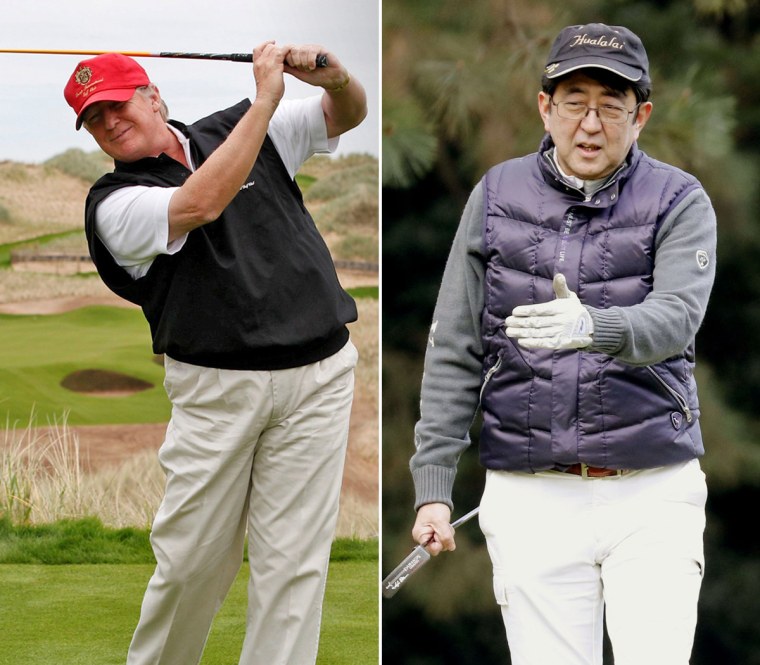 "I imagine there will be a fair bit of golf involved as well as more time together eating, and just relaxing really down at Mar A Lago," the administration official said.
Indeed the president seemed eager to go – ending the pair's first press conference together with a thank you for coming and "let's go to Florida."