As Donald Trump gets set to host Chinese President Xi Jinping for a tête-à-tête at the Mar-a-Lago club in Florida on Thursday, experts say it's time for the U.S. leader to let his past hostile comments about the Asian powerhouse fade with the Florida sunset.
Trump must start building a solid personal relationship with his counterpart and open a starter dialogue on a number of sensitive issues between the two nations, analysts add.
"Well, it's going to be very interesting, nobody really knows, we have not been treated fairly on trade, no presidents taken care of that the way they should have, and we have a big problem on North Korea, so we're going to see what happens," Trump told Fox News on Thursday about his upcoming meeting with Xi.
"I'll tell you we'll be in there pitching, and I think we're going to do very well" Trump added.
While the Chinese are strategic and conservative in their policy and diplomacy maneuvers, Trump has earned his reputation as brash and somewhat unpredictable, often venting governing frustrations on Twitter in 140 characters or less.
"[The Chinese] know that you cannot conduct foreign policy by Twitter, by tweeting, and brashness," former Ambassador to China Max Baucus told NBC News.
During his presidential campaign, Trump stridently criticized China, tweeting that the Asian nation is a currency manipulator and bashing their trade practices to cheering crowds across the country.
He has been consistently vocal in his "America First" stance on trade and is deeply critical of what he sees as an unbalanced relationship in that regard with China, one of America's largest goods trading partners.
The White House is all but certain to pressure Beijing to action on convincing North Korea to cease its arms quest and nuclear tests — a position that was further underscored following North Korea's firing of a ballistic missile into the Sea of Japan on Tuesday.
"The clock has now run out and all options are on the table" in dealing with North Korea, a senior administration official said Tuesday.
The U.S.-China summit is set to begin Thursday afternoon, with Xi and his wife staying in Palm Beach through Friday.
The two leaders will face-off on a range of issues — from trade to North Korea's provocations — in a meeting that will "set a framework" for their future relationship, senior White House officials said Tuesday.
Tangible policy outcomes are unlikely, foreign policy experts told NBC News.
"There's no way in this short time frame that you can get any big agreement between the U.S. and China," David Dollar, senior fellow at Brookings' Thornton China Center told NBC News. "That said, there's something to be said for meeting early in that each side could make clear to the other, what are the key issues."
Here are some of the key issues the leaders must consider.
North Korea
Easily the summit's most pressing issue, one senior administration official described the North Korea issue as "urgent."
The summit's goal, the official said, is to work with the Chinese on North Korea and that in some ways the issue is a test of the relationship.
"There's a potential here for a crisis of unimaginable consequences," Brookings Institute's Jonathan Pollack says. "The Chinese know it, we know it. The question is: is there enough shared concern ... that you can think about much more of an activation of this cooperation between the U.S. and China?"
Earlier overtures from Secretary of State Rex Tillerson ended with little commitment from China to do more in pressuring its neighbor to cease nuclear testing and aggression.
White House Press Secretary Sean Spicer told reporters in March that during a recent visit Tillerson "sent a very clear signal that our policy of strategic patience is over" and that the administration expects China to employ "multiple points of pressure" on North Korea.
Ambassador Baucus agreed that strategic patience hasn't worked. He sees Xi's "intense dislike" of North Korea's Kim Jong Un as "a real chance here for President Trump to sit down with [President Xi] and say 'hey, we've both got a problem here. We really gotta step it up and work together and figure out the way.'"
The North Korea conflict is on China's doorstep. Beijing is reluctant to act and is wary of American motives, foreign policy experts said.
"We're asking them to be forward leaning, to take risks, and they're very wary of that," Pollack said.
The U.S. could pressure China to exert its influence over North Korea through economic sanctions on Chinese companies, but Baucus calls these secondary sanctions a "mistake."
"That's going to tick them off," he said.
But American action on the issue is not necessarily constrained by Chinese compliance or cooperation.
Trump previously told the Financial Times that he's prepared to go it alone on North Korea if Beijing refuses to commit to pressuring Pyongyang. "If China is not going to solve North Korea, we will. That is all I am telling you," he said in an interview out Sunday night.
Trade
Trump complained about the trade imbalance between China and the United States during his run for president. He promised, then, to label China a currency manipulator if he won but has since backed off the threat, partly because they are no longer intervening to keep their currency low.
"It'd be a mistake to make too much of an issue about it, considering that's an issue where they're being cooperative," Dollar said.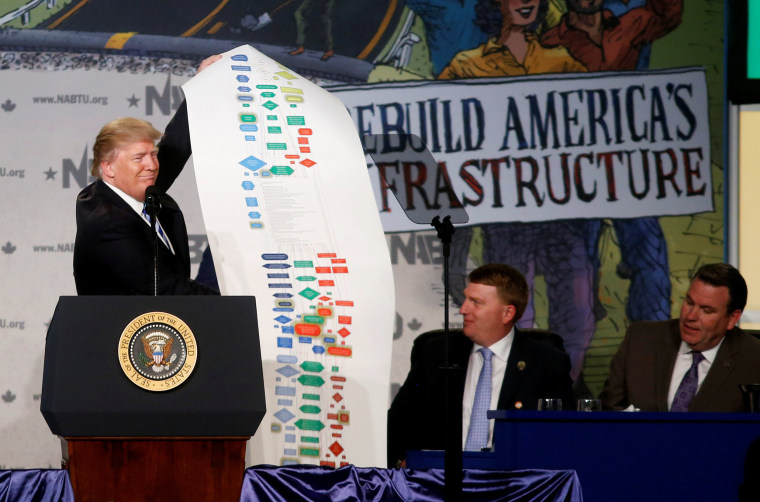 But a massive trade deficit still remains between the two countries, with administration officials stressing the need for trade agreements that are "mutually beneficial" to both countries. The administration is also conducting a review of countries they see as cheating on trade deals with the United States that will provide what Commerce Secretary Wilbur Ross called "a basis for decision making by the administration."
Related: Trump Signs Executive Order Aimed at Trade Cheats
White House officials were mum on what trade or tariff specifics might come up this week but did, however, maintain that they want China to continue to be designated as a non-market economy with the World Trade Organization. One official called this tenet "very important."
The bigger trade issue, Baucus says, is the impact of Trump's decision to leave the Trans Pacific Partnership. The Obama-era multilateral trade agreement sought to deepen economic ties between twelve nations by getting rid of tariffs and boosting growth by way of better trade relations. Trump made good on a promise to exit the agreement as soon as he took office.
"I think it's a huge mistake for the United States to drop TPP," Baucus said, saying it signals a potential American departure from the region. He argued that trade agreement fostered economic relations with Southeast Asian countries, pressing China to, among other things, raise their trade standards.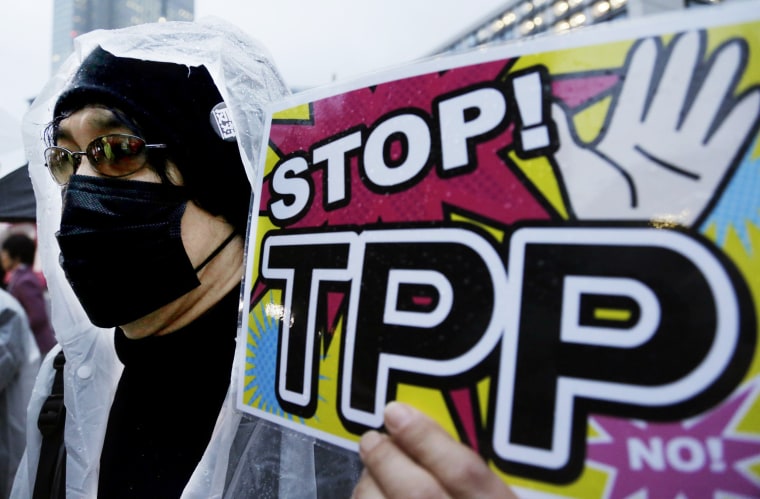 "By us not passing TPP, it creates a vacuum and guess what? China is filling the vacuum."
Elizabeth Economy of the Council on Foreign Relations echoed the sentiment, calling it a "significant loss in the region" and noted China's work corralling Southeast Asian countries into their own free trade agreement, the Regional Comprehensive Economic Partnership (RCEP).
Dropping TPP caused not just a loss in prestige, leadership, and economic opportunities, said Economy, but means the U.S. must contend with RCEP, should the trade partnership be approved. "It's a double whammy," she said.
Trump celebrated the TPP pull out as recently as Tuesday, when he reminded labor workers at a building and construction trade conference in Washington that the move was one meant to stop American workers from being sold out. "This would've been a disaster," Trump said to applause.
'One China'
Trump agreed to adhere to "one China" at President Xi's request during a call in February, according to a White House readout. But by then Trump had already raised tensions with Beijing. He indicated in a January interview that the longstanding policy was negotiable, telling the Wall Street Journal before his inauguration "everything is under negotiation, including One China."
Trump took a call from Taiwan's leader after his November electoral victory, irritating the Chinese who consider Taiwan a breakaway province that will one day be reunified with the mainland. Defending himself on Twitter after the call, Trump wrote that the Taiwanese leader "CALLED ME."
Trump's unpredictability, in this relationship as in many others, is both an asset and a liability. That unpredictability in the eyes of the Chinese "gives him leverage at this point, no matter what," Economy said.
But administration officials consider the issue settled, telling reporters Tuesday not to anticipate any surprising about-faces on the issue.
Climate change
While the Obama administration found cooperation with Beijing on climate change, the Trump administration has dismantled many of President Obama's policies on the issue, most recently dealing a domestic blow to The Clean Power Plan.
In the short term, the global impact of the U.S.'s emissions regulations roll back will be minimal. "The Chinese are committed for their own reasons," Economy explained, "including air quality at home and using that as a launch pad for decreasing their CO2 emissions."
It's in the long term that Trump's environmental decisions will have ramifications. Economy describes Obama's success in bringing China along on climate change as having to do with both Xi's desire to be "perceived as a responsible leader," and the fact that the U.S. was also pledging to take action on its own turf.
"If in a few years we have a president who is concerned [about climate change] - or Trump finds God and decides climate change is important – it's more difficult" to press China to do more, she said.
Location, location, location
Mar-a-Lago, which served as the meeting place for Trump and Japanese Prime Minister Shinzo Abe, will now host its second world leader when Xi arrives Thursday. While Abe and Trump bonded over rounds of golf several weeks ago, the game won't be on the agenda this week.
Mar-a-Lago will, however, provide the two a more informal setting for interaction and give Trump the chance to "break the ice" without the formality of a White House meet up, a White House official said.
Two senior administration officials say the topics have not been scripted in advance in order to allow the leaders the ability to raise whatever issues are on their mind, bucking the usually highly-scripted talking points characteristic of bilateral summits.
Baucus says open lines of communication between two leaders is critical. "It's really important because chances are something nutty is going to happen in the world, something crazy, totally unexpected. The two of them are going to have to get on the phone and talk a little bit, or at least their top people are going to have to start talking to each other."