WASHINGTON — President Donald on Wednesday highlighted illegal immigration — an issue that propelled him on the campaign trail — as he met at the White House with family members who had lost loved ones to crimes committed by undocumented immigrants.
"You lost people that you love because our government refused to enforce our nation's immigration laws and that's including the existing immigration laws," Trump told more than a dozen people gathered in the White House Cabinet Room.
Trump lashed out at the pundits, journalists and politicians in Washington whom he said "refused to hear your voices but on Election Day 2016 your voices were heard all across the entire world. No one died in vain — I can tell you that."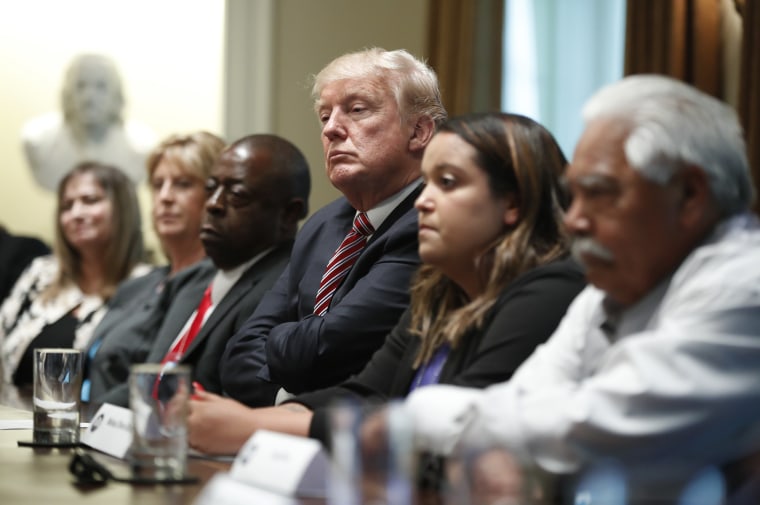 Upon assuming office, Trump set up the Victims of Immigration Crime Engagement (VOICE) office under the Department of Homeland Security in addition to signing immigration-related executive orders and directing various agencies to crack down on illegal immigration.
Those at the meeting on Wednesday included Melissa Oliver Storz, whose father, the sheriff of Sacramento County, died in 2014 in the line of duty.
"The man that murdered my father was deported twice previously and returned to country illegally," she told the gathering.
Another attendee, Juan Pina, said his daughter was brutally raped and murdered in 1987 by an undocumented immigrant. He said the same offender later tried to kidnap a 12-year-old child.
"I'm my daughter's voice," he said, adding that he supports Trump's efforts to crack down on illegal immigration.
More action on the issue could come Thursday, as the House considers two immigration bills that the White House supports: "Kate's Law," which would increase penalties for undocumented immigrants who re-enter the country after being deported for crimes, and the "No Sanctuary For Criminals Act," which seeks to defund sanctuary cities, like San Francisco where Kate Steinle was shot in 2015.
Related: Trump Signs Executive Orders Aimed at Cracking Down on Illegal Immigration
The Steinle case gained national prominence in 2015, with Trump telling the story on the campaign trail of the 32-year-old who was shot by a previously deported, repeat felon who was an undocumented immigrant. Trump said Steinle's murder was one of the reasons he believes the U.S. needed to tighten immigration laws and review sanctuary city designations.
ICE Director Thomas Homan called the legislation some of the most "important" he's seen taken in his 30-plus years in law enforcement.
Under Trump, ICE has ramped up deportation efforts, prioritizing violent and criminal undocumented immigrants, but still rounding up those illegally in the country who may have not committed other crimes.
Asked about parents being separated from their children, Homan said that families of U.S. citizens get "separated every day" and that the immigrants who choose to come to the U.S. illegally and have children "put themselves in that position."
While Homan did not say undocumented immigrants were more likely to commit crimes, but did say that simply being in the country without documentation was a crime itself.
"We're enforcing laws," Homan said, defending law-enforcement efforts and later asking if illegal acts were to continue to be rewarded, "Why would that illegal behavior ever stop?"