WASHINGTON — President Donald Trump met with Russian President Vladimir Putin a second time during the G-20 summit earlier this month, White House officials confirmed Tuesday.
Trump spoke to Putin at the end of a couples-only social dinner at the summit in Hamburg, Germany, the official said, reiterating it was a social dinner. Pull-asides are typically less formal than official bilateral meetings, which Trump and Putin also shared.
The White House did not previously disclose or offer a record of what was discussed during the meeting, which was first reported by Ian Bremmer, president of the international consulting firm Eurasia Group.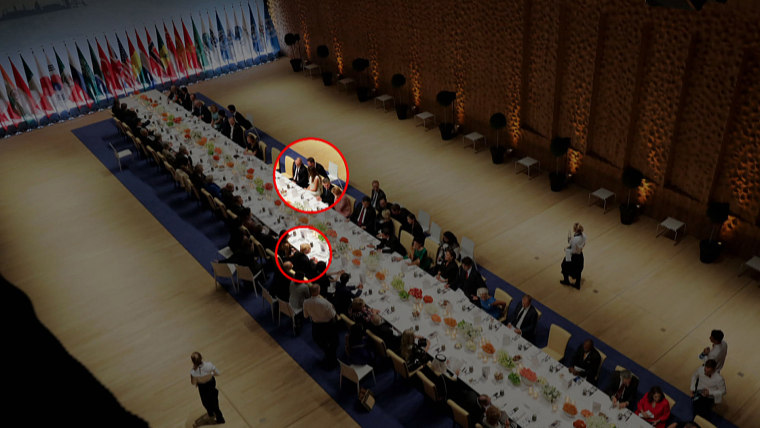 The meeting was "brief," White House Deputy Press Secretary Sarah Huckabee Sanders told reporters off-camera Wednesday, pushing back on reports that the pull-aside lasted an hour.
"We weren't following him around with a stopwatch," she said, but "certainly not an hour."
Sanders labelled scrutiny of the meeting as the media's "Russian fever" and blamed news outlets for trying "to create a story that didn't exist."
The White House defended criticisms about their lack of transparency on the meeting by saying the dinner was on both the president's and G20 summit's schedules and that it would be "incredibly awkward to sit at dinner and not speak to each other."
During that Friday night dinner, Putin was seated next to first lady Melania Trump.
Related: Trump Pressed Putin on Election Hacking During G-20 Meeting, Tillerson Says
Trump and Putin's first face-to-face meeting as world leaders came while in Germany, with the bilateral lasting over two hours. During that meeting, Putin denied meddling in the 2016 presidential election, though it still remains unclear whether or not Trump accepted the Kremlin's version of events. Russian officials, including Putin, have indicated that Trump accepted Putin's denial.
White House Deputy Press Secretary Sarah Huckabee Sanders said President Trump "heard" Putin's denial "and he moved forward with places they thought they could work together."
Trump took to Twitter Tuesday night to downplay the encounter.
White House also said any insinuation that it tried to hide a second meeting with Putin is false, malicious and absurd.
Putin consistently tries to meet with U.S. presidents one-on-one, Mike McFaul, a former U.S. Ambassador to Russia, told MSNBC. However, having such conversations without advisers present or talking points on hand, Trump may have made commitments to Putin that American diplomats may have a hard time contradicting at a later date, McFaul said.
"I worry about what kind of commitment the president might have made and, once he makes that commitment — this is very important — once he says that to Putin, Putin then reads that out to his government, he then tells his negotiator, Deputy Foreign Minister Ryabkov, this is what the president of the United States says. That makes is very difficult for the American diplomats to somehow contradict what Ryabkov might bring up at that meeting," McFaul said.
The Trump-Putin relationship has been highly scrutinized amid ongoing investigations into Russian meddling in the election, which includes a probe into whether Trump's campaign colluded with Russia. Trump and his team have repeatedly denied those allegations.
Last week, it was revealed that the president's eldest son, Donald Trump Jr., met with a Russian lawyer at Trump Tower in June 2016 after being promised compromising information on Democrat Hillary Clinton and informed that the information was "part of Russia and its government's support for Mr. Trump."
Trump defended his son, saying "most people" would have taken the meeting.
"It's called opposition research or research into your opponent," Trump said during a joint press conference with French President Emmanuel Macron in Paris last week.
Also on Tuesday, the White House announced that Trump intends to nominate former Utah Gov. Jon Huntsman as U.S. ambassador to Russia. Huntsman — whose first name was misspelled as "John" in the White House press release — served as U.S. ambassador to China in the Obama administration and ran for the Republican presidential nomination in 2012.