DANANG, Vietnam — President Donald Trump hinted Saturday that he believes Russian President Vladimir Putin when he denies that Moscow meddled in the 2016 election. He also dismissed the assessment of U.S. intelligence chiefs that the Kremlin was responsible as a politically motivated "hit job" damaging his ability to work with foreign leaders on matters of life and death.
"[Putin] said he absolutely did not meddle in our election. He did not do what they are saying he did," Trump told reporters aboard Air Force One en route to Hanoi following a meeting with Putin on the sidelines of the APEC summit in Danang.
Asked directly if he believed Putin, Trump suggested he was keen to move on to other issues. "Look," he said, "I can't stand there and argue with him. I would rather have him get out of Syria, to be honest with you. I would rather ... get to work with him on the Ukraine."
But moments later, Trump circled back to the issue of meddling, saying that Putin has repeatedly denied any involvement. "Every time he sees me he says I didn't do that and I really believe that when he tells me that, he means it," the president said.
Trump added that he thinks Putin "is very insulted by" reports that the Kremlin did, in fact, interfere in U.S. elections last year and that this is "not a good thing for our country."
The president would not directly say whether he believed Putin's denials — which stand at odds with U.S. intelligence community assessments that the highest echelons of the Russian government directed the interference in the 2016 election, from hacking the emails of top Democrats to coordinating a network of bots and trolls on social media sites.
Sen. John McCain, R-Ariz., criticized Trump's comments. "President Trump today stated that he believed Vladimir Putin is being sincere when he denies Russian interference in the 2016 presidential election and reiterated that he hopes to cooperate with Russia in Syria," McCain said in a statement.
"There's nothing 'America First' about taking the word of a KGB colonel over that of the American intelligence community," McCain said. "There's no 'principled realism' in cooperating with Russia to prop up the murderous Assad regime, which remains the greatest obstacle to a political solution that would bring an end to the bloodshed in Syria. Vladimir Putin does not have America's interests at heart. To believe otherwise is not only naive but also places our national security at risk."
Trump was also questioned about the ongoing scandal surrounding the Republican Senate candidate for Alabama, Roy Moore, who has been accused of forcing a woman into a sexual encounter when she was 14 and he was 32, according to a report in The Washington Post.
Asked whether it was time for Republican leaders to force Moore out of the race, Trump deflected questions saying that he does "not watch much television."
Related: In Alabama, Republican Voters Stand by Roy Moore
The cloud of ongoing investigations into Russian meddling — including whether or not his campaign colluded with the Kremlin — has followed Trump throughout his presidency. Just before he left for this lengthy Asia trip, Trump's former campaign chairman Paul Manafort, along with campaign aide Rick Gates and foreign policy advisor George Papadopolous, were charged in Special Counsel Bob Mueller's ongoing Russia probe.
Speaking Saturday, Trump repeated his claim that the probes are a conspiracy by Democrats to distract from their electoral loss and weaken his presidency, dismissing the former heads of America's intelligence agencies as "political hacks" and "a liar" — former FBI Director James Comey, who Trump fired as the probe intensified — and suggesting investigators should turn their attention elsewhere.
"I think that [Putin] is very, very strong in the fact that he didn't do it," Trump said. "And then you look at what's going on with [Tony] Podesta, and you look at what's going on with the server from the DNC and why didn't the FBI take it? Why did they leave it? Why did a third party look at the server and not the FBI? You look at all of this stuff, and you say, what's going on here?"
Trump blamed "this artificial Democratic hit job" for getting in the way of a productive relationship between the U.S. and Russia on issues like Syria and Ukraine.
"It gets in the way and that's a shame," Trump said. "Because people will die because of it, and it's a pure hit job, and it's artificially induced and that's a shame."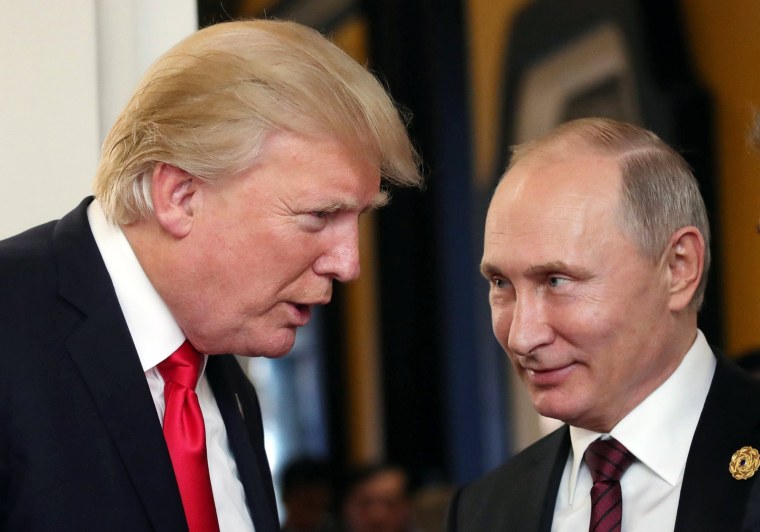 Trump's apparent openness to the idea that Russia was not behind the election meddling has gone beyond mere public statements, however.
Earlier this week, NBC News reported that a meeting between CIA Director Mike Pompeo and a former U.S. intelligence official who advocates a fringe theory that the hack of the Democrats during the election was an inside job was set up on Trump's recommendation.
Bill Binney, a former code-breaker at the National Security Agency, told NBC News that Pompeo informed him that the CIA director took the meeting at the urging of the president.
Trump on Twitter defended himself against what he called "the haters and fools out there" Saturday night ET.
During his own briefing with reporters Saturday, Putin echoed Trump's conspiratorial tone, claiming connections between Russia and Manafort were fabricated by Trump's political opponents.
The Kremlin later denied the two leaders had discussed the subject of election meddling at all Saturday, which Trump also reiterated, saying he wanted to focus on Syria.
With that in mind, the countries released a joint statement on Syria early Saturday in which they "confirmed their determination to defeat ISIS in Syria" and agreed to "maintain open military channels of communication" to ensure the safety of forces on both sides.
The presidents also "agreed that there is no military solution to the conflict in Syria" and repeated calls for all parties to take part in the Geneva political process, according to a State Department readout of the call released well-after the Kremlin's.
Trump, the readout went on to say, "noted that he had a good meeting with President Putin. He further noted that the successful implementation of the agreements announced today will save thousands of lives."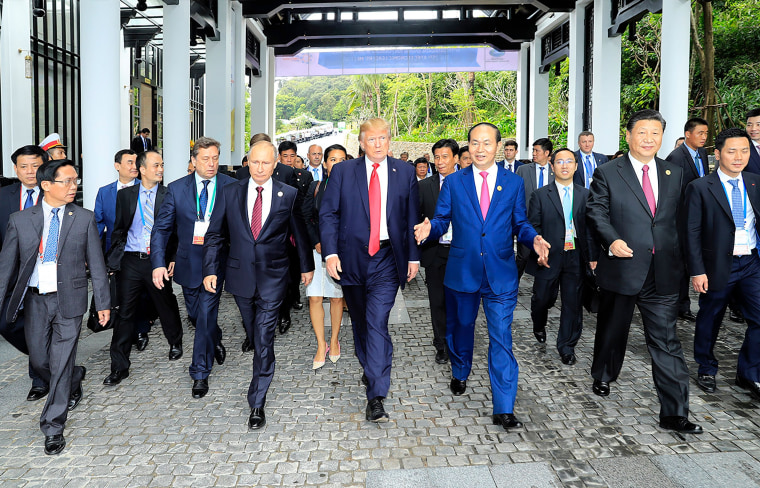 White House Press Secretary Sarah Huckabee Sanders told NBC News the primary conversation relating to Syria lasted five minutes or less.
Trump has long expressed interest in working with Russia both to defeat ISIS and to help broker peace in civil war-ridden Syria. And though the two countries may find common ground on those subjects, the issue of Russian meddling in the 2016 election and intensifying investigations into the Trump campaign's alleged collusion with the Kremlin still hang over the relationship.
Saturday was also not the first time Russia has beaten the United States on releasing descriptions of the leaders' meetings or establishing its own early narrative out of those face-to-face conversations.
When the two leaders held a lengthy meeting in Hamburg over the summer, Russian Foreign Minister Sergey Lavrov told reporters afterward that Trump had accepted Putin's denials about interfering in the 2016 election. A Trump administration official later told NBC News that Lavrov's account was "not accurate" while Secretary of State Rex Tillerson said that Trump pressed Putin "on more than one occasion" on the meddling issue.