Donald Trump spoke with Russian President Vladimir Putin by phone Tuesday, discussing Syria, terrorism and North Korea — as well as the possibility of a personal meeting this summer.
The leaders — who have previously been at odds over the best handling of Syria — "agreed that the suffering in Syria has gone on for far too long and that all parties must do all they can to end the violence", according to a White House readout of the call.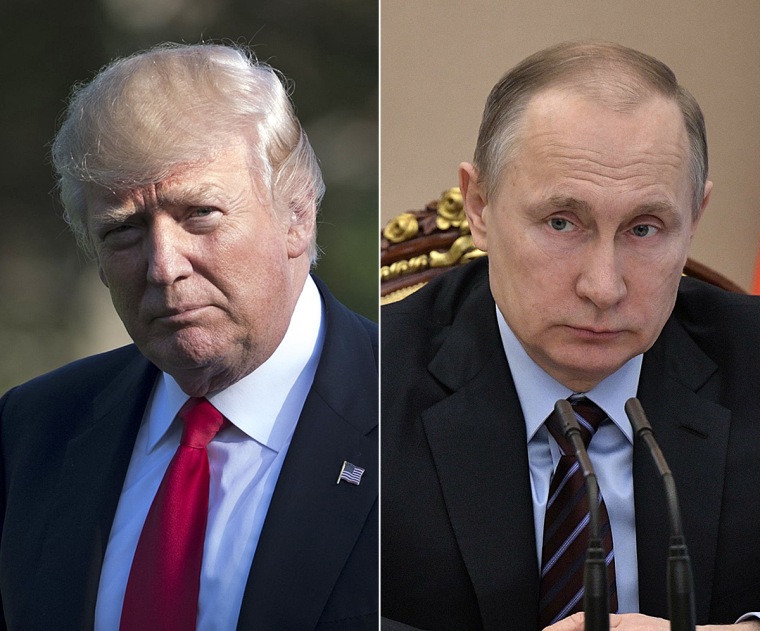 The Syria discussion included safe zones, something Trump has advocated for both as a candidate and as president, as well as future cease-fire talks to happen on May 3rd and 4th in Astana, Kazakhstan.
National Security Council spokesman Michael Anton confirmed to NBC News that Trump and Putin discussed the possibility of an in person meeting. A Kremlin readout of the call said the two leaders discussed the prospect of a July meeting in tandem with the G20 meeting in Hamburg — something the White House readout omitted.
The White House told NBC News nothing regarding a potential meeting was solidified and the matter would be explored further at the staff level.
That meeting, if it were to happen, would be the first, highly anticipated, in person meeting between the two men.
Tuesday's phone conversation marks the third call between the two leaders. They spoke after the Inauguration and after an April terror attack in St. Petersburg.
However, this is the first phone conversation since Trump's military strike in Syria. The launch of 59 tomahawk missiles at a Syrian airbase was in response to an April chemical weapons attack launched by Syrian President Bashar al-Assad, a Putin ally.
In the aftermath of that strike, administration officials repeatedly targeted Russia for their continued support of the Assad regime, with Secretary of State Rex Tillerson telling reporters in Palm Beach last month that "sadly" the continued Russian support of the Syrian strong man is "not at all that surprising."
Also looming large over the call is the continued congressional investigation into Russian meddling in the 2016 presidential election.
In a meeting with German Chancellor Angela Merkel Tuesday, Putin disputed reports that Russia had interfered in U.S., and other foreign elections.
"We never interfere in the political life and political processes of other countries and we don't want anybody interfering in our political life and foreign processes," the Russian president said.
Trump has praised Putin repeatedly over the course of his short time in politics, wondering aloud at campaign rallies and in White House press conferences why it would be so bad to get along with the Kremlin — especially in the name of defeating ISIS and terror groups.