WASHINGTON — One thing is certain after the presidential pardon of Joseph Arpaio, the former sheriff of Maricopa County, Arizona. He's not going to jail.
President Donald Trump's pardon has been widely criticized because it lets Arpaio off the hook for violating a judge's order and didn't follow the usual Department of Justice process, even though the president had the constitutional authority to issue it.
Pedro J. Torres-Dizas, president of the Hispanic National Bar Association, said the pardon "effectively condones Sheriff Arpaio's conduct, undermines the court's authority to redress violations of constitutional rights, and weakens the public's faith in our legal and judicial system."
Most presidential pardons follow a recommendation from the Justice Department's Office of Pardon Attorney and generally require someone to wait at least five years after conviction or release from prison. Neither of those things happened in this case.
READ: Trump's "full and unconditional" pardon of Joe Arpaio
A person seeking a pardon — Arpaio hadn't even requested one, his lawyer said Monday, in another unusual aspect of the case — also is normally required to show some remorse and be "genuinely desirous of forgiveness rather than vindication."
Arpaio, by contrast, continues to insist he did nothing wrong.
After receiving word of the pardon late on August 25, the former sheriff said he was "humbled and incredibly grateful for this very good news." But he told supporters he nonetheless faces "tens of thousands in legal bills from my fight to clear my name." A website solicits donations to help him pay those expenses.
Other presidents also have ignored the usual DOJ pardon process, including Gerald Ford and Bill Clinton.
Some have suggested that by accepting the pardon, Arpaio admitted his guilt, a fact that could be used as evidence in any future civil lawsuits that might be filed against him. But legal experts said Monday that the pardon had full force and required no acceptance by Arpaio.
"If the president pardons you, he pardons you. Acceptance is irrelevant," said Samuel Morrison, a veteran of the Justice Department's Office of Pardon Attorney, "unless the pardon were to require the recipient to accept conditions, such as paying restitution."
In explaining the basis for the pardon, Trump said it was granted partly because of Arpaio's age — he's 85 — and because of his "more than 50 years of admirable service to our nation."
The pardon frees Arpaio from a conviction for criminal contempt of court. He was to be sentenced October 5 and faced the prospect of up to six months in jail.
Arpaio's legal problems began in 2011, when a federal judge ordered him and his deputies to stop detaining people on the street or pulling them over in traffic stops, simply because of a suspicion that they might be here illegally.
But Arpaio made repeated public statements that his policy on detentions wouldn't change and that he would continue to instruct his deputies to enforce federal immigration laws. For that reason, the judge found him in civil contempt of court in 2015.
Federal prosecutors then charged him with criminal contempt of court for defying the earlier court orders. On July 31, a different federal judge found him guilty, concluding that Arpaio fully understood the earlier court rulings but "announced to the world and his subordinates that he was going to continue business as usual no matter who said otherwise."
Trump issued "a full and unconditional pardon" for Arpaio's conviction and "for any other offenses...that might arise" from the original lawsuit over detention of suspect undocumented immigrants.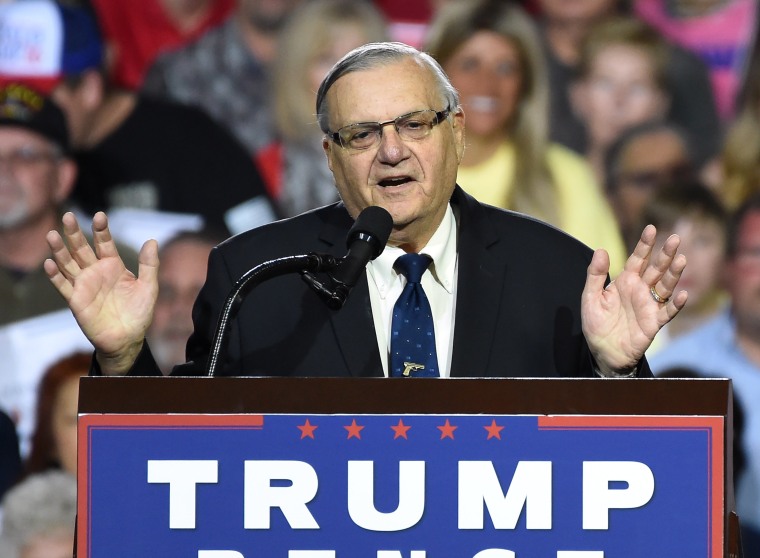 On Monday, Arpaio's lawyer asked the judge who ordered him in contempt to dismiss the case, saying the president's action renders the case moot and noting that the former sheriff "did not even ask the President for a pardon before it was granted."
It's undisputed that Trump had complete authority to issue the pardon. The U.S. Constitution gives a president the power "to grant reprieves and pardons for offenses against the United States."
In 1867, the Supreme Court made clear that a person can be pardoned before or after charges are filed, after a person is convicted, while a sentence is being served, and after a sentence has been served, to restore full civil rights.
Then in 1925, the Supreme Court ruled that criminal contempt of court was, in the words of the Constitution, an "offense against the United States," removing any doubt about the lawfulness of the kind of pardon Trump gave Arpaio.
Despite Trump's action, the original civil contempt finding against Arpaio still stands, because presidents can pardon only criminal offenses, not civil violations. Defense lawyers could still use the fact of the pardon in any future lawsuits that might arise over Arpaio's 24 years in office from 1993 to 2016.
"If I'm a plaintiff's attorney, I'm going to say the pardon proves you did something wrong. Otherwise, there would have been nothing to pardon," Morrison said.
As for the conduct that generated the original lawsuit against, a lawyer who helped file the case said Monday that Maricopa county continues to engage in prohibited racial profiling.
"It's still detaining Latinos and Latin Americans for much longer than other drivers and passengers. These are problems of institution-wide bias in traffic stops, and that's going to take time to uproot," said Cecillia Wang, deputy legal director of the ACLU.