President Donald Trump rode to the White House making big promises on health care — pledges that he is now in serious danger of breaking. Let's look at how the president's words on the campaign trail stack up against what we know today.
In addition to Trump's comments on the stump, his administration has spent weeks raising expectations on its Obamacare replacement. Among the claims: The Republican plan would cover more people, reduce their premiums and costs, avoid cutting Medicaid, and leave no one worse off than under the former president's signature achievement.
So now that the House GOP's American Health Care Act (AHCA) is here, how do these pledges look?
Not good, according to an analysis from the nonpartisan Congressional Budget Office released on Monday. The report found the House plan — which the Trump administration has thrown its support behind — would cause millions to lose insurance and raise costs for vulnerable populations.
The White House pushed back against the report, claiming the findings were not accurate, but some independent analysts have made similar predictions. Here's a look at where we are:
COVERAGE
"We're going to have insurance for everybody"— Donald Trump, Washington Post interview, 01/15/2017
Trump was clear both as a candidate and as president: No one would be left behind under his health care plan.
"We're gonna come up with a new plan that's going to be better health care for more people at a lesser cost," Trump told ABC's David Muir in January. "Everybody's got to be covered," he said on CBS' "60 Minutes" in 2015.
In addition to Trump's comments, the House GOP website denies that people will lose coverage under the Republican bill and Office of Management and Budget director Mick Mulvaney told CBS News last week he believed the legislation "will cover more" people. "We don't want anyone who currently has insurance to not have insurance," White House counselor Kellyanne Conway said on MSNBC's "Morning Joe" in January.
The House bill would fall far short of these promises, according to the CBO.
By the agency's estimate, 14 million fewer people would be insured in 2018 versus current law and a whopping 24 million fewer people would have insurance in 2026.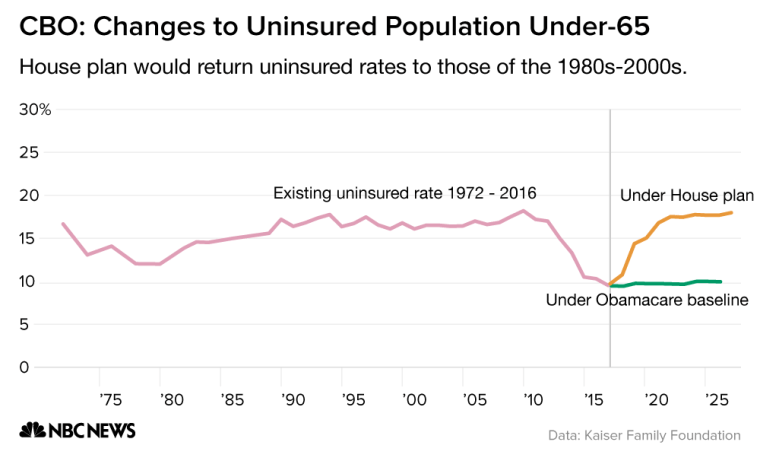 Some people would voluntarily drop their coverage because the bill repeals the individual mandate that requires people to buy insurance, but others "would forgo insurance in response to higher premiums."
The coverage losses would be "disproportionately larger among older people with lower income," according to the CBO, who would face higher premiums under the House GOP bill and less federal aid to pay for them.
COSTS
"I firmly believe that nobody will be worse off financially in the process that we're going through" — Health and Human Services Secretary Tom Price, NBC's "Meet The Press," 03/12/2017
Trump and his allies emphasized affordability, saying their Obamacare replacement would lower premiums and provide more help for out-of-pocket costs.
Trump, for example, told the Washington Post that Americans would see "much lower deductibles" in January and complained on Monday that under the current system "deductibles are so high you don't even get to use [insurance]." He promised "great health care for a fraction of the price" in a speech in Las Vegas last year.
The CBO news is mixed, but overall its estimates show these goals won't be met.
The analysis is especially harsh when it comes to Price's claim "nobody will be worse off financially." Instead, it finds some of the patients who need coverage the most would see their costs soar.
Related: White House says CBO has it wrong on health care
Health insurance premiums would initially rise 15% to 20% than they would under current law, but would eventually decrease, ending up 10% lower than Obamacare's projected prices by 2026.
But costs wouldn't go down for everyone and the worst hit by the GOP plan would be one of the most vulnerable groups: Older patients.
While CBO projects the average 21 year old could expect a 20-25% decrease in their premiums, a 64-year-old would see their premiums go up 20-25%. This is because of a change in the law that would allow insurers to charge older customers more than they can under Obamacare.
But it gets much worse for these patients: Most people who get individual insurance through Obamacare receive subsidies and older customers would get less help under the House GOP plan. The bill would give people a fixed amount of help while Obamacare's subsidies rise according to their income and the price of insurance.
For a 64-year-old making $26,500 a year, the effects would be devastating: They would pay, on average, $1,700 total for health insurance under Obamacare in 2026, but $14,600 under the House bill.
On the other end, some higher-income seniors and younger customers would pay less for insurance than they do now.
As for lowering costs and deductibles, the CBO projects that "individuals' cost-sharing payments, including deductibles, in the nongroup market would tend to be higher" under the House bill.
The bill reduces premiums by allowing insurers to offer plans that cover fewer expenses. But it runs directly afoul of Trump's personal pledge just two months ago to lower deductibles.
The White House argues it can bring premiums down further by loosening regulations on what insurers have to provide, but that could face legal challenges and it's not clear how far the administration can go without further legislation.
MEDICAID
"I'm not going to cut Social Security like every other Republican and I'm not going to cut Medicare or Medicaid" — Donald Trump, Daily Signal interview, 05/21/2015
Trump said in his speech announcing his run for president that he would "save Medicare, Medicaid and Social Security without cuts" and bragged on Twitter that he was the first Republican contender to make that pledge.
But the CBO found Trump would break his promise — by a mile.
Related: Trump voters would be hit hardest by healthcare changes
Obamacare expanded Medicaid to cover about 11 million more people, but the House bill would reduce Medicaid spending by $880 billion by 2026, at which point it would spend a full 25% less than under current law. This would leave many people without coverage: 14 million Medicaid patients would fall off the rolls, according to the CBO projection.
This could have repercussions for another Trump promise to "give people struggling with addiction access to the help they need" which he made in a speech on the topic last October.
A number of lawmakers, including key Republicans, have expressed concern that cuts and changes to Medicaid could affect patients who receive substance abuse treatment through the program.