WASHINGTON — On Sunday, thanks to a consortium of investigative journalists, the public learned that Commerce Secretary Wilbur Ross never fully divested himself of ownership in a big global shipping company — one with ties to Russia's rulers — when he joined President Donald Trump's Cabinet.
But new reporting by NBC News shows that Ross' potential conflicts of interest go even further. The shipping company's own documents suggest that Ross' company may benefit from an important initiative that he has led as commerce secretary: securing a trade agreement with China to increase U.S. exports of liquefied natural gas (LNG).
The shipping company in which Ross' financial partnerships still have a 31 percent stake, Navigator Holdings, exports a different energy product, liquefied petroleum gas (LPG). But Navigator's own statements, filed with the Securities and Exchange Commission, say that when there's a global expansion in LNG production facilities, that benefits the trade in LPG. That in turn could help Navigator's bottom line, and thus Ross himself.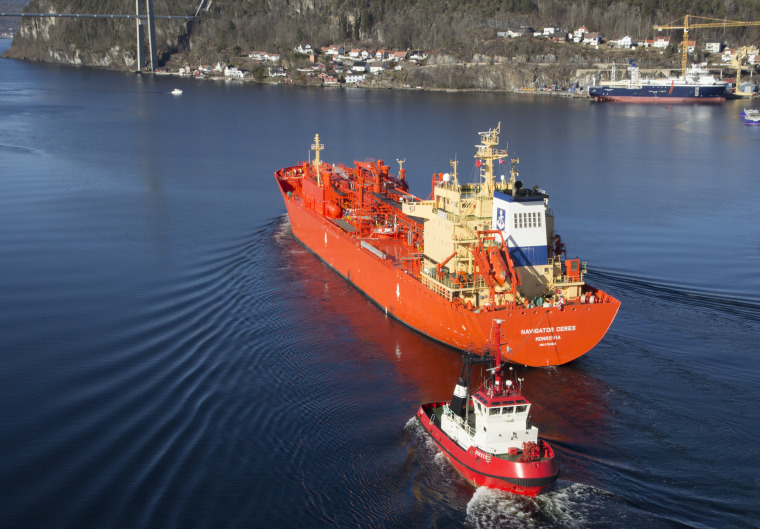 Ross's heavy involvement in the trade agreement with China raises the question of whether his work as commerce secretary has had a "direct and predictable" effect on Navigator's bottom line, potentially pushing the bounds of federal conflict of interest laws, according to Richard Painter, who served as the White House's chief ethics lawyer during the George W. Bush administration.
"If I were the ethics lawyer at Commerce," said Painter, who has been a frequent critic of the Trump administration's ethical practices, "I wouldn't let him anywhere near the subject."
A new market for U.S. gas
In May, Ross announced that the United States had reached a trade agreement with China that, among other provisions, allowed U.S. companies to sign long-term contracts to ship LNG to China. Ross had spearheaded the Trump administration's effort to expand American exports of the gas, which the U.S. now has in abundance thanks to the fracking boom. At the time, Ross celebrated the agreement as a "herculean accomplishment" that would open up new markets for American producers of natural gas.
What Ross did not say was that the agreement could potentially benefit big exporters and shippers of other liquefied energy products. Though it is not clear that Navigator will directly benefit from the deal, the possibility is strong enough that ethics experts like Painter say that Ross should have played no role in the agreement.
Navigator does not ship LNG, but the company says that the growth of LNG facilities would increase the production and trade of LPG, which is a core part of the company's shipping business.
"The expansion of existing LNG facilities and the construction of new LNG production facilities around the world have added to LPG production and trade volumes," Navigator said in a 2016 filing with the Securities and Exchange Commission.
According to Painter, it is particularly notable that Navigator put such a statement in its SEC filings, which indicates that the information is important for current and potential investors. "It's an admission from the company that it's material to the company," he said. "If the company's wrong on that, [someone] could sue them for securities fraud."
Under federal law, it is a crime for an executive branch employee to be substantially involved in specific matters that have a "direct and predictable effect on the employee's own financial interests," according to the federal Office of Government Ethics.
Given Ross' financial stake in Navigator, "it makes it reasonable to inquire whether this deal on LNG with China will have a direct and predictable effect of Navigator's value," says Kathleen Clark, a government ethics expert and law professor at Washington University in St. Louis. "Did anyone inquire whether Ross' involvement in the trade agreement caused him to violate the conflict of interest statute?"
Ethics experts say the same questions apply to Ross' chief of staff, Wendy Teramoto, who was still on Navigator's board of directors when she started working as a top advisor to the commerce secretary, as American Public Media reported this week. Ross said in May that Teramoto had played a key role in pulling together the agreement with China, which is aimed at reassuring the country about the availability of American LNG exports. (Teramoto resigned from Navigator's board in July, four months after she became a part-time government adviser to Ross in Commerce.)
Both Ross and Teramoto are accompanying Trump on his trip to Asia this week, as are two Texas LNG companies, and increasing U.S. energy exports are at the heart of the president's agenda.
'Navigator will be a beneficiary'
Ross himself predicted that Navigator would benefit under the Trump administration. At an event celebrating his nomination as commerce secretary, Ross assured Navigator CEO David Butters about the company's future, according to a January article in Bloomberg Businessweek. "Your interest is aligned to mine," Butters remembers Ross saying. "The U.S. economy will grow, and Navigator will be a beneficiary."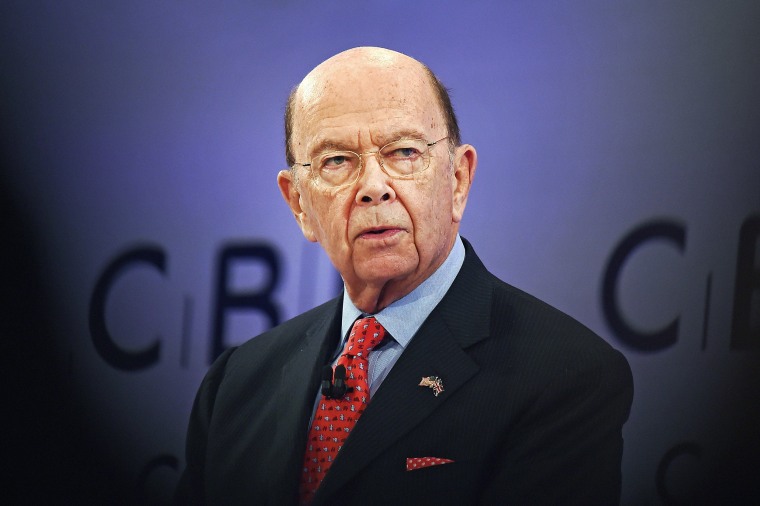 Navigator did not respond to questions about the impact of the natural gas market and Ross' policymaking on its own business. Asked whether the LNG deal with China posed a conflict of interest, the Commerce Department said that Ross works closely with the department's ethics officials "to ensure the highest ethical standards," a department spokesman, James Rockas, wrote in an email. "They continually review the Secretary's activities and advise him on appropriate recusals."
Ross began divesting from Navigator months ago "for reasons unrelated to the current controversy," says Rockas, adding that Ross is "nearing the conclusion of that process." According to federal documents, Ross sold $15,001 to $50,000 in Navigator stock on May 31, a little over two weeks after the Commerce Department announced the trade deal with China. On Tuesday, the Commerce Department told the Center for Public Integrity that Ross has also divested himself from Diamond S Shipping Group, a petroleum-shipping company that raised similar conflict-of-interest concerns.
The question of whether Ross or Navigator will directly benefit from the China deal, or from the growth in the market for LNG, is not a settled one. Ethics lawyers say that they would need more information to determine whether Ross acted properly. While Navigator "strongly suggests" in its financial filings that expanding natural gas facilities would have a positive impact on the market for the product it ships, Painter says that "it is not certain this is true."
What's more, it's unclear whether the specific trade deal that Ross delivered on LNG would necessarily increase the demand for Navigator's work in shipping a different kind of gas.
Both LNG and LPG are derived from shale gas, the production of which has been booming in the U.S. Shale reserves of "wet" gas produce a mixture of methane and substances like propane, butane, and ethane. The methane can be used to create LNG if it is cooled to very low temperatures. The other substances can be separated out to create LPG, which is used for heating, cooking and vehicle fuel.
That's why industry experts say that a boom in liquefied natural gas could also help the LPG market. "The expansion of LNG production and natural gas production would have a tendency to lead to greater LPG production," says Jason Feer, global head of business intelligence for Poten & Partners, an energy and transportation consulting firm in New York. "We're still producing more than we can consume ourselves. If you saw an additional increase in natural gas production, you would get more LPG exports."
'A no-go for a commerce secretary'
Navigator appears to conflate the two types of fuel in its SEC filings. "U.S. based shale plays have been developing rapidly over the last few years, increasing LNG production, which consists of among others, propane, butane and ethane molecules," the company wrote. Navigator adds that the growth in LNG markets has helped boost international trade by clearing bottlenecks at export terminals — another change that Ross has advocated for as commerce secretary.
Higher LPG exports would probably increase the demand for shipping companies that specialize in transporting the substances, but certain types of ships might be favored over others. Navigator, for example, specializes in medium-size vessels, but the fastest growing demand for LPG is in Asia, which is more likely to rely on large carriers for long-haul trips. As a result, it would be difficult to determine whether any specific shipping company would benefit from a boom in natural gas, says Feer. "It's just not predictable."
So while there might be a connection between expanding the market for LNG — the goal of Ross' trade agreement with China — and the product that Navigator ships, that isn't necessarily a problem under federal law. The connection between the policy matter and the financial interest "can't just be speculative," Clark says. "There is a big dollop of uncertainty about whether the conflict of interest statute comes into play" in Ross' case, given the complexities of the natural gas market, she adds.
Such thorny questions are why some ethics experts say that Ross should have divested from Navigator and any other shipping company before he joined the administration. The Commerce Department said that Ross would recuse himself from "any matters focused on transoceanic shipping vessels," adding that he hasn't had to seek any ethics exemptions so far. "There is no conflict of interest," Ross told Bloomberg TV, because "we don't regulate shipping."
But Painter points out that there is far more that the Commerce Department can do to affect the financial outlook for shipping companies, given the integral role of transportation in international trade. "This is a brain-dead idea, to keep a shipping company," he says. "A shipping company is a no-go for a commerce secretary."
Jeff Hauser, a long-time progressive activist and executive director of the Revolving Door Project, an advocacy group that works to prevent the private enrichment of public officials, believes that "an impartial prosecutor" should be empowered to determine whether Ross ran afoul of federal conflict of interest laws. "Ross' behavior clearly fails the smell test," he says.
But Hauser and other ethics advocates say their concerns about Ross' behavior go beyond the letter of the law. "There are legal questions, and there are norms that have served us well," says Meredith McGehee of Issue One, an advocacy group seeking to reduce the role of money in politics. "The tradition has been to bend over backwards to assure the American people that no conflict exists. This administration has thumbed their nose at that norm."