WILMINGTON, Del. — The coronavirus presented DuPont, the chemical giant based here, with a golden business opportunity.
In January, the company convened a crisis team to figure out how to ramp up global production of personal protective equipment, including different suits made out of its patented Tyvek material, which a distributor can sell between $5 to $15 apiece to hospitals. By early March, as the disease began to spread in the United States, DuPont's factory in Richmond, Virginia, was cranking out Tyvek.
It usually takes up to three months to ship the material to Vietnam, where it is sewn into body suits, and get it back. When the federal government offered to pay for chartered flights to reduce the round trip for 750,000 items to 10 days, DuPont agreed.
Then DuPont sold the suits to a third-party distributor for approximately $4 each, according to company documents it provided to NBC News, and that distributor sold them to the government. The company initially declined to say how much the Department of Health and Human Services paid for 750,000 suits, and it refused to identify the third-party distributor or say how much that firm charged the federal government.
"We actually helped get raw materials supplied from Richmond, Virginia, and we flew that s--- to Vietnam, all so that DuPont could sell us" their products, said a senior federal official involved in the coronavirus effort.
President Donald Trump and HHS, which announced the deal last week, described the arrangement as one in a string of massive successes in delivering badly needed medical equipment into the U.S. in an expedited fashion.
But for some government officials familiar with the supply-chain end of the coronavirus fight, it was yet another example of Trump's task force serving industry as the White House tried to corner the market on medical supplies.
For weeks, Trump has resisted pressure to use the full power of his office to temporarily turn the private sector into an arm of the federal government in a national emergency. He and his lieutenants instead have used the crisis to make federal assets and personnel a support group for industry, rather than the other way around, according to NBC News' interviews with dozens of public- and private-sector sources involved in various aspects of the coronavirus response.
In doing so, the vice president's coronavirus task force — mostly through a supply-chain unit led by Rear Adm. John Polowczyk, vice director of logistics for the Joint Chiefs of Staff, and heavily influenced by White House adviser Jared Kushner, the president's son-in-law — has favored some of the nation's largest corporations and ignored smaller producers of goods and services with long track records of meeting emergency needs, according to officials at multiple federal agencies and people familiar with contracting.
They have operated almost entirely in the dark, releasing few details of their arrangements with the big companies; created a new and convoluted emergency response system; and sown confusion and distrust in the states and among the people who need medical supplies.
There is virtually no accountability for their decisions about how and where to allocate emergency equipment, a vacuum that has produced strong criticism from Democratic congressional officials, who are demanding answers.
The story of the supply-chain group, a power center within the larger task force run by Vice President Mike Pence, is one of chaos, secrecy and ineptitude, these officials said. Governors, local officials and veterans of federal emergency response say it has deeply complicated the national fight against the pandemic.
But the view is much different from the inside. Pence tapped Kushner and his innovation team to help federal agencies increase the scale and expedite the acquisition and distribution of equipment, according to a senior administration official who spoke to NBC News on the condition of anonymity to provide insight into the group's mandate and operations.
Rather than creating new layers of bureaucracy, members assigned to issues and data analysis for the supply-chain task force see their work as a vital tool to strip away obstacles. Right now, Kushner's group is focused on getting a robust COVID-19 testing plan in place so American society can be reopened, as well as rolling out a production schedule for 110,000 ventilators by the end of June, according to the senior administration official familiar with its operations.
They may be doing a better job of getting results than telling their story, the source said.
To piece that story together, NBC News spoke to state, local and health system officials who detailed specific instances of federal interference in the delivery of lifesaving goods — from California to Michigan to New Jersey — as well as senior and mid-level administration officials and representatives of companies that have benefited from the task force's actions.
With so many ad hoc groups purchasing goods and services — the White House coronavirus task force, one of its seven subsidiary task forces or other government agencies — it's impossible to tell whether taxpayers are getting the best deals possible or are being gouged.
Just as DuPont wouldn't say how much the Tyvek suits cost U.S. taxpayers, a spokesperson for FedEx laughed when asked what the government is paying for each of the 40 flights the carrier has chartered for the HHS and the Federal Emergency Management Agency. But a senior government official involved in the response effort said such charter flights can cost as much as $1 million apiece, while federal agencies can borrow comparable Defense Department planes for about $10,000 an hour. A round trip from the East Coast to Vietnam on a commercial flight takes about 41 hours of flying time.
It's also hard to know which factors are given the most weight in allocation decisions; they can be made based on hard data or through an opaque "adjudication" process in which senior political officials are involved in making the calls.
FEMA and its parent agency, the Department of Homeland Security, didn't respond to NBC News' request for comment on the criticism of the lack of transparency, and FEMA didn't respond to questions about the process for deciding where to allocate medical equipment, the costs of charter flights or the reason for locating the supply chain task force in a corridor between two buildings leased by the agency.
'The children' and the '40-40-20' formula
The two priorities that officials say haven't been sacrificed by Trump or his supply chain task force, dubbed "the children" inside FEMA's headquarters, are private profit and the ability of the White House to choose where supplies go.
Members of the team include friends and close allies of Kushner's. Brad Smith, described as a "volunteer" because he is on loan from his job as deputy administrator of the Centers for Medicare and Medicaid Services, is a friend of Kushner's who has been involved in its work.
The supply chain task force leaders pushed aside federal emergency management response teams that had long-established methods for engaging assistance from the public and private sectors. Instead, they first reached out to personal contacts, according to people familiar with their operations. To the extent that they have absorbed some of the old practices over the course of time, with the help of career officials intent on bringing their actions in line with protocol, it has taken time to figure out their own system.
"Jared and his friends decided they were going to do their thing," said the senior government official involved in the response effort. "It cost weeks."
The senior administration official familiar with the task force's work described a race to procure supplies of ventilators, test kits and protective equipment in the midst of a chaotic moment when governors, mayors and hospital systems were demanding more than they needed. The supply-chain team had the ability to win bids and then distribute the goods directly, allocate them through the federal share of purchases or simply turn contracts over to states, this person said.
But when it comes to determining need, the source said, Kushner and his team have taken their time to require that governors and mayors have a handle on how much equipment they already have at their disposal and what they can get their hands on — some governors are smarter and more resourceful than others, the source added.
In a wrinkle that has had repercussions for small businesses and communities around the country, the task force ended FEMA's long-running practice of using its regional offices to find, pay for and acquire goods from smaller local vendors in an emergency, preferring instead to contract with heavyweights.
Download the NBC News app for full coverage of the coronavirus outbreak
One potential supplier, whose officials spoke to NBC News on the condition of anonymity to avoid hurting future contract opportunities, was originally contacted by a FEMA regional official in mid-March about producing face shields, which protect medical personnel from being sprayed with virus particles by patients.
The supplier initially bought $20,000 of material and told the regional office that production could be ramped up to 10,000 face shields per day, using a supply chain based fully in the U.S., almost immediately. But word came back that under the new system, the regional office couldn't approve the buy. The application would have to go through the main federal acquisition system, where it still sits.
"That was a hell of an investment on our part that was met with layer upon layer upon layer of resistance and difficulty," an official from the small supplier said Friday.
Working from a war room on the first-floor concourse between two towers of FEMA's leased headquarters in southwest Washington, the task force was handed the keys to the deepest treasury in the world, and it empowered the Trump administration to quietly corner the scarce market of medical goods in the U.S. and overseas. Its members were dispersed Tuesday after a "partner" of the group tested positive for the coronavirus.
Now, their work is being done with fewer sets of eyes looking over their shoulders, just as two House committee chairs have requested records related to the supply chain task force's work.
Using what it calls a "40-40-20" formula, the task force buys whatever it can get its hands on and then allocates the goods, according to the people familiar with the response effort. The first 20 percent is reserved for the federal government's Strategic National Stockpile. The task force directs where the next 40 percent goes, and the company selling the product gets to deliver the remaining 40 percent as it sees fit.
Project Airbridge
Under a relatively new operation run by the supply chain task force, called Project Airbridge, the federal government underwrites the shipping costs for protective equipment produced by major corporations in exchange for the right to direct where half of the goods go, according to a FEMA spokesperson.
FedEx began working with the White House moving coronavirus tests last month when a member of one of the task forces reached out to FedEx's government affairs team and asked, "Is this something you all know how to do?" according to the FedEx spokesperson. It then was pulled into Project Airbridge to move protective gear by plane. FedEx has been delivering large hauls of freight by air — as well as routinely transporting biological materials that could be infectious — since a late-1970s law deregulated the industry, and it now claims the largest all-cargo air fleet in the world.
In practice, the 40-40-20 arrangement means the federal task force can reroute a shipment that is already on its way to a state, a city or a hospital that had agreed to buy it from the supplier.
"I mentioned it maybe two weeks ago, that we're engaged in trying to get contracts with companies from around the world to get these PPE. And that when shipments were supposed to come in, we'd get noticed that they were delayed or they were canceled and our goods were going to the federal government," Michigan Gov. Gretchen Whitmer said in an interview with NBC News on April 6.
"And I raised that, and people kind of looked at me as though was I serious? Was this accurate?" said Whitmer, a Democrat. "And since then, of course, other governors have said this, essentially the same exact thing, that we're entering into these contracts and then we find out that it's going to FEMA or whomever."
The bidding wars for equipment have been a major source of friction between the federal government and states, which couldn't hope to compete with the supply-chain task force. The senior administration official familiar with the supply-chain task force's work said the team kept buying even though its members believed actual demand for goods would be less than the volume of requests it was getting from around the country.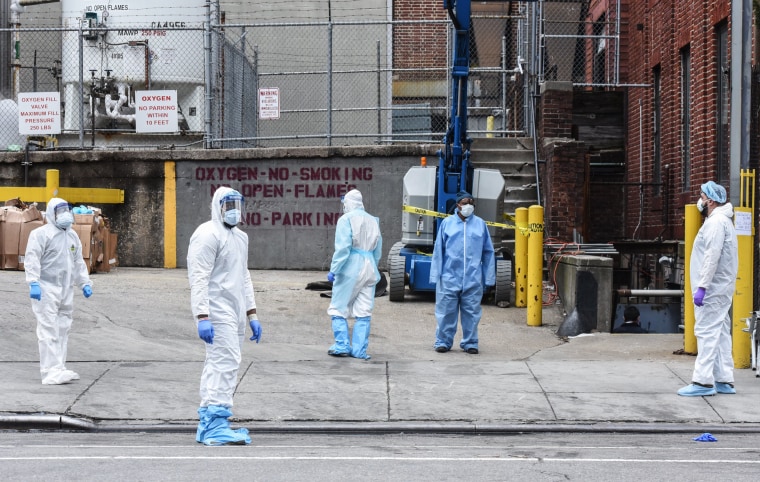 Rerouting supplies
An internal document provided to NBC News by a nurse with the Kaiser Permanente hospital system in the San Francisco Bay Area describes the local version of the logistical nightmare created when the federal government swoops in at the last minute to take away medical equipment.
"We have been notified by Cardinal Health, our source of isolation gowns, that FEMA is intervening and taking U.S. supply from the Cardinal China manufacturer," the Kaiser document states. "We are still receiving a small resupply under a protected allocation. However, there are very few sources of isolation gown supply. As a result, we need to move into mandatory urgent measures."
For companies working with the administration, the reductions are a necessary byproduct of having to give control of the allocation of 60 percent of their goods to the federal government. Their normal customers, even those in need, are being denied the supplies they expected.
When asked about the memo, Kaiser Permanente spokesman Marc Brown emailed that yes, some materials had been "reduced" when compared to pre-COVID-19 levels.
"Meanwhile, we continue to hear from our various suppliers and distributors that future shipments may be reduced due to FEMA or other federal reprioritization," he wrote, referring questions to Cardinal Health, a multibillion-dollar Ohio-based company that manufactures many medical and surgical products.
NBC News sent a copy of Kaiser's memo to Cardinal Health. Spokeswoman Lucy Bradlow said the language in the document wasn't accurate, but she declined to explain further.
"It sounds like, from the note you sent over and what you are describing, that this is a part of Project Airbridge, a collaboration between FEMA and industry that is expediting available inventory of much needed supplies from overseas to U.S. hospitals via military transports," she later emailed, suggesting that NBC News contact FEMA.
At the same time Trump and other White House officials are saying it is up to states, cities and hospitals to find and acquire their own medical supplies, the task force is undermining those efforts by cutting deals with companies to reroute equipment away from lower-level buyers. The priority list for the administration can be determined based on data about infection numbers, hospitalizations and other information, which is how federal emergency response is typically done.
'Adjudication'
But Pence's task force also has the power of "adjudication," the term used in national emergency response protocol for resolving disputes about where items go when there's a shortage, according to the federal officials familiar with the response effort. It's not clear whether Trump himself engages in allocating goods through the adjudication process, but Kushner's group isn't involved, according to the senior administration official.
At a White House briefing March 20, the president appeared to refer to the opaque system for picking winners and losers.
"Stockpile has been distributed to many states — first order, second orders and on a daily basis adjudicating that," he said.
Shanel Robinson, director of the board that governs Somerset County, New Jersey, said in an interview last week that a shipment of protective equipment was snatched away from the county by the federal government as a COVID-19 testing location was being prepared, which would be the first in the county.
The administration last week announced a decision to stop providing aid to community testing locations.
"We are at the 10-yard line for setting up a site next week," Robinson, an Air Force veteran, said then.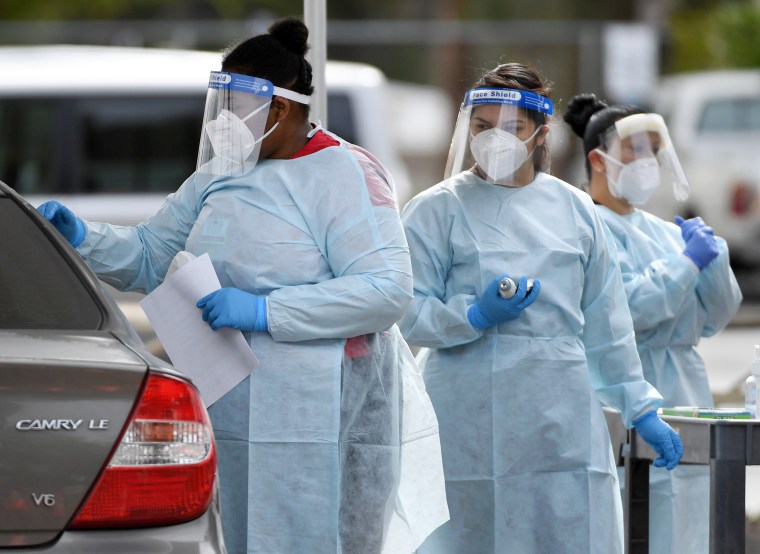 Congress wants to know
The Defense Production Act, a law empowering the president to force companies to contribute to emergency response efforts, take control of assets and dictate prices, has been invoked by the administration and waved like a club to influence the actions of private companies. In one case, it was used to block 3M and other companies from exporting medical equipment overseas. That order cited the Trump administration's authority to determine which firms can transport what goods and when.
Controlling the flow of goods at a time of scarcity and need gives Trump tremendous leverage to reward allies and punish enemies, including governors, mayors and executives at companies. So far, most of the public pushback has come from governors, particularly Democrats, but there are signs that business leaders are concerned, too.
On Tuesday, the coronavirus supply chain task force got an urgent message from top officials at the Department of Homeland Security seeking a list of "industry contacts" to be supplied within an hour, according to officials familiar with the request.
In what Trump calls the "war against the coronavirus," wasted time can mean the loss of lives, money and opportunity to secure medical equipment, and DHS attached the one-hour deadline for the request that it pushed through FEMA lawyers.
But in the case of this 60-minute scramble, DHS officials weren't looking to move ventilators, masks or test kits to the front lines of the coronavirus effort. Instead, Acting General Counsel Chad Mizelle, one of the top officials in the nation's national security apparatus, wanted to put together a call sheet so he could calm the fears of major corporations, officials said.
Mizelle's proposed presentation to address frequently asked questions regarding "some of the DPA-related concerns" of industry comes as Congress, governors, state and local officials, hospital systems and the media are putting pressure on the administration and some of the nation's largest companies to detail why badly needed medical supplies are being rerouted at the last minute by the federal government, why the price of goods is skyrocketing and why Trump has chosen not to use all of his authority for the public benefit.
"We write with deep concerns about the lack of clear coordination to procure and prioritize necessary personal protective equipment (PPE), ventilators, testing kits, and other critical medical resources to meet the United States' need amidst the global COVID-19 pandemic," three Democratic House committee chairmen said in a letter to Trump on Wednesday. "More can be done to leverage industry and researchers' ability to help curb this pandemic."
The senior administration officials said that most companies working with the federal government aren't partnering up because they're looking to make a profit and that the government isn't going to ask them to take a loss, adding that it would be a mistake to abuse the powers of the defense production law.
This on-the-fly redesign of American emergency management has produced marquee announcements by Trump about the speed and size of deliveries of goods.
"Our sweeping airlift operation to get doctors and nurses supplied with protective equipment, it continues to expand with more than 24 flights already completed and 49 additional flights now scheduled in the near future," Trump said at a White House coronavirus task force briefing Thursday. "So that's been very successful in that gear and those outfits are being handed out."
But the model, which critics inside the federal government say values self-assurance and patronage over experience and expertise, can be measured only against itself, both because it is unprecedented and because it has drawn resources away from the response apparatus put into place by law.
Who's getting the raw end of the deal?
Trump considers himself the consummate deal-maker, but it's clear that he's reluctant to use his full authority to lean on industry for better terms. Business owners and local officials, in many cases, simply don't know how the system is supposed to work and are clamoring for more information so they can fully participate.
On Thursday, Pence announced that his task force was reversing its decision to stop providing federal support for community testing sites. He said it would be an option for states to take over, which he described as an attempt to give them greater "flexibility" to choose locations and "style" them.
"We will continue to resource them with personnel, supplies and any other support they need going forward," he said.
For Robinson, the Somerset County, New Jersey official, it seemed as though the response strategy was lacking in strategic response.
"To have a long-term game plan, and not just immediate, would serve us better," she said.
Right now, what the public is getting from its money is a process that state and local officials, along with the front-line hospitals and medical personnel, have been forced to spend valuable time trying to figure out. In some cases, they have wasted that time bidding against the federal government for supplies.
The only people who claim to understand what's going on are political officials who work closely with Trump, Pence and Kushner — and representatives of some of the companies in the supply chain.
The White House and its task force have been managing an incalculably difficult crisis to the best of their ability, the senior administration official said, adding that the efforts to push lifesaving equipment to hot spots have proved successful by what they consider the most important metric.
No one has died yet at a hospital because he or she couldn't get a ventilator, the source said.
But testing still isn't widely available, Americans are still dying in hospitals and at home, and medical personnel are still struggling to find enough protective equipment.
"Good crisis management requires a single unified chain of command and accountability. When you have multiple competing factions with unclear division of labor between them, then it's a recipe for chaos," said Jeremy Konyndyk, a senior fellow at the Center for Global Development who led the Obama administration's response to the Ebola outbreak in West Africa. "That's just 101-level management."
Jonathan Allen reported from Wilmington, Phil McCausland and Allan Smith reported from New York, and Cyrus Farivar reported from Oakland, California.
UPDATE: After the initial publication of this article, DuPont shared documents with NBC News showing that it sold all 750,000 of the Tyvek suits to a third-party distributor, which in turn sold them to the government. DuPont refused to identify the distributor. The article has been updated to include the sale to the distributor.