WASHINGTON — President Donald Trump careened into office with a new approach to foreign policy: Speak loudly and carry a big stick. But as president, he's found he can often get what he wants without following through on a threat.
As he heads to Asia, White House officials are confident that his strategic model on national security matters is working — from American borders to Southeast Asia, and on issues ranging from a renegotiation of the North America Free Trade Agreement to the White House's controversial travel ban.
Each case presented a pattern: Trump started out with a hard-line position, watched with barely contained glee as the establishment freaked out, settled into a cozy spot between current policy and his originally stated aim, and then kept his initial threat alive to move other players toward his comfort zone.
Take Iran. Trump's tough talk — he called President Barack Obama's nuclear deal with the regime "one of the worst deals ever negotiated" — led global leaders and members of Congress to worry that he might just blow it up by reimposing sanctions on his own.
But when it came time to decide last month whether to renege on the agreement, and whether to designate the regime's Islamic Revolutionary Guard Corps a "foreign terrorist organization," Trump put down the big stick. He labeled the corps a "supporter" of terrorism and left the nuclear pact intact, giving a paralyzed Congress the option of walking away from it.
Cue the collective exhale from foreign policy elites, even as Trump had reframed the debate as a question of whether the U.S. and its allies could squeeze more out of Iran.
"We want more pressure on the Iranian regime and we want some additional leverage with Congress and the Europeans to fix the flaws in the deal," Michael Anton, a National Security Council spokesman, said in an interview. "If we unilaterally walked away from the deal, that wouldn't have worked."
If Trump changes his mind on the nuclear deal, he can reimpose sanctions on the regime unilaterally whenever he wants—and the same goes for hitting the IRGC harder.
"We haven't ruled out a future designation of the IRGC as a terrorist organization and it may yet happen at some point," Anton said.
The president's pattern is predictable, but still alarming to the governing and policy-making class in Washington.
Critics say he's destabilizing the world, lessening U.S. influence, tarnishing America's reputation in the international community and confusing allies and adversaries in ways that threaten to hurt U.S. interests for decades to come.
"Most of foreign policy is evaluated in the longer run," said Vali R. Nasr, dean of Johns Hopkins' School of Advanced International Studies. "The corrosion that has set in will manifest over time."
North Korea
Both supporters and detractors point to North Korea as Exhibit A for their case.
Trump has promised to unleash "fire and fury" on the regime should Kim Jong Un continue his threats and missile tests. That undiplomatic language riled a D.C. establishment concerned with how Pyongyang could react to the seemingly no calculation counterpunching method Trump has comfortably settled into at home. And it's unclear if it will give the administration the denuclearized end goal it's seeking.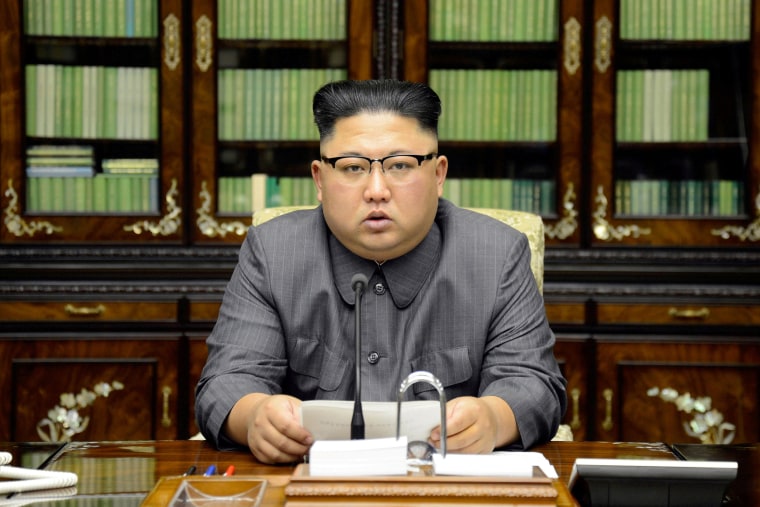 Nasr believes Trump's war of words with the North Korean dictator will backfire because the same incentives are created by the threat of pre-emptive military action and the absence of follow-through on such a threat.
"Either way, it gives them a green light," he said. "That's where the danger lies in North Korea."
But the White House sees Trump's words as an important reminder for North Korea, and the rest of the world, of American principles and might.
"Declaratory policy and deterrence, to remain credible, does have to be restated," Anton said.
"You don't want your rhetoric to create the crisis that you're trying to avoid, but you also don't want to be seen as so eager to avoid a crisis that the other side concludes, 'I can do whatever I want because they're never going to follow through on consequences,'" he added. "I don't think there's anybody in the world who believe that he won't take action if he feels it's necessary."
NATO
That approach can create apprehensiveness and a willingness among critics to guess what Trump's words — and even his silences — really mean. It was what Trump failed to say during a NATO summit in Brussels in May that stirred controversy. He didn't mention Article 5, the alliance's mutual-defense clause, which prompted finger-wagging from the international community.
Trump, who has pushed European allies to pony up more money for their own defense, didn't understand the negative reaction — and he didn't care to.
Because Trump had threatened to look at pulling out of NATO over other countries not providing enough money for their own defense, the absence of an acknowledgment of Article 5 carried more meaning than it might have otherwise.
Top White House advisers scrambled to assure reporters that the president's mere presence at the summit was an affirmation of the charter, and an explicit reference to Article 5 was included in a speech on Trump's next foreign trip.
Still, U.S. allies are taking the threat of reduced U.S. engagement — more than two dozen NATO countries are spending more on their own defense, a goal that prior administrations were less aggressive about pursuing.
Administration officials point to the mounting coins in NATO's coffers as a sign that Trump's tough talk, however awkward or unconventional, is paying off.
NAFTA
Trump made no secret of his disdain for NAFTA on the campaign trail, rousing crowds across the country with blustery promises to scrap the whole thing and start with something better for American workers. The fine print, however, is that there's no need to cancel if the deal can be renegotiated on Trump's terms.
Now, in the final months of his first year, the trade deal remains in place and under negotiation — which is exactly how Trump wanted it.
Rosa Brooks, a Pentagon official in the Obama administration and now a law professor at Georgetown, said it's possible that Trump could have brought Canada and Mexico to the table with less disruptive fanfare — and that he could have gotten what he sought in other areas the same way.
"There's a question of whether he could have achieved the same results without being extreme and erratic," she said.
The Travel Ban
Candidate Trump pitched a blanket ban on all Muslims entering the U.S. But President Trump sought to realize that vision as a targeted program of stepped-up vetting for refugees and a temporary suspension of travel from a small number of predominantly Muslim countries.
Trump's fiery, nationalistic rhetoric on the campaign trail came back to bite him, as courts cited his words in blocking the ban for months. But last week, the administration reopened the U.S. to refugees, codifying the stricter vetting procedures that Trump had sought for months. The announcement was met with silence compared with the national protests that greeted his first attempt at implementing a travel ban.
In the aftermath of a terror attack in downtown Manhattan, Trump is once again renewing his call for "enhanced vetting" procedures and changes to America's immigration system — an issue on which he's hoping his hard line will drag Democrats toward him in the coming months.
Brooks, the former Pentagon official, thinks Trump is doing more to harm America's standing than to help it. But she acknowledges that he's been able to move the international discourse in his direction.
"On his own terms, there's some truth to the argument that he's been successful in reframing debates and shifting people toward his positions," she said.