President Donald Trump has been dogged by controversy over allegations that members of his team communicated with Russian officials during and after the campaign.
On Thursday, the Washington Post reported that Attorney General Jeff Sessions met with Russian Ambassador Sergey Kislyak twice in the last year, which he did not disclose during his confirmation hearing. This comes just weeks after Trump National Security Adviser Ret. Lt. Gen. Mike Flynn resigned over phone calls he made to Kislyak.
Trump and his team deny any improper contacts with the Russians. Here is a timeline of the issues surrounding Russia and the Trump administration.
Week of July 18, 2016: Then-Sen. Jeff Sessions meets with Russian ambassador Sergey Kislayk with a group of other diplomats at RNC
During the Republican National Convention, Sessions meets with Kislyak, who was among a group of about 50 diplomats at a Heritage Foundation event. A small group of ambassadors approach Sessions for informal conversation.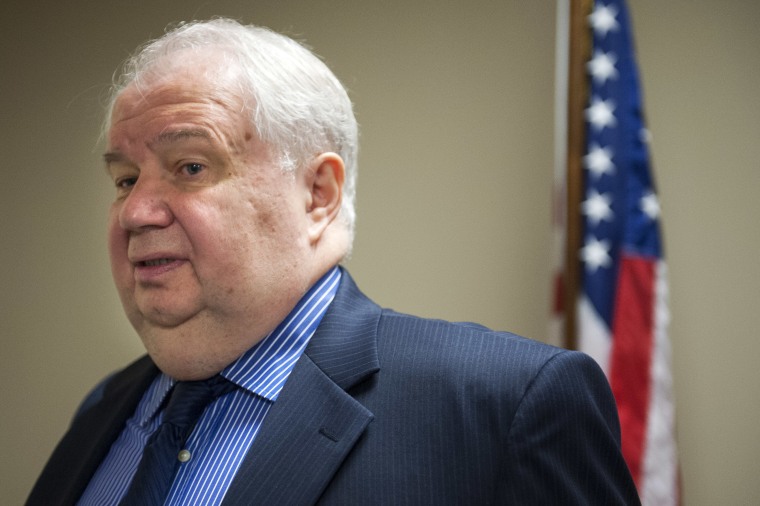 Sept. 8, 2016: Sessions and Kislyak meet again
Sessions meets with Kislyak for a second time. The get together in Sessions' office comes just days after then-President Barack Obama meets with Russian President Vladimir Putin at the G20 summit in Hangzhou, China.
Oct. 7, 2016: U.S. intelligence community says the Russian government conspired to interfere with the election
For the first time, the Obama Administration and the U.S. intelligence community publicly say they believe Putin's government carried out a hacks "to interfere with the U.S. election process."
Dec. 12, 2016: CIA analysts believe Russia interfered with the election to boost Trump
The CIA updates its findings to say the agency determined Russian interference with the U.S. election wasn't just an attempt to undermine the electoral process, but was ultimately designed to help Trump win.
Dec. 15, 2016: U.S. officials tell NBC News Putin was directly involved in hacks
U.S. intelligence officials say they have "a high level of confidence" that Putin became personally involved in the covert Russian campaign to interfere in the presidential election. Officials say intelligence showed that Putin personally directed how hacked material from Democrats was leaked and used.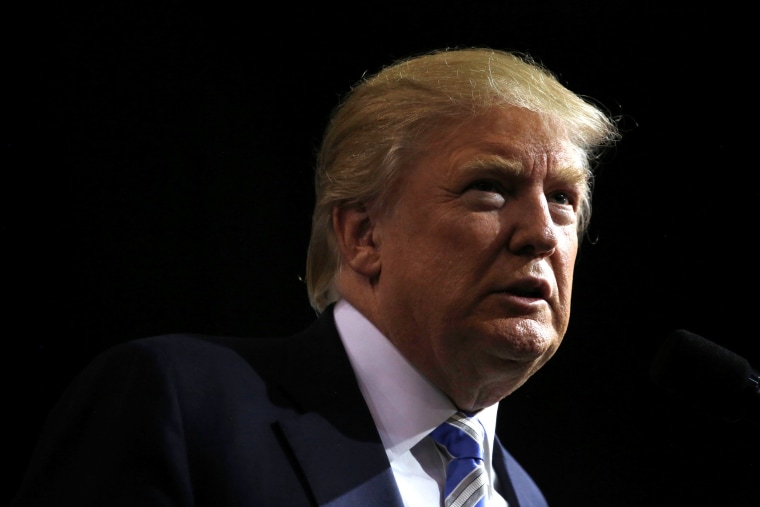 Dec. 29, 2016: Obama administration issues new sanctions on Russia, Flynn makes call to Russian ambassador
The Obama administration hits back at Russia by imposing sanctions against its intelligence apparatus and expelling 35 diplomats in retaliation for the alleged election interference. Flynn, then-President-elect Trump's national security adviser, speaks to Kislyak on the phone.
Dec. 30, 2016: Putin says he won't retaliate against U.S. sanctions, Trump calls it a 'great move'
Putin says he won't immediately retaliate against the new sanctions imposed by the Obama administration. Trump tweets that it's a "great move" and he "always knew [Putin] was very smart!"
Jan. 6, 2017: Trump acknowledges Russia had role in the hacks but says it didn't impact the election
After meeting with U.S. intel officials, Trump acknowledges that Russia waged cyberattacks on America but he continues insisting they had "absolutely no effect on the outcome" of the 2016 presidential election.
Jan. 10: Sessions is questioned by Sen. Al Franken during hearing
Sen. Al Franken asks Attorney General nominee Sessions during his Senate confirmation hearing what he'd do if it were revealed there was contact between the Trump campaign and Russia. Sessions replies he's not aware of any contact and offers up that he's never had contact with any Russians.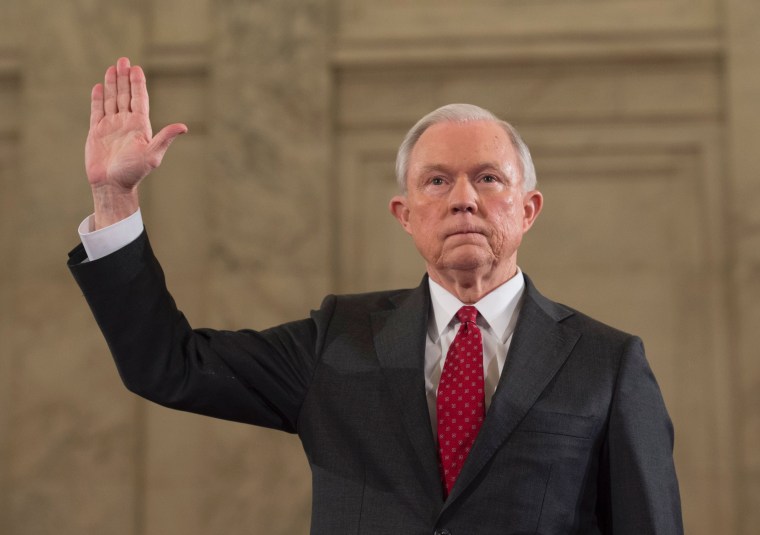 Jan. 12: The Washington Post first reports that Flynn made calls to Russian ambassador
The Washington Post columnist David Ignatius first reports Flynn called Kislyak "several times" on Dec. 29, 2016. This raises questions as to whether or not US sanctions on Russia were discussed.
Jan. 13: Trump aide Sean Spicer says Flynn's Russia call was for setting up a meeting between Trump and Putin after the Inauguration
Trump then-spokesman Sean Spicer confirms Flynn spoke to Kislyak but did not discuss sanctions with him. Spicer says the purpose of the call was to schedule a time for Trump and Putin to speak post-inauguration.
Jan. 15: Pence also says Flynn didn't discuss sanctions with Kislyak
During an interview with CBS' "Face the Nation," then-Vice President-elect Pence says Flynn's call with the Russian Ambassador was "strictly coincidental." He also said that the Trump campaign had no contact with Russian officials.
Jan. 19: The New York Times reports several Trump associates' communications with Russian officials is under investigation
Law enforcement officials and U.S. intelligence agencies tell the New York Times they are investigating possible links between Russian officials and Trump's associates. Those associates include former Trump campaign Chairman Paul Manafort and advisers Carter Page and Roger Stone. The FBI tells the Times it is leading the investigation and is working with the National Security Agency, the CIA and the Treasury Department's financial crimes unit.
Jan. 24: FBI probe of Flynn-Russia phone calls finds nothing amiss
The FBI eavesdrops on telephone calls between Flynn and the Russian ambassador but found nothing improper, according to U.S. officials. The officials say there was never a formal investigation, and they listened to the calls as a part of routine eavesdropping on Kislyak.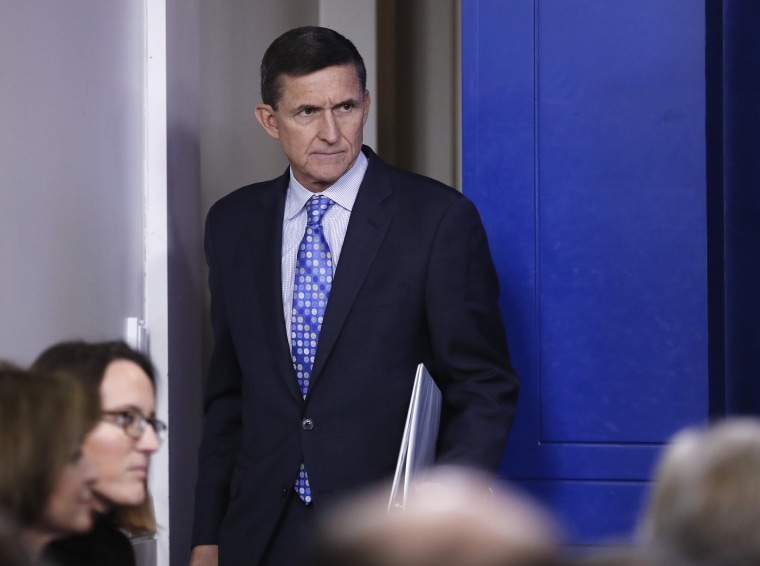 Feb. 10: Officials say Flynn did discuss hacking-related sanctions with the Russian ambassador
A U.S. intelligence official tells NBC News Flynn discussed hacking-related sanctions with the Russian ambassador before the Trump administration took office, contrary to assertions by Pence and Spicer. The official says there was no finding of any illegal activity.
Feb. 14: Flynn resigns as national security adviser
Flynn quits as Trump's national security adviser hours after it emerged that the Justice Department informed the White House that it believed he could be subject to blackmail.
Feb. 16: President Trump defends Flynn, says he asked for resignation
During a press conference, Trump calls Flynn a "fine person," but says he asked for his resignation. He tells reporters he was unhappy with how Flynn gave Vice President Pence "a certain (limited) amount of information."
March 2: The Washington Post reports that Sessions met with Kisylak twice in 2016
The Washington Post reports that Sessions met twice with Kislyak, which he didn't disclose during his confirmation hearing in January. Several Democrats call for Sessions' resignation and some Republicans say he must recuse himself from any investigations into Russia.