WASHINGTON — Amid diplomatic turmoil in the Middle East, President Donald Trump suggested Tuesday that his recent visit influenced several regional neighbors to isolate Qatar, home to an important United States military base, over terrorism.
On Monday, Saudi Arabia, Bahrain, Egypt, and the United Arab Emirates cut diplomatic ties with Qatar, accusing Doha of supporting terror and destabilizing the region. Trump's statements on Twitter indicated that he supports the decision and views it as evidence of his trip's success.
During Tuesday's press briefing, White House Press Secretary Sean Spicer said the tweets push a "message of toughness on terror financing," while not taking sides. The White House hopes to see the issue "de-escalated" and "resolved immediately," he said.
Related: Qatar and Its Neighbors Have Been At Odds Since the Arab Spring
But even with the White House's attempts at clarification, Trump's statements raise questions as to how the move impacts the U.S. military base in Qatar, as well as how the diplomatic stress serves American priorities and goals in the region.
A National Security Council spokesman didn't return NBC News' request for comment on the administration's plans in the Middle East as they relate to this issue.
On Monday, Deputy White House Press Secretary Sarah Huckabee Sanders said she was not "aware" whether the president received any word that the Gulf state nations were going to cut ties with Qatar during his recent visit to Saudi Arabia and referred further questions to the State Department.
U.S. Ambassador to Qatar Dana Shell Smith on Monday retweeted a previous comment from October 2016 about the "great partnership" with Qatar to "counter terrorist financing."
Secretary of State Rex Tillerson, who said he has long been familiar with Qatari leadership, said Tuesday at a press conference in New Zealand that there are a number of issues that have led to the frustration among regional leaders and the ultimate decisions to cut diplomatic ties with Doha. He pointed out that all of the Gulf nations need to take action to fight extremism and terrorism.
"I think in terms of the president's message in Riyadh, remember, was to motivate all of the Arab and Muslim nations worldwide and the Arab Muslim summit that all nations needed to take action against extremism and take action to also terminate the support, financial support, in any ways that they can," Tillerson said.
"And I think every country in the region has their own obligations they need to live up to, and they have their own challenges to live up to that commitment to terminate support for terrorism, extremism, however it manifests itself anywhere in the world," he added. "And I would say that's true of all the [Gulf Cooperation Council] countries; they have their own work to do in that regard."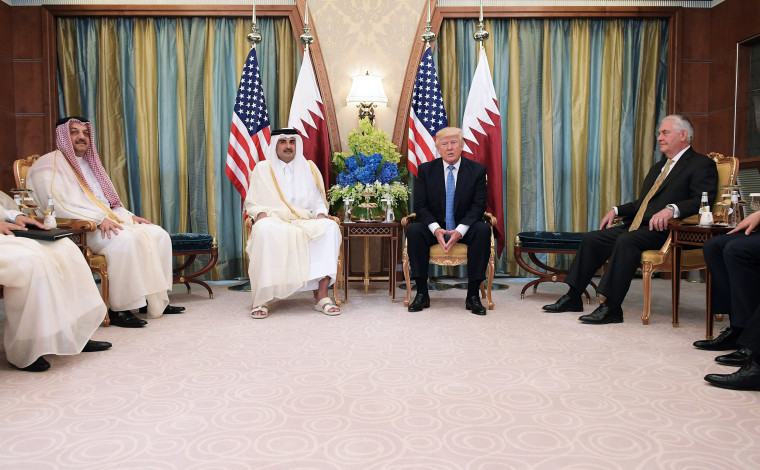 In October, the American Embassy in Qatar issued a statement saying "The United States Government enjoys a close and ongoing relationship with the Government of Qatar in combating terrorist financing and supports Qatar's efforts to deny terrorist financiers access to its financial system. The United States appreciates Qatar's role as a coalition partner in the fight against ISIL."
Qatar is strategically important to the U.S. in part because it houses the al-Udeid Air Base — home to roughly 10,000 American troops and a forward headquarters of U.S. Central Command.
"They are host to our operational base," Pentagon spokesman Captain Jeff Davis said when asked if Qatar is a supporter of terrorism.
Davis declined to comment directly on the president's tweets, saying "we have no plans to change our posture in Qatar" and that the Pentagon is grateful to Qatar for hosting al-Udeid Airbase.
During his first foreign trip last month, Trump spent several days in Saudi Arabia with King Salman, pressing a message of unity in the face of extremism to Arab and Muslim leaders and urging Gulf countries to halt the funding of extremist and terror groups.
On later stops, he frequently referenced his budding relationship with the Saudi King — a notable signal from the U.S. leader who stresses personal relationships with other world leaders as a sign he can make deals and get things done.