President Donald Trump's voter fraud panel is being sued by one of its own.
Maine Secretary of State Matthew Dunlap filed a lawsuit in federal court Thursday alleging that the panel has violated the Federal Advisory Committee Act by excluding Democratic members such as himself from reviewing internal documents and keeping them up to date about its work.
"I've made repeated requests about what the commission is working on," Dunlap told NBC News. "I'm asking for a schedule, not the nuclear secrets of the country.
Dunlap's lawsuit is the latest sign of dysfunction within the panel, which has suffered from internal disagreement over its mission and encountered considerable resistance from red and blue states alike.
Dunlap told NBC News in an interview that his lawsuit is a way to push the panel, chaired by Vice President Mike Pence, to be more transparent after months of frustration.
Dunlap sent a letter to commission staff in October asking for documents and updates that he said he needed to do his work as a member, but said his concerns were ignored, according to the suit. Meanwhile, he claimed in the suit, Republican commission members have pressed forward.
"The commission's failure to communicate with or involve Secretary Dunlap and other Democratic commissioners in proceedings renders them mere figureheads and violates FACA's requirement that advisory committees be balanced," the suit said.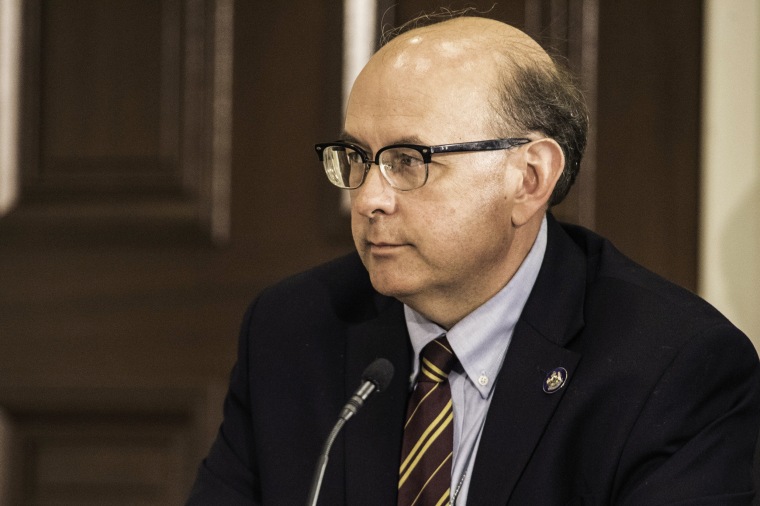 "I've never been a part of anything like this," Dunlap told NBC News. "I've served on minor commissions and major commissions … after a while I just felt like it was time to press the point."
Although the commission is headed by Pence, vice chair Kansas Secretary of State Kris Kobach, an immigration hard-liner and advocate of strict voter identification laws, has largely been its face.
Kobach, in a statement, called Dunlap's lawsuit "baseless and paranoid."
"He assumes that correspondence regarding commission business was occurring, but not being shared with him. Dunlap's assumption is incorrect. I did not receive any such correspondence either," Kobach said, adding that the panel's work has been stalled by lawsuits and staff cutbacks.
"Ironically, Dunlap's lawsuit is only going to increase the workload faced by commission staff and Department of Justice attorneys," he added.
A commission representative did not respond to a request for comment.
Trump formed the Election Integrity Commission in May through executive order to study "vulnerabilities" in the American electoral system after he made unfounded claims that 3 to 5 million people voted illegally in the 2016 election, costing him the popular vote.
The commission has been a lightning rod for controversy. It received bipartisan backlash after it sent a letter in June to every state requesting sensitive voter data, prompting thousands of voters to remove themselves from state voter rolls, and has been bogged down by several lawsuits filed by civil liberties and privacy groups.
The Government Accountability Office also plans to probe the voter fraud panel's funding, internal operations and how it is protecting and sorting the tens of millions of sensitive voter files the commission has collected.
Dunlap said despite the commission's issues, he does not plan to leave the panel.
"I think, if anything, it's more important than ever to be there," he said. "If I'm not there to ask the questions then they're not going get asked."