President Donald Trump's voter fraud commission has been officially disbanded, but the fight over investigating unfounded claims of widespread voter fraud that plagued the panel during its rocky tenure is continuing.
Kansas Secretary of State Kris Kobach, who served as vice chair of the commission alongside Vice President Mike Pence, the chairman, said in several interviews after Trump's abrupt decision Wednesday to dissolve the panel that the Department of Homeland Security now will "more effectively" probe voter fraud and that he plans to assist the agency.
"I'll be working closely with the White House and DHS to ensure the investigations continue," Kobach told Breitbart, adding that the Democrats who had served on the commission no longer have a seat at the table.
However, Tyler Houlton, the acting DHS press secretary, told NBC News on Thursday that Kobach will not be working with the department in any capacity.
"At the president's direction, the Department continues to work in support of state governments who are responsible for administering elections, with efforts focused on securing elections against those who seek to undermine the election system or its integrity," he said.
"Mr. Kobach is not advising the department on this matter," Houlton added.
Related: The hardline voting plan presented to Trump
Election experts and members of the now-defunct commission also expressed concern about how DHS, which Trump has praised for its aggressive immigrant enforcement, will oversee some voting matters and possibly examine unfounded claims of voter fraud.
"The question is: Are they going to be politicizing DHS?" said Bob Bauer, who was a co-chair of President Barack Obama's voting commission. "You wouldn't want to see the same recklessness built into the policy-making in the DHS, reflecting the way the commission operated."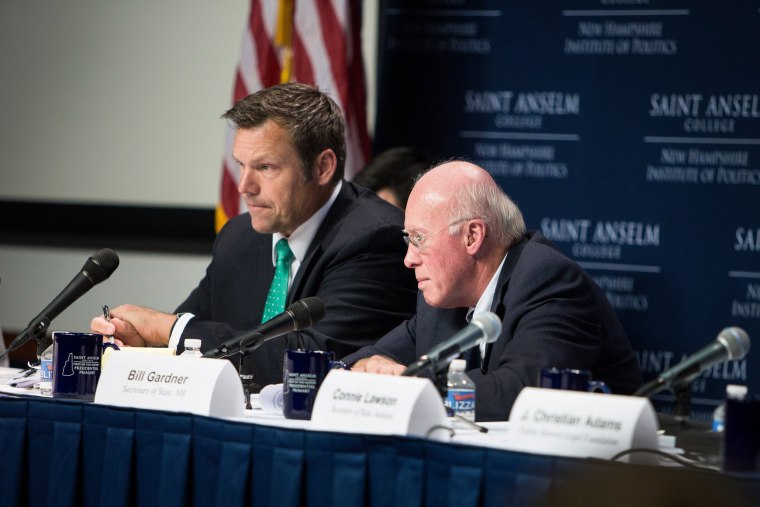 "It's one thing for DHS to try to protect homeland from Russians, but it seems like the Trump administration is trying to protect the American election system from a certain subset of Americans," he added.
Trump formed the commission in May to examine the country's electoral system for evidence of voter fraud and other voting issues. The president has claimed, without evidence, that several million people voted illegally in the 2016 presidential election, robbing him of a popular vote victory over Hillary Clinton, who topped him by about 3 million ballots.
Since its creation, the panel has been mired in controversy. Early on, it was rebuked for seeking massive amounts of sensitive voter data from every state, igniting a bipartisan controversy and a flurry of lawsuits from civil rights groups and even one of its own members. It was also marked by in-fighting, in which members sharply disagreed whether voter fraud existed.
Trump cited the "endless legal battles" in his decision to shut the panel down.
"Despite substantial evidence of voter fraud, many states have refused to provide the Presidential Advisory Commission on Election Integrity with basic information relevant to its inquiry," Trump said in a statement Wednesday evening.
"Rather than engage in endless legal battles at taxpayer expense, today I signed an executive order to dissolve the Commission, and have asked the Department of Homeland Security to review these issues and determine next courses of action."
The panel had been expected to issue a final report this spring.
Michael McDonald, an election expert at the University of Florida, told NBC News that it's unclear if the commission has the authority to simply hand over the voter data to DHS or if a new request from DHS to the states for data has to be sent.
"There are going to be a number of legal issues that need to be resolved here," he said. "I don't think Trump can just wave wand and say, 'DHS go out and do this.'"
He also said transitioning the commission's work to DHS also raises red flags because of the possibility the agency could use its immigration databases to match against voter files to find noncitizens voting, which had been a project of Republican panel members.
The DHS spokesman did not respond to a question on the possible use of its databases.
Related: Trump's voter fraud panel has gone dark. Members don't know why.
Judge Alan King, an Alabama election official and a Democrat who was a member of Trump's voter fraud commission, said one of his big concerns is the federal government encroaching on what is essentially the province of states.
"When you talk about DHS or a federal agency getting involved, I think the end game there, maybe, is to continue to suppress the vote, and that's obviously is not a good thing," he said. "Are we going to get to the point where Big Brother is going to be watching (and) going to know who's voting and how they're voting?"