WASHINGTON — President Donald Trump said Tuesday he still has "great heart" for "Dreamers," despite an announcement hours earlier from his administration stripping thousands of young undocumented immigrants who came to the U.S. as children of the deportation protection provided to them by an Obama-era policy, DACA.
"Hopefully now Congress will be able to help them and do it properly," Trump — who campaigned on a promise that "I alone can fix it" — said Tuesday afternoon, passing the hot button political issue to Congress with the clock ticking.
"I have a love for these people," he added.
As for lawmakers in a GOP-controlled Congress that has struggled to gain traction on any major legislative action so far this year, President Trump told a group of reporters Tuesday "they want to be able to do something and do it right.
"And really we have no choice. We have to be able to do something, and I think it's going to work out very well. And long-term it's going to be the right solution."
Two Department of Homeland Security officials told NBC News there is consensus within the agency that Congress will not be able to pass a legislative fix and that the curtains on the Deferred Action for Childhood Arrivals, or DACA, began falling today.
The White House said the president "wrestled" with the decision to rescind Obama-era protections for young undocumented immigrants, pointing out the "complexity" of the issue at hand and Trump's desire for Congress to come up with a solution.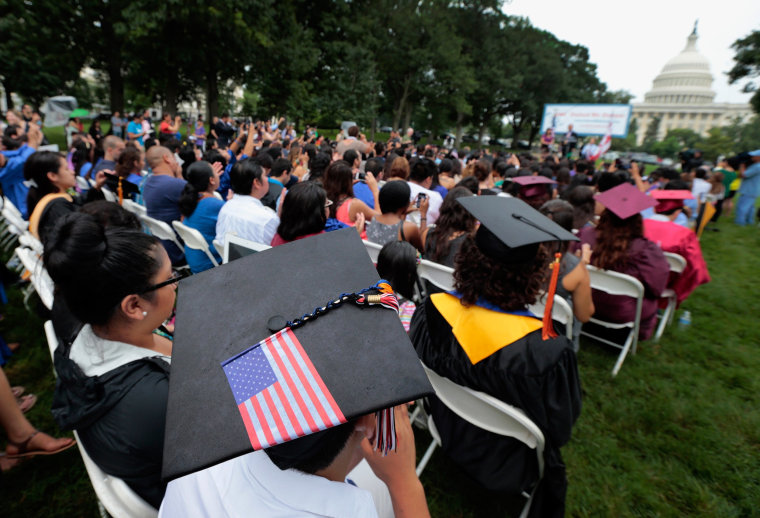 The president released a lengthy statement immediately after Attorney General Jeff Sessions announced the reversal of the Obama-era immigration program that protects over 800,00 young undocumented immigrants brought here as children.
In that statement Trump promised to "resolve the DACA issue with heart and compassion — but through the lawful democratic process — while at the same time ensuring that any immigration reform we adopt provides enduring benefits for the American citizens we were elected to serve."
DACA was "certainly something where (the president) wants to be able to make a decision with compassion but at the same time, you can't allow emotion to govern," White House Press Secretary Sarah Huckabee Sanders said Tuesday.
During the campaign, Trump promised to treat so-called "Dreamers" with "great heart," and as recently as Friday said "we love dreamers. We love everybody."
But he also wondered repeatedly on the campaign trail why young Americans citizens were not considered "Dreamers."
Pressed by NBC News Tuesday about critics who call the decision "cold-hearted," Sanders said: "It's not cold-hearted for the president to uphold the law."
For a president that loves the spotlight, Donald Trump seemed willing to share it Tuesday, letting Sessions — an immigration hardliner and long-standing DACA opponent — announce the White House's decision to rescind the policy.
Trump hopes to see Congress act on a multi-pronged approach to immigration policy, Sanders said Tuesday, including taking steps to control the border, improve vetting and immigration security, and protect American workers.
Despite heavy skepticism that Congress could move on the issue — especially within the given six month timeline for DACA recipients — the White House said it was confident.
Lawmakers "just came back from a three week vacation," Sanders pointed out. "I think that they should be rested and ready to take on" challenges.