President-elect Donald Trump plans to support Los Angeles' bid to host the 2024 Summer Olympics — an event that could fall during the closing months of a second Trump term — according to a spokeswoman for the city's mayor.
Trump expressed support for the city's bid during a phone call Wednesday with Mayor Eric Garcetti, spokeswoman Connie Llanos said.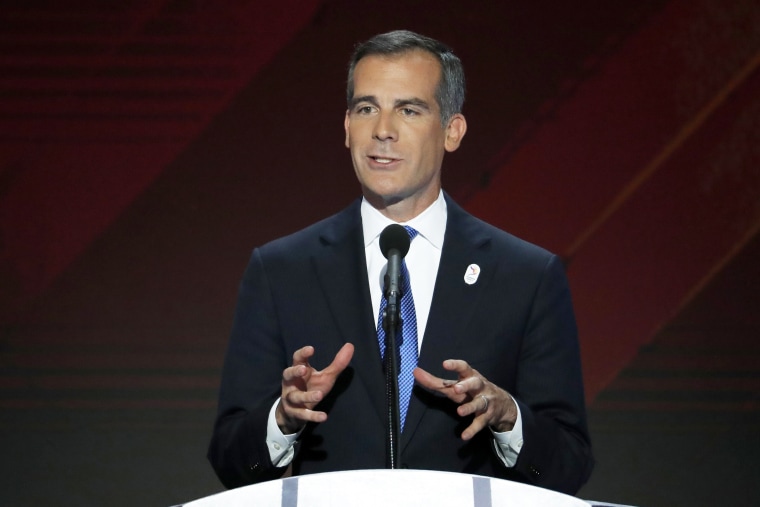 "They had a productive conversation about ways to expand infrastructure investments and opportunities in communities across America," Llanos said in a statement. "And the Mayor stressed the important role that immigrants and immigration reform will play in L.A.'s — and the nation's — long-term success."
Llanos said that the call was brief and that it came after Garcetti reached out to the president-elect's office.
Garcetti was a strong supporter of Hillary Clinton and a vocal opponent of Trump, calling him a "political pyromaniac" during a speech at the 2016 Democratic National Convention.
"Donald Trump has no vision for our country and no genuine answer to our challenges," Garcetti said at the DNC in July. "Elect Donald Trump and get empty promises."
The two are also miles apart on immigration policy. Garcetti in 2014 ordered Los Angeles police not to grant U.S. Immigration and Customs Enforcement's standing request to detain immigrants suspected of being in the country illegally.
Trump threatened during the presidential campaign to cut off federal funding to so-called sanctuary cities, and he pledged to deport any undocumented immigrant taken in by law enforcement without regard to the severity of their crimes or whether they were convicted.
Los Angeles County was home to about 1 million of the estimated 11 million immigrants in the country illegally in 2014, according to data published by the Migration Policy Institute.
Garcetti told the Associated Press in August that Trump could be a liability to L.A.'s Olympic bid, but his administration could also bring some expertise. Mitt Romney, who Trump is considering for Secretary of State, was president and CEO of the 2002 Winter Olympics in Salt Lake City.
Los Angeles is competing with Paris and Budapest, Hungary to host the 2024 Olympics.