WASHINGTON — President Donald Trump said Thursday he was surprised by the early-morning FBI raid on the residence of his former top campaign aide Paul Manafort, calling it a "very, very strong signal or whatever."
"I thought it was a very — you know, they do that very seldom, so I was surprised to see it," Trump said of the raid during a lengthy, wide-ranging question-and-answer session with a group of reporters at his Bedminster golf club. "I was very, very surprised to see it."
Trump said he's always found Manafort to be "a very decent man," and added that he hasn't spoken to him "in a long time."
Trump did seek to distance himself somewhat from one of the key figures in ongoing probes into Russian meddling and allegations of Trump campaign collusion with the Kremlin. Minimizing the time Manafort worked on the 2016 Trump campaign, the president described it as "a very short period of time."
Manafort came on board in late March last year, and then took over day-to-day campaign operations after former campaign manager Corey Lewandowski was fired in June. Manafort left the campaign in August, the result of the third and final campaign staff shake up that installed Kellyanne Conway atop the campaign, as well as Steve Bannon.
Trump said the search of Manafort's residence, a luxury condo in Alexandria, Va., was "pretty tough stuff."
"To wake him up, perhaps his family was there, I think that's pretty tough stuff," the president said.
A spokesman for Manafort, Jason Maloni, told NBC News Wednesday that FBI agents "executed a search warrant at one of Mr. Manafort's residences," adding that "Mr. Manafort has consistently cooperated with law enforcement and other serious inquiries and did so on this occasion as well."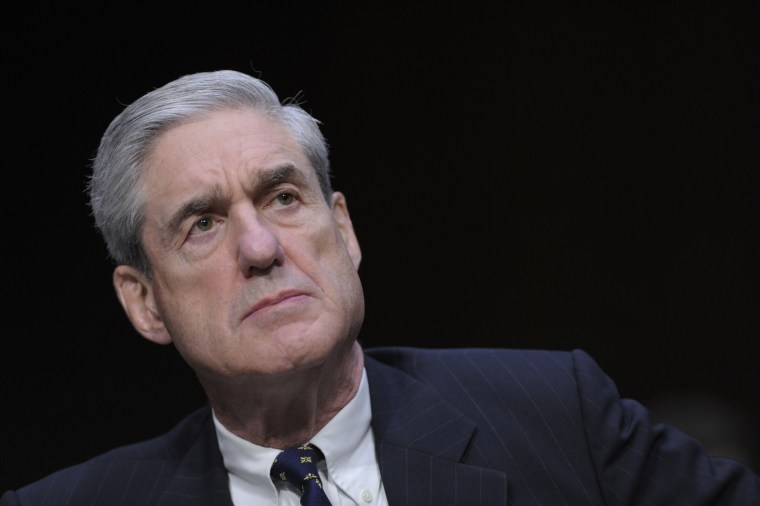 Sources with knowledge of Special Counsel Robert Mueller's investigation said the search is tied to a probe of Manafort's business dealings and financial relationships, both in the U.S. and abroad.
Trump also told reporters he would not dismiss Mueller, despite often attacking the Mueller's investigation as a "hoax" and Democrat-created "fabrication."
"I haven't given it any thought," Trump said of firing Mueller. "I've been reading about it from you people. You say, 'Oh, I'm going to dismiss him.' No, I'm not dismissing anybody."
Trump added of Mueller's work, "We have an investigation of something that never took place."