WASHINGTON — President Donald Trump on Monday called Democrats' stone-faced reaction to his State of the Union address last week "treasonous" and "un-American" during a visit to a manufacturing plant in Cincinnati.
Trump described Republicans as "going totally crazy wild" during his remarks last Tuesday, while expression-less Democrats remained seated for the majority of the speech. "They were like death," Trump lamented. "And un-American. Un-American."
But their reaction, he said, was also something much worse.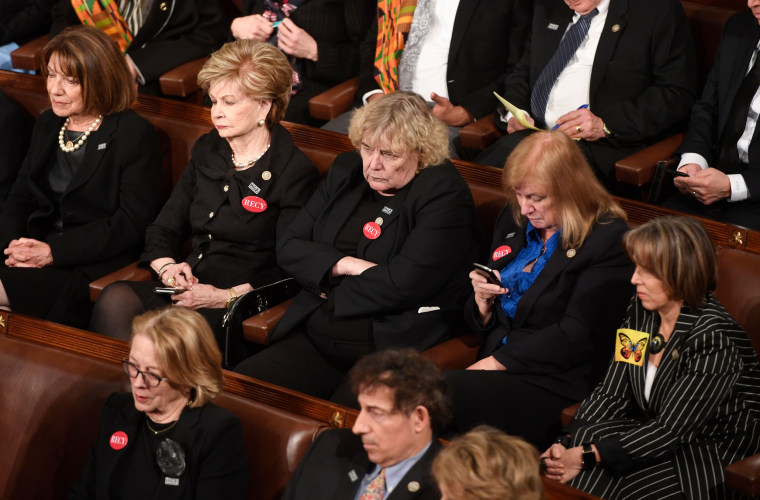 Vaguely noting that "someone" called the Democrats' reactions "'treasonous,'" Trump said he agreed. "I mean, yeah, I guess. Why not? ... Can we call that treason? Why not? I mean, they certainly didn't seem to love our country very much."
Though the word has gotten plenty of attention in Washington of late, not standing during a speech certainly does not count as treason.
Hogan Gidley, a White House spokesperson, told NBC News Tuesday morning that Trump was being "tongue in cheek" when he accused the Democrats of "treason." The president, Gidley said, was simply trying to make the point that there are positive things going on that all Americans should celebrate regardless of their party.
Trump's speech — billed by the White House as another push for the newly passed Republican tax plan and "not a political event" — swung wildly from the tax package's finer selling points to the president's rosy outlook on 2018 while he leveled hard knocks against Democrats, specifically House Minority Leader Nancy Pelosi. As Trump spoke, the stock markets he once used as an example of his positive impact on the economy continued their downward slide.
"[Pelosi]'s our secret weapon," Trump told the Ohio crowd. "I just hope they don't change her," he said, adding that "there a lot of people that want to run her out" of her leadership post.
The anti-Pelosi playbook isn't a new one, but it's one Republicans seem likely to brandish again as the 2018 midterms draw near. Recently, Vice President Mike Pence, top Republicans and even Trump himself have seized on Pelosi's comments likening American monetary gains from the GOP tax bill to "crumbs" — a gaffe the president likened to Hillary Clinton's "deplorables" comment during the 2016 election.
Though historically the party in the White House faces tough losses in their first midterm election, Trump believed he had the root of the problem in hand: electorate complacency.
"I think I figured it out," he said, describing voters as "happy" in the aftermath of their side winning the White House, while the other party's supporters are "desperate" for a win and thus more willing to get out and vote in midterm election years.
"In the midterms, we've got to get out there and win," Trump decided, tagging Pelosi and Senator Minority Leader Chuck Schumer as "so far left."
Trump then doled out at least a partial endorsement of Rep. Jim Renacci's run for the U.S. Senate, pressing Ohioans to "get Jim in" and help Republicans earn "tremendous success" in 2018. "If we don't, we're just foolish," Trump chided.
The president was looking past the midterms, too. "We want to do great in '18, and we're going to do really well in '20," he said. "That's when we go again and we keep this great journey going, OK?"
But to get there, Trump will first have to overcome the ongoing Russia probe into his campaign's alleged collusion with the Kremlin. A newly released Republican memo seeks to discredit information gathering tactics by the FBI and Justice Department, but doesn't actually vindicate Trump despite his tweets over the weekend claiming it did.
On Monday, the president celebrated catching "them in the act," speaking in veiled terms but in an apparent reference to political opponents and law enforcement officials as he made the case for electing more Republicans to Congress.
"We need them badly, too, or it all goes back to where it was and worse," he said, interrupting himself to glorify the memo. "Boy, did we catch them in the act or what? You know what I'm talking about. Oh, did we catch them in the act. They are very embarrassed. They never thought they were gonna get caught. We caught 'em. ... It's so much fun, we're like the great sleuth."
Though the White House did not draft the memo, it did support its public release. It remains unclear if Trump will come to the same conclusion with a corresponding memo from Democrats on the same topic.
The White House maintained before the rally that there was "no consideration about any personnel moves at the Department of Justice" when asked about Trump's confidence in Deputy Attorney General Rod Rosenstein, one of the top DOJ officials named in the memo.
But that doesn't mean the memo won't herald any change at all. Asked about a second special counsel to look into the DOJ and FBI, White House Principal Deputy Press Secretary Raj Shah told reporters aboard Air Force One on Monday that the president's personal attorneys have called for "further review and a second special counsel."
CORRECTION (Feb. 5, 6:05 p.m.): An earlier version of this article misspelled the last name of an Ohio congressman who is running for the U.S. Senate. He is Jim Renacci, not Rinacci.