WASHINGTON — The Trump administration moved forward with a proposal Friday that would effectively ban Planned Parenthood and similar organizations from providing abortion and related services under the same roof as operations funded by federal family-planning grants, according to an administration official.
The so-called Hyde amendment prohibits the use of competitive federal family-planning grant funds for abortion, but organizations like Planned Parenthood have traditionally used the federal money for other health services while using private money for abortions and related services — sometimes at the same facilities and with the same staff.
Based on a Reagan-era regulation and championed by abortion-rights opponents, the new rule would force entities that receive so-called Title X family-planning funding to maintain physical and financial separation between taxpayer-backed operations and any related facilities that perform abortions, support the procedures or receive referrals about them, the official said.
In addition to the policy implications, the decision is a monumental signal by President Donald Trump to anti-abortion activists entering a midterm election cycle in which Republicans are worried that they will lose seats in Congress — and perhaps control of one or both chambers — because of a lack of enthusiasm within the GOP base.
"We thank President Trump for taking action to disentangle taxpayers from the abortion business," Marjorie Dannenfelser, president of the Susan B. Anthony List, a group that provides political support for candidates who oppose abortion. "This is a major victory which will energize the grass roots as we head into the critical midterm elections.
The proposed rule change — which was submitted to the Office of Management and Budget by the Health and Human Services Department Friday morning — will drop a requirement that Title X grant recipients provide abortion counseling to patients. But it will stop short of giving abortion foes one provision they sought: a gag rule prohibiting recipients from discussing abortion with pregnant women.
"This is an attempt to take away women's basic rights, period," said Dawn Laguens, executive vice president of Planned Parenthood Federation of America. "Under this rule, people will not get the health care they need. They won't get birth control, cancer screenings, STD testing and treatment, or even general women's health exams."
She added: "Everyone has the right to information about their health care — including information about safe, legal abortion, and every woman deserves the best medical care and information, no matter how much money she makes or where she lives. No matter what. They won't get it under this rule."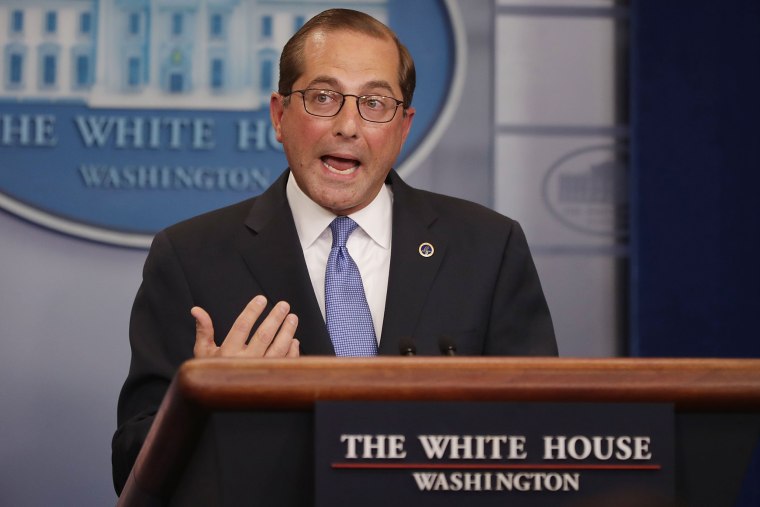 The proposed rule could hit many of the front-line health providers for the nation's poorest. About two-thirds of people who visit family planning services are below the federal poverty level, according to the National Family Planning and Reproductive Health Association.
The Title X program, which provides grants for a broad range of family-planning services, was created by a 1970 law whose lead sponsors included George H.W. Bush, then a Republican congressman from Texas.
In fiscal 2017, Congress appropriated $286.5 million in Title X grants, much of it to Planned Parenthood affiliates.
For critics of Planned Parenthood who have been frustrated by their inability to get Congress to ban funding for the group, the new rule is a tool to achieve a similar result.
The administration official framed the proposed rule as a choice for Planned Parenthood: separate themselves from abortion services or fund themselves entirely with private money.