President Donald Trump on Wednesday denied telling the widow of a fallen soldier during a condolence call that the serviceman "must've known what he signed up for" — a claim made by a Florida congresswoman who was present for the call.
"I didn't say what that congresswoman said, I didn't say it at all," Trump told reporters. "And she knows it."
Instead, Trump said he "had a very nice conversation with the woman, with the wife, who sounded like a lovely woman."
The president added that he "did not say what the congresswoman said and most people aren't too surprised to hear that."
Rep. Frederica Wilson, D-Fla., told NBC Miami Tuesday night that she heard the president's comment to Sgt. La David T. Johnson's widow, Myeshia, on a speakerphone as they were traveling together in a car to meet his body.
"He said, 'But you know he must've known what he signed up for,'" Wilson recounted Trump saying more than once during the minutes-long call to express his sympathy.
"Everyone knows when you go to war you could possibly not come back alive, but you don't remind a grieving widow of that," Wilson said. "That's so insensitive."
"He didn't even remember his name," Wilson recalled Myeshia Johnson telling her after hanging up with the president, the congresswoman told MSNBC's "Morning Joe" on Wednesday.
"That's the hurting part," Wilson said.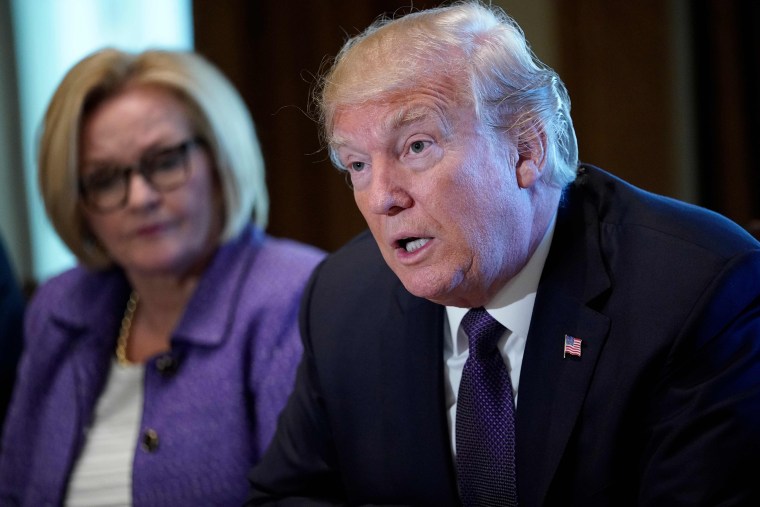 A family member of the fallen solider told The Washington Post, "President Trump did disrespect my son and my daughter and also me and my husband."
Related: Deadly Ambush Highlights America's Growing Mission in Africa
Wilson described Johnson's family as "astonished" by Trump's comment.
The president first hit back at Wilson's recollection earlier Wednesday, tweeting that the "Democrat Congresswoman totally fabricated what I said to the wife of a soldier who died in action (and I have proof). Sad!"
But that only led to a back-and-forth between Wilson and Trump that that lasted all day.
Moments after Trump's tweets, Wilson, on CNN's "New Day," said she had evidence to support her account of the call.
"I'm not the only person that was in the car, and I have proof, too. This man is a sick man," she said. "I have no reason to lie on the president of the United States with a dead soldier in my community."
Later Wednesday, White House Press Secretary Sarah Huckabee Sanders said there were no recordings of the call, but explained that Trump's "proof" amounted to there having been "several people in the room from the administration that were on the call, including Chief of Staff John Kelly."
Sanders accused Wilson of "politicizing" the situation and called her statements "appalling and disgusting." Sanders added that Kelly was also "disgusted" that the focus had become the process of the call "and not that American lives were lost."
Johnson was one of four U.S. service members killed in an ambush by militants in Niger on October 4. Officials said they were participating in a train-and-advise mission with local forces.
Johnson, 25, of Miami Gardens, was found dead after initially being reported as missing after the attack.
He was a driver assigned to the 3rd Special Forces Group (Airborne) based out of Fort Bragg, North Carolina.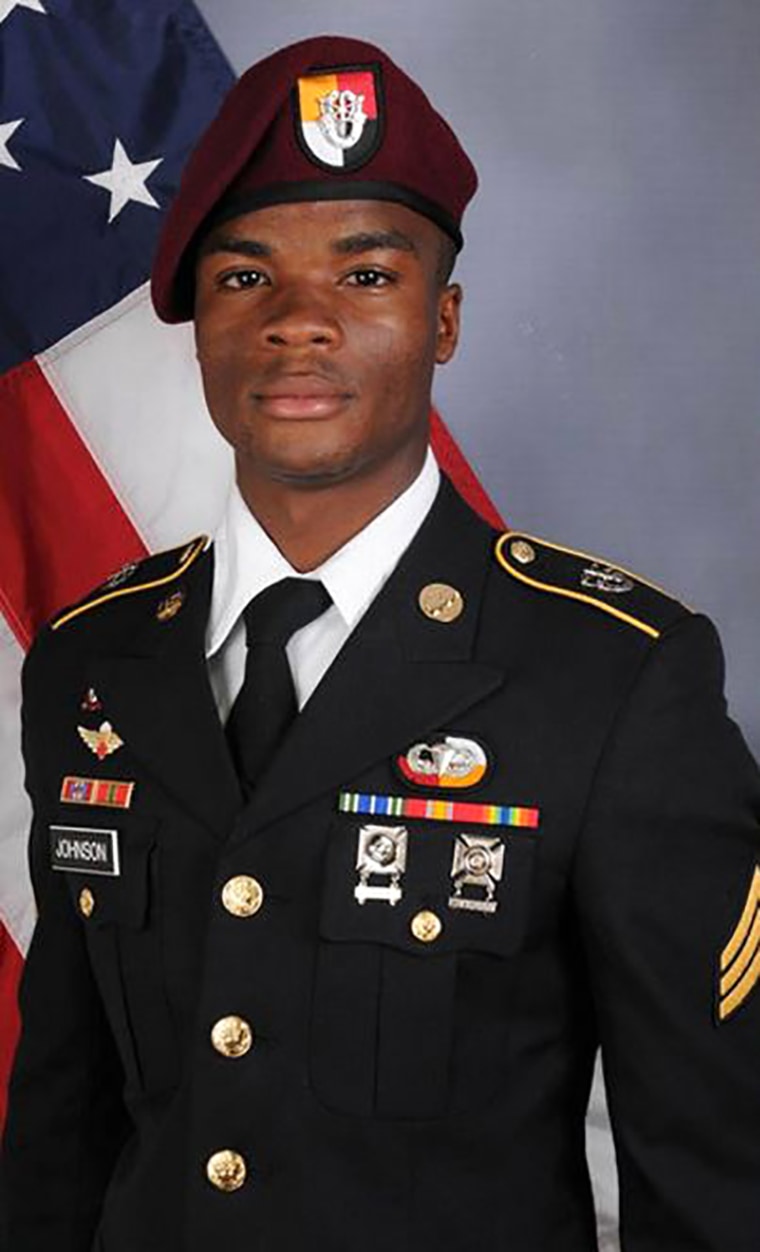 The Military Times reported that Johnson had received awards and decorations, including the Army Achievement Medal, the Army Good Conduct Medal and the Global War on Terrorism Medal, among others.
The White House said Tuesday that the president had called the families of all four service members who were killed in Niger.
Asked about Wilson's characterization of the call, a White House official said Tuesday night that "the president's conversations with the families of American heroes who have made the ultimate sacrifice are private."
Trump on Monday falsely claimed that former President Barack Obama didn't call the families of fallen service members while he was in office, but when pressed admitted that he didn't know Obama's practice.
Former Obama administration officials, including Eric Holder, who was attorney general, disputed Trump's claim.
Even Republicans criticized Trump's remarks about Obama. "I don't think that was appropriate," Sen. Lindsey Graham, R-S.C., said Wednesday.
In a radio interview on Tuesday, Trump defended his claim by alluding to former Gen. John Kelly's son, a Marine who died in Afghanistan in November 2010.
A current White House official told NBC News on Tuesday that Obama did not call Kelly, currently the White House chief of staff, after the death of his son.
CORRECTION (Oct. 18, 4:20 a.m. ET): An earlier version of this article misstated the military status of Sgt. La David T. Johnson. He was assigned to the 3rd Special Forces Group (Airborne); he was not a Green Beret. The article also misstated when the attack occurred. It was on Oct. 4, not last week.