WASHINGTON — President Donald Trump touched down in Texas on Tuesday, hoisting the state's flag and praising ongoing recovery efforts from Hurricane Harvey, even as heavy rain continues to pound flooded cities like Houston.
Accompanied by first lady Melania Trump, Chief of Staff John Kelly and other administration officials, Trump landed on Air Force One in Corpus Christi, where they met with Texas Gov. Greg Abbott, Texas Sens. Ted Cruz and John Cornyn, as well as FEMA Administrator Brock Long for an update on relief efforts.
The president said they would deal with the crisis "better than ever before," so that years from now people will say "this is the way to do it."
Though he praised the Texas governor and those on the ground for their work, Trump acknowledged it was not yet time to congratulate on a job well done.
"We won't say congratulations," he told those seated with him at a fire station in Corpus Christi. "We don't want to do that, we don't want to congratulate. We'll congratulate each other when it's all finished."
Outside the fire house after the briefing, Trump stood between two fire trucks to greet a sizable gathering of people — "what a crowd, what a turn out," he remarked — and he applauded the "total cooperative effort" on the ground in Texas.
He drew cheers when he waved the Texas state flag.
"We love you. You are special. We are here to take care of you," the president said, calling the storm "historic" and "epic."
"It happened in Texas, and Texas can handle anything," Trump said.
---
Trump arrived amid these developments:
Four have been officially reported dead as a result of the storm.
Harvey, now a tropical storm with maximum winds of about 45 mph, was around 100 miles east-southeast of Port O'Connor, Texas, at 5 a.m. ET Tuesday and was slowly moving back toward coastal waters.
It is expected to remain offshore in the Gulf of Mexico before turning north, back toward southeast Texas, on Wednesday.
Bands of heavy rain are expected to persist over the next several days, with parts of Texas and Louisiana facing record rainfall through at least Labor Day weekend, forecasters say.
---
After stopping in Corpus Christi, Trump landed in Austin to tour the Texas Department of Public Safety Emergency Operations Center and receive an update from state leaders.
There, he noted that the recovery "is not going to be a quick one; it's going to be long term."
The president's visit — which avoided Houston, one of the hardest-hit areas — presented a two fold challenge: Showing leadership in a difficult time while also not hampering recovery efforts.
"The president wants to be very cautious about making sure that any activity doesn't disrupt the recovery efforts that are still ongoing," White House Press Secretary Sarah Huckabee Sanders told reporters on Air Force One as they headed to Texas.
One of the main reason's for Trump's trip is to "lay the foundation for what we know will be a long recovery effort," Sanders added.
Among the federal agencies tasked with responding to the disaster are Housing and Urban Development, as well as the Small Business Administration, which Sanders described as having a "heavy lift" to ensure efficient recovery efforts. Those agency heads, Secretary Ben Carson at HUD and Administrator Linda McMahon at the SBA joined Trump on the trip, as did Health and Human Services Secretary Tom Price and acting Secretary of Homeland Security Elaine Price.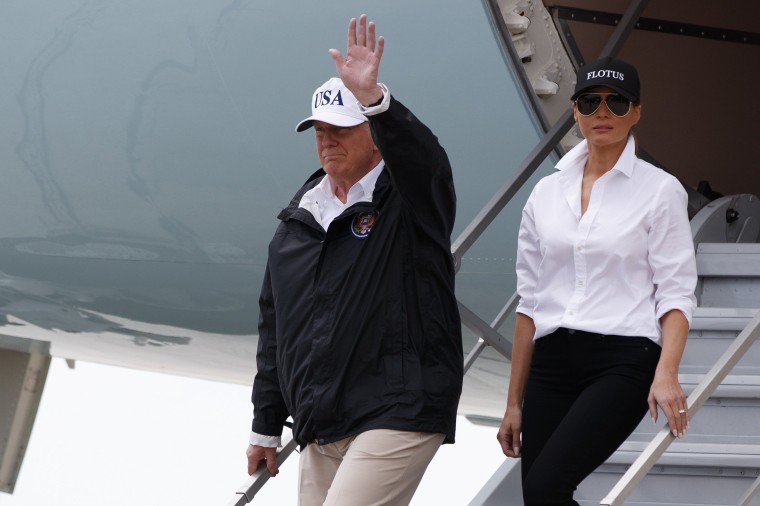 On Monday at the White House, Trump praised the "incredible" spirit of the people of Texas, applauding acts of kindness and heroism captured by television cameras on the ground and voicing optimism for recovery funds that will soon be considered by Congress.
"I think that you're going to see very rapid action from Congress," Trump said, predicting Texas will "be up and running very, very quickly" in the aftermath of the storm.
"I have already spoken to Congress and everybody feels for you and feels for what you're going through," the president said at the White House, where he acknowledged the "great respect" many have for the way Texas has handled the "historic" storm, while recognizing it has a long road ahead, with rain still pouring down.
It is possible Trump may return to Texas this weekend and the president also may visit Louisiana, which is being hit with heavy rains.
During the briefing in Corpus Christi, Long — the FEMA leader whom Trump described as "a man whose really become very famous," referring to his multiple TV appearances — spoke directly to the situation unfolding at the Houston Convention Center, where thousands have taken refuge since being evacuated or rescued from flooding.
FEMA is "very aware" of issues at the convention center, Long said, "but let me be clear: this is not the Superdome," referring to the New Orleans Superdome where thousands were stranded in squalid conditions during Hurricane Katrina in 2005.