President Donald Trump and Canadian Prime Minister Justin Trudeau trod carefully Monday as they doubled down on divergent positions on national security and Syrian refugees during a joint press conference.
Calling relations between the neighbors "pretty complex," Trudeau opened the press conference with assurances that "we won't always agree on everything" but will "navigate those complexities" and "remain allies and friends."
As his administration mulls the next move on attempts to ban travel from seven predominantly Muslim countries, Trump underscored the need for stronger national security.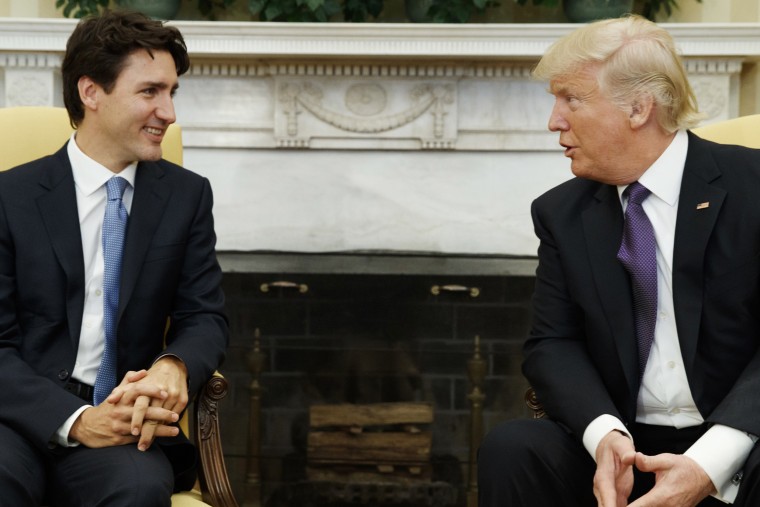 "We don't want our country to have the kind of problems you see taking place not only here but the rest of the world," Trump said during the press conference.
As Trump spoke about his desire to "let people that love our country in" while not letting the "wrong people" in, Trudeau's face was expressionless.
Trudeau, who has been one of the most outwardly supportive of Syrian refugees, suggested they could be offered a safe haven without compromising national security.
"We have welcomed refugees from Syria we have been very successful and we take our responsibility of security very seriously," Trudeau said.
However, he stopped short of directly criticizing his American counterpart's position during the press conference.
"There have been times when we've differed in our approaches, the last thing Canadians expect is for me to come down and lecture another country," Trudeau said later in response to a question about his thoughts of Trump's so-called travel ban.
A joint statement released less than an hour before the press conference noted a shared commitment to border security, including a coordinated entry-exit information system, as well as the prioritization of "common solutions" to limit opioid trafficking.
"We share a commitment to continue to strengthen our ties for the benefit of our mutual prosperity and security," the two leaders said in a statement
The travel ban was not the only place where Trump and Trudeau navigated differences.
While the two leaders applauded the robust and interdependent trade relationship between Canada and the United States, the issue of North American Free Trade Agreement (NAFTA) loomed large. Trump, who was highly critical of the deal on the campaign trail and promised to renegotiate it, said that we'll be "tweaking" it.
The two leaders also projected unity in the face of policy divergence, repeatedly mentioning the many times Canadians and Americans stood together on battlefields and in moments of international conflict.
"American and Canadian troops have gone to battle together, fought wars together and forged the special bonds that come when two nations have shed their blood together — which we have," Trump said, reading from a prepared statement.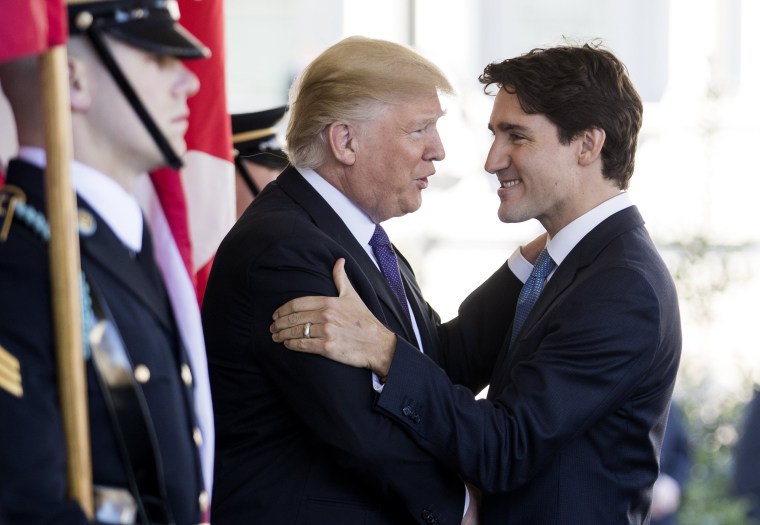 After the pair's first official meeting, border security, energy security, women entrepreneurs, and economic growth were outlined as discussed and jointly supported causes.
Prior to the joint press conference, the president and prime minister participated in a female business leader roundtable. During that meeting the two launched the Canada-United States Council for Advancement of Women Entrepreneur and Business Leaders, seeking to encourage more business activity between both women business leaders and the U.S. and Canada.
Notably, Trump's eldest daughter, Ivanka — a business leader herself until recently — attended the meeting and welcomed the guests to the White House.
The focus on female business leaders is likely to please feminists, who have come to see Trudeau as an ally in the fight for gender equality. His commitment to gender balance in his cabinet earned headlines, when he appointed a cabinet that had exactly as many women as men.
When asked why he did this, he responded at the time "because it's 2015."
On the other hand, past comments from the then-presidential candidate about women often overshadowed verbal overtures to women in the workforce — most notably leaked audio from a hot mic moment in 2005 exposed Trump as saying he could grab women "by the p---y."
The comments nearly derailed Trump's long shot presidential campaign.
But on Monday at the White House, Trump said the female executives he'd hired in the past were "phenomenal, phenomenal, and they really helped me a great deal in business…they play a tremendously important role, women, in our economy."
"In order to create economic growth and lots of very good, well-paying jobs, we must ensure that our economy is a place where women can work and thrive, and I think that's happening in the United States much more so," Trump said during the roundtable meeting.