The future of President Donald Trump's promised border wall with Mexico lies in massive pieces in the California desert and he inspected the prototypes Tuesday in his first visit to the state as president.
En route to a fundraiser, Trump examined eight recently constructed prototypes for the wall near the U.S.-Mexico border in San Diego in order to, as he has put it, "pick the right one."
The president told reporters a real wall would stop "99 percent" of illegal entries across the border from Mexico and likened some of the people attempting to get into the U.S to "professional mountain climbers" in their ability to scale high barriers.
Trump said a border wall is "truly the first line of defense."
Supporters of the wall, and of Trump, have called it a necessary deterrent to illegal border crossings, while critics, including California Gov. Jerry Brown, consider it divisive and environmentally harmful.
In a letter to Trump on Monday, Brown, a Democrat, pleaded with the president to focus on funding more pressing issues in the country's most populous state, such as its ongoing high-speed rail project.
"California thrives because we welcome immigrants and innovators from across the globe," Brown wrote. "You see, in California we are focusing on bridges, not walls. And that's more than just a figure of speech."
Here's a refresher on where things stand on one of Trump's most divisive policy proposals:
1. What's the latest on the wall?
Trump signed an executive order in January 2017 ordering the "immediate construction" of a border wall, though more specifics came a year later in a request his Department of Homeland Security made to Congress for the needed cash.
The plan called for 316 miles of new fencing, and 407 miles of reinforcing existing fence over the next decade.
The U.S.-Mexico border is roughly 2,000 miles long, and 653 miles of it already has some sort of fencing to block people and vehicles, according to the Washington Office on Latin America (WOLA), a human rights group. The other roughly 1,300 miles of border lacks fencing, though the Rio Grande forms a natural border along most of those miles, according to WOLA.
In March 2017, Trump solicited design proposals from builders to create "physically imposing" and "aesthetically pleasing" prototypes that should be difficult to scale and offer features that prevent "sophisticated climbing aids," such as grappling hooks and building handholds.
A rendering given to NBC News from U.S. border officials depicts a multifaceted wall that features a concrete stretch facing the U.S. and a nonconcrete stretch facing Mexico that would allow officials to see through it.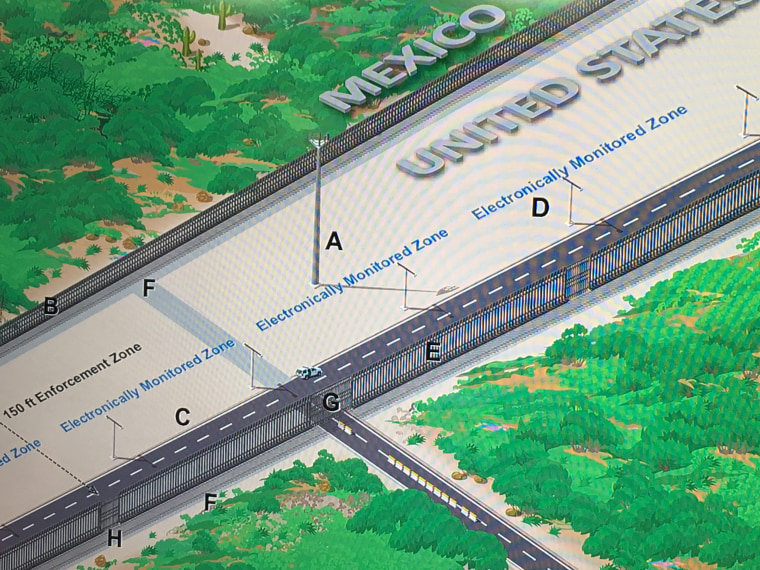 The image shows the concrete portion of the wall (E) would sit on the U.S.-facing side of an electronically monitored zone and another barrier (B) — which is see-through — faces Mexico. The monitoring zone would be about 150 feet wide and alert patrol agents if anyone breached the initial border barrier.
There's no clear time frame for construction, and funding for it is stalled in Congress.
2. What are the prototypes?
The eight prototypes are 18 to 30 feet tall. Half are concrete walls, and the other half is made from "other materials." In total, they cost taxpayers $2.4 million to $4 million.
They currently sit on federal land in San Diego, where the president is scheduled to stop on his California trip.
Several contractors were awarded $300,000 to $500,000 for each prototype, which were built last year to help guide construction.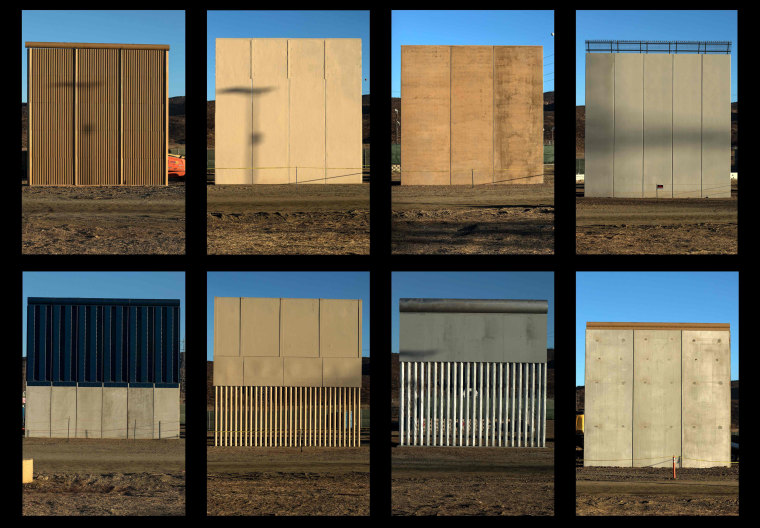 DHS announced last year the companies awarded contracts to build concrete and nonconcrete portions of the wall. They are: Caddell Construction of Montgomery, Alabama; W.G. Yates & Sons Construction of Philadelphia; Fisher Industries of Tempe, Arizona; Texas Sterling Construction Co., of Houston; KWR Construction in Sierra Vista, Arizona; and ELTA North America Inc., in Annapolis Junction, Maryland.
Caddell and W.G Yates & Sons won bids on both the concrete and nonconcrete portions.
In January, military special forces and special units with Customs and Border Protection spent three weeks trying to breach and scale the eight models in San Diego, using jackhammers, saws, torches and other tools and climbing devices. They were unsuccessful, according to officials.
3. Is there money to build it?
No. At the beginning of the year, the Trump administration requested $18 billion over 10 years to construct roughly 700 miles of wall along the southern border, according to the Department of Homeland Security. (Internal DHS assessments suggest the cost could be higher — as much as $21 billion.) However, the request was rejected by Congress.
The president tweeted on Tuesday citing a study that he says calculated that the $18 billion cost of the wall will be paid for by itself.
The Trump administration has also struggled to secure funding to cover just 72 miles of priority areas along the border near San Diego and the Rio Grande Valley. In April 2017, the White House sought $1.8 billion as a down payment to build 28 miles of levee wall in the Rio Grande Valley and 14 miles of new wall to replace fences south of San Diego. However, that proposal was also rejected.
Most recently, Trump has pressured Democrats in Congress to approve the funding (and other hardline immigration measures) in exchange for allowing undocumented immigrants who were brought to the United States as children, and who had been protected by the Obama-era program known as Deferred Action for Childhood Arrivals, or DACA, to remain. Lawmakers declined.
Trump tweeted last month that sections of the wall will not be built "until the whole Wall is approved."
4. Will Mexico pay for the wall?
Doesn't look like it, although Trump continues to make this crowd-pleasing claim. Mexican President Enrique Peña Nieto has consistently rejected paying for it, while Mexico's secretary of foreign affairs said last April that the border wall is not only a "bad idea" but an "unfriendly, hostile" act that wouldn't accomplish anything.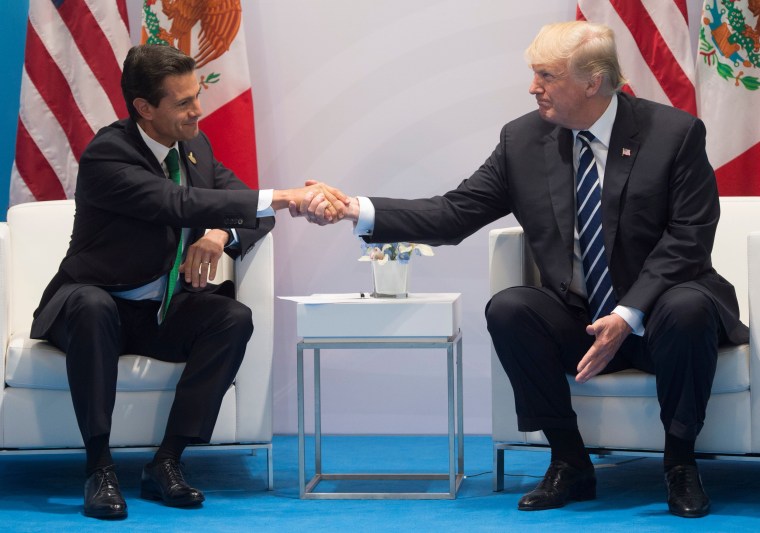 Additionally, a tentatively planned White House visit by Nieto was scrapped last month after a phone call between Trump and Nieto became heated over the wall, according to The Washington Post. The paper, citing unnamed sources, reported that both countries mutually agreed to abandon the visit after Trump refused to agree to publicly state Mexico's position that it would not fund his border wall.
5. So, where will the money come from?
American taxpayers will foot the bill, which breaks a major Trump campaign promise at the heart of his hardline immigration pitch to voters.
Trump has said this is simply "for the sake of speed" and that the money spent by American taxpayers will ultimately be reimbursed by Mexico.
Earlier this year, he claimed that Mexico would end up funding the wall "indirectly" if the North American Free Trade Agreement is renegotiated.
6. What else could go wrong?
The wall continues to be a crowd-pleaser during Trump's campaign-style rallies, but it also faces serious geographic and legal constraints. Critics have raised a number of environmental and other issues associated with building the wall, such as government seizure of private property.
Last August, the Department of Homeland Security said it would waive more than three dozen laws and regulations — most of which require an environmental review — to push ahead with the first phase of construction. The move mostly pertained to a 14-mile stretch of the wall in the San Diego area.
The administration scored a win last month when a federal judge sided with Trump and rejected arguments by the state of California and a coalition of environmental groups that said the administration had improperly ignored environmental laws in its push to build the wall.
Meanwhile, the need to procure land from private citizens in the Southwest would be also a barrier to building the wall.
In one case, Cards Against Humanity, makes of a popular card game, bought land on the U.S.-Mexico border in an attempt to stall the border wall.