President Donald Trump welcomed Colombia's President Juan Manuel Santos to the White House — a first official meeting with the South American leader following his government's hard-won peace deal with the the Revolutionary Armed Forces of Colombia, or FARC.
Trump called the effort to end the 52-year conflict that left more than 220,000 dead and displaced more than 5 million a "long process" and a "great thing to watch."
"That's not easy after so many years of war," Trump said during a joint press conference with Santos at the White House Thursday, adding there's "nothing tougher than peace and we want to make peace all over the world."
While Trump faces controversy on the home front, his meeting with the Colombian president also brought with it another set of challenges.
President Santos will seek to renew the $450 million dollars in foreign aid promised by the U.S. government in support of the peace deal between FARC and the government of Colombia. Santos received the Nobel Peace Price in 2016 for his pursuit of peace between the government and FARC.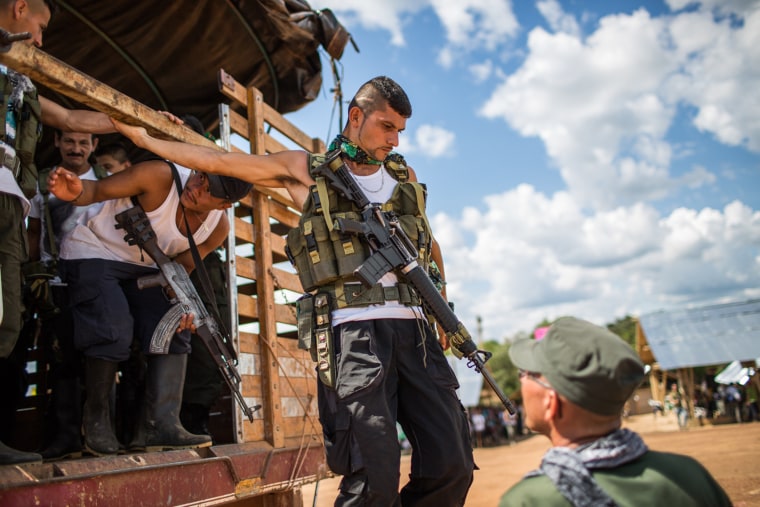 Trump called the award a "great achievement".
Santos and Trump discussed the way forward in Venezuela as it wrestles with one of the highest murder rates in the world and is in the midst of a deep economic and political crisis.
Trump said "a stable and peaceful Venezuela is in the best interest" of the hemisphere, describing it as a "very, very horrible problem" and "from a humanitarian standpoint, like nothing we've seen in quite a long time."
RELATED: Colombia, FARC Rebels Announce Final Deal to End 52-Year War
Reports of a secret meeting in April at the president's Mar-a-Lago Club between Trump and two former Colombian presidents, Álvaro Uribe and Andrés Pastrana, raised questions about Trump's stance on, and involvement with, the tenuous Colombian peace deal with the FARC.
The White House pushed back on reports of the meeting, instead telling NBC News at the time that the former Colombian leaders were invited to Trump's club by one of its members and shared a mere handshake with Trump when he bumped into them there. The official, who spoke to NBC on condition of anonymity, described the entire exchange as lasting only a couple of minutes and denied that the FARC peace deal was discussed.
Pastrana's account, however, breaks with the White House's own. He tweeted at the president after the meeting, thanking him for a "cordial and very frank conversation" about the problems of Colombia and the region.
The meeting with Colombia's president comes just one day before Trump's first foreign trip, where he will travel to Saudi Arabia, Israel, and the Vatican before attending the G7 and NATO summit in Taormina and Brussels, respectively.