Tyson, one of the country's largest meatpackers, is petitioning the Trump administration to reduce the number of government inspectors at a Kansas beef plant — a proposal that has raised alarms among some consumer and food safety advocates, who fear the changes could jeopardize public health.
In the request, Tyson Fresh Meats proposes using its own employees, rather than independent Department of Agriculture inspectors, to take a first look at the meat being prepared at its factory in Holcomb, Kansas. Tyson's employees would identify unsuitable beef carcasses and trim away defects, before USDA inspectors check every carcass that is allowed to go forward for disease and contamination, Tyson said in its March waiver proposal, which was obtained by the advocacy group Food and Water Watch through a Freedom of Information Act request. The shift would allow Tyson to speed up its factory line.
The USDA is considering Tyson's request — the first of its kind for a beef plant — as part of a broader overhaul of beef inspections that aims to shift quality control from government inspectors to factory workers, while focusing the USDA's attention on more targeted safety checks.
"We have to utilize our resources in order to do those tasks that have a direct impact on public health," Carmen Rottenberg, administrator for the USDA's Food Safety and Inspection Service, said.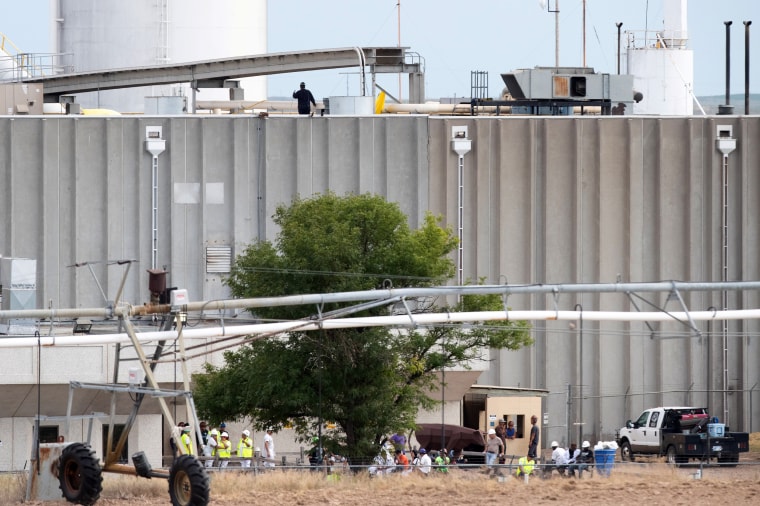 Consumer advocates warn that the changes could threaten food safety by keeping red flags out of the sight of expert inspectors. Dr. Pat Basu, the USDA's former chief veterinarian, said that Tyson factory workers without adequate training might miss critical signs of disease, drug injections or bacterial contamination — and remove the evidence before USDA inspectors can examine the carcasses.
"They are bypassing safeguards," Basu, who retired from the USDA in early 2018, said. "It could be devastating for the whole country — you cannot turn it over."
Tyson's request comes as the Trump administration is finalizing a similar overhaul for pork plants, which will allow them to reduce the number of USDA inspectors by having factory workers take over more quality control tasks.
James Goodwin, a senior policy analyst for the left-leaning Center for Progressive Reform, believes the USDA's efforts are the latest example of federal agencies "moving forward further and further towards industry-led oversight." Industries play a significant role in the routine work performed by many regulatory agencies, such as the Food and Drug Administration, which has manufacturers test new drugs, then send the results to the government for approval. But Goodwin warns that the hazards of the broader shift are clear, pointing to the Federal Aviation Administration's practice of delegating critical safety assessments of planes to the airline industry — a policy that's now under investigation in the case of the fatal Boeing 737 MAX crashes.
Tyson declined to answer specific questions, but emphasized that the company was "proactive" in working with USDA officials to alter the inspection process.
"Tyson Foods is committed to ensuring a safe work environment for our team members, food safety for our consumers, and responsible care and treatment for animals in our supply chain," the company said in a statement.
The company is currently rebuilding the Holcomb plant, which stopped production last week after being damaged in a fire.
A decision made behind closed doors
The USDA has been testing these changes in pork and poultry plants since the late 1990s, through pilot programs based on extensive public input.
But the administration isn't planning to create a formal pilot program to overhaul beef inspections, which in the past has created opportunities for public comment. Instead, USDA officials said they would rely on individual company requests like Tyson's to inform the agency's next steps, praising the industry's role in driving innovation.
"If you have an interest in waiving the regulation to test a new technology or approach, then we're happy to consider that," Rottenberg said.
Food safety advocates have slammed the USDA for making such decisions behind closed doors, without public input. The agency has privately met with beef industry representatives at least six times since May 2018, according to public calendar records. Tyson, which attended two of those meetings, spent more on lobbying and campaign contributions than almost any other meatpacking company in 2018, according to data from OpenSecrets.org.
The USDA has regularly used waivers to make changes to the meat inspection process, including a 2018 move that allowed poultry plants to request permission to speed up their production lines. "We have found that the waiver process is the best way to gather data for potential rulemaking" that the agency might not otherwise have access to, the USDA told NBC News in a statement last week.
"The waiver process is designed to keep the process secret," Tony Corbo, senior lobbyist for Food and Water Watch, said. "Why have regulations if there are innumerable attempts to circumvent them, and an agency that is more than willing to go along with industry schemes?"
One former USDA official cautioned the administration against approving Tyson's request without careful scrutiny.
"Without data that is directly relevant, and without the results of a pilot program, they are basically winging it in an attempt to bypass the regulatory process," said the former official, who now advises private companies and declined to be named given his current work with the industry.
"Are they willing to scrutinize these plants and ensure the proposal is effective in reducing foodborne illness? If not, it would be difficult not to perceive this approach as a gift to industry."
Debate over beef safety
In 1993, an E. coli outbreak in Jack in the Box hamburgers sickened more than 700 people and led to four deaths. The incident prompted sweeping food safety reforms, including changes to the USDA's decades-old meat inspection system, which had long been criticized for relying on outdated "poke and sniff" methods that detect disease through touch, smell and sight, rather than focusing on invisible hazards like bacteria.
More than 25 years later, the agency, the meat industry and food safety advocates are still at odds over how best to deploy USDA inspectors. With the support of industry, the government has argued that factories should assume greater responsibility for quality control and physical defects, while a smaller number of USDA inspectors should focus instead on "science-based" safety checks around the plant. Those checks include verifying that the carcasses are free of disease and contaminants and that the factory is following proper sanitation practices. The shift also may allow plants to run faster they are permitted under the traditional system.
Under Tyson's proposal, workers assuming new responsibilities for sorting and trimming beef carcasses would be required to go through a certification process including classroom instruction and training on the production floor. The company did not detail what the training would entail or how long it would last, but said that it would collect data to ensure that its new inspection system performed as well as the old one.
Such assurances are not enough for food safety advocates, who note that USDA inspectors are required to either have a bachelor's degree in a related field or a year's worth of relevant experience and must complete an intensive four-week training.
Basu, the former USDA veterinarian, is particularly concerned that poorly trained workers will miss signs of antibiotic injections, which are linked to the proliferation of drug-resistant bacteria that can be transmitted to humans through poorly cooked meat.
E. coli contamination also poses a threat that the USDA has deemed to be especially serious. Found in a variety of foods, the strains most commonly associated with foodborne illness cause an estimated 265,000 infections, 3,600 hospitalizations and 30 deaths every year in the U.S., according to the Centers for Disease Control and Prevention. Between 2009 and 2015, there were more than 100 outbreaks of foodborne illness from beef, the CDC says, including an E. coli outbreak that prompted the recall of about 16,000 pounds of Tyson ground beef.
"You can imagine some real horror scenarios if the inspection system breaks down for beef since E. coli is a particularly pernicious bug," said Thomas Gremillion, director of food policy for the Consumer Federation of America, an advocacy group. (USDA officials said that any overhaul of the beef inspection system would account for the threat posed by E. coli.)
Despite such objections, both Democratic and Republican administrations have slowly advanced the effort to hand over more USDA responsibilities to private industry, citing the need to overhaul antiquated practices. In 2014, the Obama administration finalized a rule allowing poultry plants to opt into the alternative inspection system. In early 2018, the Trump administration unveiled a similar rule for pork plants, arguing that it would make food safer.
In the pork plants that piloted this method, for example, USDA inspectors conducted an average of 24 checks per shift for contamination on carcasses, compared to 11 checks in traditional plants, the agency said. (Consumer advocates say that such conclusions are based on flawed analysis of limited data.)
Such oversight will make it quickly apparent if factory workers aren't doing their jobs properly, and some USDA inspectors will still be stationed next to them to spot any problems, the agency said.
"You're freeing up resources to be able to have inspection eyes all over the place," said Dr. Hany Sidrak, a USDA field operations official. The agency also stressed that every carcass will still be examined by a USDA inspector before being cleared for human consumption, as required by federal law.
Still, advocates argue that even the remote possibility of a mistake could harm public health.
"We must keep food inspectors on the line to look for dangerous diseases and contamination," Rep. Rosa DeLauro, D-Conn., chair of the Congressional Food Safety Caucus, said in a statement, "not outsource this vital role to industry employees."