WASHINGTON — The United States and the European Union on Monday announced the expulsion of dozens of Russian diplomats in response to the poisoning of ex-Russian spy Sergei Skripal on British soil allegedly orchestrated by the Kremlin.
The U.S. will dismiss 60 Russian diplomats identified by officials as intelligence officers, as well as close Russia's Seattle consulate. European Council President Donald Tusk announced a coordinated response from 14 E.U. member states that would expel Russian diplomats and limit travel by other Russian nationals.
These steps, a senior Trump administration official told reporters on the condition of anonymity Monday morning, were intended to let the Russian government know that "when you attack our friends, you will face serious consequences."
Removing these Russians, the official said, is also a bid to reduce the "unacceptably numerous" Russian intelligence officers who reside in the United States and spy on Americans.
The Russian individuals and their families will have seven days to leave the U.S.
"As we've stressed to Moscow, the door to dialogue is open," the official told reporters on a call announcing the latest U.S. moves. "But if Russia wants to improve relations, it first needs to acknowledge responsibility for this attack and cease its reckless behavior."
In a statement Monday morning, the White House said these "actions make the United States safer by reducing Russia's ability to spy on Americans and to conduct covert operations that threaten America's national security."
On Monday afternoon, White House Deputy Press Secretary Raj Shah called Russia's chemical weapons attack "reckless" and "brazen," but would not declare it an act of war.
Asked why the Seattle consulate was being closed, a senior administration official cited the consulate's proximity to a U.S. submarine base in the area.
The actions come after the United Kingdom kicked 23 Russian diplomats out of the country last week in response to the nerve agent attack earlier this month.
The U.S., in tandem with the U.K., France, and Germany, previously issued a joint statement blaming Russia for the attack in Salisbury, England, in which Skripal and his daughter, Yulia, were poisoned. The two remain hospitalized. Russia has denied responsibility and responded to the U.K.'s actions by booting the same number of British diplomats.
Russia's foreign ministry called the coordinated expulsion of diplomats an "unfriendly step" that "will not pass unnoticed" in a statement Monday, while Kremlin spokesman Dmitry Peskov reiterated Russia's position that it was not involved in the poisoning of the Skripals.
"We already stated and reconfirm that Russia has never had any relation to this case. We will be guided by the principle of reciprocity as before," Peskov said, adding that after an analysis, the Foreign Ministry would propose retaliatory measures for Russian President Vladimir Putin's consideration.
The Trump administration also recently slapped new sanctions on Russia — citing the U.K. attack, as well as cyber interference in the 2016 U.S. presidential election.
At the time the sanctions were announced, a senior national security official said the sanctions were "just one of a series of ongoing actions we're taking to counter Russian aggression" and that "there will be more to come."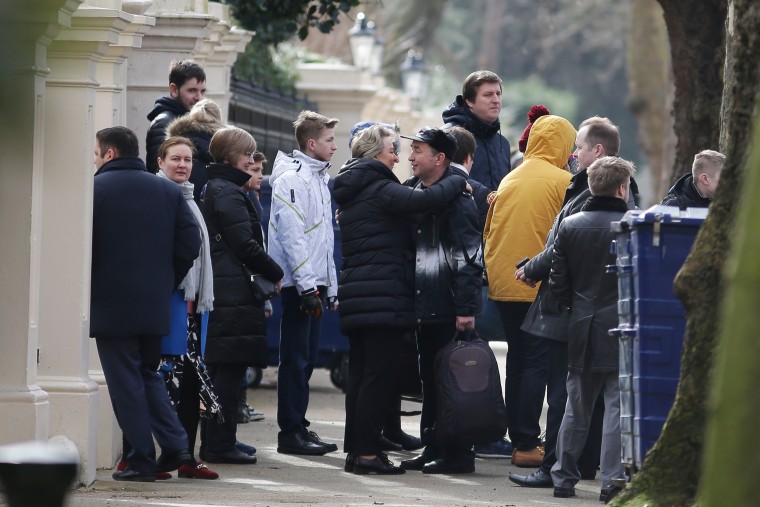 U.S. Treasury sanctions against five entities and 19 individuals overlapped with previous measures taken by the United States. The individuals targeted included all 13 Russians previously indicted by special counsel Robert Mueller for 2016 election meddling. The president has previously sought to delegitimize Mueller's investigation as a "witch hunt" and called claims that his campaign colluded with Russia "phony."
Trump has said it "certainly looks like the Russians were behind" the Skripal attack, but has also alluded to a coming meeting Putin. Trump recently drew congressional criticism for congratulating the Russian leader on his recent re-election victory without mentioning reports of ballot irregularities and allegations of voter fraud in that campaign.
A National Security Council spokesman, asked whether Trump had spoken directly with Putin about the U.K. chemical agent attack, would not respond, repeating instead that the last time the two men had spoken was last Tuesday.
Shah, asked during Monday afternoon's White House press briefing dodging why the president had not brought up the ex-spy's poisoning during his call with Putin last week, said Trump had "raised a number of issues" during that conversation, pointing to "positive developments from that call" on nuclear arms.