WASHINGTON — President Donald Trump signed proclamations Thursday imposing new tariffs on imported steel and imported aluminum as he made good on years of fiery threats to confront allies and rivals alike on trade policy.
Trump's plan has unsettled stock markets and scrambled political alliances, with Republican leaders like House Speaker Paul Ryan of Wisconsin criticizing the tariffs and Democrats like Sen. Sherrod Brown of Ohio talking them up. Trump's top economic adviser, Gary Cohn, who reportedly opposed the tariffs, resigned over the issue.
The large tariffs, which take effect March 23 and include exceptions for Canada and Mexico, will impact the American economy and could touch off a trade war, with other countries already threatening to respond in kind. The European Union has already prepared a list of U.S. goods that will see higher tariffs in Europe.
Here's what you need to know.
What is Trump doing?
The president is imposing a tariff of 25 percent on steel imports and 10 percent on aluminum imports.
The president's tariff initiative comes after the Commerce Department, led by Secretary Wilbur Ross, released a report declaring that current levels of steel and aluminum imports threatened national security and recommending tariffs and quotas on imports to protect the industries at home. Under Section 232 of the 1962 Trade Expansion Act, the White House can take action to confront such threats, but it's been invoked only rarely to confront oil crises in the 1970s and '80s.
Who do tariffs help?
The immediate beneficiaries are likely steel and aluminum companies, which will now be able to sell their product at cheaper prices in the U.S. relative to foreign competitors. U.S. Steel announced it would send 500 idled workers to an Illinois plant in response to Trump's plan.
The industry has long complained that it's been undermined by overproduction of steel in China, which the Commerce Department says is "by far" the largest contributor toward 700 million tons of excess steel capacity worldwide. While China represents only a small fraction of steel imports to America, critics say it and other countries distort the global market by subsidizing cheap steel in order to build up their industry at home and muscle out rivals abroad.
"We put those duties in place and we can help industries recover," Robert Scott, an economist at the Economic Policy Institute who is broadly supportive of the tariffs, told NBC News. "It leads to more investment, it leads to increasing employment."
Who gets hurt?
Companies that rely on steel and aluminum to make their products, from auto manufacturers to construction firms, will face higher costs that could cause them to raise prices or cut jobs. Beer companies, which use aluminum in their cans, are livid.
Since there are vastly more businesses that use steel and aluminum rather than produce it (the American Iron and Steel Institute estimates there are 140,000 jobs in the industry), most economists expect the tariffs to hurt growth, if only modestly.
But the bigger fear for the economy isn't the tariffs — it's what other countries might do in response and whether it leads to a broader trade war.
What's a 'trade war'?
Trade is based on reciprocity. Countries agree to lower tariffs together and when one throws up a new barrier, their trading partners have the option to respond in kind. That means the United States could be vulnerable to retaliation if it goes ahead with tariffs, which other countries are likely to challenge as a violation of existing agreements.
The European Union is already weighing its own 25 percent tariffs on $3.5 billion of iconic American products in politically sensitive U.S. states.
"We will put tariffs on Harley-Davidson, on bourbon and on blue jeans, Levi's," European Commission President Jean-Claude Juncker said in a German TV interview.
But Trump's position is that the administration's tariffs are justified, which means the White House could declare everyone else's retaliation illegitimate and escalate tariffs further. Trump, who said recently that "trade wars are good" on Twitter, has already threatened Europe with a tax on imported autos in response.
"If it does get out of hand to some degree, where there's tit-for-tat with a lot of countries, it will have some impact on the economy," said Claude Barfield, a trade policy scholar at the American Enterprise Institute.
In addition to affecting goods that are hit with tariffs, the uncertainty created by a trade war could spook investors, who worry about fallout. A company might think twice about opening that factory to roll out a new product line for European markets if they are concerned that European countries are about to throw up a bunch of tariffs.
Has it happened before?
There hasn't been a full-blown, no-holds-barred trade war since after World War II, when countries began opening up their markets and joining international agreements. The free trade movement, led by the United States, was in part a response to the Great Depression, in which economists blamed a global cycle of tariffs for prolonging the downturn.
But there have been plenty of smaller disputes over tariffs and trade barriers, including over steel.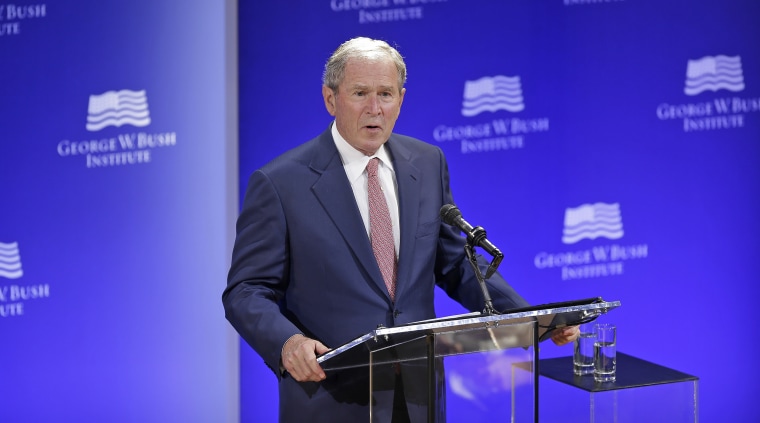 In 2002, President George W. Bush imposed steel tariffs as high as 30 percent in response to a surge of imports. Japan and European countries challenged their legality at the World Trade Organization, which ruled against the United States, and Bush ended up withdrawing them in 2003 before the countries acted on their threats to retaliate.
Bush declared victory at the time, saying steel companies had gained time to reorganize. But advisers concluded that the tariffs had also been a drag on the economy, costing it more in jobs than they were worth.
"The results were not what we anticipated in terms of its impact on the economy or jobs," Bush's chief of staff at the time, Andy Card, recently told The Washington Post. The United States International Trade Commission issued a report estimating the tariffs had reduced overall GDP by about a negligible $30 million.
Have past presidents done this?
Not really.
The nature of the White House's legal argument for tariffs is different than in the past in an important way. The Bush administration cited a provision of trade law allowing the White House to respond to a sudden increase in imports. The Trump administration, however, is invoking national security as the reason for the tariffs, which trade experts say is unusual and harder for other countries to legally challenge before the WTO.
Few countries are likely to accept Trump's stated rationale, but the president could set a precedent for rivals like China to make similar security claims to justify tariffs on everything from minerals to agriculture.
"It has not been litigated, ever," said Julian Arato, an assistant professor at Brooklyn Law School who researches trade policy. "If you push this far enough, you risk undermining the system."
Trump's team also includes more prominent trade skeptics and the president has been far more hostile to free trade in his rhetoric than Bush or any other postwar president, which could inform the administration's future moves and raise tensions with allies.