WARSAW, Poland — When the president of the United States arrived in the Ukrainian capital Monday morning, he removed any doubt: This is every bit Joe Biden's war.
Biden risked his personal safety in crossing into a war zone for a meeting with Ukrainian President Volodymyr Zelenskyy that was arranged under the strictest secrecy. Air raid sirens rang out — a shrill reality of life in Kyiv — as Biden and Zelenskyy walked through a city that is in Russia's crosshairs.
Perhaps as important as the half-billion-dollar aid package Biden announced in a brief speech Monday was the message delivered by his mere presence: America's commander in chief was prepared to wade into a war theater in a show of solidarity against Russian aggressors.
"Kyiv stands. And Ukraine stands. Democracy stands," Biden said, standing beside Zelenskyy in the presidential palace, on the eve of the war's one-year anniversary.
"This will be remembered eternally," Zelenskyy said of Biden's visit.
One analyst, Michal Baranowski of the German Marshall Fund East, a nonpartisan policy organization, was blunter.
"In your face, Putin," he wrote on Twitter with a photo of Biden and Zelenskyy.
The trip had been months in the works, but this was one Washington secret that didn't leak. The White House put out a cover story that Biden would visit Warsaw, Poland, for two days starting Tuesday and then head home. Instead, after dinner with the first lady on Saturday, he headed to Ukraine in the middle of the night.
Biden's trip would have been meaningful even without the dramatic twist at the start. Since the war began, he has been sending the outmatched Ukrainians the weaponry and cash needed to prevent a rout. He condemned Russian President Vladimir Putin for invading a sovereign democratic country and made the case that Ukraine was worth saving.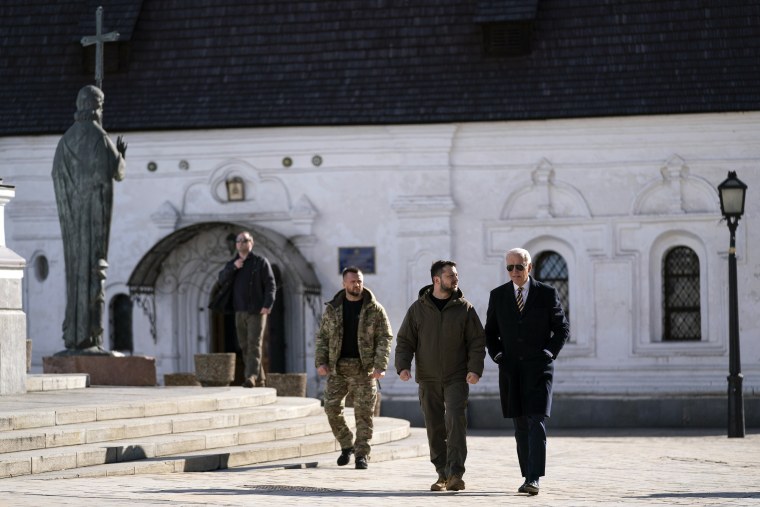 With no quick end to the war in sight, Biden's task now is to sustain the popular support back home that's needed to thwart Putin's expansionist vision. That's a central purpose of his three-day trip.
"This war would look entirely different without the support of the United States," Baranowski told reporters in a briefing. "Ukraine would not be able to fight it the way they are without the support of the U.S. and the rest of the West."
After he leaves Ukraine, Biden will arrive in Warsaw. He'll give a speech Tuesday pledging to stand with Ukraine in perpetuity. The following day he is to meet with leaders of nine nations on NATO's eastern flank — a group considered most at risk of a Russian attack.
With the war grinding along, Zelenskyy has been pressing Washington for F-16 fighter jets. So far, Biden has refused out of concern that the planes would risk widening the conflict.
Yet after a series of private meetings with Biden on Monday, Zelenskyy said that more advanced weapons, including long-range missiles that had been withheld to date, are at least under discussion.
When Biden gives his speech Tuesday, a key audience will be the one back home.
This war would look entirely different without the support of the United States.
Michal Baranowski, managing director of the German Marshall Fund East
"It's a real goddamn war and Biden needs to make clear the stakes for the United States," said Daniel Fried, a former U.S. ambassador to Poland. "On the one-year anniversary, he needs to make clear why it's in our interests that the Ukrainians win and why it's critical that Putin loses. He can do that."
It won't be easy. Americans largely support Ukraine's efforts to reclaim territory from Russia, even in a protracted war, polling shows.
Doubts are starting to creep in, though, as the amount of American military assistance to Ukraine ticks toward $30 billion. In May 2022 — three months into the war — 60% of Americans favored supplying weapons to Ukraine. As of January, that number had slipped to 48%, according to an Associated Press-NORC Center for Public Affairs Research poll released last week. The percentage of adults who favored sending taxpayer money directly to Ukraine dropped 7 percentage points in that time frame — from 44% to 37%.
In Congress, a group of conservative Republican lawmakers, including Reps. Matt Gaetz of Florida and Marjorie Taylor Greene of Georgia, are backing a "Ukraine Fatigue" resolution that calls for stopping the flow of U.S. military and financial aid and working out a peace deal.
For their part, analysts worry that in the rush to send Ukraine the arms needed to repel the Russians, the Biden administration has drained military stockpiles needed to protect U.S. interests abroad.
Biden proclaimed in his State of the Union address on Feb. 7 that the U.S. would stand with Ukraine "as long as it takes." In Warsaw, he'll need to remind people why that's necessary.
His answer rests on a broader point: Democracies and autocracies are locked in a competition to show which model is superior. If Putin succeeds in snuffing out Ukraine's democracy, that could embolden China to attack Taiwan, a weaker and smaller democratic state allied with the U.S.
In this reasoning, keeping the American public and Western allies united behind Ukraine deters China from spreading autocracy and quashing political rights in Asia.
"Biden can have a bit of a Brandenburg Gate moment," said Richard Goldberg, a senior adviser at the Foundation for Defense of Democracies and a former aide to Senate Republicans. That's a reference to Ronald Reagan's speech in West Berlin in 1987, when the then-president implored the Soviet leader at the time, Mikhail Gorbachev, to "tear down" the Berlin Wall.
Biden will be standing "right on the brink — at the frontier of Eastern Europe, staring out at Russia," Goldberg said. He'll have a chance to "lay down a marker" that the U.S. is committed to "rolling back the Russian presence in Ukraine and breaking what is a growing Russian-Chinese-Iranian axis that is challenging Western democracies."
The trip to Poland is Biden's second over the past year — itself a sign of his ownership of the war. A president's time is a scarce and finite resource. By spending so much time in Eastern Europe, Biden is signaling that the war is for him a priority.
"There's no doubt that when the history of the Biden presidency is written, there are going to be chapters — not just one — but chapters about this conflict and how the administration responded," said Max Bergmann, a former senior adviser in the State Department and now director of the Europe program at the Center for Strategic and International Studies.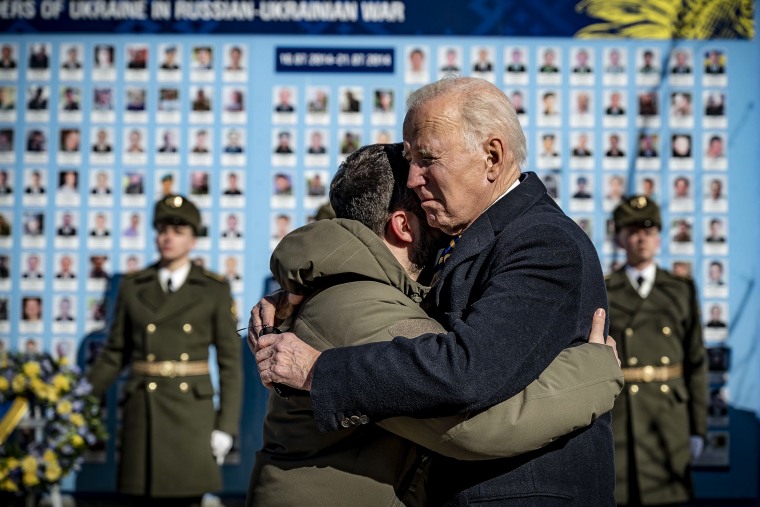 Biden's last visit was overshadowed by a line he ad-libbed in a speech about the war. "For God's sake, this man cannot remain in power," Biden said, raising the specter that he wanted to see Putin deposed. The White House later walked back the comment, saying that Biden did not favor regime change in Russia and was stating simply that Putin shouldn't exert power over independent countries.
Ahead of the trip, some analysts were hopeful that Biden would find a way to visit Ukraine. A presidential visit to Kyiv, however brief, would signal an even stronger commitment to a war effort that may yet come to define his presidency, analysts said.
"It would potentially signal to Russia that the most powerful man in the world is throwing all the weight of that superpower behind Ukraine as long as it takes," Alexander Vindman, a former director of European affairs in the National Security Council, said last week, when it seemed Biden would only stop in Poland. "He could go so far as to fly into Kyiv and do so safely under U.S. air power and easily get away with it."
And he did.
CORRECTION (Feb. 20, 2023, 1:42 p.m. ET): A previous version of this article misspelled the Ukrainian president's first name. He is Volodymyr Zelenskyy, not Vladimir.