QUEBEC CITY — The G-7 this year looks more like a G-6+1. But if President Donald Trump gets his way, it would soon be a G-8 again, complete with the addition of Russia.
Trump said Friday that he wants the Group of Seven nations — the U.S., the U.K., France, Japan, Germany, Italy and Canada — to let Russia back into their club after it was expelled in 2014 for annexing Crimea.
"They threw Russia out," Trump said as he departed the White House for a two-day G-7 summit in Charlevoix, Canada. "They should let Russia come back in because we should have Russia at the negotiating table."
Trump immediately faced pushback from members of his own party in Congress.
"This is weak," Sen. Ben Sasse, R-Neb., said. "[Russian President Vladimir] Putin is not our friend and he is not the president's buddy. He is a thug using Soviet-style aggression to wage a shadow war against America, and our leaders should act like it."
Sen. John McCain, R-Ariz., said in a statement that Russia had done nothing to warrant being allowed back into the G-7.
"The president has inexplicably shown our adversaries the deference and esteem that should be reserved for our closest allies," McCain said. "Those nations that share our values and have sacrificed alongside us for decades are being treated with contempt."
It's highly unlikely that the other nations would agree to such a move, and foreign diplomats quickly threw cold water on Trump's trial balloon, contending that Russia has not earned back its place since seizing Crimea.
"Since then, we have seen an increase in Russian misbehavior and attempts to undermine democracy in Europe," said one European diplomat. "It is not appropriate for Russia to rejoin until we see it behaving responsibly. Putin should get nothing for free."
But Trump's call underscores just how out of step the U.S. is with the rest of the G-7 — at loggerheads over issues ranging from trade to climate change — as the conference gets under way.
French Finance Minister Bruno Le Maire recently described America's increasingly isolated position by referring to the G-7 as the "G-6+1," with the U.S. playing the role of outsider.
For Trump, the isolation is no accident. Since campaigning on a nationalist platform in 2016, he has pulled out of the Iran nuclear deal, the Paris climate accords and the Trans-Pacific Partnership; strong-armed Europe into providing more money for joint defense through the North Atlantic Treaty Organization; and incited a global trade battle by slapping tariffs on American allies.
Shortly before his departure for Canada on Friday morning, Trump tweeted that he was looking forward to "straightening out unfair Trade Deals" with the G-7 members.
Both Trump's supporters and critics have noted that he has reframed some of these debates — not to mention U.S. relations with North Korea's regime — on his terms. It only stands to reason that America's long-standing global partners would bristle at U.S. efforts to renegotiate existing deals and, on occasion, use leverage against allies rather than adversaries.
And they are bristling.
"We can't wage a trade war between friends," French President Emmanuel Macron said Thursday before a meeting with Canadian Prime Minister Justin Trudeau. He said he and the leaders of the other G-7 countries would try to convince Trump that American tariffs on Canada and Mexico — combined with reciprocal sanctions on the U.S. by those nations and the European Union — will hurt American workers and the economies of all of the countries involved.
Now, a standing group of nations once defined by its commonality of interests finds one at odds with the rest — and the president may find the atmosphere in Canada a bit chilly, even in June.
Even if Trump were not traveling straight from Quebec to the other side of the world for a meeting with even higher stakes — negotiations with North Korea — the White House announcement ahead of the G-7 that he would be departing early on the second day of the two-day summit, skipping sessions focused on climate change and the environment, would not have come as a surprise to his fellow world leaders.
"The value of the G-7 group of like-minded nations is in making collective progress on critical issues such as national security, employment, education, and health," said David Mortlock, who served as director for international economic affairs on President Barack Obama's National Security Council. "The key question will be how far the United States goes to reject areas of long-held agreement, including on trade, economics, and security. We will be watching the joint statement not for areas of agreement, but of disagreement."
Macron said on Twitter Thursday that he has no problem leaving the U.S. out in the cold if Trump won't find consensus with the rest of the G-7 nations. In case there was any doubt about his intended audience, he used English to send his message.
"The American President may not mind being isolated, but neither do we mind signing a six country agreement if need be," Macron wrote. "Because these six countries represent values, they represent an economic market which has the weight of history behind it and which is now a true international force."
Larry Kudlow, chairman of Trump's National Economic Council, told reporters Wednesday that the president's tariffs are a tactic in a broader strategy to restructure international trade deals. While the other G-7 countries may want Trump to drop levies on aluminum and steel, Kudlow declined to preview any possible changes to U.S. trade policy before the leaders meet.
"President Trump is very clear with respect to his trade reform efforts that we will do what is necessary to protect the United States, its businesses, and its workforce," Kudlow said. "So that we may have disagreements, we may have tactical disagreements, but he has always said — and I agree — tariffs are a tool in that effort. And people should recognize how serious he is in that respect."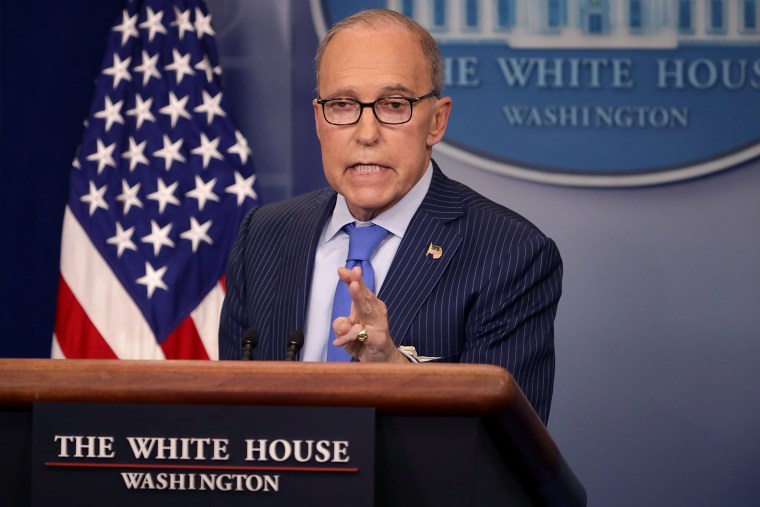 Trump made his case after Macron's threat, joining in what amounted to a little pre-conference trash-talking by the two world leaders.
"Please tell Prime Minister Trudeau and President Macron that they are charging the U.S. massive tariffs and create non-monetary barriers," Trump wrote. "The E.U. trade surplus with the U.S. is $151 Billion, and Canada keeps our farmers and others out. Look forward to seeing them tomorrow."
Later Thursday night, he took a tougher tone. "Why isn't the European Union and Canada informing the public that for years they have used massive Trade Tariffs and nonmonetary Trade Barriers against the U.S. Totally unfair to our farmers, workers & companies," he tweeted. "Take down your tariffs & barriers or we will more than match you!"
Lawmakers in Washington aren't thrilled with the prospects of a prolonged trade war, but Trump is still getting some rhetorical air cover on the home front.
Sen. Lindsey Graham, R-S.C., said he wants to give Trump a chance to renegotiate the North American Free Trade Agreement without interference from Congress, where Sen. Bob Corker, R-Tenn., is trying to rally support for legislation that would give Congress authority to review tariffs like the ones placed on Canada and Mexico.
"Intellectually, I think Bob is right," Graham said. "The truth of the matter is that the president is going to the G-7 tomorrow. I think there's a better deal to be had with Canada and Mexico. I think the European problem can resolve itself."
But, as foreign leaders have pointed out, Trump is facing dissent in Republican ranks from Corker and others over his trade policy.
"Any student of history knows that, unlike a baseball game where a winner is guaranteed, a trade war only guarantees that there will be losers," Flake said on the Senate floor Thursday. "If tariffs aimed at our adversaries produce disastrous results, what will happen when we target our allies?"
Trade isn't the only issue roiling the G-7.
And his decision to renege on U.S. obligations under the international nuclear pact with Iran was met with stiff resistance from the other nations that were a party to that agreement, including Britain, France and Germany.
Earlier this week, British Prime Minister Theresa May said that deal is "the best route to preventing Iran from getting a nuclear weapon" and that the three European signatories "will remain committed to it as long as Iran meets its obligations."
And yet, Trump is expected to get support from fellow leaders for his push to strike a denuclearization deal with North Korean leader Kim Jong Un at a summit in Singapore that starts June 12.
At a joint press conference, Macron and Trudeau pledged G-7 backing for Trump's negotiations with Kim.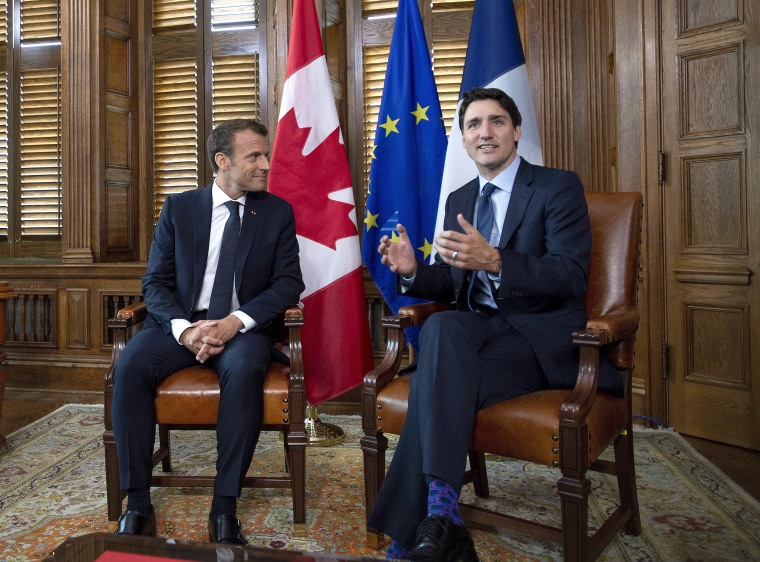 It is important "to demonstrate the solidarity of the world's leading industrialized economies behind the president's efforts on the Korean Peninsula," Trudeau said.
Kudlow, who said Trump will meet with Macron and Trudeau privately in Canada, pointed to the nuclear talks as a focus for the president as he prepares to meet with Kim.
"One of the key points will be shared security issues among the allies," he said.
Secretary of State Mike Pompeo said Wednesday that Congress would have a say in any agreement with Kim — Republicans complained bitterly that President Barack Obama's multi-country pact with Iran went around the Constitution's mandate that the Senate ratify treaties — and that only the full denuclearization of the Korean peninsula would be acceptable to U.S. negotiators.
Trump validated Pompeo's position Friday morning in a brief exchange with reporters before he departed the White House for the G-7 summit. "I would only get a deal if I could get it through Congress," he said.
Because the Constitution requires a two-thirds majority of the Senate to ratify treaties, the use of normal procedures would give Democrats a say in the outcome of a nuclear deal with Kim.
The North Korea summit may a bit more awkward after Trump adviser Rudy Giuliani said this week that Kim showed weakness after Trump canceled the summit — before putting it back on the calendar.
"Kim Jong Un got back on his hands and knees and begged for it, which is exactly the position you want to put him in," Giuliani said during a trip to Israel.
But before he can tackle that potential awkwardness with a longtime adversary, Trump will have to navigate a different, newly minted brand of awkward talk: an uncomfortable meeting with his nation's allies.