WASHINGTON — The indictments against 12 Russian operatives allegedly involved in hacking the Democratic National Committee has put a spotlight on a massive Russian intelligence agency that has long lived in the shadow of the KGB.
The Main Intelligence Directorate, better known by the acronym GRU from its Russian name, is the Kremlin's military intelligence arm. Founded not long after the Bolshevik revolution, it plays a much larger role than its rough U.S. equivalent, the Defense Intelligence Agency.
The GRU's insignia, a bat shadowing the entire globe, hints at its clandestine activities. But it is believed to run part of country's elite special forces while also collecting of both signals intelligence (primarily handled in the U.S. by the National Security Agency) and traditional human intelligence (the domain of the Central Intelligence Agency in the U.S.)
The GRU was reportedly instrumental in Russia's takeover of Crimea and has been suspected in assassinations, sabotage, and other "direct action" operations, according to Foreign Policy.
Sergei Skripal, who was poisoned in the U.K. earlier this year allegedly by Russian agents, worked for the GRU when he became a double agent for Britain's MI6.
In the Soviet Union, the GRU existed alongside the better-known KGB, which has since evolved into country's civilian intelligence agency, the Foreign Intelligence Service, or SVR, and the Federal Security Service, or FSB, which is responsible for domestic security like the American FBI.
Rivalries between the agencies are reportedly common.
"The GRU has been always seen as a more competent, adventurous and ruthless service in comparison with the KGB or SVR," Andrei Soldatov, a Russian journalist, told the Daily Beast in 2016.
When Russian President Vladimir Putin, who had been a director of the FSB, visited the agency's sprawling new headquarters in 2006 — arriving on its roof in a helicopter in what the Moscow Times called "a scene straight from the opening credits of a James Bond movie" — he bragged, "No other country can boast of such a state-of-the-art complex."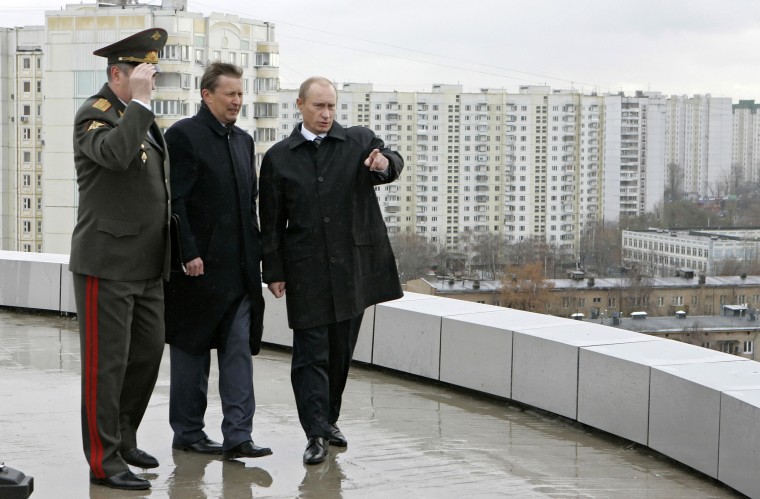 Still, the agency was largely unknown to most Americans until it was accused of hacking the DNC and other Democrats in order to benefit Donald Trump's presidential campaign.
A cyber security firm hired by the DNC first publicly named the GRU in June of 2016.
In October of the year, just weeks before the 2016 election, the U.S. Intelligence community took the unusual step of publicly declaring they were "confident that the Russian Government directed" the hacking.
Even as Trump continues to downplay any Russian meddling on his behalf, his administration has stood by the conclusion.
"(O)ur Intelligence Community determined that Russian military intelligence — the GRU — had used WikiLeaks to release data of US victims that the GRU had obtained through cyber operations against the Democratic National Committee," then-CIA Director Mike Pompeo told a Washington think tank in April last year.