WASHINGTON — The White House announced a $240 million investment Wednesday to fight cancer, along with a slew of new health resources to further the administration's "Cancer Moonshot" initiative.
The money — awarded through the Advanced Research Projects Agency for Health, which was created last year based on a proposal by President Joe Biden — will go to researchers working on cancer prevention, detection, treatment and survival projects, including initiatives to detect cancers earlier, better visualize cancer cells during surgery and "design devices that could deliver treatments directly to cancer cells to treat tumors more effectively," the White House said.
Biden convened his "Cancer Cabinet" advisory group, which he formed last year, on Wednesday afternoon to discuss the latest initiatives.
"Almost everywhere we go, whether it's meeting with folks at local events or meeting with world leaders, beating cancer brings people together, no matter where you are," Biden said in remarks before the meeting.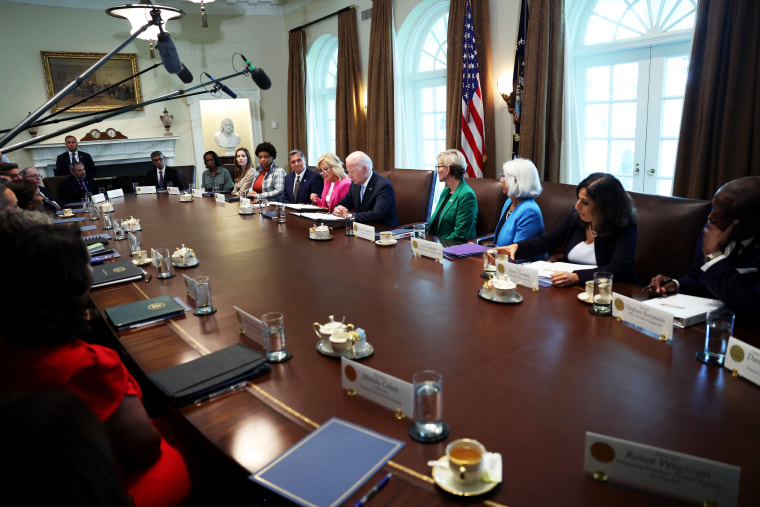 Participants at the meeting included nearly two dozen administration officials, including Health and Human Services Secretary Xavier Becerra, Energy Secretary Jennifer Granholm and Office of Management and Budget Director Shalanda Young. First lady Jill Biden addressed the Cabinet after the president.
"For Joe and for me, this is the mission of our lives, and I look forward to hearing from all of you about the ways I can help advance and lift up your work," she said.
Besides the $240 million investment, the White House also announced new efforts on smoking prevention and cessation.
The National Cancer Institute will work with the Indian Health Service and other partners to launch SmokeFreeNative, which the White House has described as a text messaging program to help "American Indian and Alaska Native adolescents and adults quit smoking, while honoring the significance of traditional tobacco."
The National Cancer Institute will also work with the Department of Veterans Affairs to determine how to better engage veterans in tobacco-treatment programs, the White House said.
"Joe Biden is determined to be a President for all Americans. That is why his Unity Agenda is about making progress on the biggest challenges we all face regardless of party," White House deputy chief of staff Bruce Reed said in a statement. "At his direction, the entire federal government is mobilizing like never before to end cancer as we know it."
Biden revamped the Cancer Moonshot initiative, which was started during the Obama administration, last year with the goal of cutting the cancer death rate in half by 2047.
The fight against cancer has hit the Biden family personally. Biden's son Beau died in 2015 after a battle with brain cancer.