WASHINGTON — The Trump administration is considering a plan to replace Secretary of State Rex Tillerson with CIA Director Mike Pompeo, an administration official confirmed to NBC News Thursday.
Though that plan has been discussed inside the White House, it's unclear when it will happen — or if it will, the source said. The news was first reported by The New York Times, but Tillerson's fate has been the subject of much speculation for months amid reports of tension with President Donald Trump.
The potential plan also includes filling Pompeo's slot at CIA with a Republican senator from Arkansas, Tom Cotton, the official told NBC News, noting that while he's well-regarded in the West Wing, there are differing views on whether Cotton should move to the CIA or stay in the Senate.
Cotton's spokeswoman told NBC News that "Sen. Cotton's focus is on serving Arkansans in the Senate."
Tillerson has recently begun discussing a year-end departure with colleagues, according to a second administration official.
Tillerson is expected to have lunch with Trump and Defense Secretary James Mattis at the White House Friday.
Tillerson was at the White House Thursday, but Trump did not answer whether he wanted the secretary to stay on the job. The two men met twice Thursday.
In response to the reports, Press Secretary Sarah Huckabee Sanders said, "There are no personnel announcements at this time," adding that Tillerson "continues to lead the State Department."
When asked later by reporters if Trump had confidence in Tillerson, Sanders didn't answer directly, saying only, "When the president loses confidence in someone, they will no longer serve in the capacity that they're in." Pressed on what the meant, Sanders reiterated the same point.
At the State Department, spokeswoman Heather Nauert said that Chief of Staff John Kelly called the agency Thursday morning to say reports of the plan "are not true." The New York Times reported that Kelly had signed off on the succession strategy.
Nauert said Tillerson "enjoys this job" and continues to do his work, and added that the secretary "serves at the pleasure of the president, as we all do."
But the White House official said the plan to replace Tillerson has traction inside an administration where Tillerson allies are now scarce. "He's burned all his bridges," said the official, who spoke on condition of anonymity.
Pompeo, on the other hand, is well regarded by White House staff, according to the official.
Other White House officials said they were unaware of any plan to oust Tillerson. One senior White House official said that while Trump has developed a bond with Pompeo, there is no indication yet that Kelly has signed off on having Pompeo lead the State Department.
It's not surprising that Pompeo would be next to get the top diplomatic spot in Trump's administration. Multiple current and former intelligence officials told NBC News that some people inside the intelligence community had started referring to Pompeo as the "Trump whisperer," a reference to the depth of their relationship.
According to these sources, Pompeo spends hours at the White House talking with the president long after his daily intelligence briefing, not just about intelligence, but politics as well.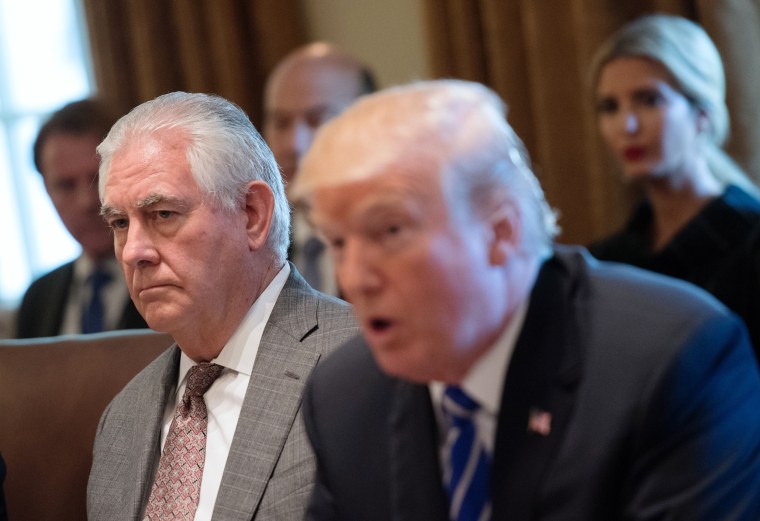 Tillerson, for his part, has had a rocky tenure at State — facing challenges both from inside his agency and from Trump, who has at times minimized Tillerson's role in international diplomacy.
NBC News has previously reported that Tillerson threatened to resign in July after a series of clashes with the president, at one point venting his frustrations by calling the president a "moron," according to multiple senior administration officials who were aware of the matter at the time.
Meanwhile, twice in the last six months, including Wednesday night, in gatherings of former CIA directors, Pompeo joked that he didn't expect to be director much longer.
At a tribute to former Director Bill Webster and fundraiser for the Spy Museum, Pompeo began his speech with a joke, telling the audience that included former directors George Tenet, John Brennan and Michael Hayden, along with current Director of National Intelligence Dan Coats, "I hope that isn't my title at this time next year."
In July, at a private gathering of ex-DCI's, Pompeo also opened his comments with a variation of the same joke. A former U.S. intelligence official told NBC News that Pompeo drew laughter when he told the audience his goal was to "come back in a year and not be one of you."