WASHINGTON — Midway through one of the most forceful speeches of his presidency, President Joe Biden noticed a woman in the audience had teared up.
He stopped and looked at Sheila Katz, one of the Jewish leaders gathered at the White House just four days after Hamas terrorists slaughtered more than 1,300 people in Israel, including young children.
"You OK, kiddo?" he asked, pausing behind a lectern he'd been pounding as he described taking his children to see the Nazi death camps.
"I felt really seen by him," Katz, the CEO of the National Council of Jewish Women, recalled in an interview. "In that moment, to have the president of the country pause his remarks to check in on me was really moving."
Not everyone at the White House is OK these days. Hamas' attack has shaken an administration that feels a deep emotional bond with Israel and the Jewish community.
Biden and members of his team — some of whom have family members in Israel — have been grieving over reports of hostage-takings and mass murder. They're juggling ordinary White House business with a crisis that's anything but, all the while coordinating a response to a war that has upended the Middle East.
"We're bracing ourselves for what comes next," said a White House aide who, like others, spoke on condition of anonymity to discuss how colleagues are coping with the war.
Emotional toll in the White House
A White House official working on the response to the attack said that at different times this week, every member of the team has looked at one another teary-eyed. In meetings, people will start speaking and their voices will crack, another official said.
Some Biden administration aides have family members or friends who are serving in the Israeli military. As the body count rises, they've been carrying out assignments while texting loved ones to make sure they're safe.
"We deal with mass casualty events with some amount of frequency on the national security team," a senior official said. "But this one has at times felt like more than any one person can bear. It's clear people are carrying their grief with them."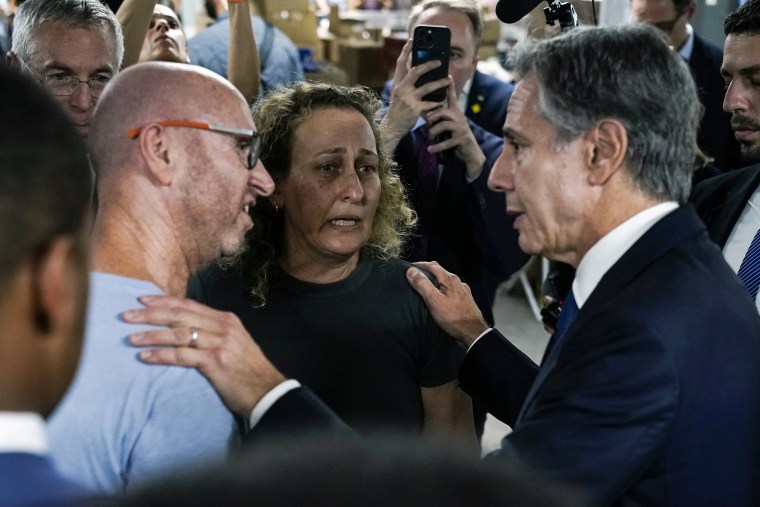 Whatever officials may be doing, the war inevitably intrudes. On Tuesday, Biden revealed that U.S. citizens are among Hamas' hostages. The next day, the administration said the number of American deaths had climbed to nearly two dozen.
On Thursday, Israeli Prime Minister Benjamin Netanyahu posted on X "horrifying photos of babies murdered and burned by" Hamas terrorists, writing that he had shown them to visiting Secretary of State Antony Blinken.
An Israeli official said in an interview that the photographs are important, as they "make it so much more real to see it."
"It hurts in your stomach and your gut in such a way that you can't stay indifferent to it," the official said. "It's not in order to persuade. When it comes to anybody who is human and calls himself a human being, you don't need these images to persuade."
While the scenes coming out of Israel, including the beginnings of what's expected to be a long, bloody war, hang heavy over the White House, Biden and his aides also appear determined not to let the crisis consume them.
Before he addressed Jewish leaders Wednesday, Biden announced a new push to limit "junk fees" charged by businesses. On Friday, he'll travel to Philadelphia for an event devoted to clean energy jobs, and on Monday he'll be in Colorado to discuss his economic agenda.
Even in the first two days after the attack, Biden was dedicating time to other priorities. Between meetings and phone calls at the White House, he sat for interviews with a special counsel investigating his handling of classified documents from his time as vice president.
Behind the scenes, Biden also has taken the time to ask for regular updates about staff members with loved ones living in Israel, an official said. An internal email from White House chief of staff Jeff Zients told staffers about various counseling services available to them and their families.
The emotional toll inside the White House has at times spilled into public view.
Listening to CNN host Jake Tapper recite the abuses inflicted on Israeli women and children, a polished White House spokesman and retired Navy rear admiral, John Kirby, lost his composure. He turned from the camera to collect himself before answering.
"Excuse me," he said. "Very difficult to look at these images, Jake."
Follow live updates on the Israel-Hamas conflict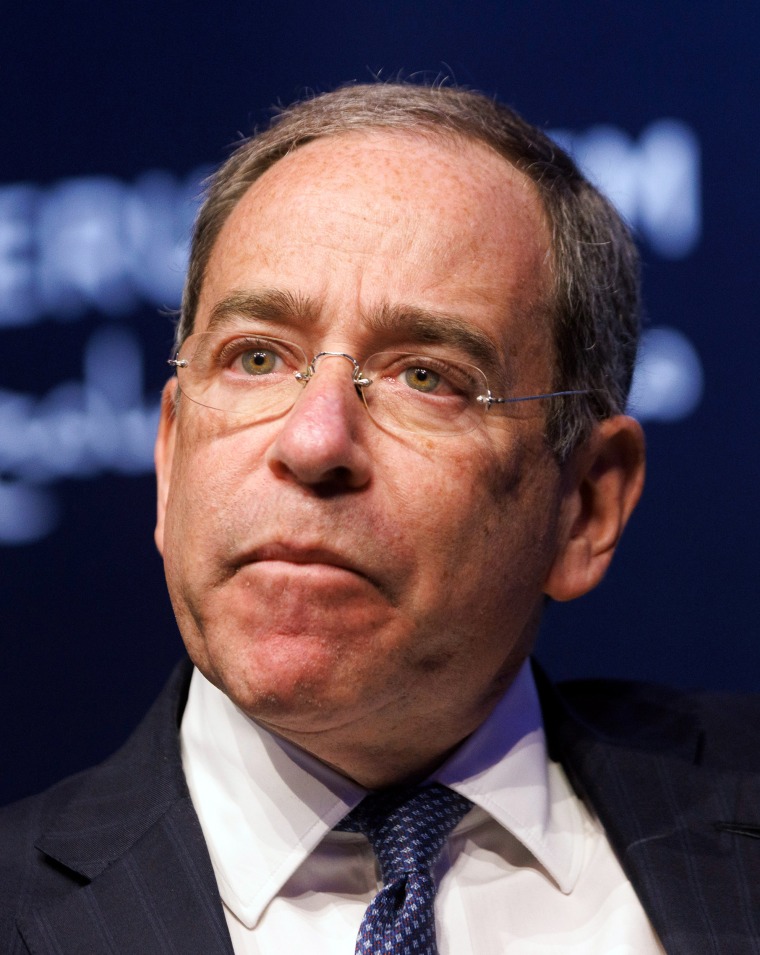 Dozens of Jewish aides work in the White House; they are tight-knit. Blinken is Jewish, the stepson of a Holocaust survivor. Vice President Kamala Harris' husband, Douglas Emhoff, is also Jewish, and together, the couple hosted a celebration at their residence last month for the High Holy Days. Jewish aides mark religious holidays together and in past years have lit a menorah in the Eisenhower Executive Office Building.
Tom Nides, who left his job as U.S. ambassador to Israel in July, said he had just gotten an email from a friend who wrote that his daughter had been found — dead.
"It's breaking my heart," Nides said. "I know all these people. I know all my staff who are there and their families. It's impossible to describe what is happening in the country. It's beyond comprehension."
Deeply personal for Biden
In the days since Hamas launched its attack, Biden has spoken with a measure of clarity missing in past presidential speeches. The war seems to have energized him, imbuing him with equal parts rage and resolve.
At Wednesday's event with Jewish leaders, Biden raised his voice in recalling how he took his children to see the death camps the Nazis built to massacre Jews during World War II.
"I wanted them to see," he shouted, "that you could not not know what was going on walking through those gates! You could not fail to understand as a country what was going on."
White House aides said Biden has been deeply involved in crafting the speeches he has delivered this week.
In a speech Tuesday, Biden made a point to mention details of the atrocities Hamas committed in breaching Israeli boundary lines. The comments weren't part of his original script, aides said. He had just gotten off the phone with Netanyahu, who had told him of women being raped and children being kidnapped and killed.
"The conversation with Bibi definitely had an effect on him and the way he delivered the speech," an administration official said.
Biden, who is Irish Catholic, has ties of his own to Israel and the Jewish diaspora.
Biden recalls as a young senator in 1973 visiting then-Prime Minister Golda Meir, who made an indelible impression when she disclosed to him Israel's "secret weapon."
 "'We have no place else to go,'" she told him, as Biden has recounted the visit.
"He feels what the Jewish community has been through," said Ted Kaufman, a former Biden Senate aide and onetime Democratic senator from Delaware. "It's the Irish in him. He is someone who feels people's pain."
Biden's home state, Delaware, was an incubator for his kinship with the Jewish community. He is close to Congregation Beth Shalom in Wilmington, a synagogue with about 450 families. Michael Beals, the senior rabbi, said he considers the president "part of the 'mishpocha,'" Yiddish for family network.
In the months before Biden became a candidate in the 2020 presidential race, Beals wrote him a letter. At the time, Biden was an ex-vice president whose age was considered a reason he might choose to sit out the race. Beals urged him to run, telling him that "in the Jewish tradition, age is an asset — wisdom — and you shouldn't count yourself out because of your age."
On Jan. 24, 2019, Biden sent back a handwritten letter on vice presidential stationery.
"You are 'my Rabbi,' and my friend," he wrote. "I've had the great honor to meet and be mentored by so many remarkable women and men from 'Golda'" Meir to Elie Wiesel, the author and Holocaust survivor.
"I am indebted to you and to the community in so many ways.
"You are familiar with the Talmudic saying, 'What comes from the heart enters the heart.
"Your sentiments entered my heart."
He signed it "Joe."
Three months later, he announced his candidacy.