WASHINGTON — Top White House officials seeking security clearances are asked to disclose whether anything in their backgrounds — or those of family members — could pose a conflict of interest, be a source of embarrassment or be used to blackmail them, according to an excerpt of a questionnaire obtained by NBC News.
In the wake of Wednesday's report by NBC News that more than 130 White House officials lacked full security clearances as of November, the supplemental questions — which are not part of the standard questionnaire filled out by other government officials — shed light on the sort of information that could raise flags in a background investigation.
Legal experts say that the allegations of domestic violence against former White House staff secretary Rob Porter would have almost certainly qualified as a source of embarrassment and possible blackmail, and therefore would have posed an impediment to him being granted a full clearance.
Porter operated for more than a year on an interim clearance, even as he was managing the flow of highly classified documents in the White House. He resigned after media reports quoted two ex-wives saying he abused them. The reports included photos of one with a black eye.
The basic questionnaire most people must fill out when seeking a security clearance is Standard Form 86. That form asks whether "there currently a domestic violence protective order or restraining order issued against you." Porter had been subject to a temporary protective order in 2010.
The standard form does not, however, ask about potential blackmail.
But in the Trump White House, certain officials have been required to answer supplemental questions, according to an excerpt of a supplemental form they have filled out. It includes this question:
"With as much detail as possible, please provide any other information, including information about other members of your family, which could suggest a conflict of interest, be a possible source of embarrassment, or be used to coerce or blackmail you."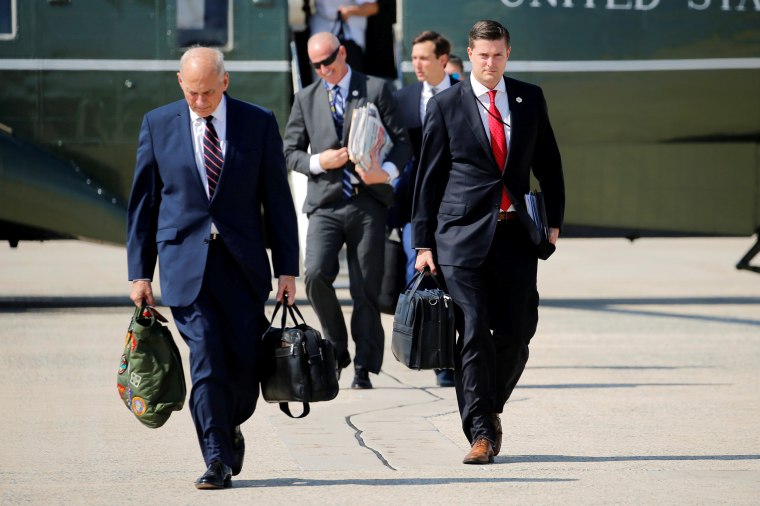 The applicants also are asked: "Are you aware of any reason not discussed above that may call into question your suitability to serve in public office?"
Officials in previous administrations were also required to answer supplemental questions.
The White House did not respond to a request for comment.
More than 130 political appointees working in the Executive Office of the President did not have permanent security clearances as of November 2017, including the president's daughter, son-in-law and his top legal counsel, according to internal White House documents obtained by NBC News.
Of those appointees working with interim clearances, 47 are in positions that report directly to President Donald Trump. About a quarter of all political appointees in the executive office were working with some form of interim security clearance.
It is unclear whether some employees have had their clearance levels changed since mid-November.
One reason that may explain the large number of interim clearances in the Trump White House is that there are a higher than typical number of White House employees who have never been vetted for a security clearance, and many of them have complicated financial backgrounds, said Leslie McAdoo Gordon, a lawyer who specializes in security clearance matters.
White House officials who are listed as not having permanent security clearances as recently as this past November include Ivanka Trump, the president's daughter and senior adviser; Jared Kushner, the president's son-in-law and senior adviser; Dan Scavino, the president's director of social media; and Christopher Liddell, assistant to the president for strategic initiatives, according to the documents.
All four are listed as operating with interim clearances for information classified as "top secret" and "TS/SCI," which is shorthand for "top secret, sensitive compartmented information." They are not listed as being cleared for classifications higher than that.
Kushner is a subject of criminal investigation by Special Counsel Robert Mueller, who is probing possible collusion between the Trump campaign and Russia. Anyone enmeshed in a federal criminal investigation might experience a delay in obtaining — if not a denial of — a full clearance, according to Mark Zaid, a lawyer who represents federal employees in matters of clearances and classified information. Kushner is still operating with an interim clearance, his lawyer has said.
Nonetheless, the Washington Post and other news organizations have reported that Kushner gets access to the President's Daily Brief, which contains some of the most sensitive secrets in the government, including information about CIA covert operations and National Security Agency eavesdropping.
Kushner has "stepped away" from his family real estate empire, but he retains interest in a network of foreign investments that critics say could pose a financial conflict of interest. Kushner's lawyers have said he is free from conflict.