White House press secretary Stephanie Grisham claimed on Tuesday that departing former aides to President Barack Obama left notes saying "you will fail" and "you aren't going to make it" for the incoming staff of Donald Trump.
Former Obama aides quickly denied Grisham's claim, reacting to a tweet from a CNN reporter that Grisham had said during an earlier radio interview, "Every office was filled with Obama books and we had notes left behind that said 'you will fail,' 'you aren't going to make it.'"
"This is another bald faced lie," Obama's national security adviser Susan Rice wrote on Twitter.
"This is an outrageous lie," former senior director of the National Security Council Jon Wolfsthal tweeted. "I know. I handed over the nuclear office at the (National Security Council). Shameless and disgusting."
Download the NBC News app for breaking news and politics
One senior Obama aide who once held Grisham's job wrote to his successor that he was rooting for him, according to a photograph obtained by NBC News. Obama White House press secretary Josh Earnest left a note for Sean Spicer, Trump's first press secretary, telling him that his selection by Trump for the role was "a credit to your skills and work ethic."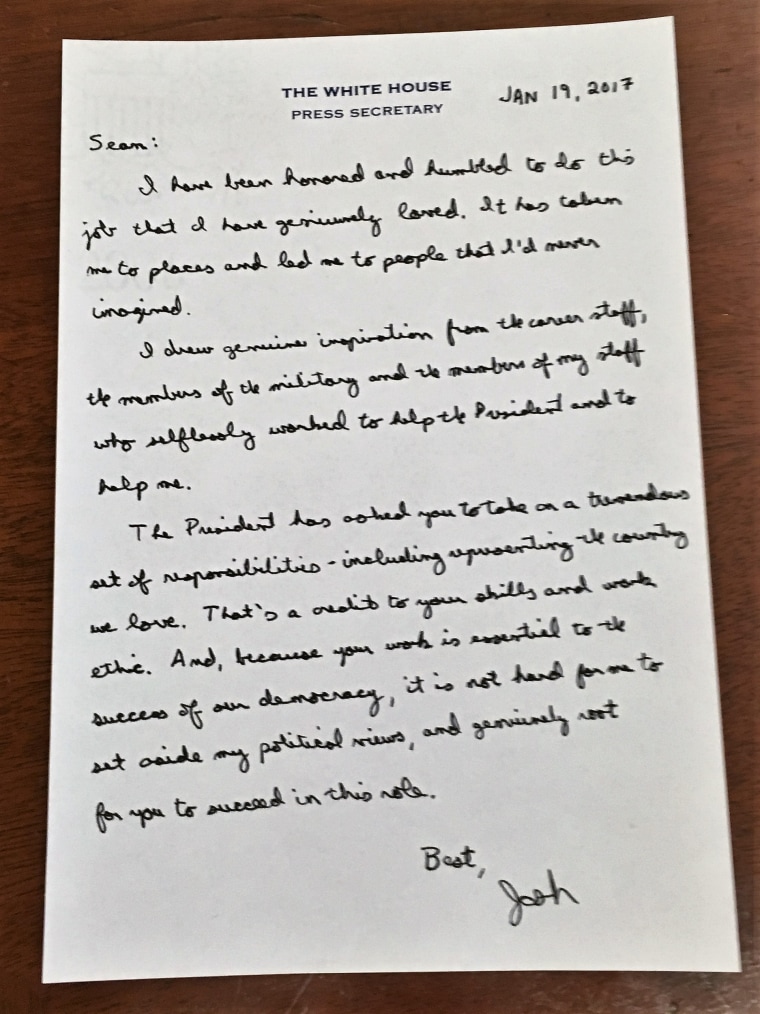 "And, because your work is essential to the success of our democracy, it is not hard for me to set aside my political views, and genuinely root for you to success in this role," Earnest wrote.
NBC News obtained the photograph, which shows the January 19, 2017, letter on the press secretary's desk, prior to Grisham's comments. Earnest declined to comment.
Valerie Jarrett, a senior adviser to Obama, said Grisham should produce the notes. "I cannot imagine a single one of my former colleagues who would do this," she said in a tweet.
Former Obama speechwriter Jon Favreau countered that his notes would have been more interesting.
Grisham clarified to NBC News that she didn't mean to suggest that the notes were left in every White House office, only in a press area.
"I'm not sure where her office was, and I certainly wasn't implying every office had that issue," Grisham wrote, referring to Rice's office. "In fact, I had a lovely note left for me in the East Wing, and I tracked the woman down and thanked her. I was talking specifically about our experience in the lower press office — nowhere else. I don't know why everyone is so sensitive!"
NBC News has not heard the radio interview, but the welcome note that was left by an aide to Michelle Obama for Grisham was posted on Twitter.
"Welcome to the small family of White House staffers, past and present," Joanna Rosholm, former press secretary for Michelle Obama, wrote in part. "The bond we all share transcends politics."