White House Press Secretary Sean Spicer has been heard but not seen in recent days.
The White House's chief spokesman has mostly stayed away from the glare of the cameras, opting instead to field reporters' questions away from the eager lenses of the White House press corps.
In fact, it's been over a week since his last on-camera briefing, leaving political junkies and cable news watchers suffering from a dearth of televised White House press briefings.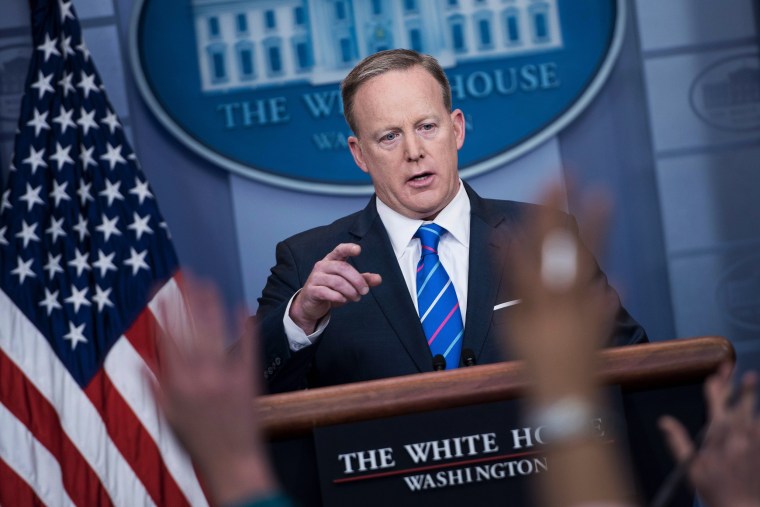 The continued break with the on-camera tradition didn't go unnoticed Monday.
As Spicer walked to the podium, a voice called out to ask if he was sure he didn't want to do this on camera. At one point, seeming to react to the way a reporter was jockeying for a question, Spicer instructed her "you're not on camera" and assured he'd get to her question.
The briefings themselves have earned a reputation as must-see TV, earning cable news networks midday ratings boosts and inspiring viral Saturday Night Live sketches starring Melissa McCarthy as Spicer.
Asked about the decision to brief off-camera on Monday, White House Deputy Press Secretary Sarah Huckabee Sanders told NBC News the White House was upholding a January promise to brief in some way, every day.
"As Sean has said on the record since January, we would conduct a daily briefing of some sort — some on camera, some off — and we have done just that," she said in an email to NBC News. Sanders added that "several reporters, including some broadcast ones, agree that off camera briefings tend to" yield more information.
"It matters to be seen," Julian Zelizer, a political historian at Princeton University told NBC News. "This is still a visual-media age and if someone is not out there in front of reporters and in front of the camera, in front of audiences, it undercuts their ability."
In the end, Spicer did end up with some camera time on Monday. He gaggled with reporters for several minutes in the White House driveway, leaving one reporter to remark that "we had a briefing after all" after Spicer had walked back inside.
But because Spicer has stepped out of focus of the cameras doesn't mean other White House aides haven't taken to the airwaves. Sanders made the rounds on Sunday morning, defending the president's unsubstantiated claim that former President Barack Obama wiretapped Trump Tower during the waning days of the election.
And Kellyanne Conway, counselor to Trump, appeared Monday morning to defend her boss as well.
The White House has set the unofficial precedent of opting for off-camera briefings or less formal gaggles on days when President Donald Trump has speeches or press availabilities.
But that wasn't the case on Monday.
The press corps went the length of the day without seeing the president, who signed a new version of his controversial immigration executive order without any cameras present early in the day.
Asked about the signing begin closed to the press (many other executive order signings — including the first immigration executive order — have been on camera) Spicer retorted that the White House had gone "above and beyond allowing the press into events and sprays, so with all due respect, that has not been the case."
"I think this president has been extremely accessible and extremely transparent," he said.