White House press secretary Karine Jean-Pierre violated a law intended to prevent federal employees from using their offices to influence elections when she repeatedly referred to "mega MAGA Republicans" in the run-up to the 2022 midterms, a government watchdog agency said.
In a letter first shared with NBC News, the Office of Special Counsel determined that Jean-Pierre's choice of words in referring to Republican candidates violated the Hatch Act.
"Because Ms. Jean‐Pierre made the statements while acting in her official capacity, she violated the Hatch Act prohibition against using her official authority or influence for the purpose of interfering with or affecting the result of an election," Ana Galindo‐Marrone, who leads the agency's Hatch Act Unit, wrote in a letter Wednesday.
At a White House briefing on Nov. 2, Jean-Pierre referred to "mega MAGA Republican officials who don't believe in the rule of law" and made other comments disparaging Republican candidates, according to a Hatch Act complaint the conservative watchdog group Protect the Public's Trust filed against Jean-Pierre in November.
The group called Jean-Pierre's remarks "an inappropriate attempt to influence the vote."
Despite having found Jean-Pierre in violation of the law, the Office of Special Counsel "decided to close this matter without further action," Galindo‐Marrone wrote in last week's letter to Protect the Public's Trust, noting that the White House counsel's office "did not at the time believe that Ms. Jean‐Pierre's remarks were prohibited."
"We have decided not to pursue disciplinary action and have instead issued Ms. Jean‐Pierre a warning letter," Galindo‐Marrone wrote.
"[I]t is unclear whether OSC's contrary analysis regarding the use of 'MAGA Republicans' was ever conveyed to Ms. Jean‐Pierre," she added.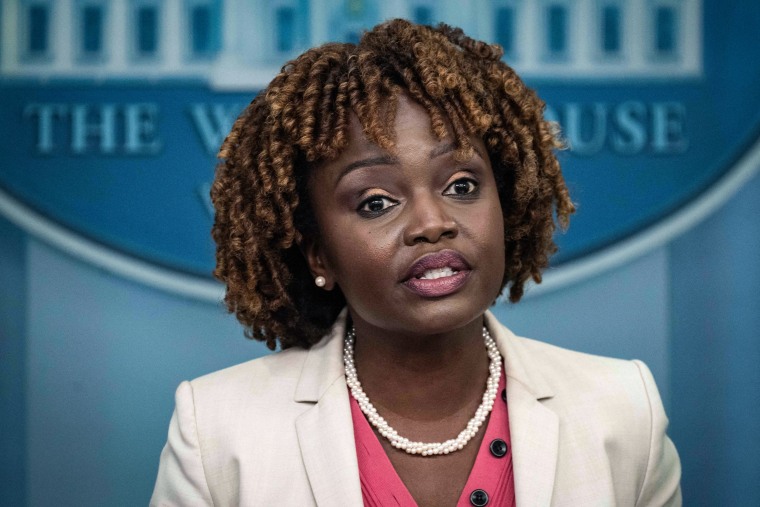 In response to a request for comment, White House spokesperson Andrew Bates said in a statement: "As has been made clear throughout the administration, we take the law seriously and uphold the Hatch Act. We are reviewing this opinion."
Jean-Pierre has cited the Hatch Act repeatedly in declining to answer certain questions from reporters or in explaining why she can offer only limited responses, including in the weeks leading up to the 2022 midterm elections.
Michael Chamberlain, a former Trump administration official who is head of Protect the Public's Trust, said Jean-Pierre's violation of the law without repercussion shows why Americans "increasingly distrust" the Biden administration's ethics claims, after it vowed to uphold the highest standards.
"This episode illustrates exactly what people hate about Washington, DC and why they increasingly distrust the Biden Administration's promises to be the most ethical in history," Chamberlain said in a statement. "The Hatch Act was a law used to pillory previous administrations but officials now appear content to sweep it under the rug."
Trump administration officials came under fire for breaching the law numerous times, with a November 2021 report from the Office of Special Counsel characterizing their behavior as "especially pernicious" in light of comments ahead of the 2020 election.
"This failure to impose discipline created the conditions for what appeared to be a taxpayer-funded campaign apparatus within the upper echelons of the executive branch," the 2021 report said.
A Biden administration official argued Monday that Republicans have often used the acronym "MAGA" for official government purposes separate from campaigning. The official said that the Trump White House used the term "Make America Great Again" almost 2,000 times for official purposes and that congressional Republicans have used the term "MAGA" for official purposes, including legislation and policy proposals.
Recently, Jean-Pierre has cited the Hatch Act in declining to comment on Robert F. Kennedy Jr.'s announcement that he would challenge President Joe Biden for the 2024 Democratic presidential nomination, telling reporters: "It's 2024. ... I'm just not going to touch that with a 12-foot pole." She also used it to clarify an answer about whether Biden would serve all eight years in office if he is re-elected.
Health and Human Services Secretary Xavier Becerra violated the Hatch Act last year when he expressed support for electing Sen. Alex Padilla, D-Calif., to a full term at an event last fall, the Office of Special Counsel said this April.
In October, Jean-Pierre acknowledged that Biden's chief of staff at the time, Ron Klain, who retweeted a political message on his government Twitter account, had violated the Hatch Act. She said that the White House takes the provision seriously but that it is "not perfect."