U.S. Attorney General Merrick Garland announced Thursday he was appointing Robert Hur to serve as a special counsel to review classified material found in President Joe Biden's Delaware residence and a Washington office he used.
Hur, now a lawyer at a Washington, D.C., firm, was the U.S. Attorney for Maryland during the Trump administration, and is also the former principal counselor to former Deputy Attorney General Rod Rosenstein, who oversaw the Mueller investigation.
Garland said Hur's appointment "authorizes him to investigate whether any person or entity violated the law in connection with this matter."
Garland said the move was necessary because of the "extraordinary circumstances" involved. "I am confident Mr. Hur will carry out his responsibilities in an even-handed and urgent manner," he said.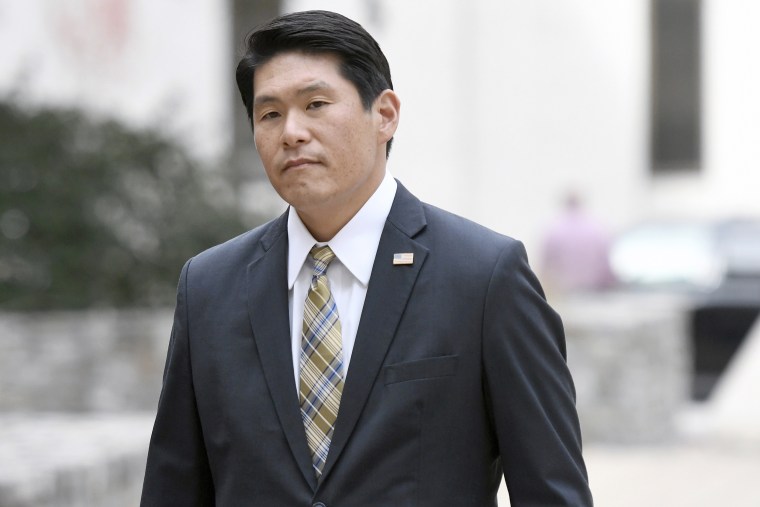 In a statement, Hur said: "I will conduct the assigned investigation with fair, impartial, and dispassionate judgment. I intend to follow the facts swiftly and thoroughly, without fear or favor, and will honor the trust placed in me to perform this service."
The move came after the White House acknowledged publicly on Thursday that classified Obama administration documents were found in one of Biden's Delaware homes. This came after confirming Monday that documents had been found in a Washington office.
Garland said the DOJ was told about the documents in Biden's home on Dec. 20. Biden's lawyer informed the Justice Department on Thursday morning that one other document had been found in the home, Garland said.
A source familiar with the matter confirmed to NBC News that the single additional classified document Garland said he was informed of Thursday morning was found the previous day at Biden's home in Wilmington. The president's personal counsel notified the Justice Department about the document on Thursday.
Garland had previously asked John R. Lausch, the U.S. attorney for the Northern District of Illinois and a holdover appointed by former President Donald Trump, to review how classified material ended up in a locked closet in a Washington, D.C., office that had been used Biden after he left office in 2017, a source familiar with the matter told NBC News earlier this week.
Garland said Lausch briefed him on his findings on Jan. 5, and "advised me that further investigation by a special counsel was warranted." Garland said he agreed but did not elaborate further.
Multiple aides who worked for Biden in the final days of the Obama administration have already been interviewed by federal law enforcement officials, two people familiar with the matter told NBC Thursday.
In a statement released Thursday, Richard Sauber, a counsel to Biden, said the additional documents were found during a search of Biden's two Delaware homes. He did not say how many there were or their level of classification.
No documents were found in Biden's Rehoboth Beach residence.
In a second statement after Garland's announcement, Sauber said: "We have cooperated closely with the Justice Department throughout its review, and we will continue that cooperation with the Special Counsel. We are confident that a thorough review will show that these documents were inadvertently misplaced, and the President and his lawyers acted promptly upon discovery of this mistake."
In brief remarks to reporters Thursday, the president said the documents were found in "storage areas and file cabinets in my home, in my personal library."
Asked why he'd had classified documents next to his Corvette in his garage, Biden said: "My Corvette's in a locked garage. It's not like they're sitting out on a street."
He then added that "people know I take classified documents and classified material seriously."
A source familiar with the ongoing review later told NBC News that Biden's lawyers searched his personal library at the Wilmington residence, and no classified documents were found there. The library is not the room adjacent to the garage where one classified document was found among stored materials.
Sauber said the Department of Justice was "immediately notified" about the find, and Biden's lawyers arranged for DOJ to take possession of the documents.
The White House said the search was completed Wednesday night.
It's unclear why Biden's homes were just being searched now. Sauber acknowledged earlier this week — following a CBS News report — that some classified documents had been found on Nov. 2 in a Washington office that had been used by Biden.
Sauber's statement Thursday came a day after NBC News first reported that aides to the president had discovered at least one additional batch of classified documents in a location separate from the Washington office he used after the Obama administration ended.
Sauber said the president's lawyers have now completed searches of "locations where files from his Vice-Presidential office might have been shipped in the course of the 2017 transition."
Sauber's statement gave a slightly different account of what happened following the initial discovery of classified material in a locked closet in Biden's office at the Penn Biden Center for Diplomacy and Global Engagement in Washington.
In his statement Monday, Sauber said: "On the day of this discovery, November 2, 2022, the White House Counsel's Office notified the National Archives. The Archives took possession of the materials the following morning." In the statement Thursday, Sauber said, "As was done in the case of the Penn-Biden Center, the Department of Justice was immediately notified, and the lawyers arranged for the Department of Justice to take possession of these documents."
Garland said Thursday that the National Archives had notified the Justice Department about the documents on Nov. 4. He said the FBI commenced an assessment on Nov. 9 "to understand whether classified information had been mishandled in violation of federal law."
Garland said he assigned Lausch "to conduct an initial investigation to inform my decision whether or not to appoint a special counsel" five days later.
One of the classified documents found at Biden's DC office was marked with the highest classification in the U.S. government, Top Secret/Sensitive Compartmented Information or TS/SCI, according to a senior U.S official and another person familiar with the matter. CNN first reported on the markings.
Other documents found at the Penn Biden Center did not have as highly classified markings, the sources said.
The U.S. official familiar with the matter said some U.S. government officials outside of the Justice Department and the White House have been briefed on the contents of those classified documents, which were discovered by Biden's lawyers in November.
The White House declined to comment Thursday night.
White House press secretary Karine Jean-Pierre, asked earlier Thursday how Biden could say he takes the handling of classified materials very seriously when some records were being kept in his garage, said, "He did not know the records were there."
When pressed on why it took more than two months to inform the public about the documents, Jean-Pierre said there's "an ongoing process that's occurring" and insisted the White House was "doing this by the book."
Shortly before Garland's announcement on Thursday, House Speaker Kevin McCarthy, R-Calif., called the finds "another faux pas by the Biden administration" and told reporters "Congress has to investigate this."
House Oversight Committee chair James Comer, R-Ky., said in a statement after Garland's announcement that his panel will look into "President Biden's mishandling of classified documents and the Swamp's efforts to hide this information from the American people."
"There are many questions about why the Biden Administration kept this matter a secret from the public, who had access to the office and the residence, and what information is contained in these classified documents," Comer said.
House Judiciary Committee chair Jim Jordan, R-Ohio, mocked the circumstances of the latest revelations. "We're talking about classified documents. It's obviously serious, but you almost start laughing when you find out they're in the garage," Jordan said.
He said he has "a ton of questions" about the timing of the searches, and why a lawyer was involved in the Washington, D.C. move in the first place. Jordan also accused DOJ of a "double standard" in its handling of Biden's case versus its probe into documents with classification markings that former President Donald Trump held onto.
There are some major differences to date between the two cases, including that Trump had held onto documents even after he was served a subpoena for their return, and that his lawyers had erroneously certified that they'd all been given back.
Democratic Rep. Adam Schiff of California, who previously chaired the House Intelligence Committee, said while there are "enormous differences" between the Biden and Trump matters, "whenever classified documents are in a place that they shouldn't be, it's a concern for those of us on the Intelligence Committee." He called for a briefing on the incidents to the House panel.