WASHINGTON — Ukrainian President Volodymyr Zelenskyy plans to attend the United Nations General Assembly in New York City next week, a senior Ukrainian official said. He is also expected to meet with President Joe Biden at the White House next Thursday, according to a person familiar with the plans.
The White House declined to comment.
Biden most recently met with Zelenskyy in July during the NATO summit in Vilnius, Lithuania.
"I hope we finally have put to bed the notion about whether or not Ukraine is welcome in NATO. It's going to happen," Biden said in remarks before their bilateral meeting. "We're moving — you're all moving in the right direction. I think it's just a matter of getting by the next few months here."
A group of lawmakers is also working to meet with Zelenskyy during his visit, said two people directly involved in the plans.
Secretary of State Antony Blinken visited Kyiv this month, meeting with Zelenskyy and senior Ukrainian officials to "demonstrate the United States' unwavering commitment to Ukraine's sovereignty, territorial integrity, and democracy, especially in the face of Russia's aggression," a State Department spokesperson said.
During his visit, the State Department announced additional U.S. aid to the country, including $100 million in foreign military financing, $90.5 million in humanitarian demining assistance and $300 million to support law enforcement efforts in liberated regions.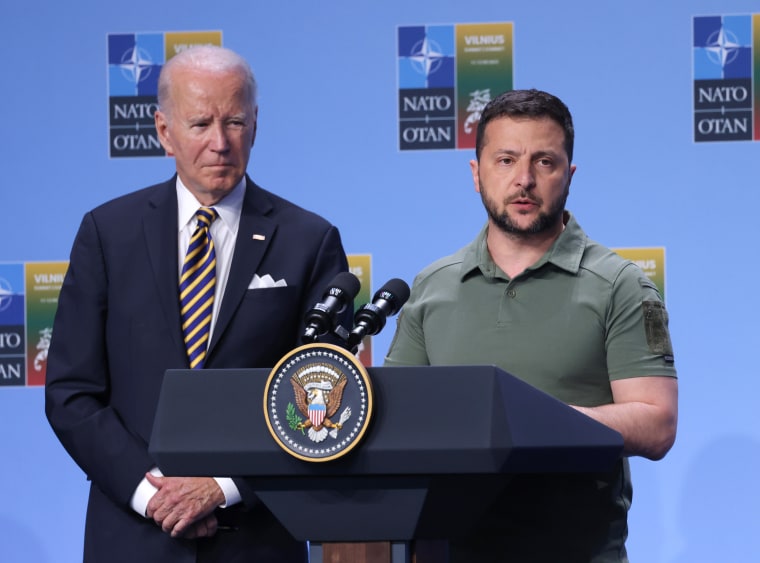 Zelenskyy has publicly expressed his intention to appear at the General Assembly for months. He delivered a virtual speech last year.
"For us, this is a war for life," he told the U.N. "That is why we need defense support — weapons, military equipment and shells. Offensive weapons, a long-range one is enough to liberate our land, and defensive systems, above all, air defense. And we need financial support — to keep internal stability and fulfill social obligations to our people."