"Three Billboards Outside Ebbing, Missouri" and "Lady Bird" won top honors at the Golden Globes on Sunday, capping off a ceremony defined by stirring speeches and caustic jokes about the sexual misconduct scandals roiling Hollywood.
"Good evening, ladies and remaining gentlemen," the host, Seth Meyers, said in his monologue, alluding to the notable absence of men — producers, actors, directors — felled by allegations of harassment and assault.
"It's 2018," Meyers added. "Marijuana is finally allowed and sexual harassment finally isn't."
The global #MeToo movement cast a long shadow over the ceremony, the first major awards show since explosive allegations against movie mogul Harvey Weinstein rocked the entertainment industry. In a virtually unprecedented display of activism, several presenters and winners proclaimed it was time for change.
Oprah Winfrey, who received the Cecil B. DeMille award for lifetime achievement, praised the legions of women who have come forward with their #MeToo stories. In rousing remarks that earned her a standing ovation, Winfrey told viewers that "speaking your truth is the most powerful tool you all have."
"For too long, women have not been heard or believed if they dared to speak the truth to the power of those men. But their time is up. Their time is up," Winfrey said, referring to the newly formed coalition to fight sexual misconduct.
The Globes boosted the Oscar fortunes of "Three Billboards," which won best movie drama, and "Lady Bird," which took the best movie comedy award. The two critical favorites have officially broken through in an awards season that began without any clear front-runners.
"Three Billboards," a tough-minded drama with a comedic edge, centers on a mother (Frances McDormand, who won a Globe for her fierce performance) struggling to avenge the killing of her daughter. The film also picked up accolades for its screenplay and supporting actor Sam Rockwell.
"Lady Bird," a sweet coming-of-age comedy from first-time director Greta Gerwig, follows a quirky teen (Saoirse Ronan, also a Globe winner) during her tumultuous senior year of high school.
IMAGES: Activism black is the new black at Golden Globes
The Hollywood Foreign Press Association, the group behind the Globes, gave prizes to several other projects that portray strong, empowered women.
"Big Little Lies," the acclaimed HBO series about complex women in a posh California community, won the award for best limited television series. Nicole Kidman earned gold for her searing performance on the show as a survivor of domestic abuse. She dedicated her statue to the "power of women."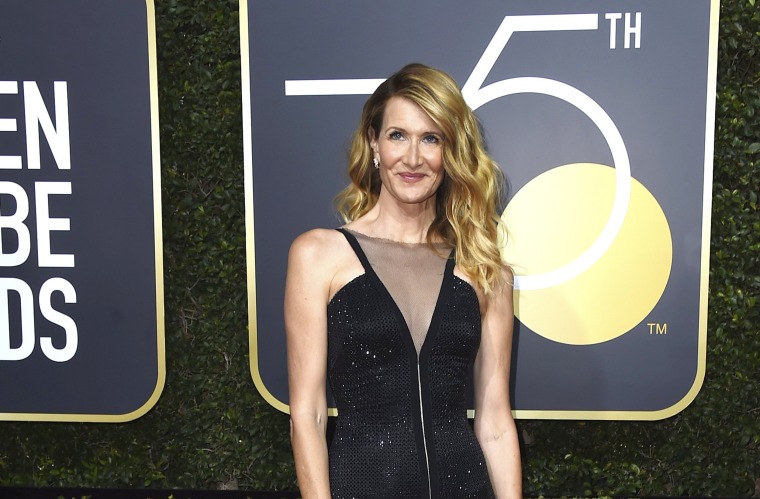 Laura Dern, who was also honored for her role on "Big Little Lies," condemned the "culture of silence" that was once "normalized" in her industry. "May we teach our children that speaking out without the fear of retribution is our culture's new north star," Dern said.
It was also a big night for a pair of feminist-minded TV series. "The Marvelous Mrs. Maisel," a freshman Amazon show about a 1950s housewife who breaks into show business, won for best TV comedy, and its breakout star, Rachel Brosnahan, took home a statue for her lead performance.
"The Handmaid's Tale," a Hulu hit about women fighting to survive in a dystopian society in which they are treated like property, landed the award for best TV drama and its lead, Elisabeth Moss, won for best actress in a drama series.
A-list actresses, from Natalie Portman to Jessica Chastain, served up jokes about gender inequality in their industry. Portman, presenting the award for best film director, made a point of saying all the nominees were men. (Guillermo del Toro, the celebrated Mexican auteur, won that honor for his science-fiction romance "The Shape of Water.")
Related: Full list of Golden Globe winners
In a nod to the high stakes surrounding his hosting stint, Meyers joked: "There's a new era underway, and I can tell because it's been years since a white man was this nervous in Hollywood."
Meyers, the host of NBC's "Late Night," pulled no punches when it came to the accused, mocking former "House of Cards" star Kevin Spacey and Weinstein, the once-powerful kingmaker. Twenty years from now, Meyers said, Weinstein will be the "first person ever booed during the In Memorium" segment. (Weinstein was once a fixture on the awards show circuit.)
The red carpet was a sea of black gowns, a symbolic statement of solidarity with victims of sexual misconduct. Various actresses (and a handful of men) wore pins that read "Time's Up."
And some stars strolled down the carpet with leading activists as their dates.
Michelle Williams, nominated for her performance in the thriller "All the Money in the World," was accompanied by Tarana Burke, the founder of #MeToo. "I'm so much more interested in what you have to say than what I have to say," Williams said of Burke.