The 75th Annual Golden Globe Awards on Sunday was equal-parts awards show and social commentary, as stars gathered for their first major event since Hollywood was rocked by a sexual harassment scandal that touched off a national movement.
From a red carpet full of black gowns as a show of solidarity for survivors of sexual assault to first-of-their-kind wins, here are seven highlights from Sunday evening's show.
Oprah's impassioned acceptance speech
In accepting the Cecil B. DeMille award for lifetime achievement, Oprah Winfrey gave a speech so powerful, it earned her a standing ovation from the crowd — and throngs of fans calling for an Oprah presidential run in 2020 on social media.
As the first-ever black female recipient of the honor, Winfrey gave an emotional homage to the racial and gender inequalities that still exist, and told the audience, "Speaking your truth is the most powerful tool you all have."
"For too long, women have not been heard or believed if they dared to speak the truth to the power of those men. But their time is up. Their time is up," Winfrey said, referring to Time's Up, a new coalition that aims to fight sexual misconduct. Read Winfrey's full speech here.
Seth Meyers' opener
Host Seth Meyers didn't hold back when it came to acknowledging Hollywood's sexual misconduct problem.
"Good evening, ladies and remaining gentlemen," he joked at the top of the show, a nod to the male producers, directors and actors who have been accused of inappropriate behavior.
"It's 2018," Meyers he later added. "Marijuana is finally allowed and sexual harassment finally isn't."
And he took a swing at disgraced producer Harvey Weinstein: ""Don't worry," Meyers said. "He'll be back in 20 years when he becomes the first person ever booed during the In Memoriam."
Natalie Portman's show-stealing zinger
While presenting the award for best director, actress Natalie Portman tweaked her speech ever so slightly to take a big jab at gender inequality.
"Here are the all-male nominees," Portman said, calling attention to the fact that all five filmmakers nominated this year were men.
The slam, a reference to the fact that director Greta Gerwig was snubbed for her acclaimed film "Lady Bird," drew a surprised chuckle from her co-presenter, director Ron Howard.
Laura Dern's demand
Like many others throughout the night, actress Laura Dern addressed the need to reverse a society that has allowed sexual misconduct to proliferate. But Dern gave specific orders on how to do that.
"Many of us were taught not to tattle," Dern said in her acceptance speech for best supporting actress for her role as a righteous mother on "Big Little Lies."
"It was a culture of silencing, and that was normalized. I urge all of us to not only support survivors and bystanders who are brave enough to tell their truth, but to promote restorative justice," she said, referring to a disciplinary process that focuses more on healing for both the victim and the perpetrator, rather than on punishment. (Learn more about this approach from the National Sexual Violence Resource Center here.)
"May we also please protect and employ them. May we teach our children that speaking out without the fear of retribution is our culture's new North Star," Dern added.
Historic wins across the board
Winfrey wasn't the only historymaker at the Golden Globes. Sterling K. Brown of "This Is Us" became the first black man to win the award for best performance by an actor in a TV series drama, and Aziz Ansari became the first Asian actor to win a Golden Globe for best actor in a TV comedy category for his role in Netflix's "Master of None." Ansari joked that he "genuinely didn't think" he would win because "all the websites said I was going to lose."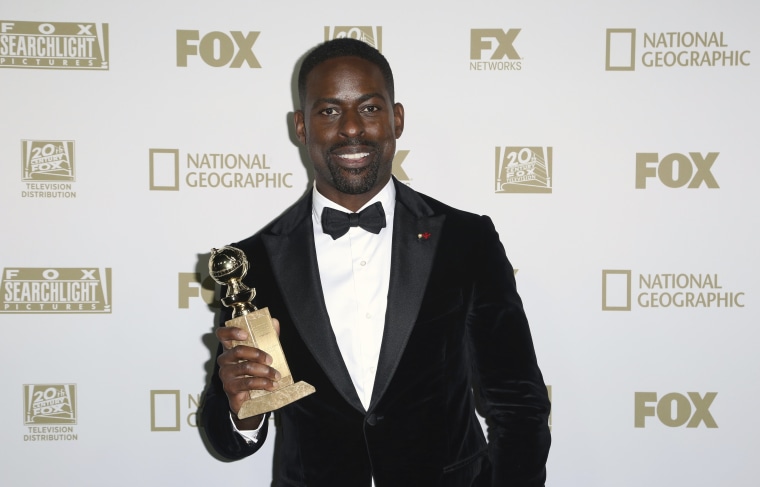 Brown thanked "This Is Us" creator for casting him.
"Dan Fogelman, you wrote a role for a black man that can only be played by a black man," Brown said. "What I appreciate so much about this is that I'm being seen for who I am and being appreciated for who I am, and it makes it that much more difficult to dismiss me or dismiss anybody who looks like me."
A red carpet full of black gowns
Fashion on the red carpet is always scrutinized, but this year, wearing black was — well — the new black.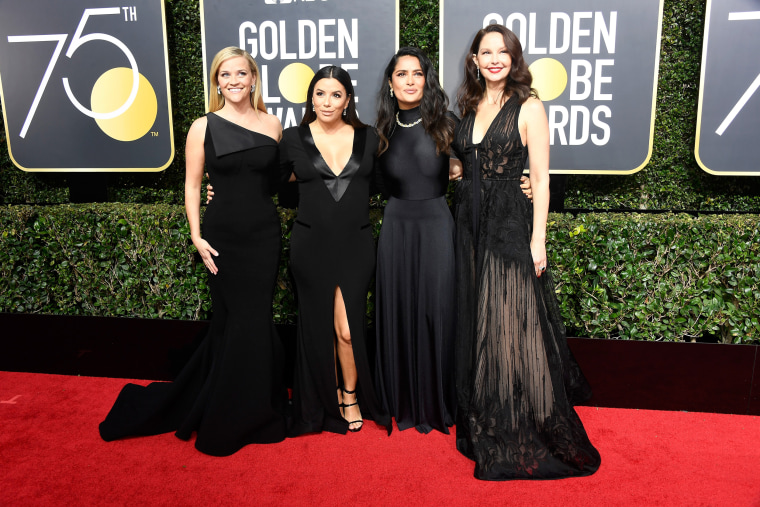 As a show of solidarity for survivors of sexual harassment and assault and for pay disparity for women in Hollywood, nearly every actress showed up on the red carpet donning black gowns. Many wore "Time's Up" pins.
Actress Michelle Williams brought activist Tarana Burke, the woman who created the #MeToo movement that calls attention to how pervasive sexual misconduct is, as her red carpet guest.
"Three Billboards Outside Ebbing, Missouri" and "Lady Bird" snag top honors
"Three Billboards," about a mother (Frances McDormand, who won a Golden Globe for her performance) who takes her daughter's unsolved murder into her own hands when police fail to name a suspect, took home best movie drama.
"Lady Bird," a coming-of-age film about a senior at a Catholic girls' high school, won for best movie comedy award. See the full list of winners here.