Hollywood's second-biggest night came and went with tears, laughter, upsets and historic moments. The boozy Golden Globe Awards was hosted for the fifth time by Ricky Gervais, who didn't waste any time pushing the envelope once again. See a full list of the winners and catch up on the night's biggest, silliest, most controversial moments below.
That's a wrap!
Thanks for following along during the Globes! We are tired and all need to go see '1917' now. 
Catch up on the full list of winners and good night!
By popular opinion, the most memorable moments of the night — according to us
By popular opinion, here are the most memorable moments of the night, according to your exhausted live bloggers.
Nicole Acevedo: Awkwafina's win and Michelle Williams' speech
Anne Donahue: Brad Pitt calling Leonardo DiCaprio LDC, Cousin Greg's dance
Jennifer Pietrofere: Tom Hanks face in the beginning, Michelle Williams' speech
Anna Brand: All the love for Succession #cousingregforever
Daniel Arkin: Bong Joon Ho saying "Once you overcome the one-inch tall barrier of subtitles, you will be introduced to so many more amazing films"
Olivia Roos: Kate McKinnon getting weepy, Tom Hanks getting weepy and Michelle Williams serving up some ripe truths
Benjamin Kesslen: Brian Cox kissing Kieran Culkin on the mouth and Renée Zellweger's big win
Ethan Sacks: Jennifer Anniston reading Russell Crowe's climate change message from Australia immediately after Gervais told the actors to shut up about politics
Jason Abbruzzese: Realizing that I'm still paying for Hulu
Renée Zellweger wins best actress in a motion picture drama
In a stunning blue dress, Renée Zellweger collected the Golden Globe for best actress in a motion picture drama for her portrayal of Judy Garland in "Judy." 
Though it was a stacked category, many correctly assumed the "Bridget Jones's Diary" actress was a surefire win against Scarlett Johansson, Saoirse Ronan, Charlize Theron and Cynthia Erivo. 
In her acceptance speech, Zellweger said it was a "blessing" to portray the iconic Garland. She discussed her extensive preparation for the role in past interviews, stating that she was determined to learn everything she could about the subject of the movie — from Garland's deep-voiced cadence and hunched posture to the way she moved her eyebrows. 
'1917' upsets 'The Irishman,' wins best drama film
"1917," the intense World War I drama from Sam Mendes, triumphed in the best drama film category — edging out Martin Scorsese's "The Irishman" and the dark superhero tale "Joker."
"I really hope this means people will turn up and see it on the big screen," Mendes said in his acceptance speech. He previously won the best director prize.
Joaquin Phoenix wins best actor for 'Joker'
Joaquin Phoenix has won best performance by an actor in a motion picture, drama, for his role in "Joker."
In an expletive-filled and roaming speech, Phoenix became emotional as he shouted out his partner Rooney Mara, commended the Hollywood Foreign Press for the vegan meal, lightly scolded his fellow actors for taking private jets to Palm Springs and said he isn't trying to "rock the boat."
Phoenix's titular role in "Joker" drew praise and concern, some calling it a complex and layered performance and others calling it fodder for incels. 
'Once Upon a Time in Hollywood' is your winner for best comedy film
Quentin Tarantino's affectionate ode to the waning days of Hollywood's golden age triumphed in the best comedy film category.
"Once Upon a Time in Hollywood" is looking even more like a shoe-in for a best picture nomination at the Oscars.
Awkwafina makes Golden Globe history with best actress in a comedy win
Nora Lum, better known by her stage name Awkwafina, is the first actress of Asian descent to win a Golden Globe for best actress in a comedy.
"If I fall upon hard times, I can sell this, so that's good," Awkwafina, who won for her portrayal of Billi Wang in "The Farewell," said before thanking Lulu Wang, the director and writer of the film. 
"You gave me this chance, the chance of a lifetime," Awkwafina said. "Just filming this story, being with you, is incredible." 
Awkwafina was born in New York City to a Chinese-American father, Wally, and a South Korean immigrant mother, Tia. The actress, who rose to fame in 2018 after she starred in the blockbuster hit "Crazy Rich Asians," dedicated the award to her father, grandmother and late mother. 
"I'd like to dedicate this award to my dad, Wally," she said. "I told you I'd get a job, dad." 
Taron Egerton just won a Golden Globe for playing Elton John ... and didn't hug Elton John
The good news is that Taron Egerton just won a Golden Globe for best actor in a musical or comedy. The weird, potentially awkward news is that when Elton John stood up to hug him, Egerton didn't ... hug him back? Was this a slight? A mistake? A moment in which you answer, "Fine thanks, you?" when somebody just says, "Hi!" but with bodies and gestures instead of conversation?
I mean, he played Elton John. So etiquette dictates that if you win an award for said portrayal, you thank him for a) being a person you could play, and b) approving your casting as, well, him. Odds are, they're fine and this means nothing. But in my Golden Globe awards-addled brain, there is a feud coming. Based on what, I do not know. But I am ready to take both sides because each seem great and this doesn't affect me in any way.
Brad Pitt wins for 'Once Upon a Time,' pays tribute to fellow nominees
Brad Pitt just won his second Golden Globe for his performance as laconic stuntman Cliff Booth in Quentin Tarantino's "Once Upon a Time in Hollywood."
In his speech, Pitt recognized the work of his fellow nominees: Al Pacino, Joe Pesci, Tom Hanks and Anthony Hopkins. He said that as a young actor getting his start, they were "like gods" to him.
He also paid homage to his co-star, "LDC" — Leonardo DiCaprio — and "Once Upon a Time" writer/director Tarantino, who earlier in the night won the best screenplay trophy.
Pitt last won a Globe for his supporting role in the science-fiction head-trip "12 Monkeys."
'Chernobyl' takes home the Globe for best limited series or TV movie
With the disaster's 34th anniversary coming this April, HBO/Sky Network's miniseries, "Chernobyl" earned the Golden Globe for best limited series or TV movie and lead actor Jared Harris made the acceptance speech that re-iterated the show's theme: the responsibility of truth.
Of course, if you haven't seen it yet, there's far more to it. "Chernobyl" is a tough watch. It's affecting and upsetting and it doesn't end with anything other than feeling totally consumed by the history and those responsible and what any of it means today. So don't say I didn't warn you: watch it, yes. But pace yourself if necessary and remember that the actors all speak in their British accents.
Tom Hanks gets emotional... and gets everyone else emotional during Globes speech
Tom Hanks delivered a monologue that moved just about everybody to tears... including himself. 
The 63-year-old actor got emotional thanking wife Rita Wilson and his five children while accepting the Cecil B. DeMille award, the Globes lifetime achievement honor.
"A man is blessed with family," he said while choking up. 
Then he spent the rest of the speech gushing over many of the other people in the room who helped him through his career, including Meryl Streep and Martin Scorsese. 
He also took time to talk about the less glamorous people who make the magic happen on a movie set, from the makeup artists to the focus pullers.
"It's those moments as an actor where everyone I've worked with has helped me get to that place, sometimes it's three in the morning and sometimes it's at 11 o'clock at night, where you have to somehow put it all together," Hanks said.
But there was, of course, some moment of vintage Hanks humor.
"How many people in this room have a clip package that includes 'The Love Boat?'" he quipped after the introduction montage that included his first on-screen credit on the '70s television TV show set aboard a cruise ship. 
In all, Hanks gave an ode to the sheer pleasure of making motion pictures. 
"I have checked the gate and the gate is good," Hanks closed, a reference to the way directors ask that the film image is clean, "and the gate is good."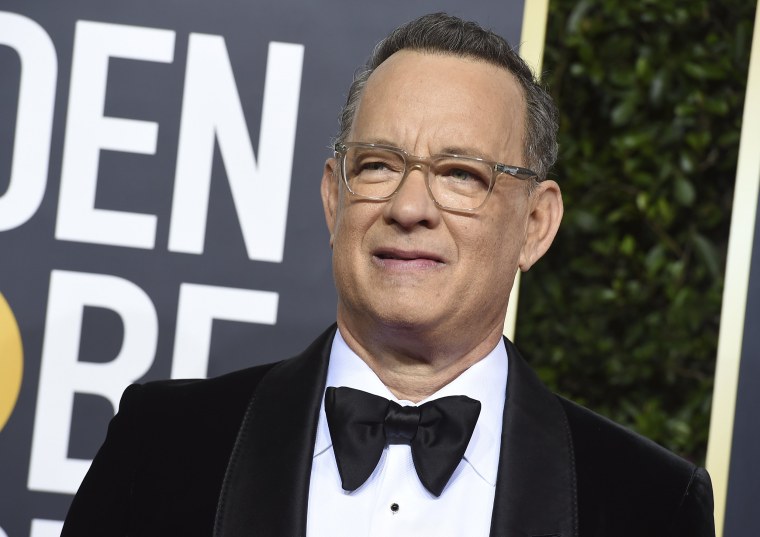 Big upset: Best director isn't Scorsese or Tarantino or Bong Joon Ho
The honor went to Sam Mendes for the searing World War I drama "1917."
Mendes, who is also a celebrated theater director, last won the directing Golden Globe for the (overrated!) suburban satire "American Beauty."
"1917" has earned rave reviews for its central conceit: The movie is designed to look as if it unfolds over the course of one long shot.
Mendes beat out heavy-hitters in the category, including Martin Scorsese ("The Irishman"), Quentin Tarantino ("Once Upon a Time in Hollywood") and Bong Joon Ho ("Parasite"). 
What we thought of Tom Hanks' speech
Anna: Oh god I'm crying
Jennifer: Me too!
Jason: Hottake this is fine
Anne: I AM LEARNING A LOT ABOUT FILM. masterclass
Jason: He's just likeable, he could be up there reading the Denny's menu
Daniel: I feel like i'm swimming in a pool of melted butter right now
Who isn't crying???
Show of hands: Who isn't crying watching Tom Hanks speak right now?
I say this every year...
I'm a sucker for clip reels.
(Brought to you by the montage of scenes from Tom Hanks movies, as well as his guest appearance on "The Love Boat.")
Hulu has a big night at the Golden Globes
Almost all of the Hulu shows nominated tonight have taken home wins.
Actress Patricia Arquette won an award for best performance by an actress in a supporting role in a TV series or motion picture made for television for her role in "The Act."
Stand up comedian and writer Ramy Youssef won his first Golden Globe for best performance by an actor in a television series - musical or comedy for his show "Ramy."
While Catch-22 actor Christopher Abbott lost to Russell Crowe in the best actor in a limited TV series category, the show still has a shot in the best television limited series or motion picture made for television.
And by the way, Apple is going home empty handed after Reese Witherspoon and Jennifer Aniston both lost for their performances in "The Morning Show," which also failed to win best television series, drama.
Where is Baby Yoda, and who is he wearing?
We're halfway through the Globes and I am no closer to caring less about seeing Baby Yoda tonight. I want to see what he's wearing. I want to see who he's sitting with. I want to see who's escorting him to and from the bathroom, and/or whether he's taken a small cup, filled it with broth, and is roaming through the room, hoping to be held by Amy Sedaris. (Who, from all accounts, is not there.) I want him to be delighted at certain winners, and bored by the majority of the broadcast. (That's when he'll sleep.) These are the things I want, and the questions that should be answered before the evening ends. I also, as he laughs at the sheer joy of Tom Hanks winning an award, want to see Baby Yoda's tiny teeth.
Lots of sunglasses at the Golden Globes
Are sunglasses a prerequisite for winning a Golden Globe? Despite the fact that the awards ceremony took place inside, a number of stars completed their award-winning looks with some shades, including Patricia Arquette, who won an award for her role as Dee Dee Blanchard in Hulu's "The Act." Here's a look at some of the best bifocals of the night. 
Patricia Arquette uses her Globes win as a means to stress political action
Winning for her turn in 'The Act,' Patricia Arquette made what's now become a very unsurprising move: she used her speech as a means to call out political apathy and the cold, hard truth that an awards night doesn't matter a lot in the grand scheme of things.
What does matter? Voting this year. Creating a better world for younger generations. Coming to the aid of Australia. And she's right: award shows are super-fun, and we're all having a great time. But then it's over. And we get back to work. (Deal?)
Justice for J. Lo
I know it was a couple awards ago, but just wanted to say — justice for J. Lo in "Hustlers" for best supporting actress in a movie.
Laura Dern was good in "Marriage Story" playing Renata Klein from "Big Little Lies" if she was a divorce lawyer, but J. Lo was incredible in "Hustlers" — that opening dance sequence alone! 
Re: her dress, I have no comment.
Also this tweet:
'Jojo Rabbit' looked like a major contender, but it's lost some momentum
"Jojo Rabbit," Taika Waititi's anti-fascist satire, once seemed like an award season front-runner. The dark comedy scooped up the top honor at the Toronto International Film Festival, an event that sometimes serves as a bellwether for the Academy Awards. ("Green Book," "12 Years a Slave" and "The King's Speech" all conquered Toronto before going on to win best picture Oscars.)
But amid mixed reviews from critics, "Jojo" has lost some of its luster. It has also been overshadowed by a trio of other contenders riding on stronger reviews and more visibly enthusiastic audience reactions: "The Irishman," "Once Upon a Time in Hollywood" and "Parasite."
But then again, the night isn't over — and it's possible "Jojo" will upset in the best comedy film category. We'll see!
Gervais tones down quickly after acerbic monologue
Ricky Gervais may have taken a cue from the tepid reaction from the crowd of A-listers inside the Beverly Hilton to his controversial monologue.
After the Golden Globes host eviscerated the film and television industries being honored at the prestigious awards show, he took a far tamer approach later in the ceremony, largely sticking to the script and cradling a beer. It's unclear if someone from the Hollywood Foreign Press Association asked him backstage to tone down his schtick.
But it was noticed on the Twittersphere:
Sacha Baron Cohen takes another shot at Mark Zuckerberg
Sacha Baron Cohen couldn't resist taking a fresh shot at Mark Zuckerberg and Facebook at the Globes.
While introducing "Jojo Rabbit" as a best picture nominee, Cohen unfolded a piece of paper and said: "The hero of this next movie is a naive, misguided child who spreads Nazi propaganda and only has imaginary friends, his name is Mark Zuckerberb. Sorry, this is an old intro for 'The Social Network.'"
In November, Cohen called Facebook the "greatest propaganda machine in history" during a speech addressing the Anti-Defamation League's "2019 Never Is Now Summit."
Laura Dern wins best supporting actress, says she gave 'voice to the voiceless' divorce lawyers
As she accepted her award for best supporting actress for her role in Netflix's "Marriage Story," Laura Dern joked that she "got to give a voice" to divorce lawyers. 
The prolific actress, who also made her return as Renata in "Big Little Lies" on the HBO series' second season and starred in recent box-office hit "Little Women" this year, portrayed Nora Fanshaw, a ruthless and high-powered divorce attorney to Hollywood stars in Noah Baubauch's film. 
Dern was praised for her standout monologue in which she describes the double standard women and men are held to in divorce court and beyond. Yet Jennifer Lopez fans took to social media to express their disappointment that the "Hustlers" actress didn't win. 
Netflix scores its first win of the night roughly halfway through
Netflix was widely expected to dominate this year's Golden Globes, storming into the ceremony with a commanding 34 total nominations — more than any other studio, including the traditional players it has worked hard to overtake.
But almost exactly halfway through the three-hour ceremony, Netflix has nabbed just one award: Laura Dern's trophy for "Marriage Story."
The latest award winners
Fleabag wins for best television series comedy or musical.
Recent winners also includes Parasite, Brian Cox, Quentin Tarantino, Missing Link, and Laura Dern. Read the full winners list here. 
Creators of 'Missing Link' are visibly surprised after winning best animated motion picture
The movie "Missing Link" just won the Golden Globe for best animated motion picture and even the film's creators were visibly surprised. 
They both got on stage stunned to receive the award and people on Twitter noticed.
The animated movie was nominated alongside Disney films "Frozen 2," Toy Story 4" and "The Lion King" as well as DreamWorks' "How To train Your Dragon."
MY favorite animated film of the year
Before the Golden Globes return from commercial break, let me tell you about MY favorite animated film of the year, "I Lost My Body."
Watch it! It's in French! Streaming NOW on Netflix! (This is not an ad.)
Quentin Tarantino wins his third Golden Globe
Love him or hate him, Quentin Tarantino is one of the most influential screenwriters of the modern era, one whose flair for dialogue is oft imitated but rarely matched.
The Hollywood Foreign Press Association just honored his script for "Once Upon a Time in Hollywood," a loving tribute to the film business of the late 1960s set against the backdrop of the infamous Manson murders.
Tarantino has won the screenplay Golden Globe twice before for his generation-defining breakout "Pulp Fiction" and for "Django Unchained."
Brian Cox is our number one boy!
Because sometimes beautiful things happen, Brian Cox picked up the best actor trophy for his role as Logan Roy in 'Succession,' one of the best TV shows in the world. (And should you disagree with me, I will respond to your criticisms the same way Logan Roy would.) So yes, the win was well-deserved.
Though what went above and beyond was not just his graciousness and acknowledgement that award shows are a lot (and lovely shout-out to his wife), but watching him walk from his seat to the stage, where he was greeted by his 'Succession' family, but especially Kieran Culkin with whom he embraced. (A move Logan would never pull with Roman, let's be real.) Anyway, I'll be writing fan fiction about the 'Succession' after party for the rest of the night. Good luck to us all.
Stark reality for 'Game of Thrones'
Sunday night has been dark and full of terrors for "Game of Thrones."
With Kit Harington's loss to Brian Cox (HBO's "Succession") in the best performance by an actor in a television series - drama, the HBO fantasy series officially notched just one Golden Globe over the course of its eight (mostly) acclaimed seasons. 
Not exactly a horde of golden statuettes that would make the House of Lannister jealous — and especially glaring when compared to the 59 Emmys won by the show over the last eight years.
The lack of a best television series - drama nomination after its final season may have been jarring to many fans and prognosticators, but the finale did prove polarizing for many watchers.
Peter Dinklage took home the series' lone Globe, for best performance by an actor in a supporting role in a series, miniseries or motion picture Made for Television, in 2012.
'I knew I was going to win': Ellen DeGeneres accepts Carol Burnett award at the Golden Globes
Ellen DeGeneres was honored with the Carol Burnett Award at the Golden Globes for her "outstanding contributions to television on or off the screen."
Before getting on stage to receive the award, attendees were reminded of the times DeGeneres broke barriers on the small screen, from coming out and losing her sitcom to launching her own talk show 17 years ago.
"The thing I like about this award is that coming in I knew I was going win," she joked during her acceptance speech.
"I feel humbled and honored to be the first person after Carol Burnett to receive the award," she added.
DeGeneres finished off saying that the true power of television is to make people laugh and do kind things.
A third of the show is over and it feels like 'Green Book' has the momentum
Disclaimer: I am aware "Green Book" came out two years ago. The above headline is a joke. Please carry on.
Celebrities use mic time to bring attention to Australia wildfires
Celebrities are using their mic time to bring attention to the wildfires raging in Australia.
Only an hour into the show, Ellen DeGeneres and Pierce Brosnan have both mentioned the fires that have already scorched at least 12 million acres of land, and Jennifer Aniston passed along a message about the fire on behalf of Russell Crowe.
Crowe, who won best actor in a limited series or motion picture made for TV for his role in "The Loudest Voice," said he couldn't attend because he was protecting his home from the fires.
Let's hope some of these very rich celebrities also take the time to donate to the fire recovery efforts.
Kate McKinnon puts a pause on jokes to honor Ellen DeGeneres
Ever the jokester, Kate McKinnon put a pause on punchlines as she presented Ellen DeGeneres the Carol Burnett Award. 
Kate told a couple jokes about all the things Ellen has given her (collared shirts and Sam Smith sneakers, to name a couple). But the most important thing that Ellen gave her cannot be contained in an object. For Kate, Ellen gave her the freedom, the precedent, to be who she is. To realize that she could come out, to realize her queerness openly to herself and the world, and still become the actress and comedian she desired to be.
Kate teared up, Ellen teared up, and I myself, I sobbed in the back of the newsroom like a broken faucet.
Now this is how you do fashionably late
Give me your hair (!!)
Ben: The Big Sons, Dylan and Paris
Anne: Large adult sons
Ben: Honestly his hair works
Anne: I'm genuinely trying to grow my hair to the long-hair son's length, and his looks 100x better than mine will
Ben: Whats going on
Anne: Anne rushes the stage GIVE ME YOUR HAIR
'Parasite' nabs best foreign language film honor, bolsters Oscar chances
"Parasite," Bong Joon Ho's twisted tale of class warfare and inequality, won the award for best foreign language film — a victory that could go along way to strengthening the acclaimed movie's fortunes at the Oscars next month.
The film, an import from South Korea and a sleeper hit at the U.S. box office, was one of the best-reviewed movies of 2019. It likely would have earned a spot in the best drama film category were it not for the Hollywood Foreign Press Association's rules on foreign-language entrants.
In his acceptance speech, Bong called on the audience not to be intimidated by foreign-language films.
"Once you get over the one-inch tall barrier of subtitles, you'll be introduced to so many amazing films," Bong said through a translator.
Phoebe Waller-Bridge for next year's Golden Globes host, please!
Canadian film critic Radheyan Simonpillai just made the suggestion I didn't even know we needed to hear: Phoebe Waller-Bridge for next year's Golden Globes host, please and thank you. After all, the 'Fleabag' star knocked her stint on 'SNL' out of the park back in the fall, and the writer-actor has yet to disappoint even in spontaneous moments of accepting awards for the work we love so much. Frankly, this is the future we all deserve. Especially when you consider the suits.
Who's won so far…
Phoebe Waller-Bridge wins for best performance by an actress in a TV series, musical or comedy for "Fleabag"
Ramy Youssef, Russel Crowe, Stellan Skarsgard, and Succession also have won so far. Bookmark our full list of nominees and winners here. 
Stellan Skarsgard wins the Golden Globe for Best Supporting Actor for 'Chernobyl'
While most of us would die for the cast of "Succession" (but especially me), it can't be argued that Stellan Skarsgard didn't deserve the Globe for best supporting actor for his work as Boris Shcherbina in "Chernobyl," the HBO miniseries based on the worst nuclear disaster of the 20th century. His performance was powerful, affecting, and the type that makes it impossible to stop thinking about for days on end. And to make this moment even better, he thanked those responsible for giving him eyebrows in this role. Which, personally, is something I not only applaud, but relate to. Stellan forever!
Boar on the floor!
"Succession" wins best television series, drama!
Gervais pokes fun at Scorsese's 'The Irishman' over its running time
There's no getting around it: "The Irishman," Martin Scorsese's epic gangland saga, is long — nearly three-and-a-half hours long.
Ricky Gervais won't let anybody forget it. He has repeatedly taken aim at the movie over its mammoth running time, cracking jokes during his monologue and again during a brief introduction to a clip from the film.
"We're going to see a short clip from 'The Irishman,' and it's 88 minutes long," Gervais joked.
Russell Crowe leaves climate change message after missing the show due to 'tragedy unfolding in Australia'
Russell Crowe won the Golden Globe for best actor in a limited TV series for his role as the former Fox News CEO Roger Ailes in Showtime's "The Loudest Voice."
However, he couldn't be at the ceremony to accept the award because he is home in Australia dealing with devastating fires that have been raging for days.
But he still took the time to send a message in case he won, said actress Jennifer Aniston, who presented him with the award.
"Make no mistake. The tragedy unfolding in Australia is climate change-based. We need to act based on science, move our global workforce to renewable energy and respect our planet for the unique and amazing place it is," Aniston said on behalf of Crowe.
I love 2013!
Wow! Sofia Vergara and Matt Bomer! I love 2013!
Still not over 'They See Us' Golden Globes snub
Netflix may have dominated the list of Golden Globes nominations, but there was one noticeable snub. 
"When They See Us," the four-part series that documented the arrests, interrogations, coerced confessions and eventual incarcerations of five boys — Raymond Santana, Yusef Salaam, Antron McCray, Kevin Richardson and Korey Wise — on whom police and prosecutors pinned the 1989 rape and assault of a jogger in Central Park, did not earn a single Globe nomination — and some of us are still not over it. 
The omission marks a stark contrast to the Emmy Awards, where "When They See Us" racked up 16 nominations, including outstanding limited series. Jharrel Jerome made history when he became both the first Afro-Latino and the first Dominican to win an acting Emmy for best lead actor in a limited series for his haunting performance as Korey Wise.  
Ramy Youssef takes home the first award of the night
In a big surprise, Ramy Youssef won the first award of the night for his lead role on the Hulu series "Ramy," a semi-autobiographical comedy he co-created.
Youssef, 28, thanked god and the fine folks at Hulu. He quipped: "Look, I know you guys haven't seen my show."
"Ramy" centers on an Arab-American man in New Jersey grappling with faith and identity. Hulu has renewed the show for a second season.
Well, everybody, we did it!
Following the type of anxiety typically reserved for running into somebody from high school at the grocery store, I'm pleased to announce we all survived Ricky Gervais' opening monologue and did not pass away. This is a victory for us all as a people, and a victory for me personally who felt so nauseous going into this that I stress-ate nearly a pint of sherbet because I figured nothing could make it worse. So let it be known that if we can get through eight minutes, we can get through anything.
Ricky Gervais makes drama of his own during Golden Globes monologue
Well, that didn't take long. 
British comic Ricky Gervais, a controversial choice to host the Golden Globes for a fifth time, kicked off the ceremony with a monologue full of fresh material ... for his critics. "
You'll be pleased to know this is the last time I'm hosting these awards, so I don't care anymore," Gervais said, and then he proceeded to prove it.
Gervais opened by making fun of Felicity Huffman's legal troubles after her college admission scandals: "I came here in a limo and the license plate was made by Felicity Huffman," he deadpanned.
He joked that accused pedophile Jeffrey Epstein, who was found dead in his jail cell on August 10, 2019, didn't commit suicide.
"Shut up, I don't care. I know he was your friend," he said amid some uncomfortable groans.  
Referring to the dearth of people of color in many categories, he said: "The Hollywood Foreign Press Association is just very, very racist."
Tom Hanks was spotted visibly cringing during the barrage of putdowns. 
Gervais took a jab at actors for working for companies with questionable morals including Apple, Amazon and Disney, saying they had no right to make political speeches when accepting their award. 
"If ISIS started a streaming service, you'd call your agent," the former star of "The Office" quipped.
Let the chaos begin...
And we're off. The show's about to begin. Buckle up, folks. 
Rachel Bilson and Bill Hader make it red carpet official
Over Christmas, Bill Hader and Rachel Bilson were spotted at Starbucks in his hometown of Tulsa, Oklahoma which made all of us melt down, combust, and bask in the glory that was (maybe) this relationship. Well, buckle up and melt down even more, my friends, because the two just made their relationship red carpet official which means everything (but especially that they're clearly dating and/or very much in love). So the awards can end now. At least one of our dreams has already come true.
- Anne T. Donahue is the author of "Nobody Cares" and a contributor for NBC News' Golden Globes live blog.
Look at Paul Rudd. Who would have thought?
It's possible that after tonight no one will be mistaking Paul Rudd for Ben Affleck. The "I Love You, Man" star is a first-time Golden Globe nominee, up for an award for best actor in a musical or comedy television series for his role in the Netflix comedy "Living With Yourself," a show about a man who is battling for his life with his clone (it's complicated). The possibility of Rudd winning a Golden Globe tonight combined with him becoming a viral meme after appearing on "Hot Ones" makes Rudd an unexpected and unlikely icon of the last year.
Ana de Armas or Awkwafina could make Golden Globe history for best actress in a comedy
Cuban-Spanish actress Ana de Armas and Awkwafina already scored their first Golden Globes nominations in the same category: best performance by an actress in a motion picture - musical or comedy.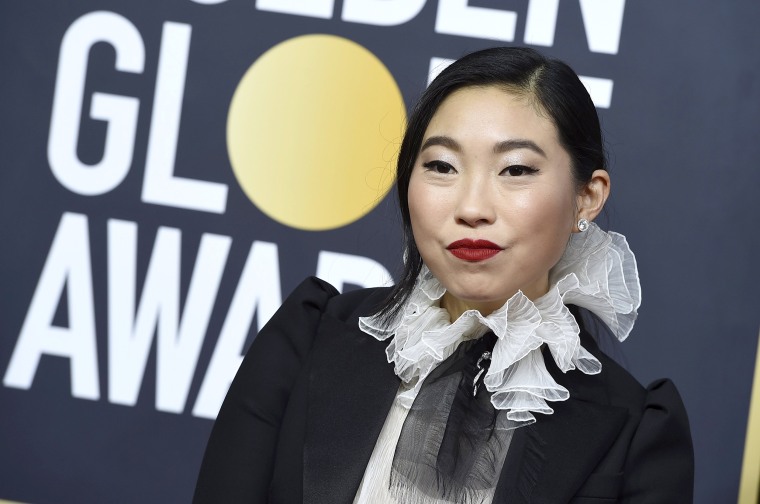 If de Armas wins for her leading role in "Knives Out," she would become the first Latina actress to win a Golden Globe in her category.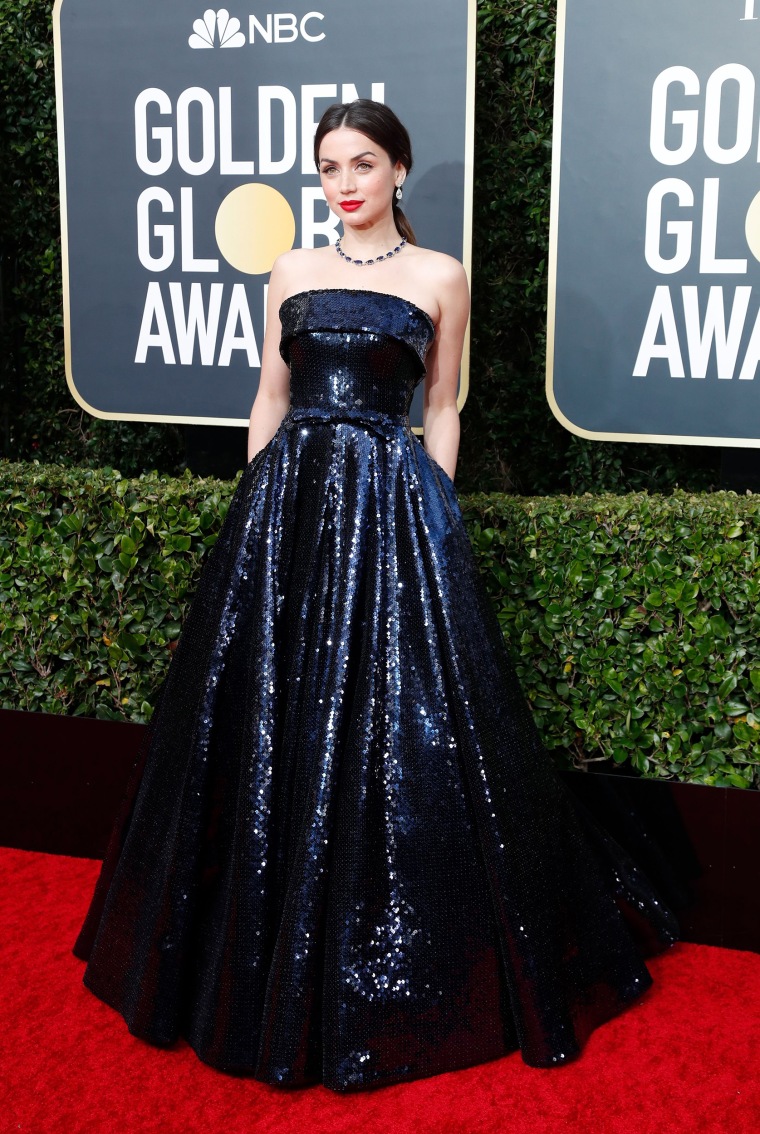 But if Awkwafina takes the win for starring in "The Farewell," she would become the first woman of Asian descent to take home the award.
Where will the stars of 'Big Little Lies' sit?
It's a busy night for three of the Monterey Five.
The women of "Big Little Lies" might not know which table to sit at during tonight's show, as many of them have other projects that have also garnered praise. 
Nicole Kidman, who was nominated for her role in the California HBO drama that she helped produce, is also the star of "Bombshell."
Reese Witherspoon, who helped produce "BLL," scored an acting nomination for "The Morning Show," which she also produced.
Laura Dern is perhaps the busiest of them all. The actress who plays Renata Klein on "BLL" is nominated for her role in "Marriage Story" and was also in "Little Women."
Meryl Streep, whose Netflix film "The Laundromat" failed to garner any buzz, is nominated for "Big Little Lies" too.
Daniel Craig: I wouldn't say no to a 'Knives Out' spinoff
Daniel Craig, nominated tonight for his against-type comic turn in the murder mystery "Knives Out," told Ryan Seacrest on the red carpet he wouldn't say no to appearing in a spinoff.
That's good news for "Knives Out" writer-director Rian Johnson, who is reportedly working on a follow-up to his ensemble whodunit, starring Craig as the wily Southern detective Benoit Blanc.
Johnson's producing partner, Ram Bergman, told The Hollywood Reporter that Craig was eager to suit up for another investigation. "Daniel had so much fun doing it, and he wants to do more," Bergman said.
"Knives Out," also starring Golden Globe nominee Ana De Armas, has been a surprise smash at the box office, grossing close to $250 million worldwide. The dialogue-driven project cost around $40 million to make.
Craig, for his part, will next be seen in "No Time to Die," the 25th installment in the James Bond series — and the actor's fifth outing in the iconic role.
A message from your friends at Waystar Royco
The best dressed picks are in
The Golden Globes red carpet is gearing up with your favorite stars wearing the hottest fashions. From princess-worthy ballgowns to slinky slip dresses, here are all the must-see styles.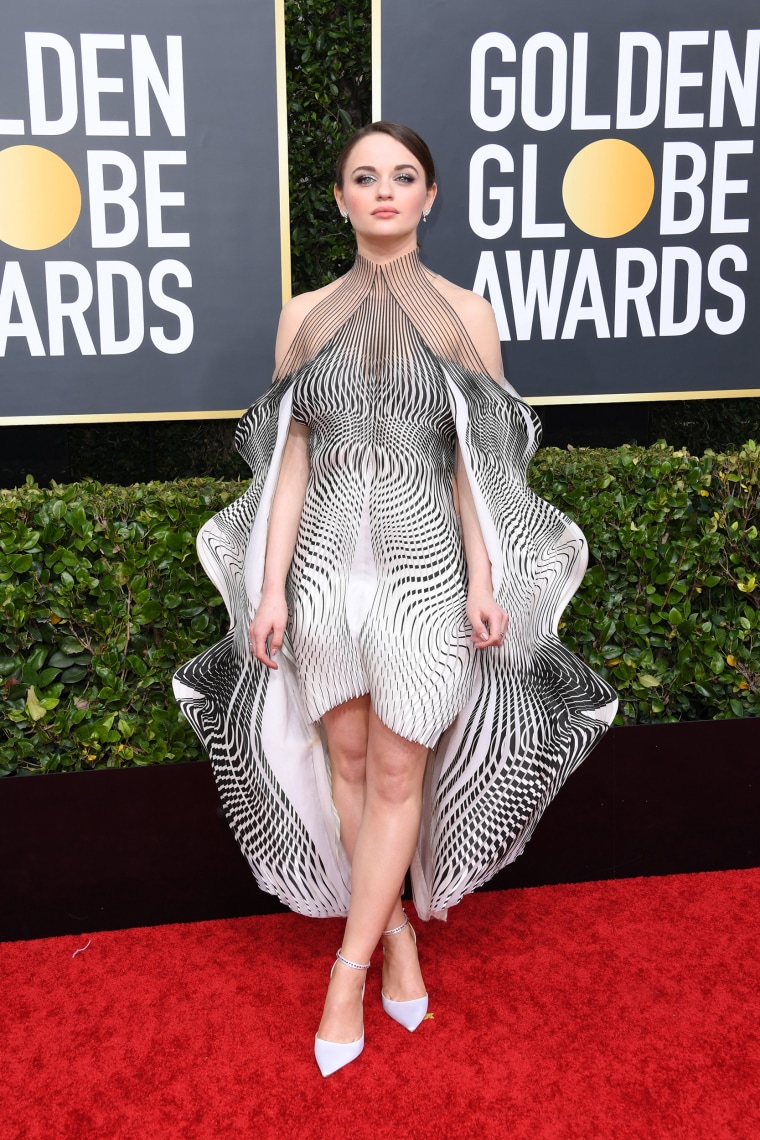 Billy Porter's Golden Globes look slaps
Ugly Ducking? Not for Billy Porter. Sporting a white suit with a long white, feathered train, Porter looks the highest fashion swan that ever walked the red carpet.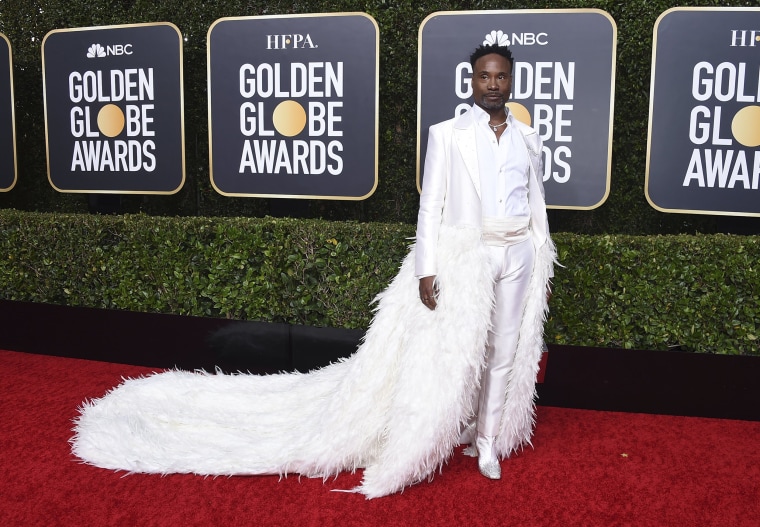 Golden Globes predictions: Two of our experts weigh in
Daniel Arkin and Ethan Sacks, two of our resident entertainment obsessives, are here with some predictions for the top categories. Who will come out ahead at the end of the night?
Daniel Arkin's Predictions
Best picture, drama: "The Irishman"
Best picture, musical or comedy: "Once Upon a Time in Hollywood"
Best actor, drama: Joaquin Phoenix ("Joker")
Best actress, drama: Renée Zellweger ("Judy")
Best actor, musical or comedy: Leonardo DiCaprio ("Once Upon a Time in Hollywood")
Best actress, musical or comedy: Awkwafina ("The Farewell")
Best television series, drama: "Killing Eve"
Best television series, comedy: "Fleabag"
Ethan Sacks' Predictions
Best picture, drama: "The Irishman"
Best picture, musical or comedy: "Once Upon a Time in Hollywood"
Best actor, drama: Joaquin Phoenix ("Joker")
Best actress, drama: Renée Zellweger ("Judy")
Best actor, musical or comedy: Leonardo DiCaprio ("Once Upon a Time in Hollywood")
Best actress, musical or comedy: Ana De Armas ("Knives Out")
Best television series, drama: "Succession"
Best television series, comedy: "Fleabag"
How Netflix could dominate the night — and 3 other key storylines
Netflix towers above traditional studios with 34 total nominations, including four movies contending for best picture and four television shows vying for the top-tier prizes. The combined 17 nods the streaming behemoth earned for its movies more than doubled that of Sony Pictures, which nabbed eight. Read more from our walk-up to the awards story here. 
A little Ricky Gervais backstory...
Some of the biggest drama at the Golden Globes tonight is expected to happen long before the dramatic film categories.
The choice of Ricky Gervais as host — a fifth tour of duty since 2010 — hasn't drawn rave reviews given the British comic's history of controversial jokes during his previous times on the Globes stage. Making the pick more potentially questionable is that the Hollywood Foreign Press Association tapped Sandra Oh as co-host with Andy Samburg last year. The actress was the first Asian American woman to host the telecast — in what was hailed at the time as a move towards more inclusion.
Gervais, however, vowed to The Hollywood Reporter that he would largely go after "pretension and hypocrisy" this time around and stay away from picking on "any one person." 
Just two weeks ago, Gervais came under fire for several tweets that he insisted were jokes, but were viewed as transphobic by critics. "Nowadays, you've got to make sure they're bulletproof in 10 years' time, with people going through saying, 'He said this once, 10 years [ago],'" Gervais told THR for a recent cover story. "Kevin Hart [lost] his job [as Oscars host] for 10-year-old tweets that he said he was sorry about and deleted at the time. "So there's more pressure on making [the jokes bulletproof]."
How closely will tonight's Golden Globes winners predict the Academy Awards?
It's almost impossible to read the tea leaves.
That's because the ninety or so international journalists who vote on the Globes have no real overlap with the thousands of industry insiders that make up the Oscars voting body of the Academy of Motion Pictures Arts and Sciences. It's also harder to gauge because the HPA splits the film categories into drama and musical/comedy, a distinction not made by the Academy Awards. 
But the timing can come into play with today's high-profile Globes telecast airing right in the middle of the six-day voting period for Oscar nominations. And with the Oscars especially early this year on February 9, it's possible that some voters won't have time to watch screeners for all the films, and end up being influenced by the Globes' winners.
Last year, "Green Book," a surprise winner in the musical/comedy category at the Globes. Then became an even more surprise winner of a best picture Oscar a month later.
The Golden Globes gets a vegan makeover
And the Golden Globes goes to ... vegetables.
This year the Golden Globes will be one of the first large-scale awards ceremonies to serve a completely vegan menu as a part of a larger sustainability effort from the Hollywood Foreign Press Association. The last-minute change to a plant-based menu came just a few days before Christmas, when a preview menu had already been finalized with meat on it.
"The climate crisis is impossible to ignore and after speaking with our peers, and friends in the community, we felt challenged to do better," said Lorenzo Soria, president of the Hollywood Foreign Press Association.
Prepared by the Beverly Hilton executive chef Matthew Morgan, the menu will include a chilled beet soup appetizer, mushroom "scallops" over mushroom risotto and other plant based courses. The HFPA also plans to reuse this year's red carpet at other events throughout the year and serve Icelandic Glacial water in recyclable glass bottles to further reduce the environmental footprint of the ceremony.
Thankfully, for vegan and carnivore attendees alike, the champagne has always been vegan.