Hollywood's biggest night came and went with surprise wins, political moments and a lot of ... singing. "Parasite," Bong Joon Ho's twisted social thriller, took home the biggest prize of the night, winning best picture. Joaquin Phoenix and Renée Zellweger both gave memorable acceptance speeches. And "1917" beat a crowded field for visual effects Oscar.
Catch up on the full night of major moments, musical numbers and our commentary throughout the 92nd Academy Awards.
How to watch Bong Joon-ho's essential movies
Bong Joon-ho, the newly crowned king of the Academy Awards, has been churning out genre-bending cinematic marvels for nearly 20 years. The wave of wins for "Parasite" could draw even larger numbers of American audiences to his impressive body of work. Here's a look at some of the South Korean auteur's other key movies and where you can watch them.
"Memories of Murder" (2003)
Bong's second feature was this deeply unsettling crime drama about a spate of murders in South Korea, partly inspired by the country's first serial killings. David Fincher's "Zodiac," in the eyes of many film buffs, was indebted to this film's coldly analytical tone and surprising moments of pitch-black comedy.
Where to watch: iTunes
"Snowpiercer" (2013)
Chris Evans and Tilda Swinton co-starred in this grim but compulsively watchable sci-fi satire about a train carrying the last survivors of a failed attempt to fight global climate change. The key themes — economic inequality, the tension between the haves and the have-nots — anticipated "Parasite."
Where to watch: Netflix, iTunes
"Okja" (2017)
"Parasite" is hard to fit into any genre, but it's even harder to do that with "Okja." Netflix distributed this continent-spanning epic about a young Korean girl who takes a genetically modified superpig (Okja!) under her wing. It must be seen to be believed.
Where to watch: Netflix
Bong Joon-ho ties Walt Disney for most Oscars in one night
Bong Joon-ho made history in more than one way.
"Parasite" became the first foreign-language film to win best picture, and Bong Joon-ho has now tied Walt Disney for the most Oscar wins in a single year.
Disney won four awards in 1953 and Bong won four tonight, for best picture, best director, best original screenplay and best international film feature!
Celebrities react to 'Parasite's' historic win
Celebrities are showing some love to the cast and crew of "Parasite" after the film made history at the Oscars as the first foreign-language film to win best picture.
Ava DuVernay was one of the first to show her excitement, tweeting, "MASSIVE! HISTORIC! LANDMARK! PARASITE! The world is big and it is beautiful and films from everywhere deserve to be on that stage winning @TheAcademy's highest honor. This is wonderful and right. #Oscars"
Comedian Mike Birbiglia said his wife, who "is right about 98% of the time" predicted "Parasite's" win last year.
Actress Olivia Munn showed off her pride tweeting, "My Asian heart is very full right now. #Oscars #Parasite #RepresentationMatters."
Presidential candidate Andrew Yang tweeted "Wow I need to see Parasite" after its historic win.
Producer calls 'Parasite' best picture win a 'moment in history'
On a historic night in which "Parasite" became the first foreign-language film to win the best picture award in the 92-year history of the Academy Awards, the film's producer put it all in perspective.
"We never imagined this to happen. We're so happy," producer Kwak Sin Ae said through an interpreter. "I feel like a very opportune moment in history is happening right now." 
The Oscar was the movie's fourth of the night, to go with a best director trophy for Bong Joon-ho, best original screenplay and best international feature film.
It also clearly won the crowd inside the Dolby Theatre: When the stage lights dimmed during the acceptance speech, the audience chanted for the lights to be turned on again.
From Iowa chaos to Jeff Bezos, watch the Oscars' best political jokes
Best picture goes to 'Parasite'
We have a winner: "Parasite."
Bong Joon-ho's twisted social thriller was just crowned best picture, edging out "1917." It's the first non-English-language film to earn the top prize in the history of the Academy Awards.
Hollywood legend Jane Fonda presented the award.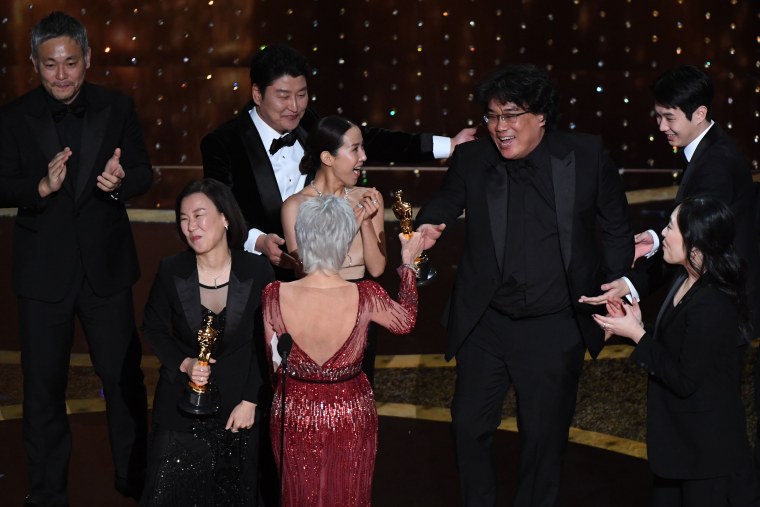 Fun fact: 'The Irishman' is based on the book 'I Heard You Paint Houses'
The book's title, "I Heard You Paint Houses," were the first words Jimmy Hoffa ever spoke to Frank "The Irishman" Sheeran. On "The Tonight Show," Robert De Niro explained that the term, along with "I also do my own carpentry work," refer to both the hit and the cleanup.
Did Joaquin Phoenix win best actor or best activist?
No one was laughing during "Joker" star Joaquin Phoenix's acceptance speech. 
While accepting the Oscar for best actor, Phoenix turned the podium into a pulpit, launching into a impassioned plea to "give voice to the voiceless."
"I think at times we feel we champion different causes, but for me, I see commonality. I think whether we're talking about gender inequality, racism, queer rights, animal rights, we're talking about injustice," he said.
He admonished humans for plundering the natural resources of the planet — mentioning the artificial impregnation of cows as an example.
Activism over acting has been a theme of Phoenix's speeches all awards season.
"I feel conflicted, because so many of my fellow actors that are deserving don't have that same privilege," Phoenix said in accepting his acting award at the BAFTAs last weekend. "I think that we send a very clear message to people of color that you're not welcome here."
Phoenix got emotional as he closed his speech with some words from his late brother, River Phoenix, who died in 1993 of a drug overdose when Joaquin was days away from turning 19.
"When he was 17, my brother wrote this lyric, he said, 'Run to the rescue with love, and peace will follow," Phoenix said.
Renée Zellweger wins for her bravura lead performance in 'Judy'
No surprise here either: Renée Zellweger triumphed in the best actress category for her spot-on portrayal of Judy Garland in "Judy."
Zellweger last won an Oscar in 2004 for her supporting turn in "Cold Mountain."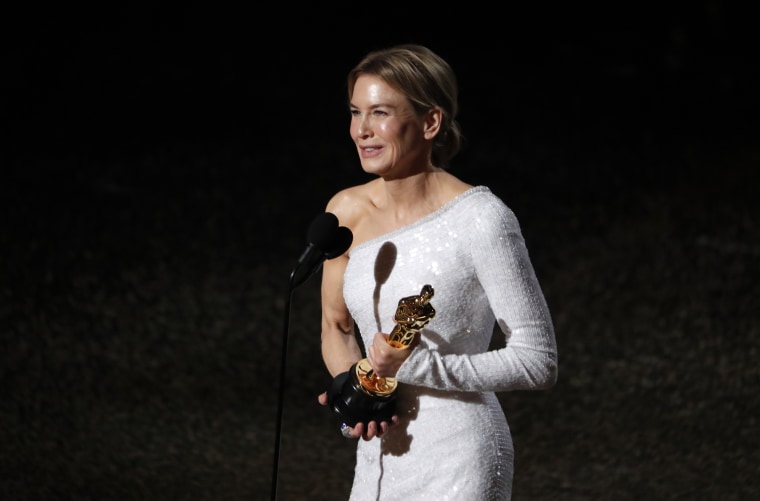 'Joker' composer Hildur Guðnadóttir is the first woman to win best original score in two decades
Icelandic composer Hildur Guðnadóttir is the first woman to win an Academy Award for best original score in two decades.
She delivered an empowering speech after receiving her Oscar for her work in "Joker."
"To the girls, to the women, to the mothers, to the daughters who hear the music bubbling within — please speak up. We need to hear your voices," Guðnadóttir said.
The last woman to have won an Academy Award for best original score was Anne Dudley, for her work in "The Full Monty" back in 1997.
What did Kobe Bryant win an Oscar for?
While Kobe Bryant's name is synonymous with basketball championships and not necessarily Hollywood award shows, he earned his Oscar in 2018. Bryant took home the trophy for best animated short film along with Glen Keane, who animated and directed the short, called "Dear Basketball." It featured music by John Williams, an award-winning composer who worked on the "Star Wars" movies, "E.T. the Extra-Terrestrial" and several other classics. Read more here.
Joaquin Phoenix wins for 'Joker,' as expected
No shocker: Joaquin Phoenix, who depicted a social outcast's descent into madness and violence in the edgy origin story "Joker," is your winner for best actor.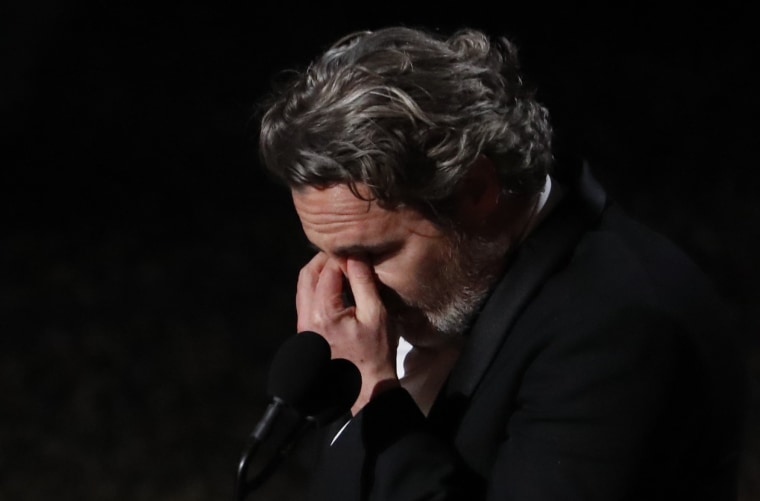 In Memoriam segment leaves off Robert Conrad, Orson Bean
This has been such a horribly tragic week for Hollywood that several actors didn't make the In Memoriam segment at Sunday's Oscars because they died too recently. 
"The Wild Wild West" star Robert Conrad died Saturday of congestive heart failure, one day after 91-year-old Orson Bean was struck and killed by a car while crossing the street. 
The segment, delivered to Billie Eilish singing the Beatles' "Yesterday," was already stuffed with enough huge names to fill a movie marquee, including Kobe Bryant, Doris Day, Peter Fonda and Kirk Douglas.
'1917' and 'Parasite' are Oscar worthy — for different reasons
In a close battle between favorites for the best picture Oscar, it's the World War I epic "1917" that has stormed to front-runner status this awards season. But another consensus contender, the South Korean genre-twisting drama "Parasite," seems to have been steadily leaching votes over the past few weeks.
There will be suspense as the final envelope is opened, but both films deserve the most important honor in the film industry — for different reasons. Read the full story.
'Once Upon a Time ... in Hollywood' was Luke Perry's last movie
Luke Perry, who suffered a massive stroke in late February 2019 and died March 4, portrayed real actor Wayne Maunder, who is in one of the shows that Rick Dalton (Leonardo DiCaprio) stars in in "Once Upon a Time ... in Hollywood."
Burt Reynolds, who died in September 2018, was originally cast as George Spahn. Unfortunately, Reynolds passed away before filming his scenes. Tarantino proudly acknowledges that Reynolds was present at the first table read, making it his last performance.
Fun fact: 'Parasite' director Bong Joon-ho's interpreter is also a filmmaker
Interpreter Sharon Choi has gained her own fandom as she's made the rounds with "parasite" director Bong Hoon-jo this awards season.
In a post-Golden Globes interview, Bong told reporters that Choi is also a filmmaker. Choi bashfully agreed, saying she wants to direct.
Bong Joon-ho wins best director!
Bong Joon-ho, the celebrated and daring South Korean auteur behind "Parasite," was just crowned best director.
"I thought I was done for the day and ready to relax," Bong said through an interpreter, nodding to his earlier wins for best original screenplay and best international feature.
In his heartfelt acceptance speech, Bong paid tribute to Martin Scorsese ("The Irishman"), quoting one of his sayings ("The most personal is the most creative") and eliciting a standing ovation for the famed filmmaker.
Bong also tipped his proverbial hat to Quentin Tarantino ("Once Upon a Time ... in Hollywood"), Sam Mendes ("1917") and Todd Phillips ("Joker").
A reminder that all women are superheroes
Before introducing Irish conductor Eímear Noone — the first woman to conduct (ever!) at the Academy Awards — two superheroes (Brie Larson and Gal Gadot) and the woman who paved the way for them, Sigourney Weaver, sent a strong message out to audiences: They intended to form a fight club that all people could join, but the loser would be stuck fielding questions like "What's it like to be a woman in Hollywood?"
'Parasite's' youngest star gets in on Oscar celebration
The raucous cheers for "Parasite" weren't confined to the Dolby Theatre. 
The film's youngest star, 8-year-old actor Jeong Hyeonjun, was photographed in his Seoul home jumping for joy after his film won the Oscar for best original screenplay. It was the first Academy Award on a historic night for the South Korean drama, which also won the Oscar for best international feature film, along with Bong Joon-ho, who won for best director, and it remained in contention for best picture honors.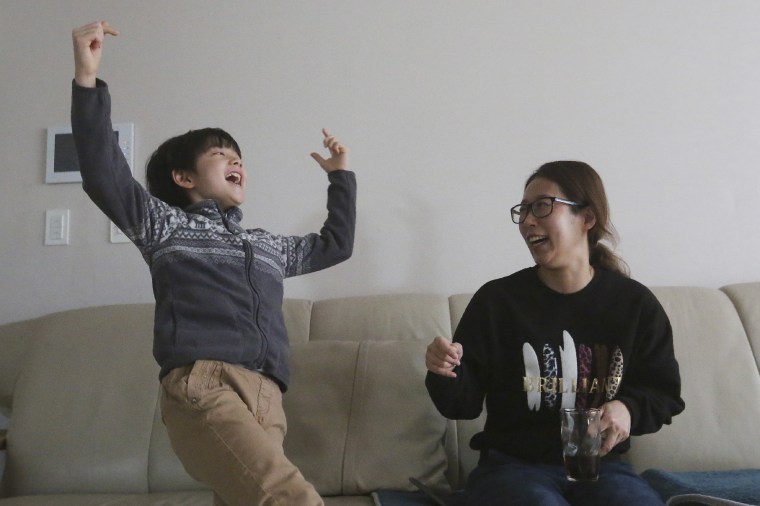 Fun fact: Latin Grammy winner Rosalía marked her film debut in 'Pain and Glory'
She plays one of Penélope Cruz's friends during the river scene, in which she also sings.
Fun fact: Elton John did not take his last name from John Lennon
Contrary to what "Rocketman" depicts, Elton John, born Reginald Kenneth Dwight, did not take the "John" in his stage name from the Beatles' John Lennon.
According to Rolling Stone, the first part of his stage name is from his Bluesology bandmate Elton Long, while the second part is from John Baldry, a mainstay of the 1960s London rock scene who was one of his earliest mentors.
No surprise: 'Parasite' wins best international feature
Bong Joon-ho's genre-bending tale of class warfare just won the best international feature Oscar, as just about everyone expected. But will it pull double duty with a history-making best picture victory? We'll find out in the next 30 to 45 minutes!
'1917' beats a crowded field for visual effects Oscar
The World War I epic "1917" took the Oscar for best visual effects, beating out some Hulk-size competition in the category, including Marvel's "Avengers: Endgame." 
Disney came up empty-handed despite having three of the highest-profile and showiest nominees in "Avengers," "Star Wars: The Rise of Skywalker" and "The Lion King." The CGI de-aging effects in the other nominee, "The Irishman," were not well received by many critics, and it probably was never a real contender.
But the effects in "1917" were award-worthy precisely because they were subtle. Director Sam Mendes needed an army of FX wizards to help make the film look as if it was shot completely in one take — even though it wasn't.  
Jonas Rivera finds out he's the first U.S.-born Latino to win multiple Oscars
Although Jennifer Lopez didn't earn an Oscar nomination for "Hustlers," the 2020 Academy Awards turned out nonetheless be a groundbreaking night for Latinos after "Toy Story 4" producer Jonas Rivera won an Oscar for best animated feature.
Rivera, who previously an Academy Award for the 2015 film "Inside Out," is the first U.S.-born Latino to win multiple Oscars.
"As if my mind couldn't be more blown about the last five minutes, thank you for that," Rivera said during a backstage interview after interviewers informed him that he had made history Sunday. "I'm a little bit out of my body right now. It means the world to me. I can't even really put it into words."
While Rivera, who is Mexican American, doesn't speak Spanish fluently, he said that he feels connected to his Latino identity and that he tries to bring his culture into his work, as he did in "Toy Story 4" by hiring Jay Hernandez to play Bonnie's father. Rivera was particularly close to his Mexican grandfather, to whom he dedicated the animated feature "Up." 
"The only Spanish I learned was when my grandparents would fight," Rivera said. "You work hard, you put your guts into it ... and it does happen."
May we all mourn our lost invitations to the Jellicle Ball
Yes, James Corden and Rebel Wilson used their "Cats" characters to re-horrify and remind us of what feline-centric terrors we once played witness to, but most important ... actually, that's it.
Their mere presence reminded us that we should all have seen "Cats" by now. That we should have paid our hard-earned dollars to watch them sing and dance like CGI cats as we were forced to scream at the screen, "WHY?" That all that glitters isn't gold. And that if we have anything bad to say about the Jellicle Ball, then there's a reason we were not invited.
Brie Larson let us know what Taika Waititi did with his Academy Award
We all sometimes wonder what celebrities do with their Academy Awards after they walk off the Oscars stage.
Brie Larson gave us a glimpse of what actor and filmmaker Taika Waititi did with his after he win for best adapted screenplay for "Jojo Rabbit."
Larson posted a video on her Instagram story showing Waititi putting his award under the seat in front of him while Oscar Isaac and Salma Hayek were on stage presenting an award.
Waititi won his first Oscar, making him the first person of indigenous descent to ever receive the honor in the screenwriting category. He is of Maori and Jewish descent.
Fun fact: 'Joker' fans believe a Heath Ledger Easter egg was hidden in the film
While "Joker" made numerous references to the Batman universe, fans believe the ambulances in the film, which bear a resemblance to Heath Ledger's Joker, are a nod to "The Dark Night." 
When did this become the Grammy Awards?
The guiding principle of the 92nd Academy Awards seems to have been borrowed from Jake Gyllenhaal's character in John Mulaney's recent Netflix special.
Good news! 'Downhill' might be really good!
Thanks to the onstage banter/timing/camaraderie of Julia Louis-Dreyfus and Will Ferrell while presenting best editing and best cinematography, we have been given hope: Their coming comedy, "Downhill," might be hilarious. Which, frankly, we all need. The movie, slated to open Friday, is the American version of "Force Majeure" (only a little lighter), and stars the two as a long-married couple. And frankly, I will gladly accept this. Some of us (hello) are going through real "Veep" withdrawal and are desperate for any version of President Selena Meyer, aka Julia Louis-Dreyfus, aka our queen.
'Ford v Ferrari' scoops up second award of the night
"Ford v Ferrari," an exhilarating racing drama and top-tier Dad Movie, drove off with the best editing award. It won for sound editing earlier in the night. (Honestly, that feels like hours ago.)
Roger Deakins wins for best cinematography
The physical assault it took to make World War I drama "1917" ensured there was no battle for the best achievement in cinematography Oscar. 
Roger Deakins won, as predicted, for the sheer technical achievement of shooting the film to look as if it was entirely shot in one take.
That it was done in seven- or eight-minute sequences and expertly stitched together to sell the illusion doesn't make it any less of a feat. 
It was the second Oscar for Deakins on his fourth nomination. 
President Obama sends congrats to doc co-produced by his company
"American Factory," winner of the best documentary feature award, was co-produced by Higher Ground Productions — the company founded by the Obamas.
This has descended into chaos.
Eminem? Randy Newman with no introduction? A boneless rap recapping the show?
We, your dedicated and steadfast livebloggers, are just as confused as you are. This broadcast has descended into chaos.
Another hour to go! Stay with us; we will try our best to make sense of it.
'Ford v Ferrari' wins what may be last Oscar for 20th Century Fox
The best sound editing Oscar, which that went to "Ford v Ferrari," could very well be the last Academy Award in 20th Century Fox's esteemed history.
Last year, Disney removed "Fox" from the name of the studio after buying it as part of a larger $71 billion deal for Fox's entertainment holdings. The movie division is now called 20th Century Studios. 
Over the course of its run, 20th Century Fox won 12 best picture Oscars on a 78 whopping nominations. 
'1917' gets its first trophy of the night
Sam Mendes' searing World War I drama, which could triumph in the best picture race at the end of the night, just picked up its first prize: best sound mixing.
Martin Scorsese, celebrated auteur, engages with American culture
Eminem surprises everyone at the Oscars
Lin-Manuel Miranda presented a lengthy original song montage including classics from "The Breakfast Club," "Purple Rain," "Titanic," "La Bamba" and many more.
The clip ended with Eminem in "8 Mile" — and next thing we know ... the rapper comes up on stage to perform "Lose Yourself."
Eminem got a standing ovation after his performance.
"Lose Yourself" was the first rap song ever to win an Academy Award for best original song.
I love montages.
I will always love them.
Karl Marx gets a shoutout at the Oscars
In the acceptance speech for Netflix's "American Factory," director Julia Reichert quoted Karl Marx and Friedrich Engels while on stage for her Michelle and Barack Obama-produced documentary
Reichert said, "Workers of the world, unite!" — a rallying cry from "The Communist Manifesto."
I wonder what the Netflix execs thought!
Laura Dern wins for supporting turn in 'Marriage Story'
Laura Dern, who played a tough-minded divorce attorney in Noah Baumbach's "Marriage Story," just won the best supporting actress trophy — a win that was widely expected after she swept film ceremonies in the lead-up to the Oscars.
In a tearful acceptance speech, Dern dedicated the award to her parents: actress Diane Ladd and actor Bruce Dern.
She is the first actor to win an Oscar for a performance in a movie distributed by Netflix.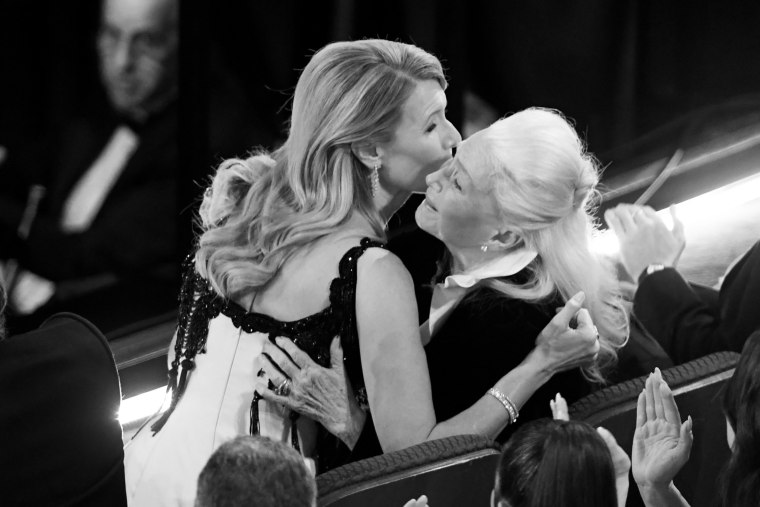 Greta Thunberg makes appearance in Oscars clip
Climate activist Greta Thunberg appeared in a clip showcasing the power of documentary films before actor Mark Ruffalo took the stage to present the category.
Instant classic meme, folks
Fun fact: Renée Zellweger's hair and makeup transformation in 'Judy' included a prosthetic nose and color contacts
The "Judy" hair and makeup team revealed that they had to prosthetically extend the tip of Renée Zellweger's nose to better match Judy Garland's profile. Dark gray contact lenses were fitted to approximate Garland's dark brown eyes, and a cropped walnut-brown wig was fashioned to resemble Garland's iconic hairdo.
Doc produced by Michelle and Barack Obama's company wins
"American Factory," a documentary about cultural turmoil at a manufacturing plant in Ohio, just won the best documentary feature award.
The film was distributed by Netflix and produced by Higher Ground Productions — also known as President Barack Obama and former first lady Michelle Obama's foray into Hollywood.
'Little Women' wins Oscar for best costume design
There finally was a little love for "Little Women."
Designer Jacqueline Durran won the period drama's first Academy Award of the night, for best costume design.
Although Durran was favored in the category going into Sunday night, some prognosticators also believed Greta Gerwig stood a good chance of winning for best adapted screenplay for her adaptation of Louisa May Alcott's classic 19th century novel. Instead, Taika Waititi won for "Jojo Rabbit."
Many critics were already annoyed by the snub of Gerwig in the best director field — with all five nominations going to men.
While the film's remaining nominations — for best picture, best actress (Saoirse Ronan) and best supporting actress (Florence Pugh) — have yet to be announced, "Little Women" was not expected to win any of them.