Hollywood's biggest night came and went with surprise wins, political moments and a lot of ... singing. "Parasite," Bong Joon Ho's twisted social thriller, took home the biggest prize of the night, winning best picture. Joaquin Phoenix and Renée Zellweger both gave memorable acceptance speeches. And "1917" beat a crowded field for visual effects Oscar.
Catch up on the full night of major moments, musical numbers and our commentary throughout the 92nd Academy Awards.
Greta Thunberg makes appearance in Oscars clip
Climate activist Greta Thunberg appeared in a clip showcasing the power of documentary films before actor Mark Ruffalo took the stage to present the category.
Instant classic meme, folks
Fun fact: Renée Zellweger's hair and makeup transformation in 'Judy' included a prosthetic nose and color contacts
The "Judy" hair and makeup team revealed that they had to prosthetically extend the tip of Renée Zellweger's nose to better match Judy Garland's profile. Dark gray contact lenses were fitted to approximate Garland's dark brown eyes, and a cropped walnut-brown wig was fashioned to resemble Garland's iconic hairdo.
Doc produced by Michelle and Barack Obama's company wins
"American Factory," a documentary about cultural turmoil at a manufacturing plant in Ohio, just won the best documentary feature award.
The film was distributed by Netflix and produced by Higher Ground Productions — also known as President Barack Obama and former first lady Michelle Obama's foray into Hollywood.
'Little Women' wins Oscar for best costume design
There finally was a little love for "Little Women."
Designer Jacqueline Durran won the period drama's first Academy Award of the night, for best costume design.
Although Durran was favored in the category going into Sunday night, some prognosticators also believed Greta Gerwig stood a good chance of winning for best adapted screenplay for her adaptation of Louisa May Alcott's classic 19th century novel. Instead, Taika Waititi won for "Jojo Rabbit."
Many critics were already annoyed by the snub of Gerwig in the best director field — with all five nominations going to men.
While the film's remaining nominations — for best picture, best actress (Saoirse Ronan) and best supporting actress (Florence Pugh) — have yet to be announced, "Little Women" was not expected to win any of them.  
How many Quibis until this commercial is over?
We just saw our first of what we expect to be five Quibi commercials of the night.
The streaming service launching in April is trying to build up its hype, and it has recruited everyone from Kristen Bell to Chrissy Teigen to Tyra Banks for shows on the short-form video platform. (NBC News will produce short news programs for the service.)
Buckle up, because we are in for a Quibi-filled night, year and possibly eternity. 
Yes, Chrissy Metz can sing
Yes, Chrissy Metz can sing. Not sure how this is news to anyone, but someone in our newsroom (not naming names) just said, "Wait, she can sing?" 
If you like this song, it's called "I'm Standing With You," and it's from the movie "Breakthrough," which Metz also starred in and which will make you bawl crying. 
Fun fact: 'Jojo Rabbit' director Taika Waititi directed the film dressed as Hitler
In an interview on "Late Night with Seth Meyers," Taika Waititi, who directed the film and played Adolf Hitler, confessed that there were times he directed "Jojo Rabbit" while dressed in his Hitler costume.
Maya Rudolph and Kristen Wiig reunite to remind us all how perfect "Bridesmaids" was
In 2011, a question loomed among pop culture aficionados and anybody with a penchant for boring questions: Are women funny? And while everyone knew that they are and have been forever, the runaway success of "Bridesmaids" was a fast way to pacify naysayers.
So imagine my joy upon seeing the film's stars Maya Rudolph and Kristen Wiig join forces onstage to present best production design and best costume design, bringing the chemistry, comedic timing and flawless delivery that inspired some of you to see "Bridesmaids" no fewer than three times in theaters, memorize it after buying it on DVD and quote it to excess even now. May they work together again soon. Or may they hijack the rest of the awards and just stand up there, singing.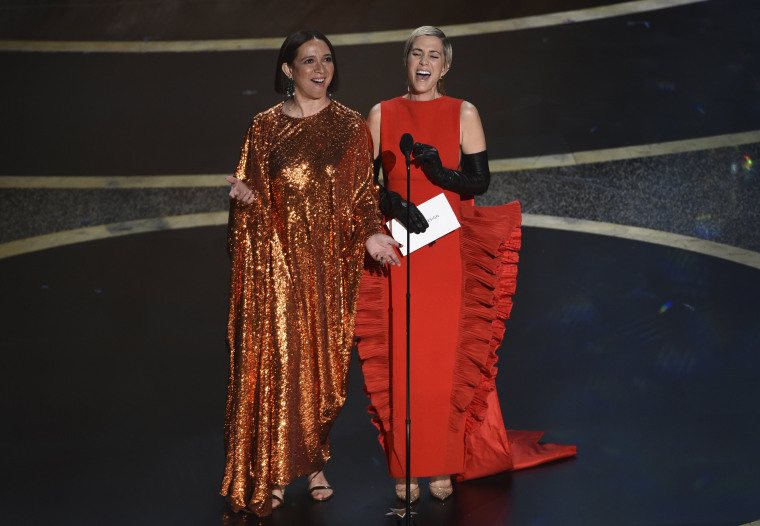 No Netflix ads will air during the Oscars
ABC aired an endearing Disney+ ad featuring the music from the animated film "Up" — but viewers won't be seeing any ads from one of the streaming platform's biggest competitors: Netflix. 
This is because Disney banned Netflix from advertising on some of its networks back in October, as it fiercely competes against many other companies launching streaming services.
Netflix ads no longer run on ABC, FX, Freeform and National Geographic, which are all owned by Disney.
Fun fact: If Cyntia Erivo wins an Oscar, she would become the youngest person to have won an EGOT
Cynthia Erivo, who already has an Emmy, a Grammy and a Tony, has two chances tonight to win an Oscar and make history as the youngest person to win in all four major entertainment categories. Erivo is nominated for best actress and original song for "Harriet."
Shia LaBeouf and Zack Gottsagen reunite to present at Oscars
Shia LaBeouf and Zack Gottsagen reunited at the Oscars to present the Academy Award for best live action short film to "The Neighbor's Window." 
The pair's relationship began as they filmed "The Peanut Butter Falcon," a movie about a young man with Down syndrome who runs away from the nursing home where he lives to chase his dream of becoming a professional wrestler.
Gottsagen, who was born with Down syndrome, has been breaking barriers since he was a child. He had dreamed of becoming an actor ever since watching "Grease," and at Zeno Mountain Farm, a camp in Vermont, he met filmmakers Tyler Nilson and Michael Schwartz. The trio worked together on developing "The Peanut Butter Falcon" over the course of five years. 
In the film, Tyler, played by LaBeouf, an outlaw on the run, becomes Zak's unlikely friend. 
LaBeouf and Gottsagen's relationship is just as strong off screen; LaBeouf has credited Gottsagen with helping him return to sobriety. 
Catch up on all the winners so far
"Parasite" won for original screenplay, "Toy Story 4" for animated feature film, Brad Pitt for actor in a supporting role, and there's more. See all the winners here. 
Fun fact: Director Bong Joon-ho ended the Cannes Film Festival standing ovation because the cast was ... hungry
After winning the Cannes Film Festival's top prize, "Parasite" was met with a standing ovation.
In an interview on the "Tonight Show," Bong told Jimmy Fallon that it was late and that the cast couldn't eat dinner, so he decided to end the 8-minute ovation by saying, "Thank you. Let's all go home now." 
'Jojo Rabbit' hops to victory in best adapted screenplay category
Taika Waititi, the multihyphenate artist who wrote, directed and co-starred in the anti-fascist fable "Jojo Rabbit," won the best adapted screenplay award.
The win had looked increasingly likely after Waititi triumphed in the category at the British Academy Film Awards and Writers Guild of America Awards earlier this month.
Waititi, who appears in the film as Adolf Hitler, is the first Indigenous filmmaker to win an Oscar.
"I dedicate this to all the indigenous kids in the world who want to do art and dance and write stories. We are the original storytellers, and we can make it here," he said in his acceptance speech.
Diane Keaton and Keanu Reeves give us the "Something's Gotta Give" reunion we need (and deserve)
Once upon a time in 2003, Nancy Meyers wrote and directed a romantic comedy called "Something's Gotta Give," which was as iconic for its May-December love affair as it was for its turtlenecks. And tonight, because some things in life are beautiful, two of its stars — Diane Keaton and Keanu Reeves — reunited onstage to present the award for best original screenplay. Which, admittedly, was so exciting that Diane nearly dropped the envelope before announcing the winner. Now we can only hope for a follow-up in which they fall in love all over again and Diane wears that same coat and hat.
'Parasite' wins best original screenplay, beating out Tarantino
Bong Joon-ho and Han Jin-won nabbed the best original screenplay prize for "Parasite," an honor that could foreshadow other big wins tonight.
Bong and Han beat out "Once Upon a Time ... in Hollywood" by Quentin Tarantino, who earned the screenplay prize at the Golden Globes.
Idina Menzel performs alongside a legion of Elsas
Idina Menzel performed the Oscar-nominated song "Into the Unknown" (from that little indie hit "Frozen 2") alongside a slew of artists who've voiced Elsa all over the world. Was it haunting? Absolutely. Beautiful? Correct. Was it difficult for me not to tweet about the way her necklace perfectly complemented the presence of "Uncut Gems"? Of course. But good luck doing anything but sit bewitched by a chorus of Disney princesses with incredible voices. I apologize to everyone who overhears me singing in the car this week.
'Hair Love' wins best animated short film
"Hair Love," a story about a black father who struggles and eventually succeeds in styling his young daughter's hair, won the Academy Award for best animated short film. 
The story, which once existed only in the form of a dream and a Kickstarter campaign, is now the basis of a best-selling children's book and Oscar-winning film.
Matthew Cherry, the former NFL player who wrote and directed "Hair Love," predicted that he would be nominated for an Oscar in a 2012 tweet that resurfaced Sunday.
"I wanted to give kids a character that normalizes and celebrates black hair," Cherry told NBC News. "Black fathers get a bad rap in mainstream media, so I also wanted to show them as present and caring, versus the deadbeat dad stereotype that is often ascribed to them in film."
Black hair has often been policed, which is why Gabrielle Union, the other producer of "Hair Love," invited DeAndre Arnold to the Oscars ceremony on Sunday. Arnold is a high school senior who was suspended and told he wouldn't be able to walk at his own graduation ceremony unless he cut his dreadlocks.
"It means the world to us to have him here with us," Cherry said on the red carpet before the Oscars. "We wanted people to see how good of a kid he is, but also there's no reason people should be policing our hair."
Cherry advocates for the federal passing of the Creating a Respectful Workplace for Natural Hair Act, or CROWN Act, which updates the state's anti-discrimination law so that the term "race" includes "traits historically associated with race." California became the first state to pass the act in July, with New York following suit later that month.
New format for the acting clip reels?
In a break from recent years, the clip reel that preceded Brad Pitt's supporting actor win was a montage that mixed scenes from four movies.
The producers behind the show have traditionally rolled out clips one by one.
Why do presenters have presenters?
Beanie Feldstein just introduced Mindy Kaling, who is presenting awards for animated features and shorts, which means presenters have presenters this year. OK ...
Publicists must be working overtime!
Mindy Kaling found solace in animation as a 'shy' girl from an immigrant family
Before announcing the Academy Award for best animated feature film, comedian Mindy Kaling said she found solace in animated films as a "shy" young girl from an immigrant family.
Now that she's older, she recognizes that animation is one of the most sophisticated forms of storytelling. 
"I can't wait to introduce those worlds to my daughter now," Kaling said before announcing that "Toy Story 4" won the Oscar. 
Righteous chill
Brad Pitt breaks seal on political messages at Oscars 15 minutes into the show
It took all of 15 minutes and 40 seconds for the Oscars to get political. (We timed it.)
And it happened during the first award of the night.
During his acceptance speech after winning the Academy Award for best supporting actor, Brad Pitt dropped the first barb of the night aimed at the GOP for acquitting President Donald Trump in his impeachment trial. The expectation is it won't be the last. 
"They told me I only have 45 seconds up here, and that's 45 seconds more than the Senate gave John Bolton this week," Pitt said.
Fun fact: Anthony Hopkins and Jonathan Pryce are no strangers to portraying religious figures
Before starring as Pope Benedict in the "The Two Popes," Anthony Hopkins played a priest in "The Rite" and Methuselah, Noah's grandfather, in the 2014 epic Biblical drama "Noah."
Jonathan Pryce has also taken on a few notable non-secular roles, including the High Sparrow in "Game of Thrones" and Cardinal Thomas Wolsey, a high-ranking Catholic bishop during the reign of Henry VIII, in the BBC historical drama "Wolf Hall."
Know that feel
Steve Martin and Chris Rock call out the academy in comedy stand-up
Chris Rock and Steve Martin delivered a quick stand-up comedy set in which they slightly called out the academy for not nominating any women in the best director category.
Martin said there's something missing from this year's best nominated films.
Rock responded, "Vaginas." 
Brad Pitt nabs the first award of the night
OK, that's one down and 23 to go. 
Brad Pitt just won the best supporting actor trophy for "Once Upon a Time ... in Hollywood," Quentin Tarantino's love letter to the fading days of Hollywood's golden age.
In his acceptance speech, Pitt nodded to the absence of witnesses at President Donald Trump's impeachment trial: "They told me I only have 45 seconds up here, which is 45 seconds more than the Senate gave John Bolton this week. I'm thinking maybe Quentin does a movie about it. In the end, the adults do the right thing."
Pitt, who was recognized for playing (fictional) veteran stuntman Cliff Booth, paid tribute in his speech to Tarantino, co-star Leonard DiCaprio and Hollywood's legions of stunt coordinators and crews.
Who needs a host? Steve Martin and Chris Rock help open the Oscars.
The Oscars may not have had an official host.
But unofficially Sunday night's ceremony had two of them, at least for its opening. 
After Janelle Monaé's opening musical performance, former Academy Awards hosts Chris Rock and Steve Martin helped open the event.
"We both hosted the Oscars before," Martin said. "This is such an incredible demotion." 
Then the jokes started cascading:
Martin joked that there would be no "La La Land"-"Moonlight"-type mixup this year because the academy was using the new Iowa caucus app. 
Chris Rock zings Jeff Bezos
Jeff Bezos, the CEO of Amazon, is at the Oscars — but not above getting burned.
Chris Rock hit Bezos with a couple of solid jokes about his recent divorce while also noting that even after the separation, he's still the richest man in the world.
When Rock asked Steve Martin whether he wanted a crack at Bezos, Martin declined: "I like getting my packages on time."
Janelle Monáe channels Mr. Rogers in musical opening
Singer-actress Janelle Monáe kicked off the show with a rendition of "Won't You Be My Neighbor?" — a nod to Mr. Rogers and the movie "A Beautiful Day in the Neighborhood," co-starring Oscar nominee Tom Hanks as the famed children's TV host.
She then ditched the bright red cardigan and jumped into an original tune that riffed on some of the other contenders. At one point, she donned a floral dress like the one worn by Florence Pugh in the horror flick "Midsommar."
Billy Porter ("Pose") was on hand to belt a few bars from the Elton John song "I'm Still Standing," featured in the biopic "Rocketman."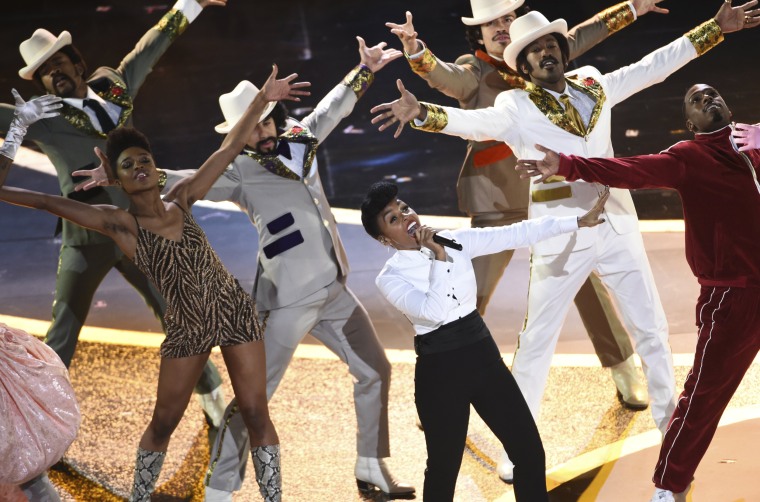 The theme of this year's Oscars red carpet is: homecoming, circa 1999
While tassels are coming in hot for the biggest Oscar style trend (sure!), writer Anne Helen Peterson has brought attention to an even more exciting vibe: HOMECOMING 1999. Thanks to a thread I will personally bookmark and consult later on my own fashion choices, the biggest Oscar names have been bringing serious Midwestern/Southern Ontario mall realness, as if plucked from our Y2K-era dreams. RIP Mariposa; I miss you every day.
The Joker gets the last laugh when it comes to movie awards
Batman may beat up on the Joker in the pages of the comics, but the clown prince of crime has dominated on the awards circuit. 
Going into Sunday night, Joaquin Phoenix was heavily favored to win the best actor Oscar for his transformative turn as the titular villain in "Joker." If he wins, it would be the second time the Joker has pilfered the prestigious prize — with Heath Ledger winning a posthumous Oscar as best supporting actor for "The Dark Knight" in 2009.
Two decades earlier, Jack Nicholson's performance as the Joker in "Batman" earned the first Golden Globe nomination for an actor playing a comic book character.
But the Joker's Hollywood roots actually go way back to 1928, 12 years before his debut in print: Co-creators Jerry Robinson and Bill Finger based the villain largely on Conrad Veidt's ghoulish character from "The Man Who Laughs." 
TODAY breaks down the best dressed
Our friends over at TODAY are collecting all the lewks at the Oscars 2020 red carpet. 
Mayor Pete is happy about the Oscars
Democratic presidential contender Pete Buttigieg has some nice words for three of the nominees. 
Fun fact: Buttigieg, the former mayor of South Bend, Indiana, once told E! News that he does not have one particular favorite movie, "but 'The Godfather' and 'Gangs of New York' are up there."
I also like "The Godfather," Mayor Pete. Enjoy the show!
Don't count out 'Jojo Rabbit' and Taika Waititi
"Jojo Rabbit" has hopped up and down the awards season leaderboard.
The darkly comic coming-of-age story about a boy in the Hitler Youth (Roman Griffin Davis) and his imaginary friend, Adolf Hitler (Taika Waititi), stirred up buzz after winning the top prize at the Toronto Film Festival in September — an honor that sometimes foreshadows a best picture win at the Oscars.
But as the Oscars race heated up, "Jojo" seemed to recede from the spotlight, while "1917," "Parasite" and "Once Upon a Time ... in Hollywood" gained steam. Waititi, who wrote and directed the film, was snubbed in the screenplay and director categories at the Golden Globes last month.
But there are signs "Jojo" could stage a comeback. Waititi earned the best adapted screenplay awards at both the British Academy Film Awards and the Writers Guild of America Awards earlier this month, beating out heavy hitters like Greta Gerwig ("Little Women") and Steven Zaillian ("The Irishman").
Waititi could pull the same trick. Tom O"Neil, a veteran awards analyst of the website Gold Derby, also thinks "Jojo" could nab a surprise win in another category: best supporting actress for Scarlett Johansson. He told NBC News last week that he "wouldn't rule her out" even though Laura Dern ("Marriage Story") dominated at other awards shows.
Natalie Portman and Waad al-Kateab dress with empowering messages
Natalie Portman and Syrian filmmaker Waad al-Kateab embroidered empowering messages on their dresses.
Portman walked the Oscars red carpet wearing a black-and-gold dress decorated with a Dior cape with the names of female directors who weren't nominated for an award.
Waad al-Kateab, the filmmaker from Aleppo who made the documentary "For Sama," graced the red carpet with a pink dress with a message that read "we dared to dream" and "we don't regret asking for our dignity."
10-year-old legend Julia Butters is the early contender for winner of the night
Julia Butters is an early contender for the winner of the night.
The 10-year old "Once Upon a Time ... in Hollywood" actress told reporters she stashed a turkey sandwich in her purse because she said she doesn't always like the food at awards shows.
And when asked by Variety which celebrities she was hoping to see, she said, "If Lady Gaga's here, God bless America."
The actress, born in 2009, also reportedly said attending the Oscars has been a "lifelong dream." No choice but to stan!
ScarJo's double nomination
Scarlett Johansson is a first-time Oscar nominee this year.
But she didn't get just one nomination. She's up for best actress for "Marriage Story" and best supporting actress for "Jojo Rabbit"
She's the first actor to get a double nom since Cate Blanchett was up for best actress for "Elizabeth: The Golden Age" and best supporting actress for "I'm Not There" in 2007.
If I had to bet, ScarJo won't win in either category, but at least she became a meme for her dancing in "Marriage Story."
And the award for most searched movie goes to ...
And the award for most searched movie goes to...
At the moment, it's "Jojo Rabbit," according to data from Google Trends at 7 p.m. ET. 
"Parasite" and "1917" have both seen a decent amount of search traffic in the past few days. 
Scarlett Johansson has pretty much dominated the other best actress nominees, while Joaquin Phoenix and Leonardo DiCaprio traded the No. 1 spot until a sudden leap by Antonio Banderas. Check out all the data here.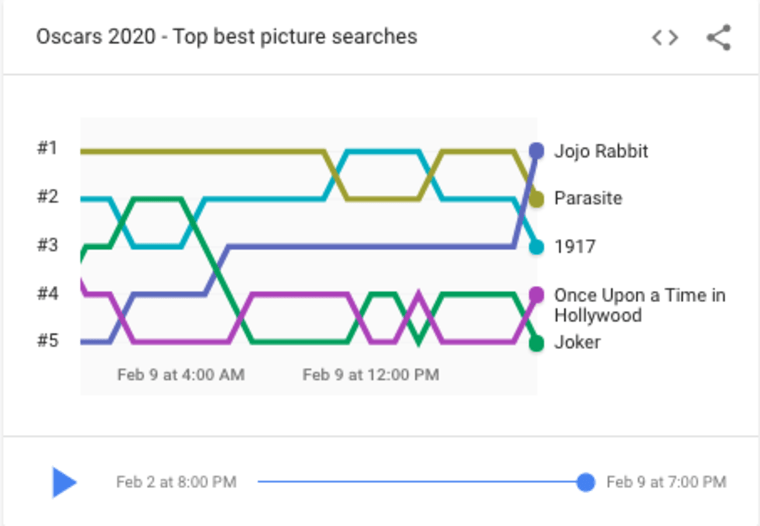 It's been a while since best picture winner has been a box office winner, too
If "Parasite" wins the best picture Oscar, it will continue a seven-year (and counting) streak of academy voters honoring films that mainstream American moviegoers haven't seen. 
The South Korean drama has wowed critics and been a dominant force during award season, but it has earned only $35.5 million in North America to date, according to ComScore.
The last best picture winner to break the $100 million mark came seven years ago, when "Argo" took the film industry's biggest prize. To find the last best picture winner that also topped that year's box office charts, one has to go back to 2004, when "The Lord of the Rings: The Return of the King" earned the Oscar and $377 million domestically.  
Since then, critics have slammed the academy for being out of touch with the moviegoing public in prioritizing indie darlings over crowd-pleasing Hollywood epics.
That streak could change if the other major contender, "1917," wins. Director Sam Mendes' WWI drama has earned $132.5 million to date.  
It should be noted that Netflix's "The Irishman" and "Marriage Story" can't be measured with the same metric, as their audiences are primarily streaming viewers. 
Of the nine best picture nominees, "Joker" has been the biggest blockbuster, earning $335 million at the box office. "Ford v. Ferrari," "Little Women" and "Once Upon a Time ... in Hollywood" also passed the $100 million mark. 
Knitwear's out on the Twitter account for 'Knives Out'
The braided, fisherman-style crew neck sweater Chris Evans wears in Rian Johnson's ensemble murder mystery, "Knives Out," was the subject of endless fascination on social media last fall. It's now taking center stage on the @KnivesOut official Twitter account in honor of the Oscars.
The red carpet is underway!
Stars have arrived on the red carpet!
The cast of "Parasite" looks great as they prepare to possibly take home a bunch of awards.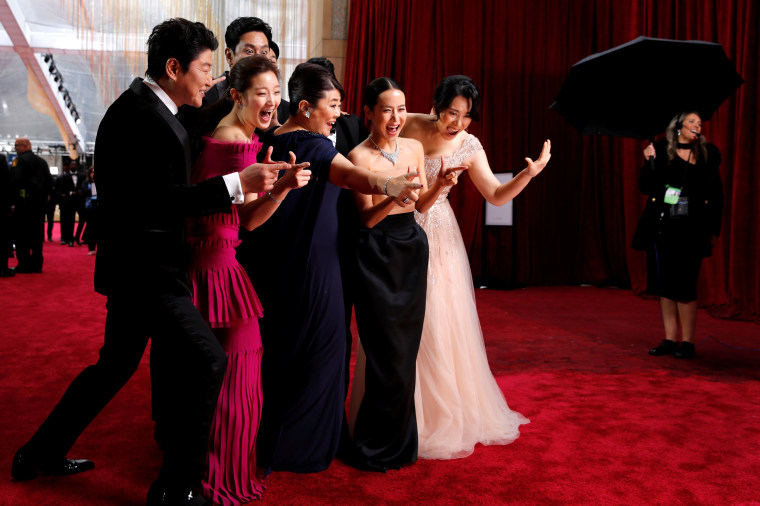 And Spike Lee used the carpet to honor Kobe Bryant, with a purple and gold suit adorned with the number 24.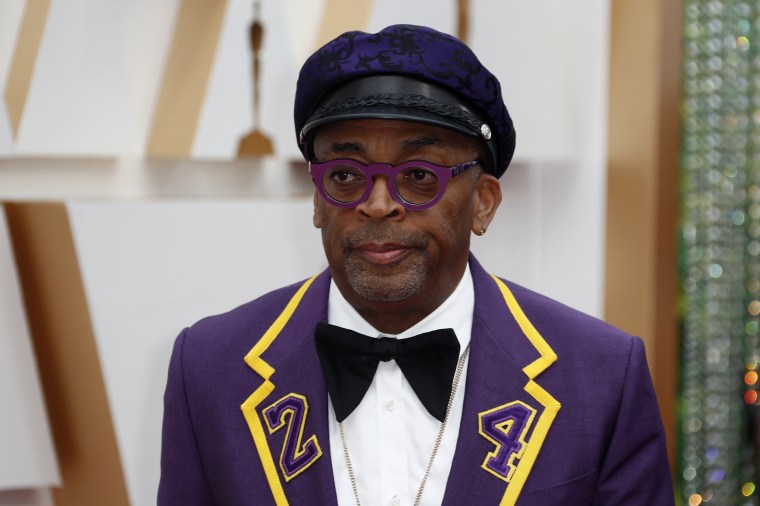 Kaitlyn Dever, the star of "Booksmart" and Netflix's "Unbelievable," is showing off her Louis Vuitton "sustainable" dress. Don't really know what that means, but she looks great!
Janelle Monáe never disappoints.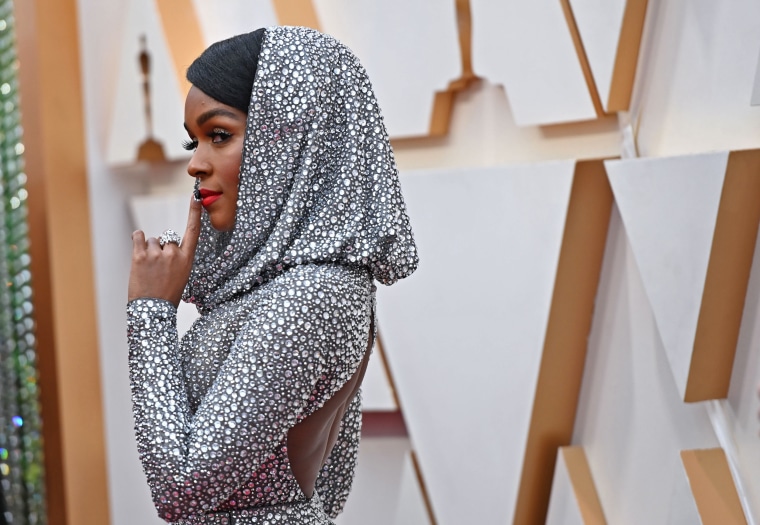 'The Irishman' is a critical darling. But it probably won't make a killing tonight.
Martin Scorsese's gangland saga "The Irishman" swept into awards season as one of the top contenders, boosted by critical raves and Netflix's considerable marketing muscle.
But as the Oscars race took shape last fall, "The Irishman" seemed to lose momentum. The ambitious drama, starring Robert De Niro as a real-life mafioso who claimed he gunned down Teamsters boss Jimmy Hoffa, was overshadowed by "1917," "Parasite" and, to a lesser extent, "Once Upon a Time ... in Hollywood."
When all is said and done, "The Irishman" will probably end the night without scoring a single win, at least according to the top prognosticators. 
What happened?
It's possible a contingent of industry insiders balked at lavishing awards on the film's distributor, Netflix, the streaming giant that has disrupted traditional Hollywood and challenged the longstanding dominance of the studios. Or maybe some voters were put off by the movie's mammoth running time (3½ hours) and grim tone.
All of that is not to say the academy snubbed "The Irishman" altogether. It earned an impressive 10 nods, including best picture and best director — putting it just behind "Joker" (11 nods) on this year's leaderboard.
What's in the bag? Oscar nominees are lavished with $225k of gifts
Oscar nominations for acting and directing come with more than prestige.
According to Reuters, even if they don't take home a trophy, Oscars nominees like Renee Zellweger and Antonio Banderas will be walking away with a $225,000 gift bag.
The gift bag is not affiliated with the academy, and instead arranged by the LA-based company Distinctive Assets, Reuters said.  
"It's the highest value we've ever put together," founder Lash Fary told Reuters, adding it's been a tradition now for 18 year.
The 70-plus item bag includes a 12-day cruise, and $20k of facial rejuvenation treatments. It also includes a 24-carat gold-plated vape pen!