After more than a year of pandemic lockdowns that upended movie making, Hollywood celebrated the best films of the past year at the 93rd Academy Awards where stars gathered together at Union Station in Los Angeles, with some parts also taking place at the Dolby Theatre.
The event was maskless, but abided by all the same Covid-19 safety protocols that Hollywood film sets follow, including vaccinations, testing, distancing and masks when the cameras are off.
Here are all the top moments and monumental wins of Hollywood's biggest night.
Chloé Zhao, 'Nomadland' make history at wobbly Academy Awards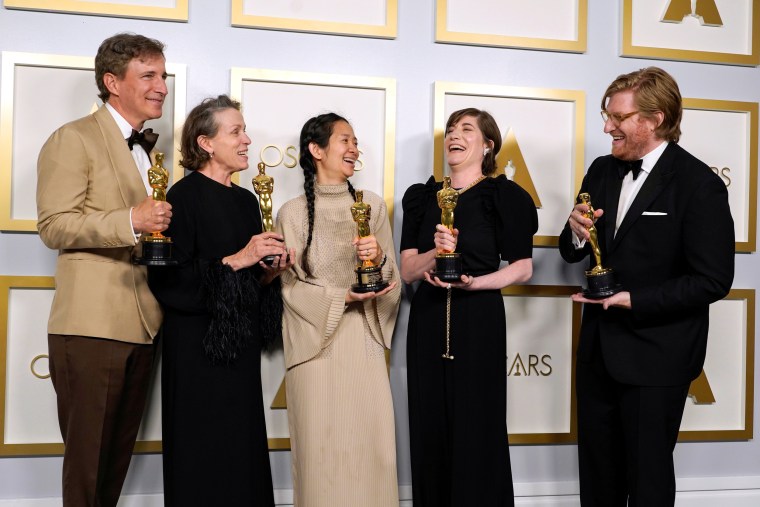 The producers of the 93rd Academy Awards were handed an unenviable assignment.
They were tasked with putting on a lively show that resurrected both the rarefied glamor of vintage Hollywood and the comforting normalcy of life before the pandemic — all while abiding by a laundry list of Covid-19 safety protocols. If they succeeded, the thinking went, they just might be able to stave off a record-low ratings disaster and maybe even drive some Americans back to movie theaters.
It remains too early to say whether the crew behind the Oscars entirely succeeded in their head-spinning marching orders. But for viewers at home, the ceremony might have felt strangely half-formed, like an unfinished screenplay.
Academy treats Chadwick Boseman more like Dean than Ledger
The 2021 best actor Oscars competition will be remembered as much for a loss as for a win. 
Chadwick Boseman, who died in August after a four-year battle with colon cancer, was widely expected to win the Academy Award for his turn in "Ma Rainey's Black Bottom." Instead, the statuette went to Anthony Hopkins in an upset.
But as note-perfect as his portrayal of a 1920s-era musician frustrated by the racism of the industry holding him back proved, Boseman may not have been viewed as the presumptive winner solely because of that role. A win would have been as much an acknowledgment of all the potential for further acting greatness denied by his abrupt death at age 43.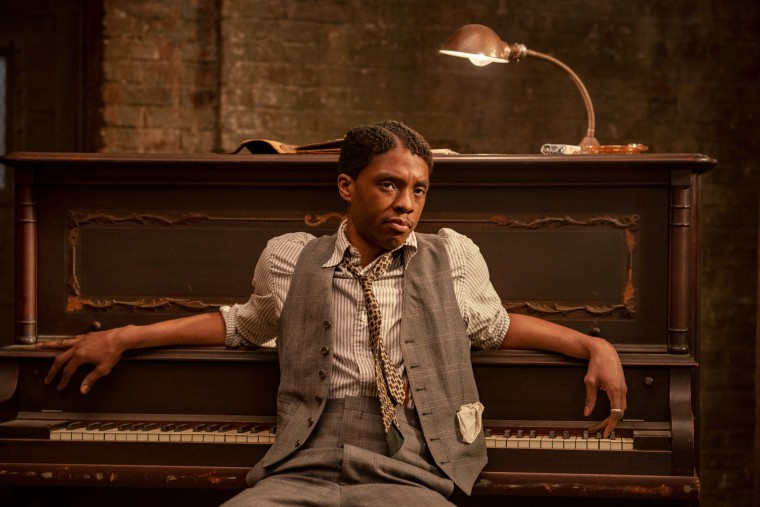 Boseman missed becoming just the 16th posthumous winner in the 93-year history of the Academy Awards. Only two actors have won non-honorary Oscars after their deaths — Peter Finch (best actor, "Network," 1976) and Heath Ledger (best supporting actor, "The Dark Knight," 2008).
Boseman, previously earning accolades for portraying icons such as Jackie Robinson ("42") and James Brown ("Get On Up"), is best known for playing the title superhero in "Black Panther," elevating the comics character into a cultural icon.
"There is no way to measure his loss or tally the number of fine performances he (and we) missed out on by his premature passing," movie historian Leonard Maltin said before the ceremony."
Ledger, 28, died of an accidental prescription drug overdose the same week that year's Oscar nominations were announced. The timing of the tragic loss may have swayed voters to recognize his turn in "The Dark Knight." That's how the script was expected to go for Boseman.
But instead, the Academy treated Boseman more like James Dean, who died in a 1955 car crash at age 24. Dean was nominated posthumously for best actor for "East of Eden" and "Giant" over the next two years but lost both times.
The internet is reeling from Anthony Hopkins' surprise win
This much is simple: While no Oscar win is ever guaranteed, most of us still believed that Chadwick Boseman would win a best actor award posthumously. And then he didn't.
Then on top of that, the awards just ended.
After just more than three hours of programming, the end of the show was announced in the same way a bar's lights might come on in the absence of a last call announcement. It just stopped. That was it.
And obviously, Twitter reacted accordingly:
2021 Academy Awards ends just 15 minutes late ... not bad by Oscars standards
For an awards show notorious for running so long it often feels like it drifts into the next year's awards season, the 2021 Oscars almost achieved a rare feat.
It came close to finishing on time.
Well, closer.
After the last award of the night — the Academy Award for best actor went to Anthony Hopkins — the credits started rolling 15 minutes after the show was scheduled to end at 11 p.m.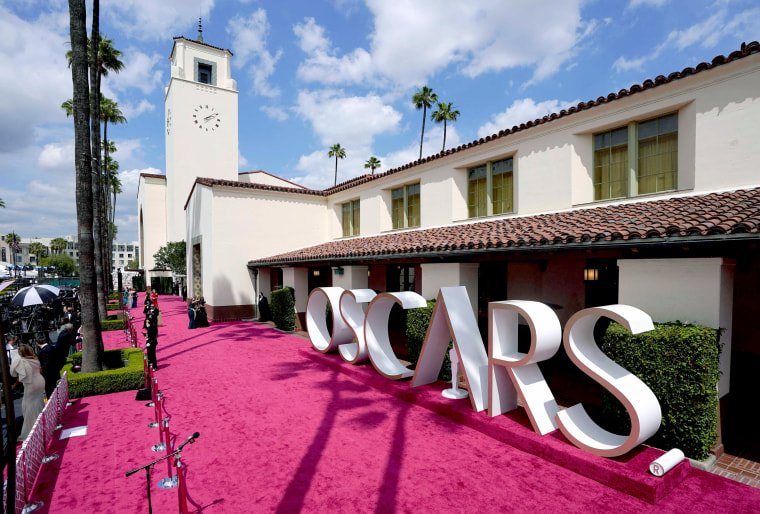 Last year's ceremony, by contrast, ended at 3 hours and 32 minutes. Perhaps the biggest factor this year was the decision of Oscar producers Steven Soderbergh, Stacey Sher and Jesse Collins to move the best original song performances to the pre-show. The stripped-down show also tossed the traditional opening number.
But then, as the show was approaching the finish line on time ... out came a long musical trivia routine that ended with Glenn Close twerking as the payoff.
Still, the late end was nothing compared to the 2002 Academy Awards, which ran 4 hours and 23 minutes — assuming it ever actually ended.
A more diverse Oscars year — despite the best actor upset
The academy's push for more diversity may finally be ready for its closeup.
Even with the surprise win of Anthony Hopkins over Chadwick Boseman for best actor, the 2021 Oscars were still arguably the most diverse in the awards' 93-year history.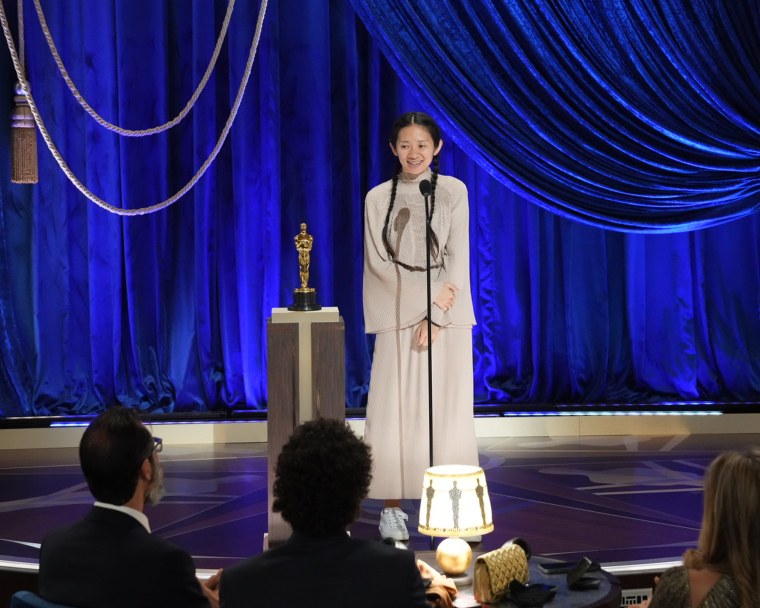 "Nomadland" filmmaker Chloé Zhao became the first Asian woman to win the best director Oscar, and then she won a second Oscar as one of the producers when the film took best picture.
The supporting actor awards went to a Black man (Daniel Kaluuya for "Judas and the Black Messiah") and a Korean woman (Youn Yuh-jung for "Minari").
It could have been even more of a feel-good story had Boseman been honored as best actor ("Ma Rainey's Black Bottom") posthumously. Boseman died last year at age 43 after a battle with cancer.
Still, coming a year after Bong Joon-ho's "Parasite" became the first foreign film to win best picture, there seem to be major changes to the academy from the days when the industry awarded "Driving Miss Daisy" the 1990 best picture statuette while snubbing "Do the Right Thing." 
And it can be seen as a direct result of former academy President Cheryl Boone Isaacs' push to diversify the voting members in the organization in 2016. The drive was a direct result of the #OscarsSoWhite controversy after two straight years in which no actors of color were nominated.
In an upset, Anthony Hopkins wins best actor Oscar
Anthony Hopkins just won his second best actor Oscar for his devastating turn as an old man struggling with dementia in "The Father."
The award was widely expected to go to the late Chadwick Boseman for his commanding performance in "Ma Rainey's Black Bottom."
Hopkins, who previously won for his iconic role in "The Silence of the Lambs," was not present to the accept the award. Joaquin Phoenix, who introduced the category, accepted it on his behalf.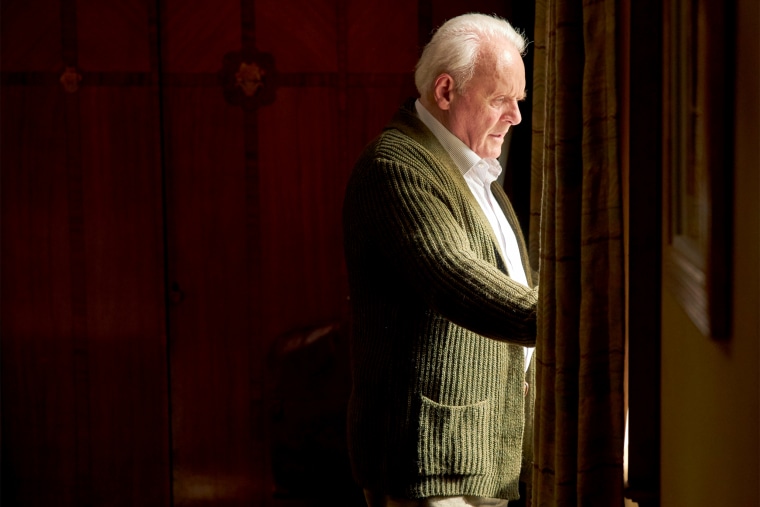 Frances McDormand named best actress for 'Nomadland'
Frances McDormand just won her third best actress Oscar for her soulful turn in "Nomadland."
She plays Fern, a headstrong woman who takes to the open road after the death of her husband and the collapse of the Nevada factory town.
McDormand previously nabbed best actress honors for her acclaimed performances in the 1996 classic "Fargo" and "Three Billboards Outside Ebbing, Missouri."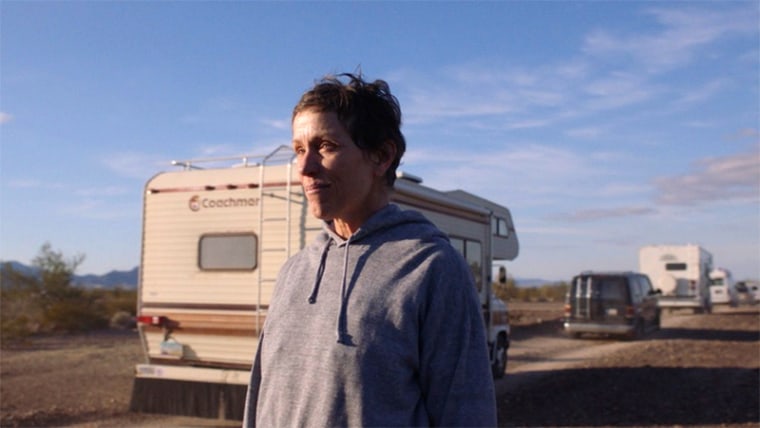 The chaos continues
Once upon a time, there was a sense of order to the Oscars.
But, like, literally: Best director and best picture capped off the evening, and we were always relieved to see them, because it meant we could go to bed.
And yet, here we are. First, best director was announced during the cold light of day, which was surprising and terrifying all at once. Second, best picture arrived before even the best acting categories, inspiring those left of us watching to drop to our knees and scream like Willem Dafoe in "Platoon."
It's 11 p.m., and we still have no idea who best actor is. Will we ever know? Will I ever stop writing about the Oscars? Will you ever stop reading? No one can be sure.
'Nomadland' is your best picture winner
"Nomadland," Chloé Zhao's portrait of a fiercely independent woman wandering the American West, was just crowned best picture.
Zhao, who won the best director award earlier in the night, thanked real-life nomads across America for teaching the crew the "power of resilience and hope."
Frances McDormand, the film's star, implored viewers at home to see "Nomadland" on the big screen.
Rita Moreno, the legendary actress and performer, presented the award.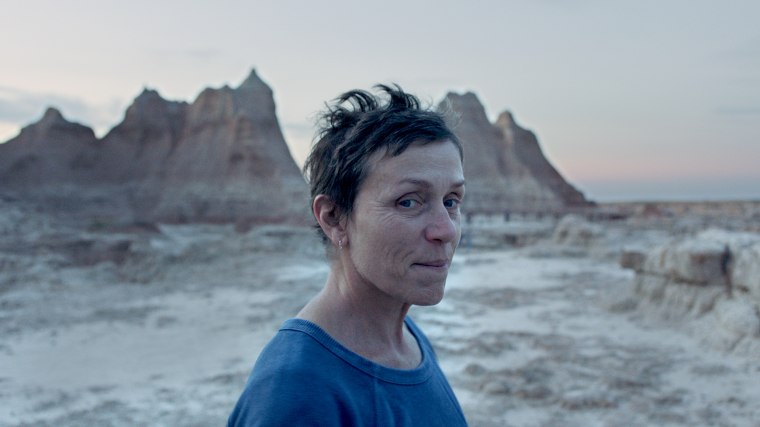 With Oscar win, H.E.R. is halfway to achieving rare EGOT status
Singer H.E.R. is halfway from achieving the rare EGOT status after winning an Academy Award for best original song. EGOT stands for Emmy, Grammy, Oscars and Tony awards. 
H.E.R., born Gabriella Sarmiento Wilson, won for her song "Fight for You," featured in the film "Judas and the Black Messiah."
She has already won four Grammy awards, in addition to her Oscar.
Now an Emmy award and Tony award will complete the set — the 23-year-old has a bright road ahead.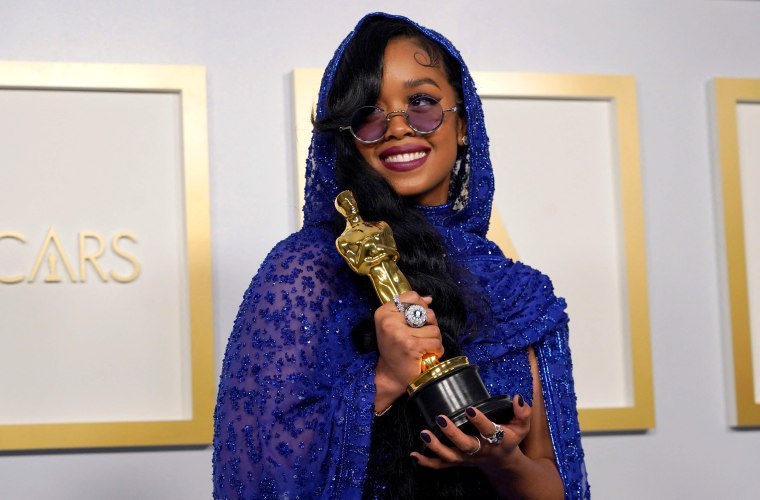 Glenn Close gives the performance of the night during the trivia game
Glenn Close absolutely stole the show during a trivia game about film songs and whether they were Oscars nominees, winners or neither.  
Close rattled off an impressive knowledge of the song "Da Butt" from the film "School Daze" and even did the "Da Butt" dance for the audience, leading scores of people on Twitter to ask: What does this woman need to do to get her own Academy Award?
For some reason, there was trivia
And despite its being the 14th hour of Oscars (read: 10 43 p.m. ET), Questlove kicked off Oscars trivia. He had Lil Rel Howery — who is wonderful and did not deserve this gig — approach members of the audience and ask them questions about Academy Award-winning artists and music.
Yet my biggest question went completely unanswered: Why was this happening to us? Why are they imposing trivia like a punishment? Doesn't anybody know what time it is? Who is in charge of setting us free?
Please present the rest of the awards. Please, I beg you.
Tyler Perry wants everyone to 'refuse hate'
Film mogul Tyler Perry received the Jean Hersholt Award for "his generosity toward those often overlooked and his steadfast commitment to social justice" during the Oscars ceremony.
During his acceptance speech, he shared an anecdote about giving a homeless woman a pair of shoes.
"In that moment I recall her saying to me, 'I thought you would hate me for asking,'" Perry said. "And I'm like, 'How can I hate you, when I used to be you? How can I hate you when I had a mother who grew up in Jim Crow Louisiana?'"
Perry said this mother "taught me to refuse hate."
"I refuse to hate on someone because they are Mexican or because they are Black or white or LGBTQ. I refuse to hate someone because they are a police officer," he said. "I refuse to hate someone because they are Asian. i would hope that we will all refuse hate."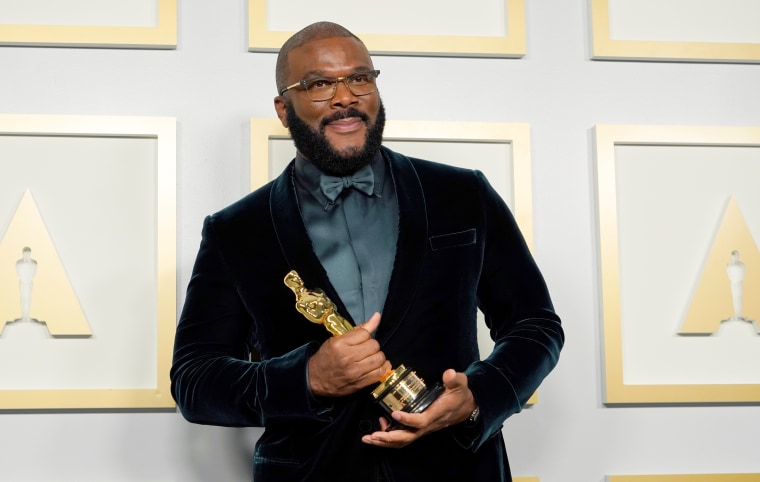 The odds of the show ending on time? Not great, if you ask us.
In a completely unscientific, on-the-fly survey of those covering the Oscars for our site tonight, 100 percent (11 out of 11) of those polled think the awards ceremony will not end on time tonight. 
"This awards show is slowly morphing into the feeling of being at somebody's cousin's eighth grade graduation," blogger Anne T. Donahue said. 
Fact check: True!
"Mank," David Fincher's portrait of the man who co-wrote "Citizen Kane," has now won more Oscars than "Citizen Kane."
"Kane" was nominated for nine Oscars, including best picture. But it won only one: best original screenplay for co-writers Orson Welles and Herman J. Mankiewicz — the subject of "Mank."
I guess you could say this is history — film history, that is — correcting itself.
One of tonight's viewers includes ...
Youn Yuh-jung makes the internet explode with cuteness and humor
Celebrities and fans tweeted in support of Youn Yuh-jung, who took home the Oscar for best actress in a supporting role. Her acceptance speech was filled with jokes and subtle digs at presenters for getting her name wrong.
"Mr. Pitt, finally, nice to meet you," Youn joked to Brad Pitt, who presented her with the award.  "Where were you while we were filming in Tulsa?"
Youn is the first Korean woman to win an Academy Award. She won for her acclaimed role as Soon-ja, grandmother to a young boy who comes to stay on a family's farm in Arkansas.
A surprising number of NBC News live bloggers have watched 'Mank'
I polled our live blog team to see how many people covering the Oscars for our site actually saw "Mank," a movie made for the Oscars that it seemed hardly anyone wanted to see.
I was surprised by the results!
Four people said, "Yes." Eight said, "No."
I think the "Mank" team should take that as a win.
And the Oscar goes to…
Follow our running list of winners to find out who's taking home a golden trophy tonight. 
Twitter demands to know why the octopus wasn't thanked
After "My Octopus Teacher" won the award for best documentary, Twitter users demanded to know why the titular octopus wasn't thanked or given an opportunity to speak. 
Octopus memes took over social media for a moment after the award was announced, with some debating what the sequel to "My Octopus Teacher" would be called, while others demanded answers for why the octopus didn't get a shoutout.
"in the sequel to MY OCTOPUS TEACHER he falls in love with an eel, it's called THAT'S A MORAY," tweeted Slate editor Sam Adams. 
"how did they not thank the octopus," Mashable reporter Alexis Nedd tweeted.
SPOILER ALERT:
The octopus featured in the film was not available because she sadly passed away at the end of the film.
All sincerity but no real levity
Everything about this year's Oscars is very earnest. Awards are introduced with sincere descriptions of the work and those involved. Reaction shots are lacking, so we're focused on whoever's at the podium.
People are wearing masks (sort of, in a way, sometimes). So maybe that's why the writers have opted not to include any jokes. At all. In any way.
There's no levity, no opportunities to laugh.
And while I understand that the year has sucked the life out of most of us, how great would it be if the Academy Awards made room for one-liners or the recognition that we're in the middle of a misery marathon — and sometimes we have to make it hilarious?
In fact, most of us have made it this far because we've found ways of laughing at, well, everything. There's room for earnestness and for genuine LOLs. I would love if at any point tonight the Oscars gave us that. 
Or even Brad Pitt just riffing, making me even more jealous than I already am about his hair.
Youn Yuh-jung earns supporting actress award for 'Minari'
Youn Yuh-jung just won the best supporting actress prize for her scene-stealing performance as an aging family matriarch in Lee Isaac Chung's "Minari."
Youn, a veteran of the film and television industries in South Korea, is the first Korean actress to win an Oscar.
How Steven Yeun sees 'Minari's' reception
After "Minari," a story about a Korean American family, was placed in the foreign language category at the Golden Globes, audiences were quick to call out what they saw as exclusion. The film's best actor nominee, Steven Yeun, said he's appreciative of the criticism and has high hopes for the Oscars tonight. 
For Yeun, the story in "Minari" is intensely personal, and he says he sees Asian America as its own third culture.
"We live in this isolated, liminal space. And that's all right," Yeun told NBC Asian America.
Pixar's first movie with a Black protagonist, 'Soul,' nabs best animated film
Pixar's first movie with a Black protagonist won the Academy Award for best animated feature film. The winning movie, "Soul," centers on an aspiring jazz musician who is hovering between life and death.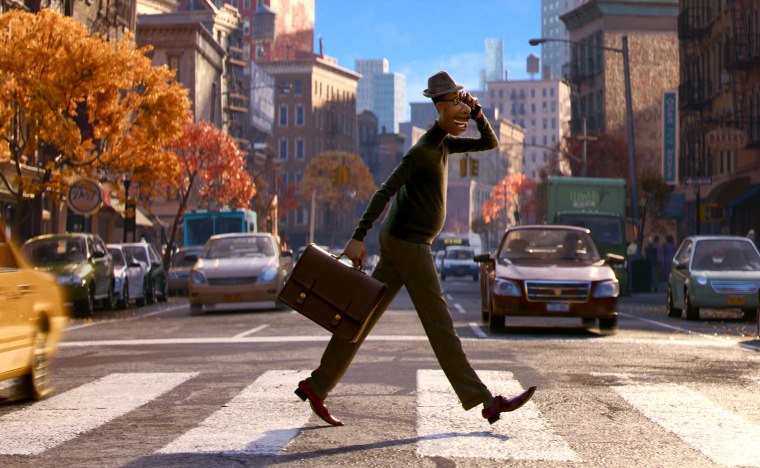 Pete Docter won the award alongside Dana Murray. During their acceptance speech, Docter said the movie started as a love letter to jazz but ended up teaching them about life.
Later, inside the Oscars press room, he said: "We were looking for something that would be fun to watch. You don't get into jazz to get rich and famous but because you love it — a noble pursuit! We realized this is relevant to what life is all about — using improvisation to make it beautiful."
A listless audience? This reporter thinks so.
"The people at the tables look like they're listening to a waiter read an endless list of specials," reporter Daniel Arkin said. 
Since he got to share everyone else's thoughts at the halfway mark, we couldn't let him slide out of being included. 
Here's how we're feeling after 90 minutes
I like the show so far. Don't get me wrong: It's moving a couple beats too slowly for my taste, and I'd like to hear a few more jokes. But the intimate setting inside Union Station is interesting, and I think (most of) the winners so far are deserving.
We asked some folks in our virtual newsroom for their one-sentence reviews now that we're around the halfway mark. Here's what they said:
Amanda Covarrubias, editor: "Appreciate getting rid of the cheesiness and trying something different, but some parts were too slow."
Anne T. Donahue, blogger: "The kindness and messaging and truths are incredible — even the lack of play-off music is a dream. But so help me, if it could only move a touch faster."
Ben Kesslen, reporter: "It's been pretty successful at meeting the moment — minus the 'private island, all tested' vibes — which means it's not too fun."
Kalhan Rosenblatt, reporter: "I've been so pleasantly surprised by the winners and the speeches have been great — especially Daniel Kaluuya's — but overall pretty boring."
Presenters and winners speak in Korean, Chinese
While presenting the nominees for best director, Bong Joon-ho, the 2020 winner for "Parasite," spoke entirely in Korean with a translator at his side. 
"Chloé Zhao gave us the experience of shedding the skin of who we think we are and walking in another person's shoes," Bong said in Korean while introducing Zhao, the first woman of color to win best director. 
In her acceptance speech, Zhao spoke about growing up in China, memorizing classic poems and texts with her father and reciting them together. She quoted in Chinese of one of her favorite lines, translating it into English for the audience. "'People at birth are inherently good,'" she said. 
Presenters also appear to be working to pronounce names correctly this year, including the name of best picture nominee "Minari."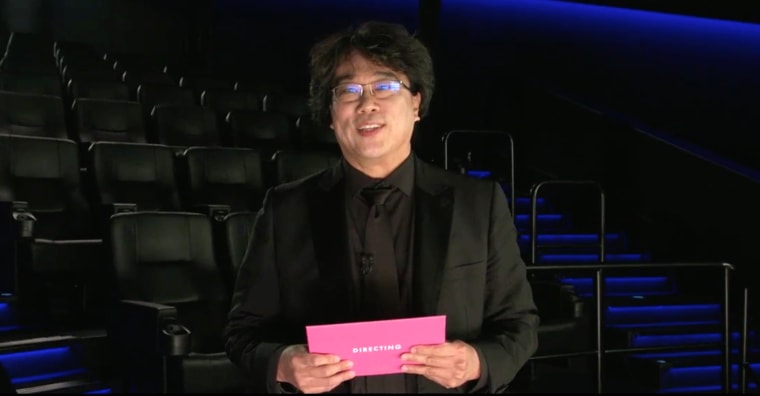 Best short film winner begs viewers: 'Don't be indifferent to our pain'
During his acceptance speech for best short film, Travon Free reminded people that an average of three people are killed by police every day, "which amounts to a thousand people a year."
"Those people happen to disproportionately be Black people," he said. "James Baldwin once said, 'The most despicable thing a person can be is indifferent to other people's pain.' So, I just ask that you please, not to be indifferent, please don't be indifferent to our pain."
Free won for his work in the short film "Two Distant Strangers" alongside Martin Desmond Roe.
The sounds of 'Sound of Metal' win
It probably seems obvious that a movie called "Sound of Metal" would win the Oscar for best sound. But the award for the film, starring Riz Ahmed as a heavy-metal drummer and recovering addict who begins losing his hearing, is richly deserved.
"Sound of Metal" plunges viewers headlong into the disorienting, sometimes downright infuriating experience of losing your hearing. In many respects, that's a credit to the movie's layered and beautifully designed soundscape.
Hollywood to America: Please, please, please go to a movie theater
It is often said that the Oscars is an elaborate commercial for the movie industry itself. You could say the show so far — the pre-show that aired on ABC and the first 40 minutes of the ceremony itself — has doubled as a commercial for beleaguered movie theater chains.
We've heard several people tonight exhort viewers at home to return to brick-and-mortar cinemas, nearly all of which were shuttered during the most dire months of the pandemic. The gist: You can only truly experience the grandeur and majesty of Hollywood inside the walls of your local AMC.
But how many people will leave the comforts of their homes (and their couches) for a night out at the movies? The future of the exhibition industry just may depend on the answer.
Twitter is meme-ing Daniel Kaluuya's acceptance speech
Toward the end of Daniel Kaluuya's poignant best supporting actor acceptance speech for "Judas and the Black Messiah," he made a comment about his parents having sex, which made his mother and sister, who were both in the crowd, cringe. 
"My mom, my dad — they had sex. It's amazing I'm here," Kaluuya said. 
The camera cut to Kaluuya's sister, who had her head in her hands, and his mother, Damalie Namusoke, who appeared to mouth, "What is he on about?"
The strange comment became meme fodder immediately, with tweets saying Kaluuya's speech was a roller coaster for Namusoke and that she'd, er, deal with Kaluuya when they got home. 
How the best picture front-runner defies Hollywood ageism
"Nomadland," Chloé Zhao's portrait of the itinerant life, explores themes that are typically ignored by mainstream narrative movies. How often does Hollywood survey the scars of the Great Recession, the fragility of the gig economy or the gaps in the social safety net?
But it is almost as unusual to see an American movie centered on an ordinary older woman, according to film historians and gender equity advocates — in this case, a fiercely independent wanderer named Fern, played by Oscar-winning actor Frances McDormand, 63. 
"It is extremely rare to see a woman in her 60s in the lead role, especially one who is allowed to look her age on screen," Turner Classic Movies host Alicia Malone told me in February.
Chloé Zhao makes Oscars history
"Nomadland" auteur Chloé Zhao just made history as the first woman of color to win the best director prize at the Oscars. It's a huge moment.
Zhao is only the second woman to receive the award, joining "The Hurt Locker" director Kathryn Bigelow.
In an earnest and heartfelt acceptance speech, Zhao said she believed that all people are born with goodness in their hearts — and dedicated her trophy to the people who "hold on to" that goodness.
"Parasite" mastermind Bong Joon Ho, who won the award last year, introduced the category.
Black women land historic Oscars win for makeup and hairstyling
Mia Neal and Jamika Wilson have become the first Black women to win an Academy Award for best makeup and hairstyling. Both women worked on the Oscar-nominated film "Ma Rainey's Black Bottom" alongside Sergio Lopez-Rivera.
"I also stand here as Jamika and I break this glass ceiling with so much excitement for the future," Neal said in her acceptance speech. "I can picture Black trans women standing up here. And Asian sisters. And our Latina sisters. And indigenous women. And I know that one day it won't be unusual or groundbreaking. It will just be normal."
'Another Round' director honors deceased daughter in emotional acceptance speech
Amid his euphoria over winning the Oscar he had dreamed about since childhood, "Another Round" director Thomas Vinterberg became emotional remembering the person he most wished was there to celebrate with him. 
Vinterberg's daughter, Ida, 19, died in a car accident on May 4, 2019 — four days into filming the Danish drama about four friends experimenting with alcohol.
Vinterberg had the small, socially distanced crowd at Union Station pealing with laughter during the first half of his acceptance speech for best international feature film. Then he turned serious. 
"We wanted to make a film that celebrates life, and then four days after shooting, the impossible happened. An accident on a highway took my daughter away. Someone looking into a cellphone. We miss her, and I love her."
Ida Vinterberg had been scheduled to act in the movie. Her father called the finished film, starring "Hannibal's" Mads Mikkelsen, a "monument" to his daughter.
"So, Ida, this a miracle that just happened, and you are a part of this miracle," Vinterberg said.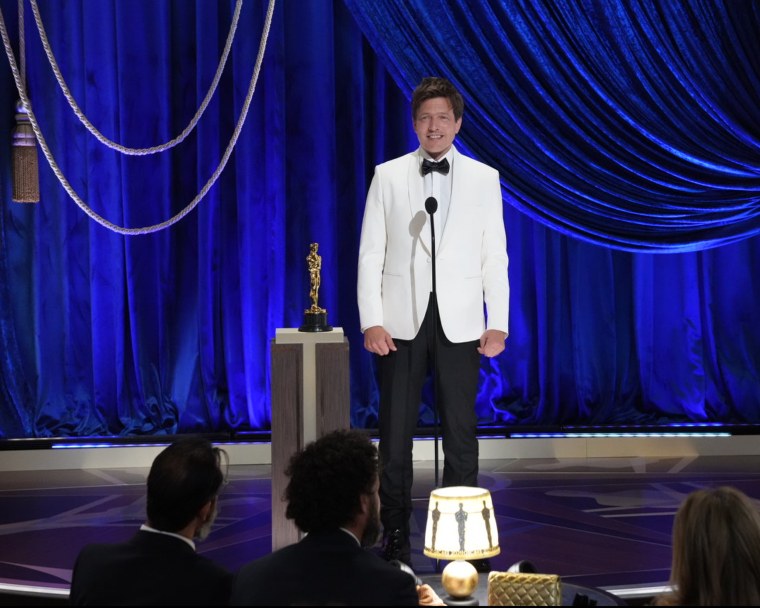 Follow along by marking off the winners
We're keeping a running list of all the winners of the night.
Also on display tonight: media marketing synergy!
Viewers tonight got a sneak peek at the 2021 movie adaption of "West Side Story" and a peek into Disney's marketing strategy.
"West Side Story" is being released by 20th Century Studios, which is owned by the Walt Disney Co., which, of course, owns ABC.
Now, ABC isn't alone in this strategy, but keep an eye out for a lot more corporate synergy coming our way. 
We already saw an ad for a special Disney-themed episode of "American Idol." 
And the winner of biggest controversy going into the Oscars is ...
For all the accolades, best picture favorite "Nomadland" has delivered one of the few Oscars controversies this awards season — all over its depiction of Amazon.
The Chloé Zhao-directed drama chronicles the struggles of Fern (Frances McDormand), an aging widow who lives out of a van and drives across the American heartland in search of seasonal work. As a member of Amazon's "camperforce," Fern often gets "good money" from the temporary work packaging orders at one of the tech giant's Texas warehouses, where she is seen trading breezy banter with her co-workers.
The retail giant granted permission to the crew to film those scenes on location, leaving "Nomadland" open to suspicions that Zhao would have to put the daily grind inside the warehouse in soft focus.
The depiction also doesn't quite match up with the dangerous conditions described in the pages of the 2017 nonfiction book by Jessica Bruder of the same name, which inspired the film. Amazon continues to be at the center of controversy off screen over its efforts to crush unionization attempts by its workers and allegations of unsafe working conditions in its fulfillment centers.
"One could easily come away from the movie having a benign view of the toll Amazon takes on its workers, including the temporary ones," ProPublica reporter Alec MacGillis wrote in the Los Angeles Times.
Daniel Kaluuya lands supporting actor award for 'Judas'
Daniel Kaluuya just won the best supporting actor trophy for his galvanizing portrayal of Black Panthers leader Fred Hampton in Shaka King's "Judas and the Black Messiah."
Kaluuya was previously nominated for his breakout role in Jordan Peele's horror-comedy "Get Out."
In his acceptance speech, Kaluuya said he shared his honor with co-star and fellow nominee LaKeith Stanfield, who portrayed FBI informant William O'Neal.
He also paid tribute to Hampton, who was killed during a police raid in 1969: "What a man. What a man. How blessed we are we lived in a lifetime where he existed."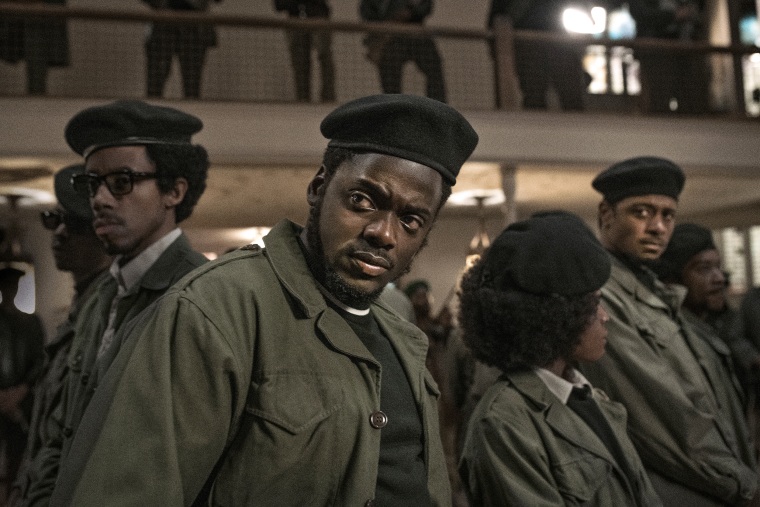 'Another Round,' a paean to being drunk, wins international feature Oscar
"Another Round," the charming but bittersweet tale of a group of buddies who start experimenting with low-level drunkenness every day of their lives, won the Oscar for best international feature film.
The dramedy, directed by Thomas Vinterberg and Mads Mikkelsen, was Denmark's submission in the category.
In his acceptance speech, Vinterberg paid tribute to his late daughter, Ida, who died in a car accident in 2019. Vinterberg appeared to fight back tears as he said he made this movie for her, "as her monument."
"You're part of this miracle," Vinterberg said, later adding: "This one is for you."
Can the Oscars always be like this?
For years we've been subjected to lackluster Oscars host after host (sorry, Ellen and everybody else), and in the wake of 2020 and continuation of its wrath into 2021, the Academy Awards seemed to have finally tweaked its norms and abandoned having a host altogether.
Which, for the record, is the best and right choice.
This year, the broadcast began with Regina King walking in from the pre-show setting to the stage where she did not waste time reminding us that politics and art are not separate entities, but two very important forces that intersect, thank you kindly.
So yes, Regina King is the greatest and all of us should live to make her proud.
And secondly, it's about time: It's about time somebody who had something interesting and truthful to say kicked off the Academy Awards. And it's about time we cut the nonsense of monologues and weird pseudo-roasting and returned to when the Oscars were basically just a fancy lunch.
Because guess what: They're still interesting! They're more interesting! The show moves better! Nobody needs to politely clap at bad jokes! Everybody just gets to give their speeches and move on, making room for who's up next.
For the first time, the Oscars feel like a decent way to spend the evening. And I am living for the steps and tables, and will scream until my throat is sore if we ever return to the way things were.
'The Father' wins best adapted screenplay
Christopher Hampton and Florian Zeller won best adapted screenplay for their film "The Father" about a man who refuses all assistance from his daughter as he ages. 
At a maskless Oscars, a few actors keep theirs on
As Regina King proudly declared that the Oscars would be a maskless event, a few nominees kept their masks on.
Both Zendaya and Frances McDormand could be seen donning masks.  
The nominees are spaced and socially distanced. King said everyone was tested and many are vaccinated. Clearly some attendees aren't as comfortable as others yet, as they, too, adjust to a new normal indoors.
Best original screenplay goes to Emerald Fennell
Emerald Fennell, the writer of the audacious #MeToo-era revenge thriller "Promising Young Woman," nabbed the first award of the night: best original screenplay.
You might recognize Fennell from "The Crown." She plays Camilla Parker Bowles.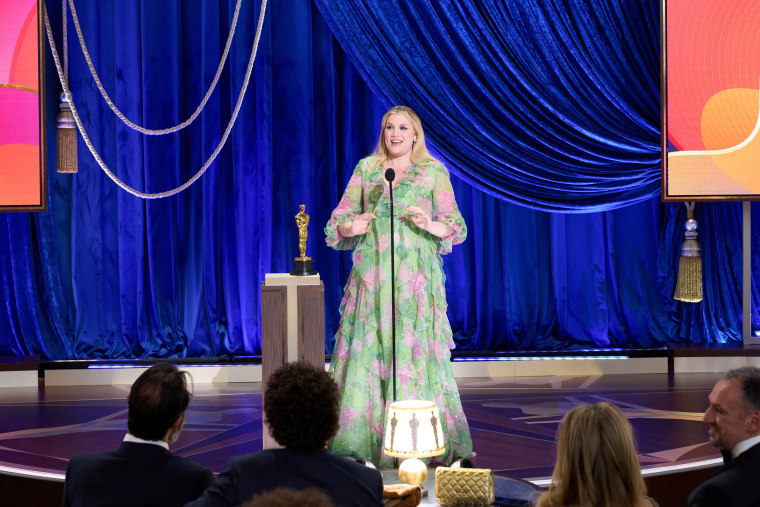 The show is off to a strong start!
In the opening minutes of the ceremony, Regina King strode confidently through Union Station in Los Angeles, accompanied by a swanky soundtrack and stylish opening credits. She took the stage and faced the crowd of nominees, who are seated in tiered booths and at cocktail-style tables.
King nodded to the Derek Chauvin verdict, saying in her opening remarks: "I have to be honest, if things had gone differently this past week in Minneapolis, I might have traded my heels for marching boots."
I'm cautiously optimistic the show will be fun. Here's why.
It's been a rough few years for Oscars aficionados. The ratings for the telecast have slumped. The nominees are often overshadowed by streaming TV shows, video games, TikTok clips. The conventional wisdom is that Hollywood's marquee awards show is edging toward irrelevancy.
But this year, I'm cautiously optimistic that the ceremony could make for some fun viewing — or, at the very least, give folks at home a welcome distraction from the Sunday scaries.
The main reason is that the producers of the show, including the innovative director Steven Soderbergh, have been given greater latitude to experiment with the format. The producers have promised a more intimate event that conjures the "joy of cinema" for pandemic-weary viewers at home.
If tonight's show channels the effortless cool of Soderbergh's "Ocean's Eleven" trilogy, we're in for an interesting night. But if not — well, there's always next year.
Best original song nominees get the pre-show treatment and it totally rules
Typically, the best original song nominees are presented over the course of the Oscars broadcast. However, in order to give each performance equal time, songs were featured as part of the pre-show broadcast, with four of the five nominees having been pre-recorded on the Dolby Family Terrace of the Academy Museum of Motion Pictures.
The fifth? Performed in Iceland, which makes sense considering it was "Húsavík" from "Eurovision: The Story of Fire Saga."
The thing is, it totally works. Not only is each song and performer free of having to perform under serious time constraints, there's finally a way for us to find a mainline to the feelings behind each.
Plus, instead of waiting for a live show to inevitably go a little bit wrong, we've been given a front row to talent without their raw nerves, which means we're allowed to just ... listen. And, of course, Google where to buy the sweaters worn by the children's choir in Iceland. (After the Oscars are over, I swear.)
Chloe Zhao's red carpet look (hopefully) embodies the future of formal
I know the red carpet is a welcome beacon after a year-plus of the absolute opposite, but Chloe Zhao's Oscars choice has reaffirmed that one day, in a post-lockdown world, the definition of what formal means may finally change.
Clad in Hermes and a perfect white sneaker, the "Nomadland" director made getting dressed up look cool, comfortable and a means to self-express — while avoiding blisters. Made even more perfect by her French braids and minimal makeup, may her look inspired us all to wear what we'd like, especially since it's impossible not to look incredible doing it.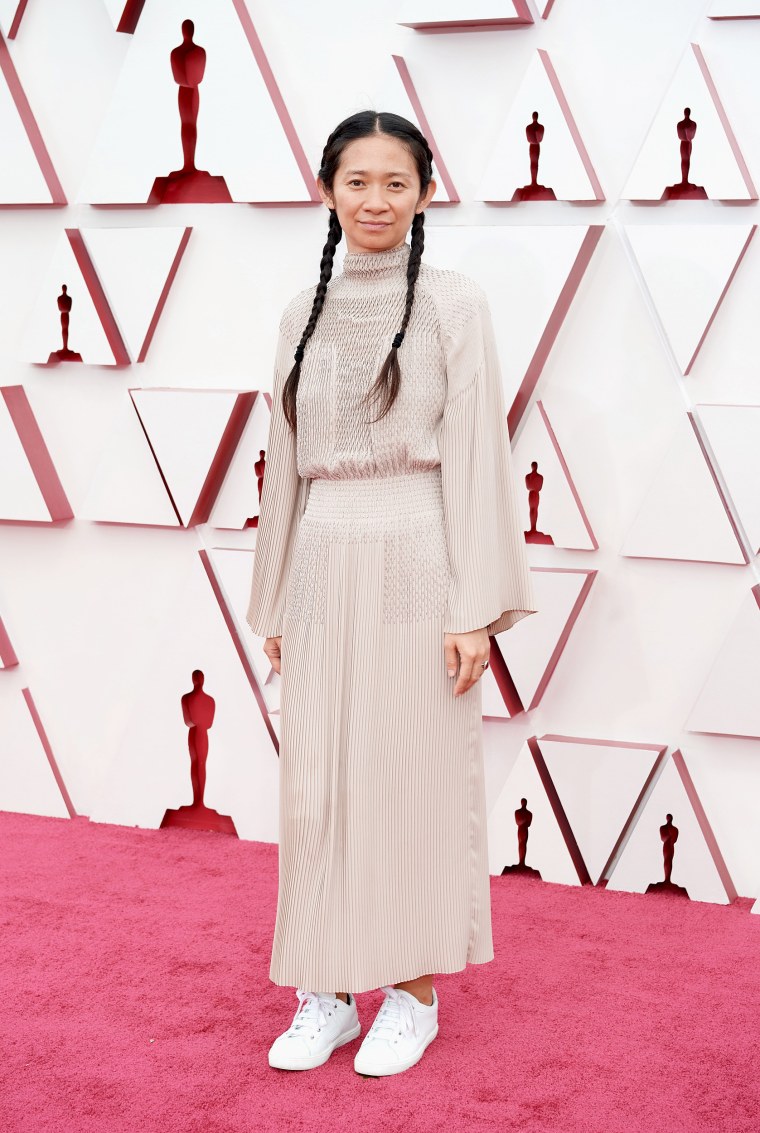 Men bring undeniable style to the Oscars ceremony
Men are making incredible fashion statements on the Oscars red carpet, starting with actor Coleman Domingo.
Domingo, who stars in the Oscar-nominated film "Ma Rainey's Black Bottom," brought heat with this tailored hot-pink suit with sparkles in all the right places.
Actor Leslie Odom Jr. dressed in a gold and black suit — possibly hoping to add a matching gold Oscar trophy to the outfit by the end of the night. Odom is nominated for two Oscars for his work in "One Night in Miami."
LaKeith Stanfield, who is nominated for best actor in a supporting role for his interpretation of Bill O'Neal in the film "Judas and the Black Messiah," gave fans a glimpse of his '70s-inspired black and white suit before showing up on the red carpet.
Viola Davis remembers co-star Chadwick Boseman on the red carpet
While speaking to Giuliana Rancic on the Oscars red carpet, best actress nominee Viola Davis remembered her "Ma Rainey's Black Bottom" co-star Chadwick Boseman.
Boseman, who died last year of cancer, is nominated posthumously for best actor.
Rancic asked Davis how it felt that Boseman was being honored with a nomination.
"It feels right only because I know him," Davis replied. "He was authenticity on steroids."
Davis added that sometimes we "honor people who were not really nice or the persona doesn't match the person," saying that was not the case with Boseman.
"This artist did not mistake his presence for the event," Davis said. 
Davis is the most nominated Black woman in the history of the Oscars, according to Entertainment Weekly. In addition to her nomination tonight, she has also been nominated for "Fences," "The Help" and "Doubt."
If she wins tonight, she will be the second Black woman to win best actress, joining Halle Berry, who won in 2002 for "Monster's Ball."