"The Shape of Water" lapped up 13 Oscar nominations on Tuesday — just one shy of the record for the most in Academy Awards history. But there were other milestones in the pack of nominations, along with some notable snubs and surprises. (No love for "Wonder Woman," apparently!) Here's what you need to know.
Oscar voters get in 'Shape,' but there's no clear front-runner
Guillermo del Toro's whimsical romance about a mute janitor (Sally Hawkins) who falls for a mutant amphibian (Doug Jones) landed nominations in nearly all the major live-action categories. But it faces fierce competition from "Three Billboards Outside Ebbing, Missouri," a dark comedy that scored seven nods and cleaned up at the Golden Globes this month. Another strong contender: "Dunkirk," the intense World War II drama that earned eight nods.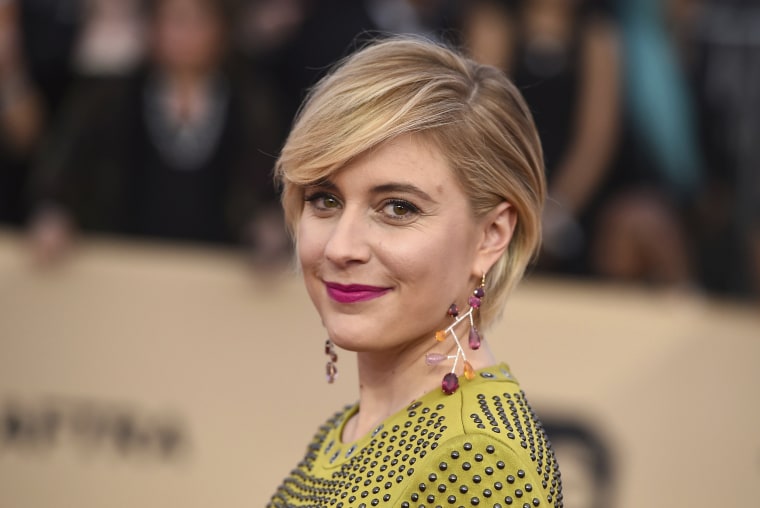 'Get Out' and 'Lady Bird' directors cap off breakthrough years
Greta Gerwig, the writer and director of the offbeat coming-of-age comedy "Lady Bird," became only the fifth woman to receive a best director nomination at the Oscars. (She follows Lina Wertmuller, Jane Campion, Sofia Coppola and Kathryn Bigelow, who won the award for the Iraq war drama "The Hurt Locker.")
Jordan Peele, writer and director of the satirical horror smash "Get Out," became the fifth black filmmaker nominated in the category — and only the third to direct a best picture nominee. Peele, one half of the comedy duo Key and Peele, is also the third person to land best picture, director and writing nods for his first feature film.
Academy voters avoid another #OscarsSoWhite fiasco
The awards show has been sharply criticized in recent years for all-white nominees in the four acting categories. It broke out of that pattern last year, with a handful of nominations for actors of color — including two eventual winners: Mahershala Ali ("Moonlight") and Viola Davis ("Fences").
Related: The complete list of Academy Awards nominations
Academy voters honored diversity this year, too. Mary J. Blige ("Mudbound") and Octavia Spencer ("The Shape of Water") were feted in the best supporting actress category. Denzel Washington ("Roman J. Israel, Esq.") and Daniel Kaluuya ("Get Out") notched best actor nods. That said, no Latino or Asian-American performers were nominated in the acting categories.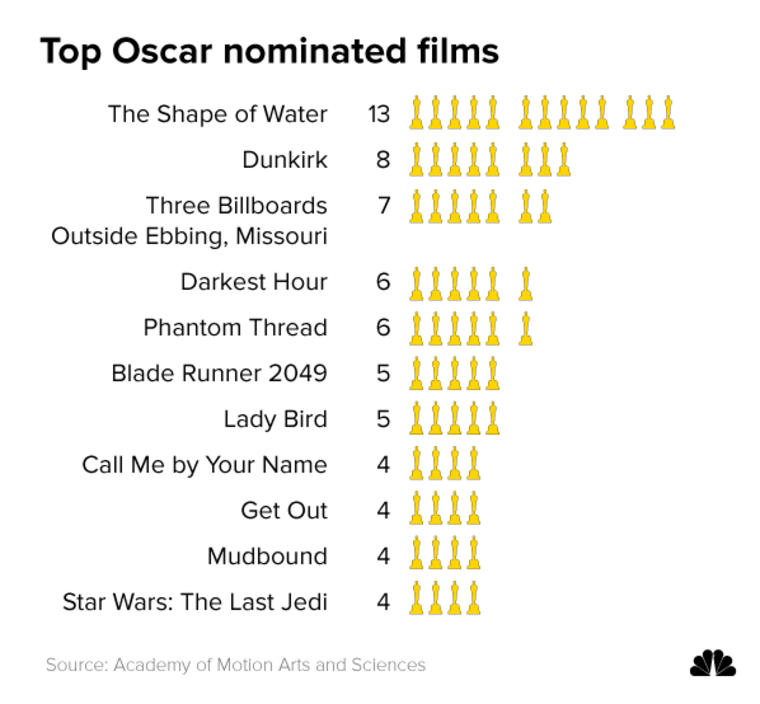 'Mudbound' director of photography makes history
Rachel Morrison, who shot the searing World War II-era family drama "Mudbound," became the first woman nominated for best cinematography in Academy history. Morrison also filmed much-anticipated Marvel movie "Black Panther." ("Mudbound" is available on Netflix.)
Franco gets locked out amid misconduct allegations
James Franco, who was accused of inappropriate sexual behavior near the end of the voting period, was not nominated for best actor for his turn as eccentric cult-movie legend Tommy Wiseau in "The Disaster Artist," a comedy he also directed. Franco has denied the allegations — but the cloud of impropriety may have cost him a spot. The prolific actor won best actor in a comedy at the Golden Globes.
'The Post' underperforms ...
"The Post," Steven Spielberg's rousing docudrama about the Pentagon Papers, was heralded as a major awards contender. But it made off with just two nominations — best picture and best actress for 21-time nominee Meryl Streep. It fell short in the directing and screenwriting categories, and co-star Tom Hanks failed to land his sixth best actor nomination for his grizzled performance as Washington Post editor Ben Bradlee. (Hanks was last nominated 17 years ago, for "Cast Away.")
... and 'Phantom Thread' doesn't
Paul Thomas Anderson's "Phantom Thread" emerged as the sleeper, racking up six nominations, including best picture and best director. (Anderson, a favorite among cinephiles, likely edged out "Billboards" director Martin McDonagh.) "Thread" stars Daniel Day-Lewis, in what he has called his final film role, as a fanatically disciplined London dressmaker. Lesley Manville, a veteran British actress, scored a dark horse nomination for her steely-eyed turn as the designer's sister.