Five-time Oscar nominee Leonardo DiCaprio finally took home a gold statuette as "Mad Max: Fury Road" and diversity dominated Hollywood's biggest night of the year.
The 88th Academy Awards have been steeped in controversy over their overwhelmingly white nominees — triggering #OscarsSoWhite and calls for a boycott.
Host Chris Rock signaled early on that he'd address the elephant in the room — joking about the upcoming "White BET Awards" in a promo for the event last month.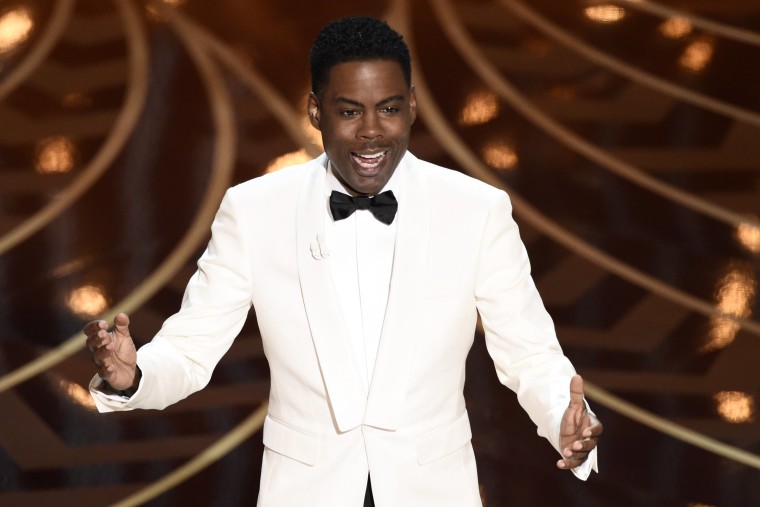 Dozens of protesters converged near the Oscars venue on Sunday holding signs with slogans such as "Hollywood Must Do Better" as stars walked the industry's most celebrated red carpet.
If there were any doubts he'd tackle the issue head-on at the main event, Rock put those to rest in the opening moments of Sunday night's show which he immediately dubbed the "white people's choice awards."
"You realize, if they nominated hosts, I wouldn't even have this job," he cracked.
Rock went on to deliver a scorching monologue, noted how Oscars diversity was an issue this year but not in the 1950s or 60s when blacks had "real things to protest."
"We were too busy being raped and lynched to care about who won best cinematographer," he said. "You know, when your grandmother's swinging from a tree, it's really hard to care about Best Documentary Foreign Short."
While Rock delivered a stream of snappy punchlines, he also took time to send a straight message to the crowd by wrapping up with the simple statement: "We want opportunity."
With that the stream of gold statuettes were rolled out — earning several rising stars and some veteran actors the coveted award in an evening which repeatedly touched on the theme of diversity and social justice.
Related: Here's Who Won Academy Awards
"Spotlight," which chronicled the Boston Globe's explosive investigation into child sex abuse by Catholic priests, won best picture.
"We would not be here today without the heroic efforts of our reporters," producer Blye Pagon Faust said while accepting the night's top honor. "Not only do they effect global change, but they absolutely show us the necessity for investigative journalism."
The film also won best original screenplay.
"The Revenant" — which went into the Academy Awards with a leading 12 nominations — earned Alexjandro Gonzalez-Inarritu a second Best Director Oscar. The Mexican director had nabbed the same prize in 2015 for "Birdman" and on Sunday became the first filmmaker in over 60 years to win back-to-back Academy Awards.
"What a great opportunity for our generation to really liberate ourselves from all prejudice and this tribal thinking and to make sure for once and forever that the color of our skin becomes as irrelevant as the length of our hair," Inarritu said.
And then, there was DiCaprio, who drew a standing ovation from the star-packed audience.
DiCaprio's portrayal of a fur trapper in "The Revenant" beat out "Trumbo"'s Bryan Cranston, "The Martian"'s Matt Damon, "The Danish Girl"'s Eddie Redmayne and "Steve Jobs"' Michael Fassbender.
The environmental activist took a moment to thank family, friends and colleagues — but used his acceptance speech to send a message about climate change, too.
"Let us not take this planet for granted," DiCaprio said. "I do not take tonight for granted. Thank you so very much."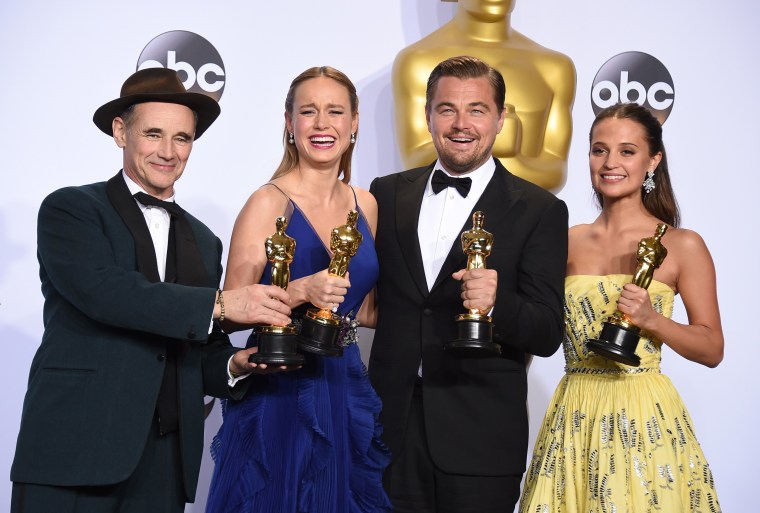 While "The Revenant" may have led the number of nominations, "Mad Max: Fury Road" was the biggest winner of the night.
It took home six Oscars — largely in technical categories like costumes and make-up — prompting such raucous backstage celebrations that the film's sound editors didn't hear their colleagues' name announced for another win for sound mixing.
Rock made sure diversity remained front and center. He jokingly introduced actress Stacey Dash — who recently drew fire for suggesting there should be no Black History Month — as director of the Oscar's minority outreach program.
While that joke fell flat, the comedian came through with a plethora of other punchlines throughout the evening. One sketch where Oscar-nominated films starred additional black actors was a particular highlight.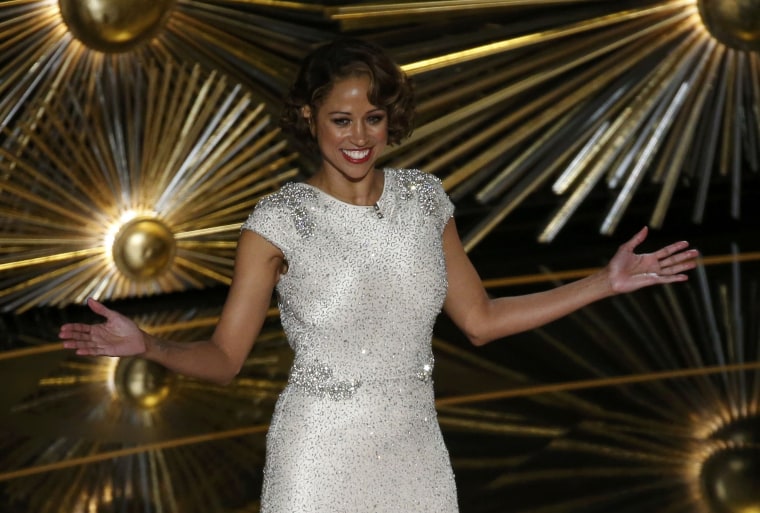 Rock also at one point told the audience that Hollywood might not be "burning cross racist" but "a difference kind of racist."
"Hollywood is sorority racist. It's like: We like you Rhonda, but you're not a Kappa," he said.
Adam McKay, who won for best adapted screenplay, was among many praising Rock's "great" approach.
"It was jabbing at Hollywood yet at the same time evenhanded and kind of dealing with like a new era of sort of how we discuss diversity," he said. "I thought it was very evenhanded, and really impressive and really funny."
Rock wasn't just offering up laughs and entertainment — he also helped stars satisfy a sweet tooth. The comedian's daughter and her Girl Scout troop were in the Dolby Theater armed with Girl Scout Cookies, hawking their wares to hungry celebrities like Steven Spielberg and Christian Bale.
The best actress prize went to rising star Brie Larson for her portrayal of a mother held captive in the indie hit "Room," while Alicia Vikander won best supporting actress for "The Danish Girl."
Both she and first-time nominee Mark Rylance — who won best support actor for his role in "Bridge of Spies" — fell victim to the dreaded orchestra playing stars offstage during their acceptance speeches.
The Academy Awards producers had warned attendees they'd have no more than 45 seconds to say their pieces onstage.
"Amy," about the late singer Amy Winehouse, took home the prize for best documentary feature film while "A Girl in the River: The Price of Forgiveness" won the best documentary short Oscar.
The evening also featured a moving performance of Lady Gaga's Oscar-nominated "Til It Happens to You" — with survivors joining the singer onstage for the song about sexual assault following an introduction by Vice President Joe Biden.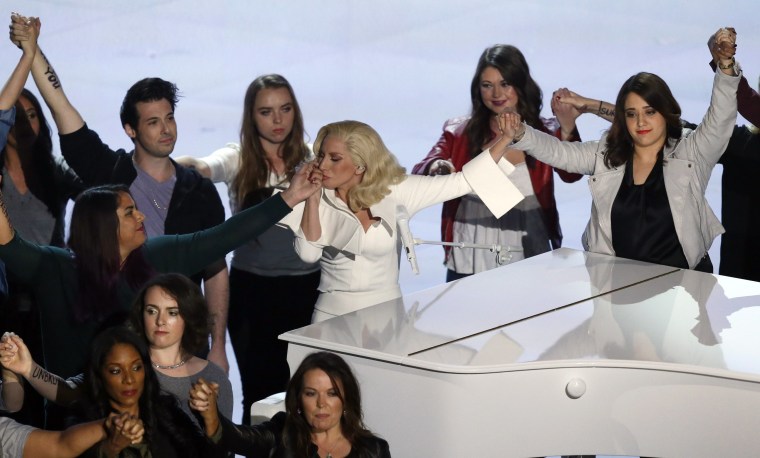 The prize for best song ultimately though went to British singer Sam Smith. He dedicated his win for the theme song in James Bond film "Spectre" to the gay community, telling the A-list crowd that "'I stand here tonight as a proud gay man and I hope that we can all stand together as equals one day."
Italian composer Ennio Morricone, 87, also took home his first Oscar for his work on on an individual film. Morricone — who was awarded an honorary Academy Award in 2007 — bagged a statuette Sunday for best original score for his work on "The Hateful Eight."
The best foreign language film Oscar went to "Son of Saul," which tells the story of a Jewish man forced to work at a Nazi death camp and earned Hungary its second prize in the category.
Meanwhile, Pixar's "Inside Out" won the best animated feature film Academy Award.
With diversity the main theme of the night, there was at least one fresh example of how far Hollywood still has to go.
The website Total Beauty tweeted a picture of Whoopi Goldberg arriving at the Oscars — but mistakenly confused her with Oprah Winfrey.
The error drew swift condemnation — and an apology from Total Beauty, which said it would be donating $10,000 to Goldberg and Winfrey's charity of choice.
The president of the Academy Awards, Cheryl Boone Isaacs, touched on the issues still facing the industry in remarks Sunday at the ceremony.
"It's not enough to just listen and agree: We must take action," she said. "While change is often difficult, it is necessary. Dr. Martin Luther King once said, 'The ultimate measure of a man is not where he stands in moments of comfort and convenience, but where he stands in times of challenge and controversy.' I am confident that, together, we can shape a future of which all of us can be proud."